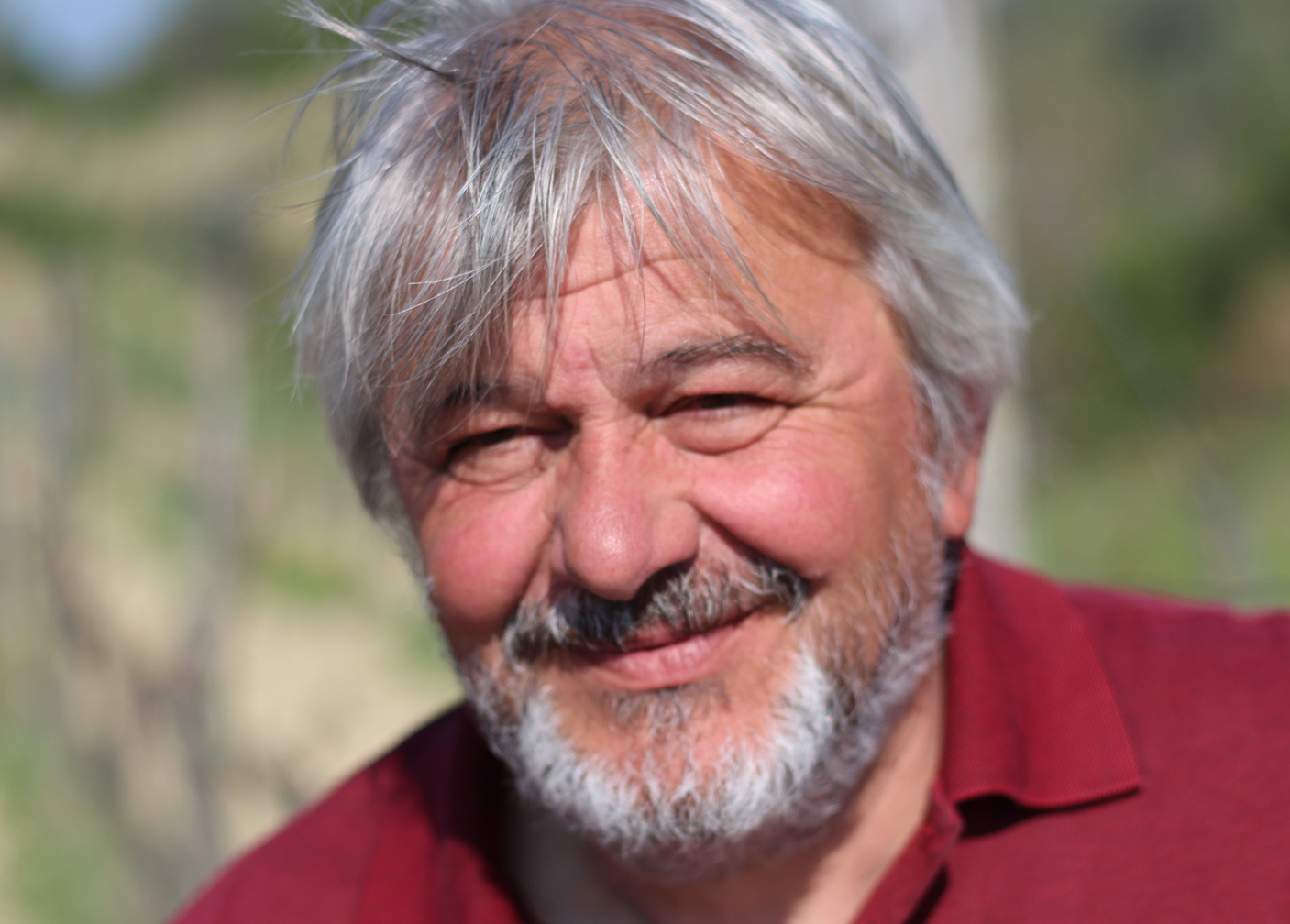 Giorgio Clai moved from Croatia to Trieste at a very young age where he would grow up to became a very successful restaurateur. In the 1980s Clai inherited some vineyards in Croatia's Istrian Peninsula. He gradually developed a passion for the family vineyards and became a full-time winemaker there in 2001.
Clai Bijele Zemlje has always worked in a natural way and without chemicals. The estate practices organic viticulture and all the wines ferment off their native yeasts with minimal sulfur added at bottling. In the United States, Clai is the only Croatian winery represented by the well-respected importer Louis Dressner who specializes in natural and organic wines. The estate includes seven hectares of vines and three hectares of olive trees. He grows Plavina, Moscato, Chardonnay, Pinot Grigio, Sauvignon Blanc, Merlot, Cabernet Sauvignon and Refosco.
Istrian Refosco and Malvasia are special in the hands of Giorgio Clai. The wines are delicous and exuberant reflecting the lively personality of the winemaker. The Refosco is rich and round with notes of plum and black currant. The Malvasia sees extended skin contact and has an orange hue, a luscious rich texture and notes of apricot and citrus.
Grape Collective talks to Giorgio Clai with the aid of winemaker Dimitri Brečević, who manages the estate for Clai (alongside his own excellent winery Piquentum).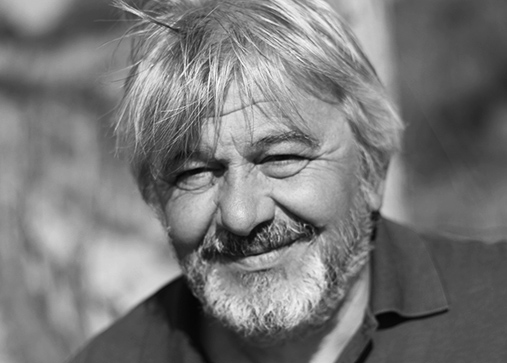 Christopher Barnes: Giorgio, tell us a little bit about the terroir in Istria, what type of soil and climate do we have here?
Giorgio Clai: First of all we have to separate Istria. We have the red soil area, which is the largest. There is another smaller area which we call the gray part, but it's not as interesting. There is another very interesting area, it's the white one, which is white soil, white clay in the limestone. Limestone can be found in all of Istria and it gives a lot of minerality to the wine. Another very important fact is in this area all the vineyards are, or should be, on the hillside. It's very important for this type of soil. It is a very good thing for the sun effect, but also for drainage.
We are lucky because, even if it's hot here, a hot climate, we don't have problems with drought. There is also a lot of wind in the hills. It is a tremendous help in the quality of the grapes in the vineyard. If we talk about microclimate, as you undoubtedly know, each vineyard, each area needs its own particular attention. Sometimes you think it's a good position, but sometimes, it's not as good in another area. It's very important depending on how you work the area. That's something we pay attention to, you know?
How do the vintages differ from year to year? How much variation do you have in your vintages here?
Of course it's very dependent on the weather. Like everywhere else. We have pretty big differences between harvests here, yes. But always good, just different!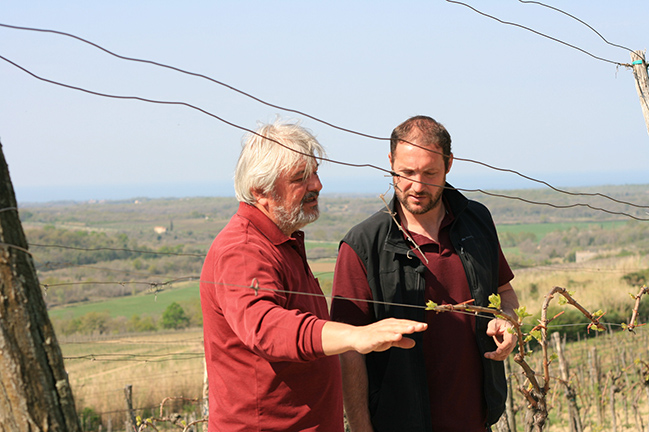 (Georgio Clai with Dimitri Brečević photo by Piers Parlett)
In terms of vintage variation, how are the seasons different and how does that reflect in the wines?
Of course it's the temperature, average of temperature, also we can add rain to that mix. If it's colder and rainier, it changes the aromatics of the palate to become fresher and less alcoholic. It's the same thing you find everywhere. But here, the differences are more distinctive. You know in a hotter year you will have more body and maybe a more impressive wine, but in a colder year, it's just different. In a cold or a rainy year there will be less body, less alcohol, maybe it will be a little bit less aromatic, but more somehow vertical. So because of the acidity, it makes the wine very interesting. Just a little bit of a different style, you know?
Giorgio, how did you become a winemaker?
First of all my family had vineyards when I was a young boy. Unfortunately, my family had to leave Istria and move to Trieste which is on the Italian side, but very close to here. But I always had this feeling inside, and after that I started to plant vineyards as a hobby. Actually I had a restaurant in Trieste, but I started to plant a vineyard as a hobby because I remembered it from my childhood. In the end I decided to change my life completely and to live fully from this business and to plant more vineyards and olives.
Take a 360 degree virtual reality tour of the Clai winery. This experience only works in certain browsers including Google Chrome. You can also experience the VR tour directly on Youtube.
Did his family leave because of communism or was it the war? What was the reason?
It was a combination of many things, you know? It was a time when things were a little bit difficult here, the politics, and the relationships. It was a time when things changed a lot.
Was that during Yugoslavia?
Yes it was during Yugoslavia, I left in '63, so it was of course after the second World War we became Yugoslavia, so it was Yugoslavia. But only time can resolve some things, tensions and things like that always need the next generation to change.
My father thought that it would be better for the family that we go to Italy and change our lives.
When did you come back?
In the beginning of the '90s I began renovating this house where I now live, which was where my mother was born. I started renovating the house and developed one small vineyard. In 2000 I moved back here, and in 2002 produced my first bottled wine, the first professional one, let's say up until then, I was doing wine like this, like open wine. I'm still renovating the house!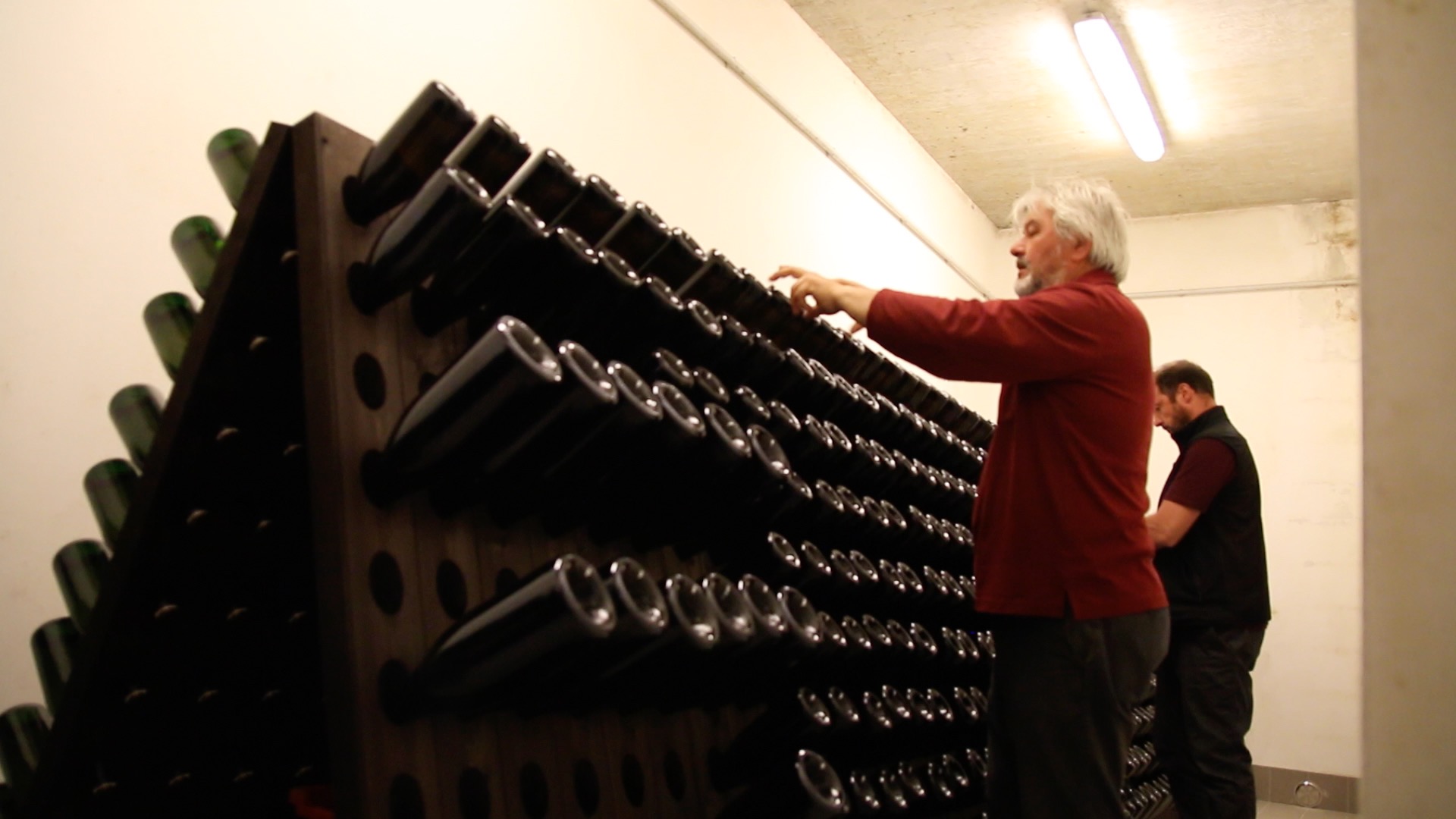 You're very famous as a natural winemaker in Croatia, how did that journey occur? Is it something that you felt intrinsically from the beginning, or was there an evolution?
I'm happy that people recognize me for the organic focus. But it didn't evolve, I was just born into that way of thinking. It was innate, you know? This way of thinking of organic agriculture. It's like a principle. It's not just about vineyards and olives, it's also about the vegetables, the animals if you have a farm. Because we had that when I was a child, you know? Like cows. Like chickens.
Also, it's just normal, it's a normal thing. I never thought about any other type of production.
Can you tell us a little bit more specifically about your philosophy of winemaking and viticulture?
It is a very simple philosophy. The main work is here in the vineyard. When you manage to do an organic, quality grape that way, afterwards all you have to do is to take care that you don't make mistakes in the winery. After that you just follow the natural process of the grape, and the juice, and the fermentation process. We just follow it, because the job is already done. The quality of the grape we've grown will produce a quality wine. After that we just have to follow, that's the word, you know, follow, without any big interferences.
Do you use biodynamic principles? Clearly it's dry farmed here. Do you use indigenous yeasts? What specific techniques are there?
The most important thing to recognize is that all processes are organic— from the vineyard here, the grape, and also into the winery. So it means no yeast, no additives or anything like that. About biodynamics, I don't want to make too big a philosophy about it because, as now it is starting to be something a little bit fancy. We, of course, use some preparation of biodynamics and we follow as we can, some calendar things for bottling and for many things in the vineyard, but as we can of course, because it's easy to say it, but nature doesn't wait, you know? If the job has to be done now, and it's not on the calendar, we do the job! So in the end, that's why it's a philosophy, but the job has to be done.
In the winery of course we make what we call Pied de Cuvee. It's like we culture our yeast. That's very, very important for us to have our own yeast in our wines. Of course for the malolactic fermentation it's the same, it's all spontaneous. The only thing that we use, the only thing we add to the wine is a very little bit of sulfur, but we think that it needs it before bottling to help stabilize the wine because, of course now we are lucky. Our wine is sold everywhere in the world, so we think that we need to stabilize it a little bit. Again, it's a very low, low dose. It's the only thing we add to the wine.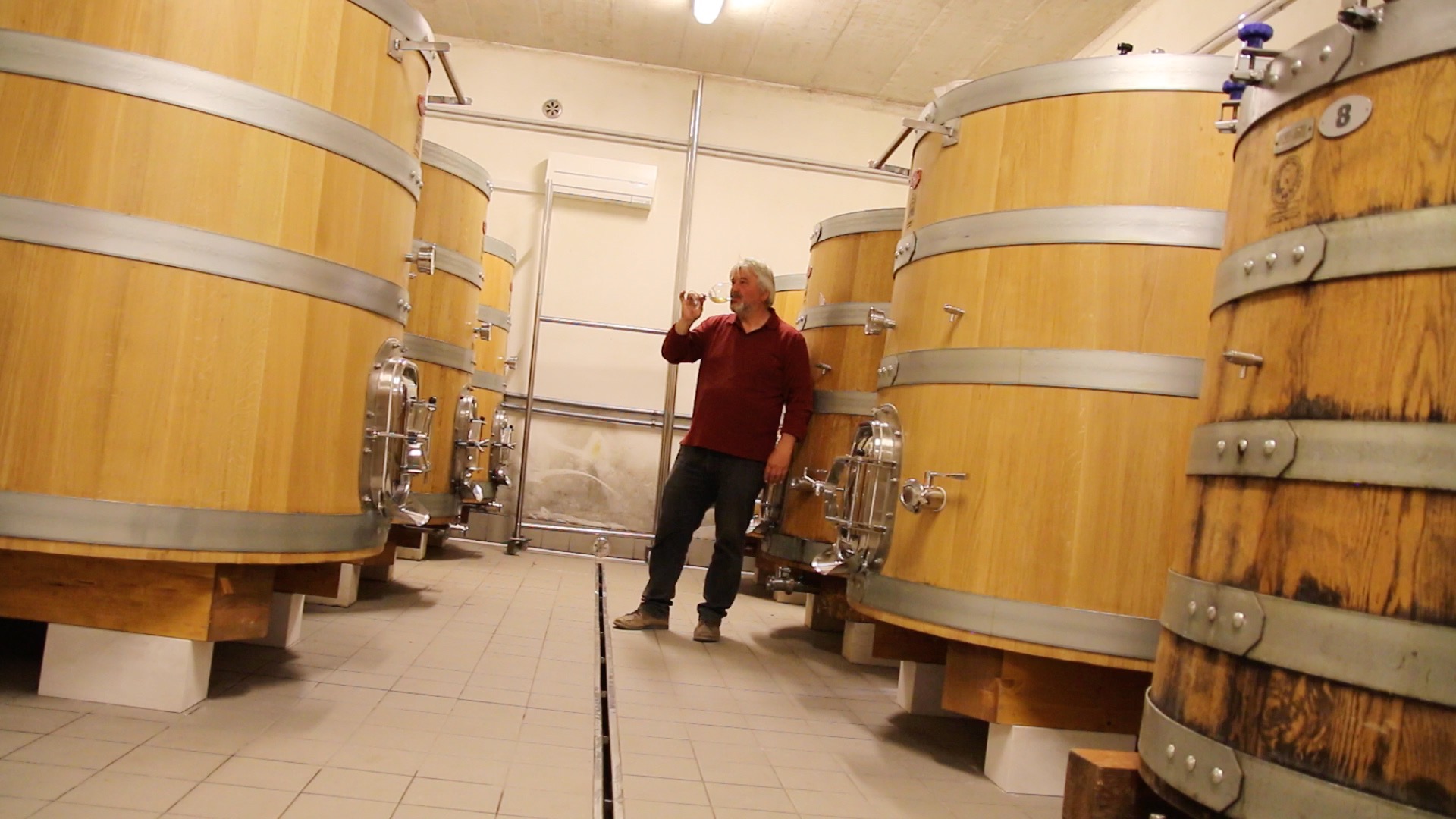 Talk a little bit about the Croatian wine industry, how it's evolved over time. Because it's a very old industry and it's also a new industry in many ways.
The thing is that we definitely know about winemaking, the wine growing tradition here is at least 2,000 years old if not more. Or whether it came from the Italians, I mean Italians from Rome or if it came from the Byzantines, we don't know, or from Greece, it's not really clear. We know that it's very, very old. Historically we also know that the Venetians used to make very high-quality wine in this area, they used to sell a lot of wine from this area, a little bit everywhere along the Adriatic and Mediterranean Sea. After them the Austrian Empire also made wine. But unfortunately after that we have, again, like kind of a hole in history where everything somehow, not stopped, but didn't evolve. It was not as good as it should have been, you know? Now of course we are paying a little bit for this 100 years of a very unstable history.
A lot of that was because of the communism and the focus on cooperative wines?
Of course during the Yugoslavian time it was cooperative, so it never supported quality. It was not the goal. Nobody was looking for quality really. I mean nobody can say that, but not so many people I'd say, and not so much private producers, so there was no evolution regarding quality. It is better to be small with big quality than big with small quality, so that's my idea but it was not the idea before. In these last 20 years, the quality is growing. People are going further and are looking for quality. Now other people are starting to think like me - that it is better to be small with big quality than huge with small quality.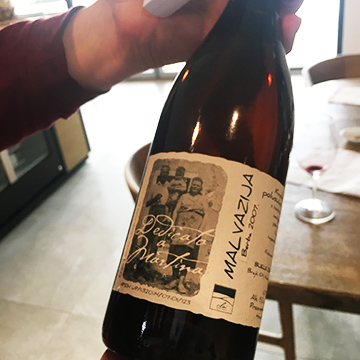 It must be exciting for you to be recognized after all your persistence and hard work. People are asking for your wine in wine bars in Manhattan, in Brooklyn. It's become something that people internationally are searching for.
First of all, for us we are very grateful to see that people have work and that the countryside is planted, thriving and producing. On the other hand, of course it's also nice to see such a good reaction from people outside of Croatia, buying the wine. It means that they recognize that we are doing something serious here. What we have to expect, what we hope at least is that more and more people think about agriculture in an organic way, because it would be a crime to destroy this, this nature, this area. It's one thing that agriculture and viticulture had a good evolution these last 20 years, but now it has to be a little bit more, say, focused or precise. We hope in an organic way—we hope.
Are more producers in Croatia becoming organic? Are they recognizing the value of it?
When I started no one was interested and I was considered a little bit strange almost. Now more and more people are thinking about it, the consumers are increasingly talking about it, which helps to change a little bit the philosophy of producers. Here we can say that there is a small evolution, but it is definitely still too small.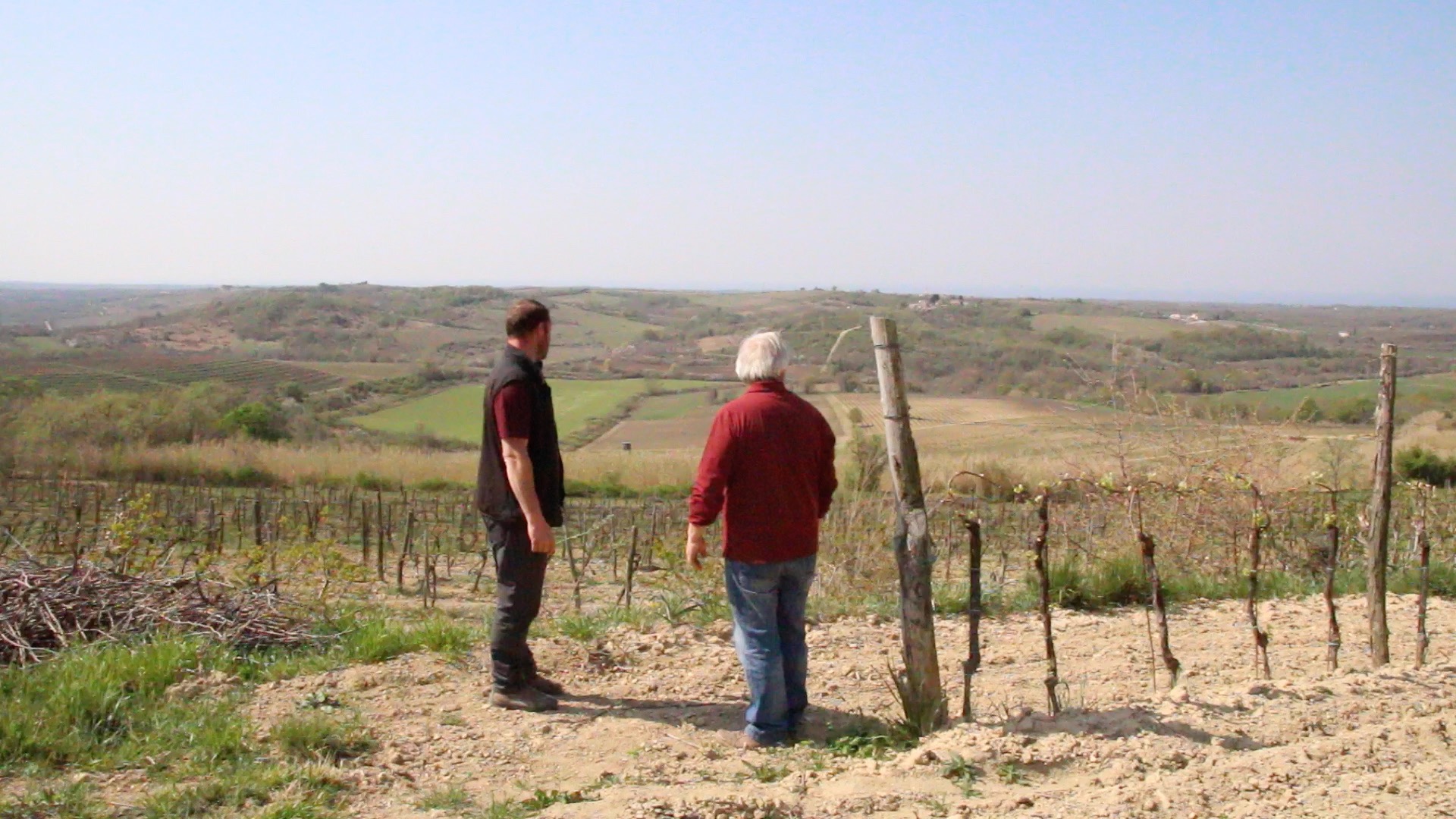 Talk a little bit about the varieties of grapes that you have planted and the ones you use to make your wines.
We work around eight hectares of vine ... 60% white and 40% red. Malvasia for white and the Refošk for the red are the basis. You can find these varieties on all our labels. In mono-varietals we have one pure Malvasia, one pure Refošk. We have two other labels which are blends, but also the basis is Refošk for the red and Malvasia for the white. For the red blend, a little bit of Merlot, and for the white blend we have also a little bit of Pinot Grigio and Sauvignon Blanc. It's like in one arm goes Malvasia, in the other arm goes a Refošk you know?
For more on Croatian wine check out:
Ivan Miloš on the Pelješac Peninsula
Želko Garmaz's Grape Collective feature Croatia: A Land of Wine Stories
Also check out our interviews with Mike Grgich and Professor Carole Meredith