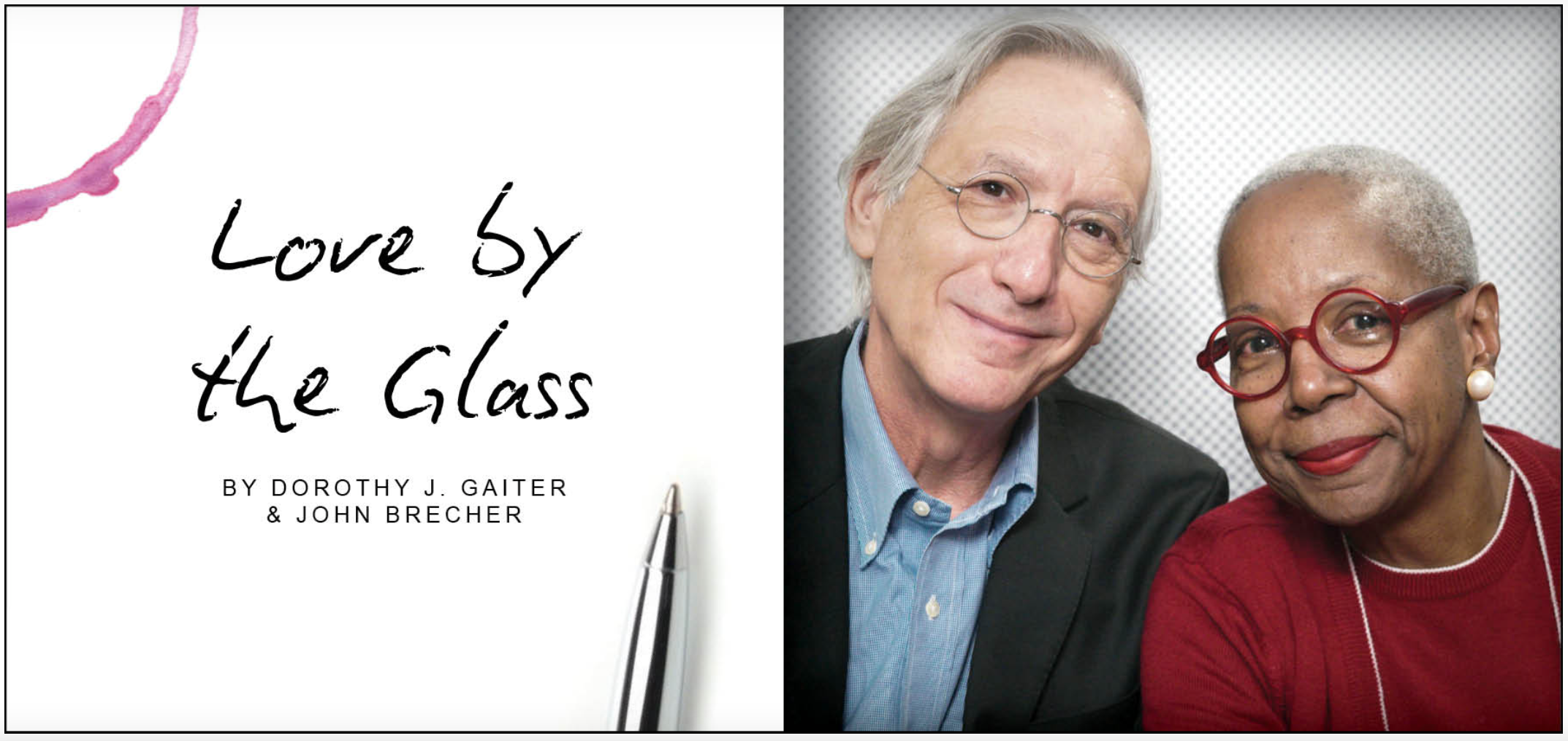 We were answering questions recently at the Wine Writers' Symposium when one stopped us cold. It seemed simple, really: "Have your palates changed?" We couldn't get the question out of our minds. The deeper we got, the more existential the question became, ultimately evolving into: Can love last?
We decided the only way to discuss this properly was to drink some Amarone and here's why: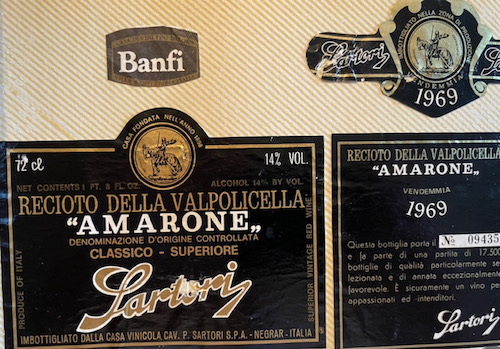 We both grew up in Florida. Then we spent the first seven years of our life together in Miami, where we loved Amarone della Valpolicella, the intense red made in Verona from partially dried grapes, especially Corvina. We always dreamed of moving to New York City. We finally got the chance in 1980. One night, we went to a restaurant in our new neighborhood called Sal Anthony's, where we ordered a 1969 Sartori Amarone ($18). The waiter brought it in a straw carrier – remember those? – and carefully decanted it, then poured it. As we clinked our glasses, flakes fell – the first snowfall of our very first winter in New York City. Amarone is that magical to us.
We drank vintage after vintage of Amarone from fine producers. We had a Masi 1980 in Venice. We had a 1971 Allegrini that we wrote was "DELICIOUS! FANTASTIC! THE GREATEST!" in 1983; it cost $4.50. They were reasonably priced back then. We have notes on every bottle going back more than 40 years. In our oldest wine notebook, our first section in the Italian entries is Amarone; the second section is Barolo, and, no, we weren't organizing our notes alphabetically.
However, starting in the 1990s, we pretty much stopped buying Amarone. It wasn't a conscious decision. We just did. Why? Did something change about our palates?
Over the years, we have read quite a bit about how wine palates change. The conventional wisdom is that people tend to start with sweeter wines, then move to drier wines and then move to more elegant, softer wines. The cliché then was that your parents liked Bordeaux while your grandparents preferred Burgundy.
In our case, we told the questioner that we don't know whether our palates have changed or if it's just that wine has changed. The latter we know to be true. Wine today is made better all over the world, but generally it also tends to be richer, denser, bolder.
So we called the sage: Kevin Zraly, the educator, sommelier and author of multiple editions of "Windows on the World Complete Wine Course," which has a chapter called "The Physiology of Smell and Taste." We first met Kevin when we were all in our 20s, when he ran the Windows on the World wine program, including our beloved Cellar in the Sky, and we visited as often as we could afford it. The three of us are the same age, 71.
We posed the question to him: Has your palate changed?
Kevin said his situation is unusual because he suffered PTSD after the Sept. 11 attacks brought the Twin Towers down. He lost friends and colleagues on that terrible day. The trauma cost him his senses of smell and taste for two years so he feels he got a reset in his palate and thinks it is better than it has ever been. More broadly, though, he said a palate for wine can't be judged in a vacuum. "I do look at wine in a different way than I did when I was younger," he said.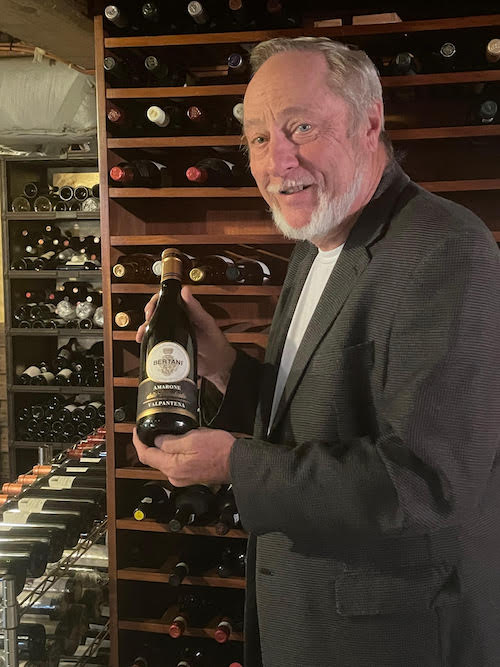 "I had such access to old wines when I was 25, but I wasn't mature enough to understand them. I don't think my taste buds were developed. I was tasting a lot of wines that I didn't know what to look for. Now I know what to look for."
(Photo: Kevin Zraly with a 2015 Bertani Amarone)
And then Kevin brought up love: "It's like love," he said. "Experience is a key element."
At the same time, Kevin added that, for him, what we'd read about wine drinkers moving toward softness and elegance through the years is true. "California Cabs are a little overbearing for me," he said. "It could just be alcohol content. My palate is looking for softness, fruit, elegance, good acidity and that is all describing Pinot Noir and a lot of Sangiovese. I like softer wines."
Right before we hung up, we mentioned to Kevin that we planned to focus on Amarone in this column. He responded: "As you remember at Cellar in the Sky, I had a lot of Amarone. But my taste has changed. I'm not as much of a fan. But something has changed there because I was a big fan, I loved it, but something has changed. What changed? Off the top of my head, the alcohol content. Maybe our taste buds can't handle that."
We also had considered that the alcohol content of Amarone had driven us away as we got older. Our recollection is that the ones we drank had high percentages. But as we looked at our old labels, we were amused to see that they were around 13.5 to 14 percent. We encounter wines from all over the world today, both red and white, that easily pass that – we just tried a California Syrah that was 14.9 and a Cabernet Sauvignon that was 14.8 – but when we were obsessed with Amarone, other wines tended to be 12, so it was relatively high.
It was time for us to conduct The Amarone Test.
As we thought about whether our palates have changed and our old love Amarone, we thought it might be an interesting experience to taste some now. As it happened, we had two vintages of Bertani Amarone Classico, 2009 and 2011, both sent by the importer, Taub Family Selections. They cost about $130 each. They are each 15.4% alcohol. Bertani says the grapes "are taken to a drying room and laid in a single layer on bamboo racks [where] they remain for about 120 days." The wine is aged in large oak barrels for about six years.
It was like old times. Because of the pandemic, we have not really lived at home, in New York City, for more than two years. For this night in the city, we pulled two chairs up to our windows, turned on WQXR and got the bottles ready.
John retrieved our old notebooks and began reading our notes aloud. We were interested in the commonality of them. The words we kept using then were bitter, intense, powerful, spicy, cinnamon, raisiny, taut. We used "very dry" quite a bit, but also chocolate. We also noted again and again how the wines improved with air.
When we conducted a broad blind tasting of Amarone for The Wall Street Journal in 2002, we wrote: "As we expected, these tasted like nothing else, with that notable raisiny concentration, ripe fruit all bound tightly. Some of them had a Port-like richness, and some had hints of chocolate, plums, dried cherries and cranberries and even a little bit of licorice."
We opened the wines at 7 p.m. They both had an attractive brownish-tinged redness, a little like rich mahogany. The nose took us right back to Sal Anthony's. Our first notes on the taste of the 2009: "Anise. Licorice. Raisins. Really intense. Lots of earth. You can really feel the muscularity and tightness here." Amarone always used to remind us of a very taut rope and this did. John even said the combination of wood and rope made him think of a pirate ship (although everyone knows that pirates prefer Pinot-No-Yaaaar).
The 2011 had a similar bitterness, in a good way, but seemed just slightly more approachable, maybe just a bit plumper. There was bittersweet chocolate. We wondered if it was the vintage (the two do not appear to have been dramatically different), the age or maybe a slight change in winemaking style to make the wine a bit more international.
We each drank a glass and then tasted the wine with take-out Italian food. As expected, the wines kept changing. They had so much finesse. They were big and powerful and even explosive, but so very intentional. We wrote: "They know what they want to be and we've always been attracted to that. It's a vision we could feel even when we were young and had no idea what the vision was.
"It's not about our palates. It's about our feeling that someone cares about this. It's about authenticity. They are true." We drank those bottles over three days (carefully pumped) and they were beautiful the whole time.
So, for us, the bottom line is that we looked at notes going back 40 years ago, to our Journal column from 20 years ago and our notes now. It's not so much that the wine tastes the same to us, though it does. It's that it gives us the same feelings.
Even if we could afford Amarone on a regular basis now, we don't think we'd buy it as often as we once did, in the same way we don't eat as heartily or as late as we once did. It has more to do with lifestyle than palate. In terms of the wine, the straight line of our tasting notes is really something to behold. That's certainly a testament to the folks at Bertani, who made this Amarone, and to the other Amarone producers we've enjoyed through the years, but, for us, this also begins to answer the question: Yes, love can last.
Dorothy J. Gaiter and John Brecher conceived and wrote The Wall Street Journal's wine column, "Tastings," from 1998 to 2010. Dorothy and John have been tasting and studying wine since 1973. In 2020, the University of California at Davis added their papers to the Warren Winiarski Wine Writers Collection in its library, which also includes the work of Hugh Johnson and Jancis Robinson. Dottie has had a distinguished career in journalism as a reporter, editor, columnist and editorial writer at The Miami Herald, The New York Times, and at The Journal. John was Page One Editor of The Journal, City Editor of The Miami Herald and a senior editor at Bloomberg News. They are well-known from their books and many television appearances, especially on Martha Stewart's show, and as the creators of the annual, international "Open That Bottle Night" celebration of wine and friendship. The first bottle they shared was André Cold Duck. They have two daughters.
Banner by Piers Parlett