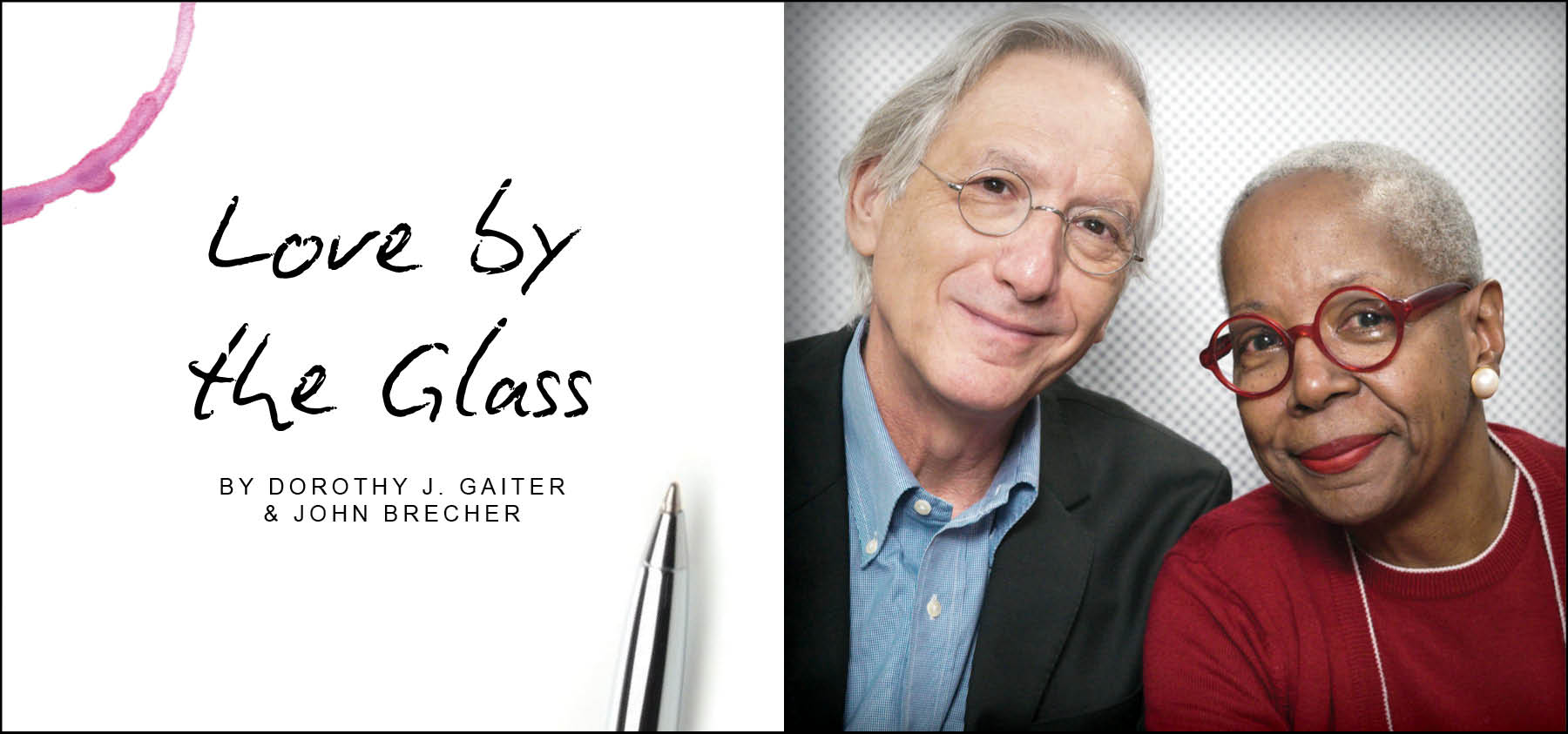 She had just left her grandparents' 50th anniversary party and wanted to hear some live music. He was coming from a wedding wearing "an '80s skinny tie." They had met before, of course, and didn't think they were each other's type. But that night at the Yountville Saloon, everything changed. They danced and danced, climbed a tree and then planned a date.
"I remember my buddies telling me when you're going to get married, marry a girl who can back a trailer. I said why? 'Cause that means they can get used to things when they go wrong. And one of the first times we went out she already had her boat in the water, so she could drive a boat, she could back a trailer," he says, and she jumps in: "Then his mom and grandmother checked my teeth, and apparently I passed."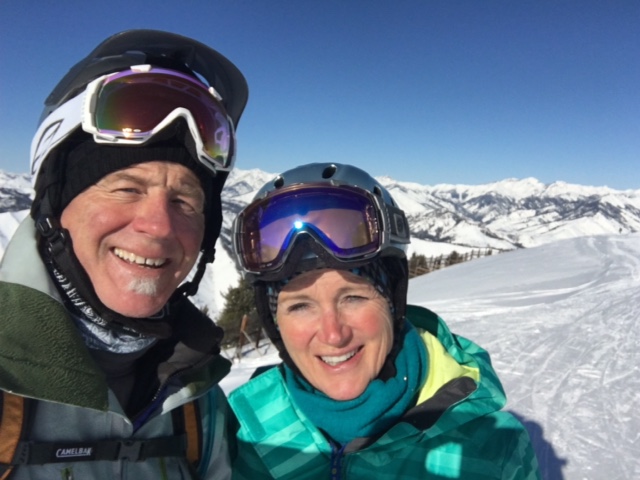 Bo and Heidi Peterson Barrett will be married 34 years in June. She is one of America's best and most renowned winemakers (Screaming Eagle, Dalle Valle, La Sirena and many others). He is a son of the founder of Chateau Montelena in Napa Valley, which became famous after its Chardonnay won the white wine tasting at the Judgment of Paris in 1976. Bo was later the winemaker there and now is CEO. The Barretts also make about 300 cases of Cabernet Sauvignon each year at Barrett & Barrett.
This Valentine's Day, when you're toasting with a nice wine, you might also spend a moment considering the hopes and dreams that it can reflect -- the romance and optimism, sometimes, of a special couple whose passion created that liquid art.
Winemaking is tough, consuming work, so maybe it's no surprise that many thoughtful wines are produced by spouses, working together. We have met quite a few over the years, from the charming young couple who signed a bottle for us in Monthelie, France, in 1982 to Charles and Ursula Massoud of well-regarded Paumanok Vineyards, who chucked everything in 1983 with the crazy idea of building a winery on Long Island, N.Y.
As we were preparing this column, we ordered a Blaufränkisch from Austria at a chic downtown restaurant. When it arrived at our table, we saw that the label identified the winery as Anita and Hans Nittnaus, spouses. Days later, we had a Les Quarterons Crémant de Loire, a delicious sparkler, from Agnès and Xavier Amirault, another couple. Grape Collective just had a column about Tracey and Jared Brandt of Donkey & Goat in California.
Keep your eyes peeled on wine labels, front and back, and you'll be surprised how often you'll see this. Sometimes one of them is the winemaker and the other does marketing or sales; sometimes, as with the Barretts, both are winemakers. Wine, to us, is romantic. It makes us slow down so we can really talk and look at each other and connect to things that we love about each other and wine. But do couples, who actually make wine for a living, still find it romantic? We called Bo and Heidi to ask that question. Their answers can enrich us about love, life and marriage – with a little bit of James Bond and (OK, we have to go here) Chris Pine thrown in.
Anyone who thinks winemakers are snooty or standoffish hasn't met enough winemakers. The Barretts, themselves the offspring of California wine pioneers, are charming, funny and down-to-earth. She's 61 and he'll be 65 in March. They have two daughters, aged 30 and 32, and a 41-year-old son from Bo's first marriage.
We asked Bo if he proposed to Heidi over a bottle of wine. No, he said, they were on a beach on the Pacific Coast of Mexico, on a scuba trip for which they'd taken buses. He had the ring in his pocket.
Bo: "I was pretty sober."
Heidi: "It was a surprise when he asked me. I think the thing was burning a hole in his pocket."
They became increasingly well-known as the years went by, as interest in wine in general – and their wines in particular -- grew. Chris Pine played Bo in the 2008 movie "Bottle Shock," about the Judgment of Paris. That same year, Heidi and Bo founded Barrett & Barrett. His late father, Jim, planned to sell Montelena (that fell through during the financial crisis) and the couple wanted something to hand down to their children. They quickly decided there could be too many cooks in the kitchen and they needed roles.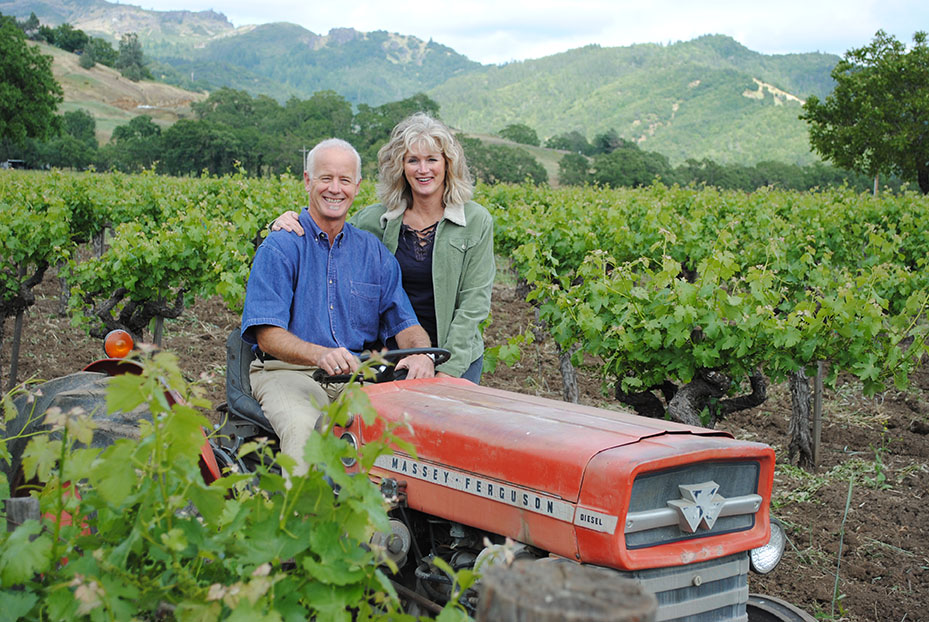 Heidi: "We're both used to being the boss and having the ultimate say in how the wine turns out, so the first year not to step on each other's toes we figured out pretty quickly, OK, let's go with our strong suits each and Bo definitely does more of the farming and I do more of the day-to-day winemaking and then we overlap on pick decisions as well as blending.
"And with blending we have 40 years-plus of experience each and we have different insights into that and both are valid. Every time we work on the blend we both have good input, which I really appreciate. But I'm also aware of allowing that, not just taking over, and I think Bo is the same – allow for my finesse stuff and I have to allow for him liking things maybe a little more raw, a little more tannic than I would necessarily choose. Somehow, we're both going for these beautiful, powerful, silky wines, but it does reflect both of our styles with both inputs."
Bo: "Heidi's reputation and her general styling is really around this seamless polish that she brings to her wines and my specialty has really been taking a piece of ground and raising it to its maximum and expressing it in a bottle of wine.
I'm the foot in the vineyard and Heidi is the foot in the cellar."
When we asked them if there was one wine that was particularly romantic to them, they focused on a moment, not really a wine.
"We came home from a ski trip in Idaho on New Year's Eve," Heidi said. "We didn't have a big plan for New Year's Eve – we never do -- and I kind of dug around in our wine frig and I came up with a little half bottle of Krug Champagne and then a Russian friend had given us a little jar of caviar and we didn't have any blinis so Bo whipped up a batch of Krusteaz pancakes and fried them in butter – and what's not to like about that, right? – and we had some homemade Greek yogurt I made. It was so good, you guys."
We'll celebrate our 40th anniversary this year. People sometimes ask how we have done it, especially since we've worked together for so long. So we put that question to the Barretts.
Bo: "It's the laughing."
Heidi: "It's definitely the laughing -- and the playing. You have to still play together or else you have nothing. We started off playing together, whether it's dancing or now when we're big ski buddies. We go on dive trips and we are both pilots so we like to fly together. All of that stuff keeps it fun and keeps you going. We're already plotting our next ski days this week. We kind of like play off each other on the mountain. He kind of like James Bond dive-bombs me – not colliding but almost sometimes. But we also have things we like to do separately, which I think is equally important – to have your separate identities and separate interests. Bo loves to hunt and I love to do art stuff."
Do they still see wine as romantic?
Bo: "When you start creating things, your creative juices kind of grow over time -- it doesn't diminish. In our world, you're 65 years old and you decide to replant the vineyard and you're not going to pick a grape 'til you're 70 and you're not going to get any wine 'til you're 72 -- you've got to be a little bit of a romantic to do that."
Heidi: "I don't know if romantic is the exact right word that I feel when I make wine but it's certainly still magical. I definitely feel that every crush when you start crush and you're super invigorated and it's really fun and is so magical for me having yeast turn grapes into wine. There is a magic element of that…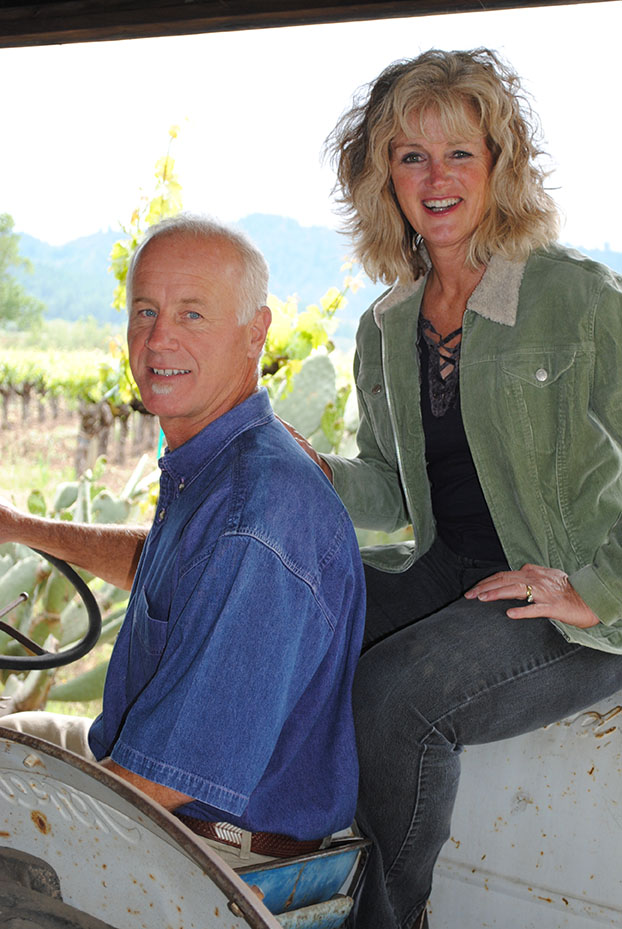 "I think it's something that touches people on a deep, almost spiritual level. To take something out of the earth and to make this elevated product, it's a really special thing to do. I think people really resonate with that and they realize this is not a factory-produced beverage, it's not just stamped out of a mold. They're never the same twice.
"I also really like the time-capsule element of it. I think what also adds to the mystique and the romance of it is that it sort of gives you a snapshot of what happened in that growing season…
"It's hard to grab on to anything in life. Life moves pretty fast. And so what lasts are the things that you can hang onto and one of them is wine."
Bo: "People say, What's the greatest satisfaction you take in your job? We try to make people's lives just a little bit better. I think that's romantic. Wine is just such an amazing proof or evidence of man working with his environment on this beautiful planet because we can make something – grow it up out of the ground and then save it for decades, and to be a part of other people's lives who we don't even know. I'm not a mushy person, but being a part of other's people lives is very satisfying."
Heidi: "It's very satisfying. We'll hear stories. Oh, my gosh, we had your wine at our son's graduation or we were out to dinner with friends and we loved it so much, it made the night so fun. That is very satisfying when you work really hard for years and then hear a story like that. It just makes your day."
The Barretts themselves don't make a big deal out of Valentine's Day. "I don't really care about that so much as long as there's a little acknowledgement like a little wink and a hug, a mention," said Heidi.
So on Valentine's Day, if you like a wine, send a note, a little wink or a virtual hug to the people – maybe a couple -- who worked so hard, from the earth to bottling, to put that magic in your glass. It will make their day.
Dorothy J. Gaiter and John Brecher conceived and wrote The Wall Street Journal's wine column, "Tastings," from 1998 to 2010. Dorothy and John have been tasting and studying wine since 1973. Dottie has had a distinguished career in journalism as a reporter, editor, columnist and editorial writer at The Miami Herald and The New York Times as well as at The Journal. John was Page One Editor of The Journal, City Editor of The Miami Herald and a senior editor at Bloomberg News. They are well-known from their books and many television appearances, especially on Martha Stewart's show, and as the creators of the annual, international "Open That Bottle Night" celebration of wine and friendship. The first bottle they shared was André Cold Duck. They have two daughters.
Read more from Dorothy J. Gaiter and John Brecher on Grape Collective
Banner by Piers Parlett