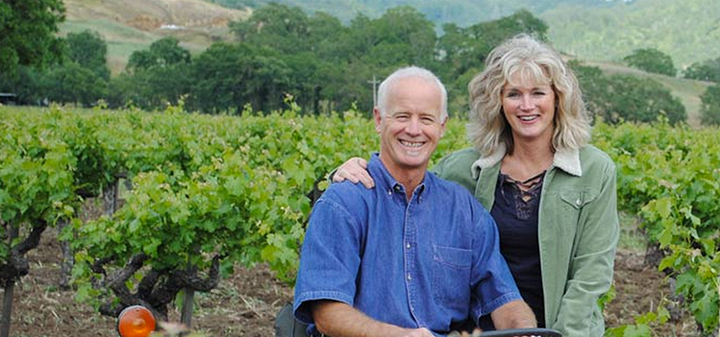 Heidi Peterson Barrett didn't get into wine with records in mind. But decades (and $500,000) later, she will be forever linked to the most expensive bottle ever bought. In 2000, at the Napa Valley Wine Auction, a retired Silicon Valley executive paid a half a million bucks for one six-liter bottle of Screaming Eagle's first vintage. The rest, as they say, is history.
Daughter of California wine pioneer Richard Peterson, and married to Chateau Montelena's Bo Barrett, Heidi isn't a one-trick pony. Her work has been responsible for some of California's most notable cult wines: Dalla Valle Vineyards, Paradigm Winery, Grace Family Vineyards, Amuse Bouche, Lamborn Family Vineyards, Showket Vineyards, and Fantesca. Needless to say, her impact is felt far and wide in the Golden State
We caught up with Heidi and talked about cult Cabs, growing up among winemakers, and the ever-important balance in wine.
Christopher Barnes: You came from a winemaking family. Tell us about what it was like growing up as a child of Napa Valley and being around the vineyards in the winery.
Heidi Peterson Barrett: My family moved here in the late sixties. My dad was a winemaker and my mom is an artist — my dad became winemaker at BV in 1968 actually as a successor to Andre Tchelistcheff who had been there for many, many years. My sister and I grew up in the valley. We rode horses from vineyard to vineyard. All over it was wide open space back then. I started working in a vineyard nursery and probably — maybe I was 15 or 16, in high school — sorting cuttings to go out to plant new vineyards and tying them little bundles of 25 and suckering vines and pruning and whatever needed to be done out there at that time. Then, later, the summers became tasting room work or laboratory work or cellar work bottling wine for sure and crush, crushing grapes all through when we were kids.
Did you know from the beginning that you wanted to become a winemaker?
Not from the beginning. But it became more apparent, I'd say senior year of high school where you needed to pick a college. I'd already had quite a bit of experience working in and around vines and wineries and was really good at math and science. I loved the creative nature of winemaking. It seemed to be a pretty good fit for me. Fortunately, I only applied at UC Davis. I got in fortunately; I didn't really have a backup plan. I did gear everything towards becoming a winemaker someday.
Back then, there weren't a lot of women winemakers. Was it something that you thought about, that you were going to be pushing the envelope and being a pioneer in this field?
Not really. I knew there weren't very many but there only in my family, there are no boys. There was only my sister and I. My dad was a winemaker. Both my parents actually always made us think we could do whatever we put our minds to. I never really considered that that would be an issue. It really wasn't so much for me although people would point it out like, "Wow! What's wrong with this picture here. There's three men and one woman. What are you doing here?" Give me a shovel. Put me in. I love to work. I can drive a forklift and all that stuff. It wasn't a problem.
Coming out of high school, you do what you wanted to do — you went to Davis. What happened after then? How did you cut your teeth as a winemaker?
Initially, I kept working for really good winemakers that I respected. I think that is the best advice I can give any new person coming in is work for people you admire, work for people who could become your mentors, that you're going to learn a lot from. I did. I fortunately worked for some amazing winemakers and gleaned little bits and pieces from each of those experiences and then put those in and put those together and make it your own once you're out in the hot seat as I like to call it as winemakers.
I worked for Justin Meyer was certainly one of those, one of the founders of Silver Oak certainly. Hired me right out of school. My dad, probably the biggest influence and still, could chat with him about this and that in the wine business which is great. A German winemaker named Alfred Hoffman that where I really learned about balancing wine and roundness. In German, the word rund means round in English. Either it's round or it's not. It has to do with balance. I learned that in Germany from him. Jerry Luper is another one of my mentors. Also, my husband Bo worked for Jerry as well. He was a winemaker at Chateau Montelena. I was his assistant winemaker early 80s and learned a lot about general, traditional, great, solid foundation techniques in the business. A lot of different people.
There's a number of years where you work your way up and then eventually got hired to be winemaker in 1983. I went to work for the Buehler's as winemaker. I was only 25. It was one of the youngest head winemakers at that time. It was my opportunity. It just came along. They offered me the job.
You must have been fairly nervous when your first vintage came out.
The first time, you're like, I'm like, "Am I ready? Do I know enough?" Every young winemaker goes through that. There is some figuring out as you go because of course none of us even at this stage, nobody knows everything. Things come up every vintage that are different. You just give it your best shot. There was some learning going on there during those days, too but it was a really good chance for me to start to put my little self on the map a little bit. The wine started getting some good attention and some good notoriety right out of the shoot so that was good.
How did you define your style? You have a very distinct style. When did that happen?
It has evolved into a recognizable style where if they're … By that, I don't mean to sound like the wines are all alike. They're not by any stretch of the imagination. They're very true to type, meaning varietally correct. They have the expression of whatever estate fruit I'm working with. That's really the footprint that goes forward but what I bring to the picture is to maximize those things and to bring the silky elegance to it, where they're really balanced, they're age worthy, they're delicious and they have personality of the place where the grapes are grown.
You mentioned some of the influences in terms of people that you've worked for. Do you have influences outside of the United States? Are there other regions of the world that you would consider an influence.
The German winemaker I mentioned, where I did an internship in Southern Germany in 1979 in the region called Württemberg where they make about half red wine and about half white wine. I was an intern in the cellar lab. I got to move around the whole production over about a four month period. I lived with the family of the winemaker who was this fellow named Alfred Hoffman. He really took me under his wing and drop me in on the blend trials and any trials they were doing, whether it was acid additions or various things.
I remember this table with pairs of wines going all the way around, hundreds of wines and little pairs. He would say, "Rund, nicht rund." Either it's round or it's not. It helped me, where the light bulb went on, I'd say for balance where you can do that with any component and any color or flavor meaning variety of wine. It works for everything. Part of that really spurred my interest in flavor chemistry, flavor dynamics, how flavors play off of each other. It's really instrumental in what I do with my work.
You were the winemaker at Screaming Eagle, which was obviously one of the most famous Napa wines anywhere. How did you end up at Screaming Eagle and what was that experience like?
That comes up a lot. People really know me from that experience. I was working for Dalla Valle at the time and Screaming Eagle didn't exist then. It was just a vineyard. It was a tiny little cellar. It was a real estate agent. Her partner at the time playing home wine at their little cellar. She had sold Gustav Dalla Valle his property as a real estate agent. I'd been making wine for Gustav Dalla Valle for a few years. He said, "Go down and see if you can help them out, get them going."
I started working there in 1992 and right out of the shoot, the first wine got first 99+ from Parker and he later rescinded it and said, "I should have given it the three digit score," as he called it. I love that but right away, people were just, "What is this wine? How did we not know about this?" It first started winning a lot of local tastings, a word at mouth, wildfire approach, just, "Oh, my gosh. You got to try this," friends to friends passing it on. The owner, too, having professional wine all of a sudden was super enthusiastic about it. Whenever I'm giving half of the first vintage away, that's how it is in the business. You get excited. "Wait. Look what we made. You got to try that."
That enthusiasm was a lot of fun to be around. Now we people's attention. You had to be able to do it the next year and the next year and the next year. That's where the challenge is great and also where I really got to step up to the plate and make that happen there for 14 years. It was really fun to be part of that, quite a wave to ride but to take something that didn't exist and create something like that was really a lot of fun.
Were you surprised at the success, because it was really like a rocket ship, wasn't it?
It launched but the same year, I also had a second 100 point wine for Dalla Valle. I had two back to back. I remember when I was working on those two blends of the '92 vintage, I remember telling my husband Bo, "I can't decide which one I like better. They're both really, really good. I love both of these wines." Sure enough, they both scored really highly.
It was the beginning of this golden era of the cult wines, we're not really brought on a lot of excitement for the business, it was great for the industry. It really created a big buzz. People got fired up about it. The wines were in small productions, scarcity definitely played a role. Then, they started going for huge prices at auctions which just fans the flames of all of that. Yeah.
Were you surprised about the prices of the wines were going for?
They didn't. If you think back, they weren't going for those prices early on. That came later. At first, the release price on that wine was $75. That would have been released in 1995 which at that time was a really high price for wine. You look at all the prices, if you go back, nobody was charging that then. Nobody had crossed the $100 mark at that time. Even Dalla Valle was in that same range. They really deliberated over what to charge for that wine.
Later, then the black market or grey market, whatever, took over. She would sell the wine for whatever, a couple of hundred bucks. When I left the winery 14 years later, it was still selling for $300 but commonly on the black market for $1,000 or more a bottle. People would buy it, turn right around and sell it and make a profit or they would buy a three pack, drink one, sell two and they could afford to buy it the next year. There was a lot of that kind of commodity-like brokerage going on with the wine.
The new owners then just raised the price and closed that gap. That isn't as possible anymore. The style has changed over time now but yeah, but in the early days, that was a bold move to come out at 75. That was a high price at that time.
Tell us a little bit about your philosophy as it comes to winemaking. What do you do that's different?
What do I do that's different? I do a few things that are different. My focus is on bringing to light the best potential of any given block of grapes from any wine estate. By that, I mean not only have the personality of the vineyard, it needs to show the unique characteristics of any given site but also be a really elegant balanced wine as well. It needs to be ultimately delicious. That's really the best point of wine is, it should be flat out delicious.
From a winemaking standpoint, then you have the creative part but you also have the scientific side. It's basically art based on science. The chemistry needs to work as well, the way flavors play off of each other is a very much chemistry driven. That's something that you get better at and have a better understanding of, the more you do it. Blending is one of my specialties. I'm really good at blending. I love blending. You can really elevate a wine with how you put a blend together and that's something you gain with experience over time so I love that.
I tend to blend late in the game. Most people blend early, right after crush, people are already thinking of putting their blends together. I don't. I blend just before bottling two years later for red wines. That is something I do differently. I feel like I can be more precise with my blend that way. I save all my cards and chips towards the end and then I can play them very precisely versus I already made my best guess and what if I was wrong, the way those wines aged. You can't really take it back once you blend it so I just wait towards the end.
Tell us a little bit about what you do as an independent winemaker.
Yes, so I started working as an independent winemaker once my second daughter was born and I needed to do more part time winemaking but and mostly be a mom but then fit in winemaker around raising my daughters. I started working for small companies. For small companies that needed a professional winemaker, they just didn't need one full time. I could do shared winemaker between small estates and still be home raising my kids when I needed to, go to work when we had work to do.
As my girls grew and went to school, I could take on more clients. It's really something I designed that worked well for our family. That started in 1988. My first client was Dalla Valle. In those days, followed by Screaming Eagle, I early days had David Arthur for a while, little company called Liparita. I had mix and match and assortment of clients. Now I have eight clients that I make wine for. I count my own brand as part of that. I make wine for myself, La Sirena. My husband and I have a partnership brand called Barrett & Barrett. I also am partners in a brand called Amuse Bouche.
Then, I'm straight winemaker for four other companies, Lamborn Family, Paradigm since 1991, Fantesca on Spring Mountain and Kenzo Estate, so those eight wineries, I'm their winemaker. Then, I do a little bit of consulting work as well, where I would work with an existing winemaker doing troubleshooting and improving blends and things like that though not during crush.
Tell us what it's like having a wine family. Your husband's a winemaker as well. Are you talking about wine all the time?
No. In fact, it's pretty much the opposite. We rarely talk about wine. We ask, they thinking, "Gosh, you guys must just be saturated, talk about wine." We do occasionally but not that much. Mostly, we just talk about all our other fun activities that we like doing. We're both pilots. He flies fixed wing and helicopter. I'm a helicopter pilot. We're both scuba divers. We're both big skiers. We garden. We've raised kids together. We have a whole farm. We have chickens and dogs and all of that. I'm a painter as well. I do art. He does all kinds of ranching projects of various sorts and is a hunter as well.
We have lots of other topics that we talk about. Seems like never a dull moment at our house.