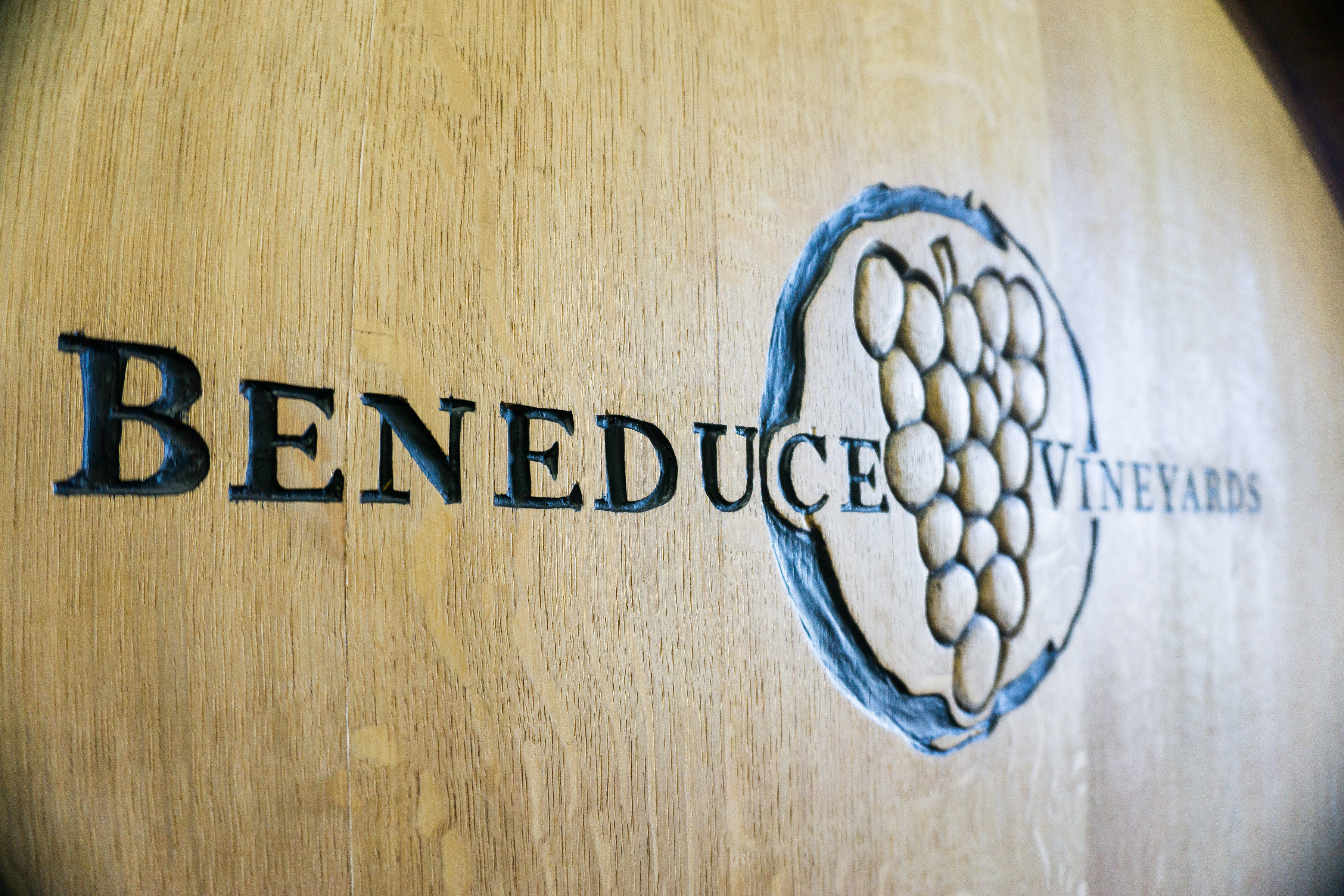 Nowadays, every state in the United States produces wine, from Vermont to Texas. And some states, of course, produce generally better wine than others. At this point, wine from California, New York, Oregon and a few other states has been recognized as "world class". Mike Beneduce from Beneduce Vineyards proves why New Jersey has the potential to enter into that premier category.
Mike Beneduce runs the show, with strong family support, in Pittstown, New Jersey (the western Highlands of New Jersey). He is the lead vigneron, cellar-rat and operations manager. Mike grows and vinifies Vitis vinifera varietals such as Riesling, Gewürztraminer and even Blaufränkisch. Drink his wines and you'll be convinced you are drinking (in terms of style) perhaps dry Austrian wine and not the average fruity or fruit-laden New Jersey wine.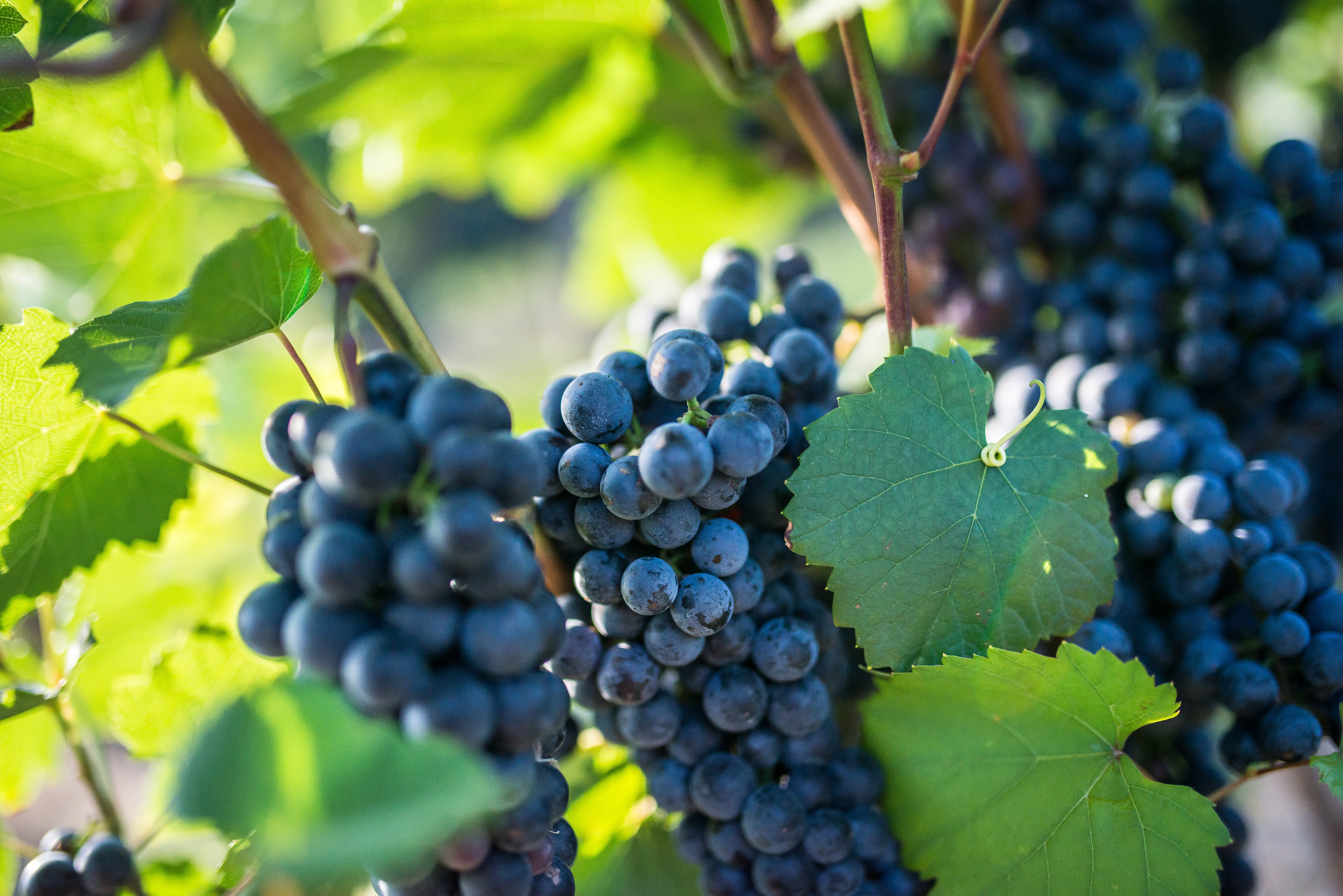 How did Mike get to this point? Mike grew up in an Italian-American household, where his dad owned his own nursery business. Mike then went to Cornell University, trained at wineries in the Finger Lakes and graduated with honors with a dual degree in plant sciences and viticulture/enology. Upon returning back to New Jersey, the Beneduce family set up shop in a calculated manner (read more below).
Beneduce Vineyards is a playful venue to take it all in, intended to be inviting to guests and the local community. The cellar is designed with an "open kitchen" concept in mind; guests can sit at the bar and taste through a flight while the Beneduce team is stirring wine on the lees or working with the wine barrels in the background. Outside, alongside the vineyard, local musicians perform almost every weekend in the fall, spring and summer, while patrons sip Beneduce Vineyards wines and crowd around fire pits in the cozy outdoor seating area.
In the Hunterdon area, there is a growing cadre of farmers making high-quality dry wines. The Winemakers Co-Op was recently established to encourage fine wine production in New Jersey. Mike Beneduce is grateful to have like-minded peers, strong support from family and the local community, and is proud to call New Jersey home.
--
Grape Collective visited Mike Beneduce at his winery, Beneduce Vineyards, in Pittstown, New Jersey.
Marco: Your family has owned a retail garden center, Great Swamp Greenhouses, all your life. When did wine come up as career option?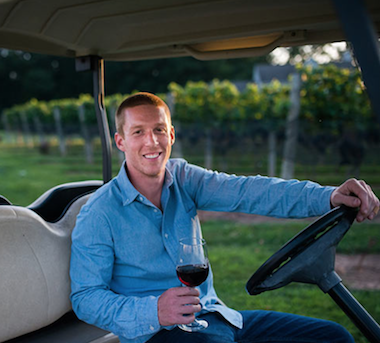 Mike Beneduce: My dad started Great Swamp Greenhouses when he was 19 and since then the business has expanded considerably to become one of the largest retail garden centers in NJ. They had expanded to the limits of their original property in Gillette, NJ and started looking for another farm to build production greenhouses, which is the original reason they purchased the 50-acre farm in Pittstown, NJ in 2000. They built a few greenhouses there to expand their production and they still grow and ship ornamental plants from there to our garden center. Meanwhile, we weren't using the whole rest of the farm and around the time I was in high school we started to research other crops we could plant on the farm to use it to its full potential. When wine grapes popped up as a possibility, we were all excited because we grew up making a barrel or two of homemade wine in the basement every year since we could walk. No one in my family had any experience growing grapes, so I was lucky enough to get accepted into Cornell and started studying vit/enology there.
You graduated magna cum laude from Cornell University with dual degrees in plant sciences and viticulture/enology. What was the most important lesson that you learned?
I think the most important thing I learned is that grapes are hypersensitive crops that react very differently on each individual site. Taking a cookie cutter mentality to vineyard management or winemaking really isn't practical, you need to be observant of your own plants and wines and listen to what they're telling you. In a sense, it's the philosophy of working with nature rather than trying to force it one way or another.
Please sum up your experience working the vineyards in the Finger Lakes region and how that affects how you do business today.
Most of my vineyard classes involved practical work in the Cornell-owned vineyards or other privately owned vineyards in the area. We also had a student winery where we made test batches, became familiar with some basic winemaking equipment, ran lab analysis etc. I also interned at Sawmill Creek Vineyards during my time there, and was able to learn firsthand from a fourth-generation grower about the intricacies of canopy management and pruning. The time I spent there taught me that this is true, dirt-under-your-fingernails farming, and I think I was really attracted to the physical side of it because I've always loved being outside and can't imagine sitting in an office all day.
After graduating, how did you decide on Hunterdon as a vineyard and winery location?
As mentioned above, we were lucky to already own a farm in Hunterdon and really were just blessed that it ended up being ideal land for a vineyard site. We have gently sloping hillsides that face southeast and southwest, really deep well-drained soils that allow us to dry-farm and establish deep root systems, a constant breeze that reduces humidity in the vineyard and prevents disease issues, and a high elevation that allows us to maintain a vibrant natural acidity in the grapes. Hunterdon County also happens to be a great place to establish a winery because people that live here appreciate farmers and locally sourced food and beverages. They also tend to have a pretty refined palate for wine and disposable income to be able to purchase premium wines in the price range that we offer.
You grow Riesling, Gewürztraminer and even Blaufränkisch. How did you decide on these and other grape varieties?
I think everyone comes to the wine industry from a different background. Maybe you're a retired attorney who loves Cabernet Sauvignon and decides that will be your focus for a winery. We came to the wine industry from an agricultural background, so our first question was "what grapes are going to grow the best here?". I'm a big believer that wine is really made in the vineyard, so it made sense to plant varieties that would produce the highest quality fruit rather than what we thought would have the most marketing cache. I studied the soil and climate data for our site dating back almost 100 years, and compared it to the European wine regions because they have centuries of trial and error for different climates under their belts. We found that we were most similar to the Austrian and northern French wine regions, so we started with a handful of those grapes and have been expanding based on our own experiences in the vineyard and winery since then.
What style can best describe your wines? How do you communicate that with the locals?
We tend to focus on dry, food-friendly wines from aromatic varietals. To be honest, I've never felt that words are the language of wine. You can describe something until you're blue in the face, but the best way to communicate a wine is to let people taste it for themselves. Everyone has different tastes, so for us it's more about helping people find a wine they enjoy.
Your tasting room is also your wine cellar. Why is it so important to bring locals to the winery and build community?
We designed our tasting room with an "open kitchen" concept in mind for a few reasons. Growing up, I never realized there was a pretentious attitude around wine for some people.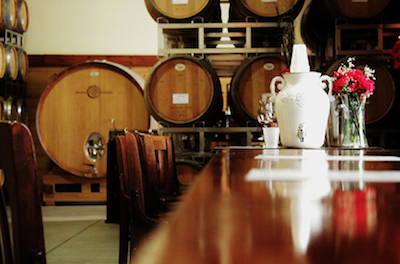 We wanted to remove that element of a wine tasting experience, and I think tasting wine alongside all the winemaking equipment and barrels offers people a chance to ask questions about the process and hopefully reduces some of that intimidation some people feel around wine. As a small winery, I also realized that we'd have to sell nearly all our wine directly to consumer because at our production levels we can't afford to lose a percentage to a wholesaler or middleman. Creating an experience for people to come see where the grapes are grown, where the wine is made, and enjoying that wine on the farm where it came from was really important to our business plan. It creates a connection with the customers that goes beyond pulling a bottle off a shelf in a wine shop. They become our biggest evangelists, and word of mouth is always the best form of advertising.
What has been the biggest challenge in Beneduce Vineyards' short life?
Outside the challenges that all farmers face (weather, labor shortages, high land prices, etc.) we've had the very lucky problem of having a demand for our wine that outpaces our production since we opened to the public in 2012. We really want to focus on making estate grown wines (and currently we use over 85% estate grown grapes) so there's a six or seven year lag time from when we plant a new vineyard until the wines are ready to sell from those grapes. Staying ahead of the curve has definitely been a challenge, but we're continually expanding our vineyard plantings and limiting sales pretty much to our tasting room and online shop to make sure we have wine to sell to our customers. I know some people get frustrated when we're sold out of their favorite wine, but I try to explain to them that it's different from a brewery who can just order more hops and malt and make a bigger batch the next week. We make what nature gives us once a year, and that has to last us until the wine from the next harvest is ready.
What steps are Hunterdon winemakers taking to promote their wines among US consumers?
I think it really starts in the tasting rooms and local communities. Convincing people that NJ is making wines worth trying can be tough sometimes, given our state's industrial reputation. But once you get the local consumers behind you, they do most of the leg work of spreading the word. We've also started a group called the Winemaker's Co-Op with three other like-minded wineries (William Heritage Winery, Unionville Vineyards and Working Dog Winery) to promote fine wines made from NJ grown grapes. We host a few public events together throughout the year and submit our wines to publications like Robert Parker's Wine Advocate for professional scores and feedback. Putting ourselves out into the larger world of wine is important because it not only helps us improve our quality, it exposes us to a different type of consumer that may not even know there are some world class wines being produced in their own backyard.