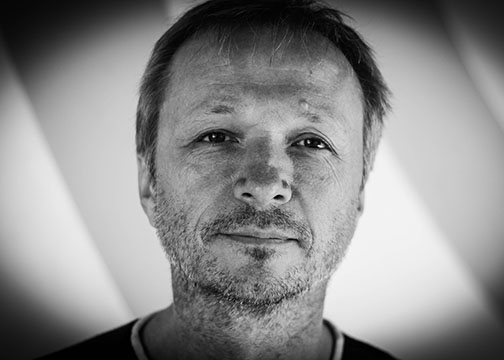 Known as one of Istria's top winemakers, Ivica Matošević is self taught and came to winemaking without the benefit of family connections. He established his winery in 1996, farms organically, using no herbicides and no insecticides.
Matošević talks to Grape Collective about the evolution of Croatian wine and the uniqueness of Istrian Malvasia.
Christopher Barnes: Talk a little about the history of the estate. How did you get into wine?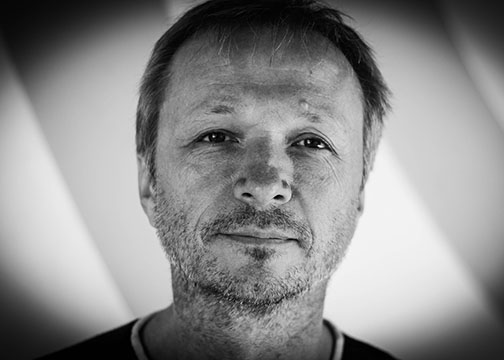 Ivica Matošević: It was pure passion. I'm a landscape architect, and I worked at other jobs, but I got a nice opportunity to do a PhD in Italy. It was '93 to '96, and during that period in Friuli, which is a very famous wine region, I realized the passion for wine in the local people there, and as we are just 100 kilometers away, I knew that we are dealing with the same history, so practically the same traditions, and the same relationship to wine. Everyday living with wine is practically the same, and this gave me an idea. Why can't we try to do similar things here in Istria? And so I started to take some of the courses, and when I came back in '96, I started to do my first bottle. Now I'm completely immersed in wine.
How has your winemaking changed since you started? You took the courses. You learned, so you're a self-made winemaker. Over time, have you evolved?
A lot. My picture of what is wine has been changed during this period. My idea of what is good, what is bad, also. Also my idea of what I can do. You fix some goals for the beginning, but it's not settled these are the ultimate goals, so you have to modify them over time. This is learning. This is life. I would say that I learned what our territory is, and I'm still learning, and I'll continue to learn it. Our job is more a way of living than the classical business. We are small. We are family-sized, and I like to maintain this approach, this passion, because this is a way which is very understandable also to our public.
When you talk to people who are not from Croatia, in the United States or the UK or different wine markets, how do you communicate Croatian wine? How do you say like, "We're doing something really interesting. You should really try our wines."
First of all, I have to explain where Croatia is. I usually say, "We are just 50 miles from Venice." This is very easy to localize, so we are dealing with practically the same history of the Venetian period. Old Roman and Greek wine culture has also been made here. Our territory's a little bit more complicated, but I generally say that my grandmother was born in Austria. My father was born in Italy. I was born in Yugoslavia, my daughter in Croatia, but we never moved from here, and this is attractive to people to hear. I would say that Croatia is one very small Mediterranean country, but we're very big as far as biodiversity, so you can find plenty of nice, different styles of wine, different varieties, plenty of authentic varieties.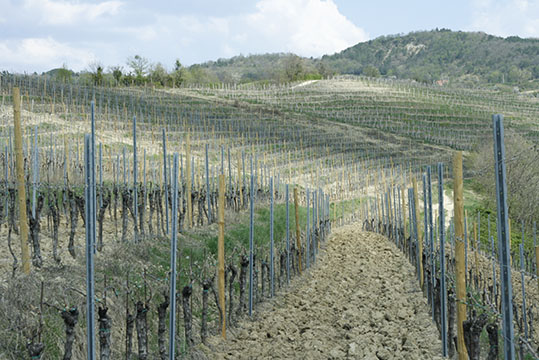 You mentioned that Croatia has a long history of growing grapes and making wine. When communism happened under Tito, and Yugoslavia was the country that Croatia was part of, what happened to the wine industry then?
I would say that the way of living with the wine did not change. Didn't change at that period, but the final product was connected to some higher volumes and lower quality, so the big cooperatives were leading this wine production. There were no classical, private producers from the main market. Private producers made something for the locals in the sense that they made it for their family, for their friends.
Today it's a bit different. I would say that this private initiative became visible after the '90s, after the war. Brought kind of a fermentation of the nice ideas around the wine. Everybody tried to do something better than their neighbor. They tried to place it in our tourist industry. We are living 10 or 15 kilometers from very famous tourist places. It was crazy not to use this industry behind this. Today, after 20 years since the beginning of private wine production, I see that wine is a very, very authentic part of our identity in this area. It was before, but in a different way. Today it's a very modern part of a puzzle of our total picture.
Talk a bit about the terroir in Istria.
There are two main soil types. You'll find going around, red soil, Red soil, Terrarossa, whisch is very attractive, noncalcareous, and the other is Flysch, what we have here, calcareous soil on calcareous bottom.which is very attractive, visible, and the other part is what we have here, a calcareous soil on calcareous bottom. Very attractive for the whites.
Right here we are on a place where, once upon a time, there were very good wines coming from this spot, but as it is on the slope, when the tractors arrived, everybody moved with the tractors to the plain. Those fantastic positions were left. Just 15 years ago, we bought this land here. We started to clean the shrubs, made a terraces, and now we can use all the mechanization here to reach excellent quality.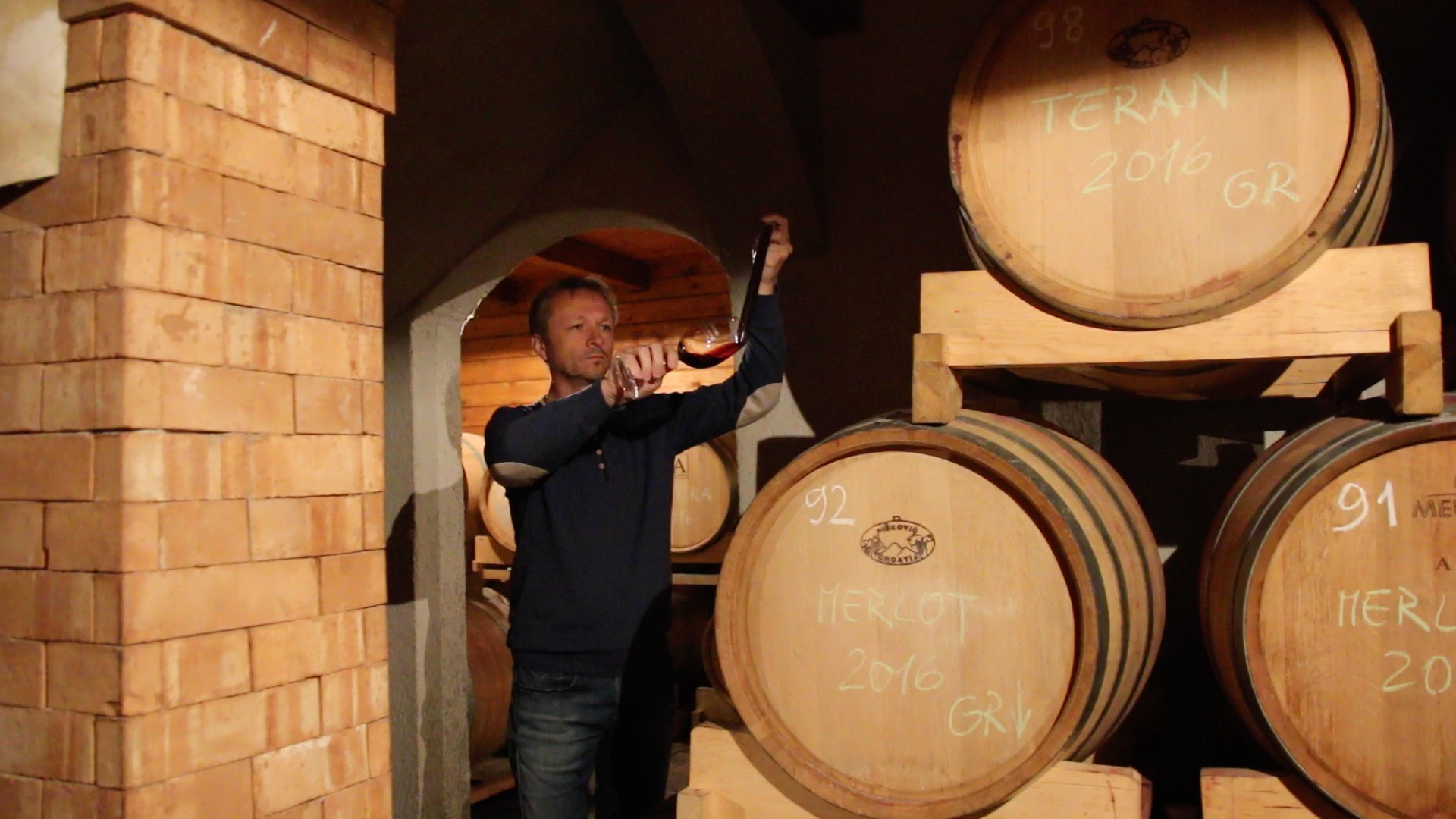 Talk about your philosophy of viticulture.
I don't have a traditional family, so I'm the first one who is doing this. I grew up in a city, and when I started to speak about philosophy, it is the new age philosophy. My goal was, "What can we do in Istria? How can we compare to the excellences of the international well-known regions?" My approach was a school approach in some way. I did my PhD on evolution of the potentialities of terroir. I'm very close here.
This is my playground. I would say that precision is one of the very important things. My goal here is to discover why this hill is particular. What is special, or particular, about this terroir. I decided to grow here two labels, white Grimalda and red Grimalda. Both of them are blends.
Are you organic?
Yes. We are organic. We don't write that we are organic, but, we have to be organic because a few years ago we discovered if you want to play this excellency game you have to be clean.
In the winemaking, you're doing a few unusual things. You're doing some longer macerations. Talk a little bit about your winemaking philosophy and how it's evolved over time.
We started with some idea of what we would like to do. Once in Istria, it's very logical that we do Malvasia, clean Malvasia, in stainless steel. It goes to the market fast and we live off it. But beside this very clean, very basic way of doing things, which is not easy, it has its own character. But, besides this, we are doing some different techniques. Some of them are also macerations, some of them are aging on the lees, using the barrels of acacia, doing some blends here. I would say that we will never be very famous on the world level, as a region, because we are very small. Sometimes we can do something that is very particular. For example, doing some Malvasia in a barrel of acacia with some additional maceration. This could be very attractive to the big sommeliers because everybody is looking for something particular made in a good way. Quality is, I think, number one for us. But after that, telling this story with these small particularities is, I believe, a good way for a small region like Istria.
You've been quite successful in terms of getting your wines on some pretty big wine lists. You're in the Fat Duck.
We have arrived in a lot of the fantastic places around the globe and we are happy for this. We are not speaking about the numbers, because when you reach some restaurants like you mentioned, it's not just to sell a lot of wine there. It's important to be present there. One is visibility of the cellar, the region, of the variety. But also, in the other way it's this feedback to understand what people tell us about our wines. People who are going to those places generally know more about wine. Following the wine there, they are interested in the excellency, and we improve what we do, from year to year. We talk with the sommeliers from those good places, this is again, one very attractive part of our job. I really enjoying this contact.
Take a 360 degree virtual reality tour of the winery and the vineyards. This experience only works in certain browsers including Google Chrome. You can also experience the VR tour directly onYoutube.
With the winemaking in Croatia, and I guess, Istria particularly, you've gone through a lot of different stages, you had let's call it, pre-communism, communism. There was the war, and now you're in - I don't know how you would specifically describe it, post-war perhaps. How has winemaking evolved in terms of the overall country and the perception of quality here?
The knowledge about wine today, is much greater than it was five years ago, 10 years ago, 20 years ago, not to speak of what was before the war. So now we are in 2017. I would say that this is one of the industries of this territory that is very visibly growing. It's growing in all parts, not just the surface, but the styles of wine. Standards of quality, techniques used in the vineyard and in the cellar. It's going on with the rest of the scene as well. We are a very touristy area. We gain about 20% of our GDP from the tourism. Wine is absolutely an important player in all this. I would say that today maybe Istria is pioneering this new quality and new standard of quality. Today, you'll also find good wines in Dalmatia, in continental parts of Slavonia, inland Croatia. Everybody's trying to reach something that is good where they will be proud. I would say that today, the industry of wine, is maybe not making big numbers but it's heading in a good way, in some modern direction. We are not spending time for nothing, I would say.
Talk about Teran. It's an indigenous varietal. How would you describe it?
It's a wild beast of the territory. Once upon a time, it was a dominant red grape. When I say once upon a time, it means some period of the Austrian Hungarian Empire here. So, around the end of the 19th century. In that period, we had about 44,000 hectares in just Istria. 90% of them were red varieties and Teran was dominating.
Today, we have maybe 10% of the total surface of that period. With Teran, it's very tiny. We have just a few hundred hectares. With Teran we are covering 8% of Istria. But it is part of the typicity, part of a long tradition of stories. If you go to the villages, if you talk to the people who are not connected to the wine business, but with the wine as a part of everyday living, you will find lots of stories about Teran. It has an intense red color, fruity nose, higher freshness and acidity, so it's not a harmonic wine.
If you show it somewhere in the world market, you have to tell the story around it. As we have just a little bit of this Teran, we are selling 99% of Teran at home, as a part of our, I would say, tourist souvenir. I believe that this Teran will survive some bureaucratic things, what we are passing now. It will never be a big player. But absolutely after Malvasia it is the most important variety. The styles around Teran are growing. People are doing sparkling wine, rosé, easy reds, aged reds, some dessert Terans. This is good.
Going back 10 years, you would not find so many styles. What is even better, we are good in whites, and we are growing in reds. Now, in the last years we have found fantastic Terans, producers who also won an award for the Best in Show of the Decanter 2016 contest, the world's biggest wine competition. We are meeting some goals to confirm what is needed to be pushed. Teran will absolutely have its place in the next years here in Istria.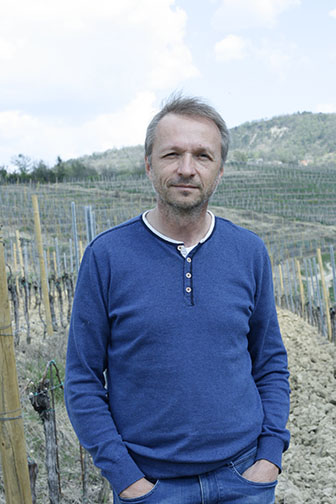 How did Malvasia become such a dominant grape in the region?
Malvasia is a very modern wine. It's light, drinkable. Somewhere in between Pinot Grigio and Sauvignon Blanc. A little bit more character than Pinot Grigio and more drinkable than Sauvignon Blanc. Malvasia has minerality and a slight bitterness which is very welcome in cuisine. It's a fantastic wine for very different food. Today if you go to Istria, you will find this coastal gastronomy which is connected with the sea, and inland gastronomy, which is connected with some meat, or our Austrian past. Malvasia is fitting very well with pastas, but also with fish. Now we are in the season of asparagus, and Malvasia with its slight bitterness goes perfectly with pasta with asparagus, or frittata with asparagus. If you go with more complex food, you maybe need some of the styles with Malvasia that have been aged for some time, or in oak barrel, or in acacia, or macerated. Again, you have this complexity which is in my opinion the key to the success of Malvasia. We are a little bit faster than some other colleagues in Croatia, covering the touristic market. Today Malvasia still is a dominant white wine in the present scene with our gastronomy. Graševina from Slavonia is produced in bigger quantities, but I would say that Malvasia is still taking the lead in gastronomy.
(Photography by Piers Parlett)