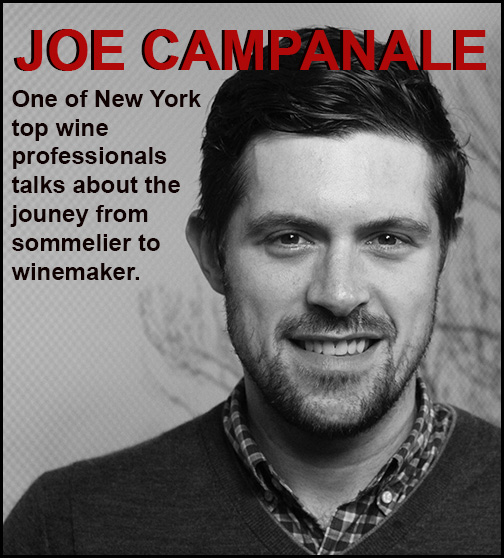 Born and raised in Queens, Joe Campanale started in wine sales at Italian Wine Merchants and then got his first sommelier job with Mario Batali's Babbo at the age of 23. Joe was named one of the Top Sommeliers of 2013 by Food & Wine. Recently he stepped down from his role as beverage director at dell'anima, L'Artusi, Anfora and L'Apicio. He hosts "In the Drink" on Heritage Radio Network, a weekly radio program discussing all things beverage.
During his stints as a sommelier and beverage director Joe fell for the Italian regions of Abruzzo and Campania. While traveling, he met winemakers in those regions who inspired him to create his own label. In 2013 he founded Annona wines, which has a non-interventionist philosophy; the wines are unfiltered and made from hand-harvested organic fruit.
Joe talks to Grape Collective about transitioning from serving wine to making wine.
Christopher Barnes: You were a sommelier and then a wine director, a partner in restaurants in New York. Now you're a winemaker. How did the transition to winemaker occur?
Joe Campanale: I think that it's a natural progression in some way. As someone who has worked in the wine industry for a while, I get to visit wineries around the world and you always have ideas as to how you want things to be done, and maybe some winemakers do things in a fantastic way, and some you'd like to have a little bit of insight. Maybe you should do a little bit longer elevage or use concrete tanks as opposed to wood. I kept having that urge and then I fell in love with the region of Abruzzo where there's incredible and natural beauty, great people, and some really iconic, amazing wines, but not a lot. I felt there was so much potential there. I kept having this idea that I think would be so much fun to make a wine from a Abruzzo that explores the potential, but is not as expensive as some of the really iconic wines.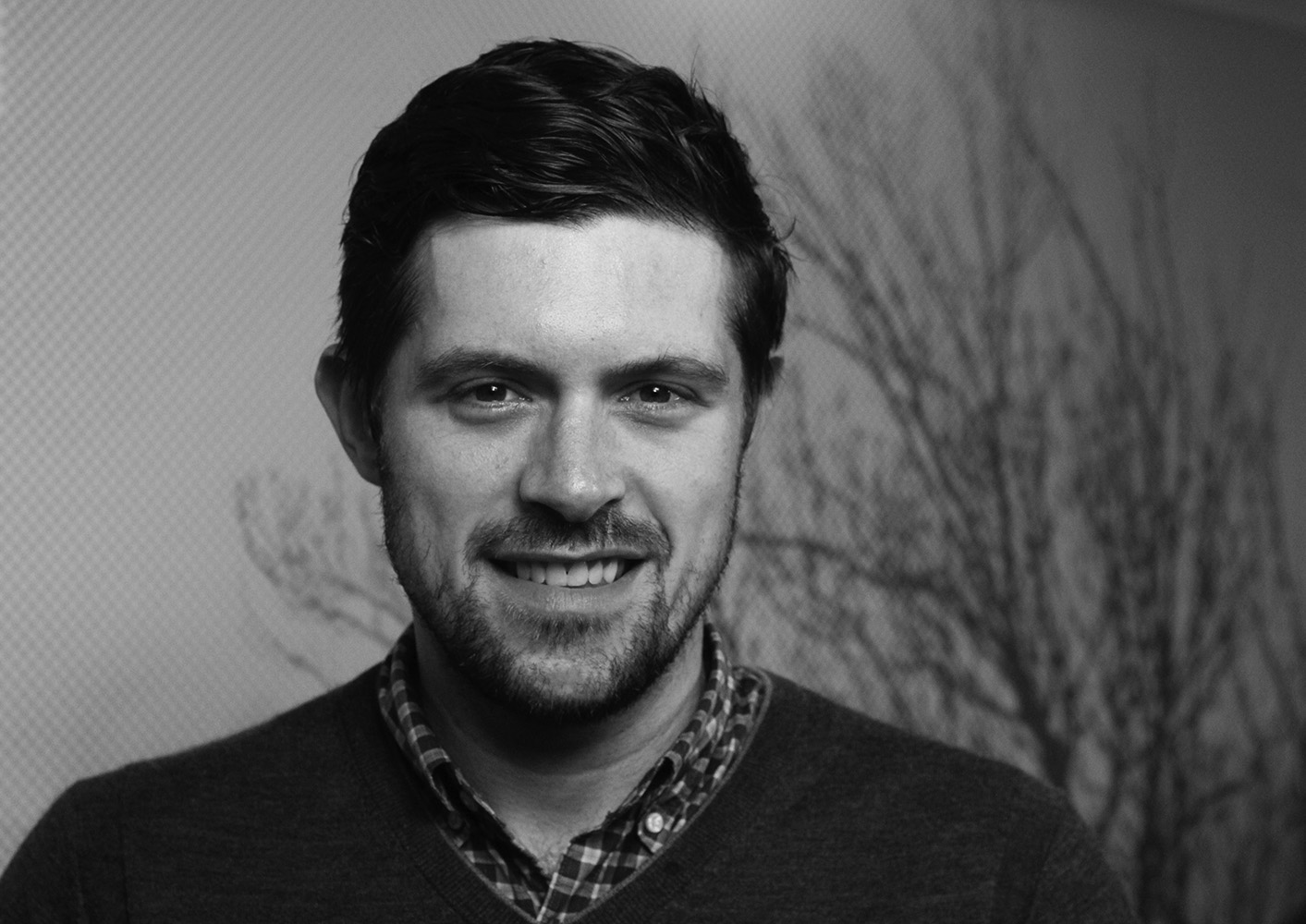 How did you find the winery? You had the idea, you wanted to do wine, you wanted to do wine in Abruzzo. Then how do you go from "I got an idea" to actually getting dirty and sticking grapes in a thing and squashing it and coming out with juice and selling it? How does that progression occur?
I should say I'm making wine in Campania as well. It happened in two different ways in Abruzzo and Campania. In Abruzzo, I'm really good friends with the Emidio Pepe family and I kept visiting them, and they said, "You know, you should ..." I said, "I think there's so much potential here. Who should I meet, where should I go? What do you think the next step should be for me?" They really helped me out with the next steps of that process and they introduced me to a gentleman named Stefano Papetti Ceroni, who's down in the area of the Loreto Aprutino. Emidio Pepe is in northern Abruzzo, right on the border of the Marche. Where we are is in Loreto Aprutino, or as we affectionately call it, LA, which is in central Abruzzo right in the foothills of the ground the Gran Sasso, which is the highest peak of the Apennines. It's the furthest south in Europe where you have a glacier where it's frozen year-round.
It's also the area that a winery called Valentini is located, which has always been, since I've gotten into the wine industry, one of my favorite wines, but also one of the wines that's most interesting intellectually to me, the Valentini Cerasuolo. I was really excited to go and visit this area and especially to meet Stefano. When I met him, I found this incredible winery that as is the tradition of the area, and as is with Valentini, he was selling most of the grapes to the local co-op. I saw some potential there. He was already making wine in an organic way. It really crushed him a little bit of a way to grow the grapes organically and then for it to be mixed in with the co-op wine, which had some organic grapes and had some that were really industrially produced. We were able to form first a friendship, and then a business relationship. We make the wine with his grapes in his winery and according to my ideas behind how the wine should be vinified.
I should say that a lot of my influence is more in the vinification than in the viticulture. Both in Campania and in Abruzzo, I've teamed up with people who I think are really great farmers. I think that it's not really up to me to ... There's nothing I can add to the discussion of farming. It's really in how the wine is being produced in the vinification where I can have more of my mark.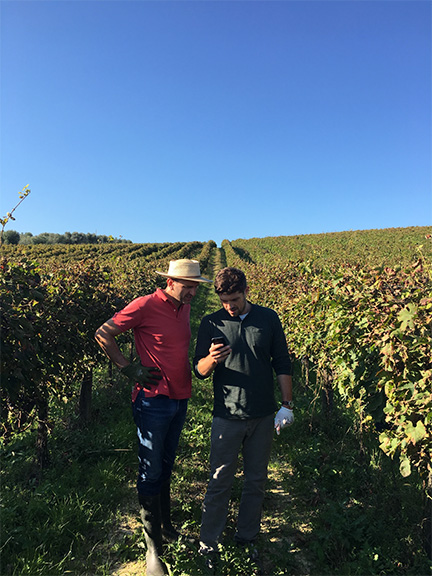 How did you go from Abruzzo to Campania?
In Campania, I've been really good friends with a winemaker named Bruno De Conciliis who is this fantastic artist, passionate winemaker. Just a guy with a huge, huge heart. We've been friends for years and I told him about the project I was doing in Abruzzo. One of the things I really like about him is that he's really curious. He likes to experiment. It's not necessarily well accepted in his Italian domestic market, but I think he has this really interesting, inquisitive mind and wants to keep experimenting and doing new things. He'd love the idea of doing a project together. One of the things that he was experimenting with is a small amount of stem inclusion or whole cluster fermentation for his Aglianico, which is maybe counterintuitive because stems can add some tannin. I loved the results and I said, "Bruno, you should do 100% whole cluster Aglianico." He said, "Let's do that together because I don't think I can do that and really sell it in Italy, but I think it would be a fun project to do together."
It was a really a way to deepen what was already a great relationship, and it's been really fun.
How much wine are you making in these two projects?
It's a really small amount of wine we're making. With the Aglianico, it's only about 200 cases a year, and in Abruzzo, between the Montepulciano and the Cerasuolo, it's about 850 cases.
That's really small production for sure.
Yes. It's a passion project.
I don't think it's going to be what I retire on. It's something that I just really love and it gives me excuses to go to Italy as often as possible and spend time with my friends and smell Italian air, and learn as much about winemaking. Yes, it's really a passion project.
Joe, talk a little bit about Abruzzo. What's the soil and the climate there like? How does that reflect in the wines?
Abruzzo's a pretty large region. It's on the central eastern coast of Italy on the coast of the Adriatic Sea. It's really divided right down the middle by a chain of mountains called the Apennine Mountains. On the west side of the mountains, you really don't see much in terms of winemaking. It's really on the east side of the mountains and going from the mountains pretty much all the way to the water that you see winemaking with the area right in between running north to south being the prime area. Within that, the two best areas are around Emidio Pepe in the Colline Teramane, which is where Emidio Pepe is up north, and then where we are in the central area of Loreto Aprutino. There are some outstanding hillside vineyards, and when you're in a good spot, you have the hillside vineyards who have soils. Some ancient glacial soils. Then what's really great is that you're able to get a lot of wind as well. We get the nighttime wind coming off the Grana Sasso, which cools down the vineyards significantly at night. Then pretty reliably a morning wind coming from the Adriatic Sea.
In those best areas, you have poor soils. You have good drainage, you have good amount of wind. It should be pretty easy to do organic viticulture. It's never easy, but it's a place that's conducive to it because you don't have that much humidity.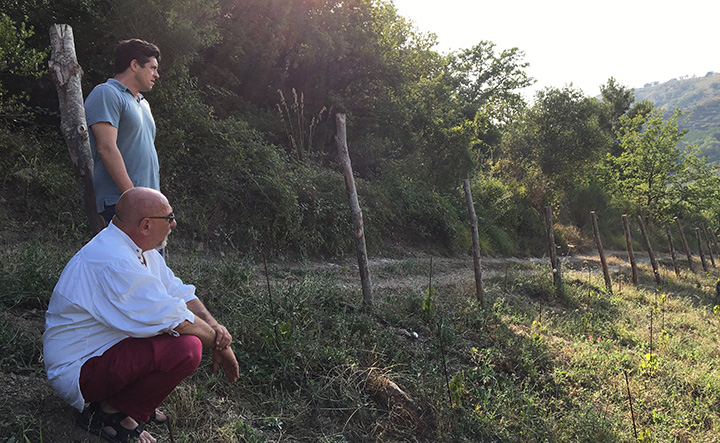 Joe Campanale with Bruno De Conciliis in Campania
With the winemaking, how is your winemaking philosophy either the same or different from the other producers in the area?
In Abruzzo, I think there's only a small handful of producers who are really great farmers, and for me it all starts with really good farmers. Then when it comes to the winemaking, we're doing all concrete fermentation and maturation for the wines. That is something that Emidio Pepe does as well. They have concrete, but I don't know if anyone else ... I'm sure there are a couple of producers, but I can't think of ... I've never seen other all-concrete wines in Abruzzo. For me, concrete is just the best conveyor for the Montepulciano grape because it's not adding any flavor to the wine. It's allowing some respiration. Then for the Montepulciano what we're doing is a very short skin maceration. The idea is for this to be a pure and fun wine, but to be also very distinctive. I don't think there's anything like that that's going on.
The Cerasuolo I also think is pretty unique and it has the same philosophy. It's a Cerasuolo that is age-worthy. A Cerasuolo is a rose from Montepulciano grape. It's an age-worthy Cerasuolo. An age-worthy rose. In fact, we release it on a red wine schedule at the end of the rose season, which makes it a little bit harder to sell for sure, but we don't make that much of it, and that's okay. I think that I'm totally, totally fine with that. To create a Cerasuolo, again, that's pure and distinctive and age-worthy, very, very, very few ... There's Valentini's, but that is so costly and so rare. Then Emidio Pepe's isn't imported. I think that's something that's unique as well. In terms of the Aglianico, I don't know of anyone who's doing any whole cluster inclusion at all, other than Bruno De Conciliis.
Again, we want to do something that's distinctive, and what I found here with the whole cluster is that in fact it hasn't added tannin to it, but it's elongated and smoothed out the tannins. It reduced the alcohol, fixed the acidity, and made it a lighter color, and it's given this incredibly complex bouquet that you just don't find in any other Aglianico. I think it's created a truly unique wine.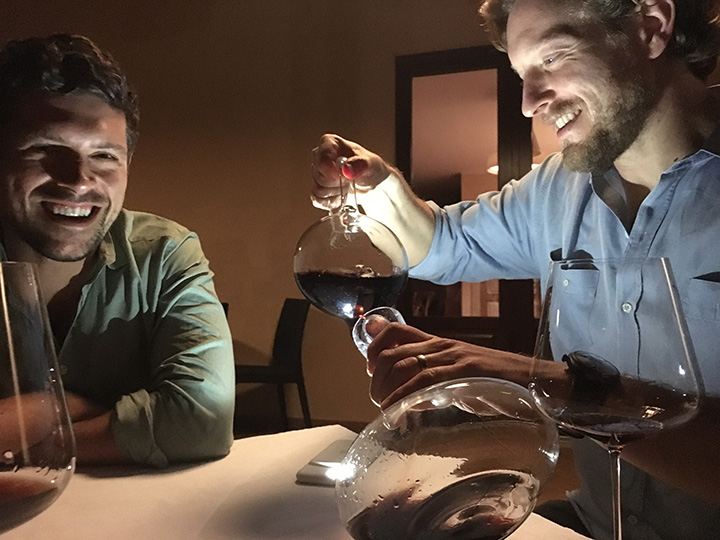 (Photo Joe Campanale with Stefano Papetti Ceroni)
Just to jump back maybe clarify for people that aren't super familiar with Aglianico, it can be a tannic wine and if you add the clusters in, generally speaking, that can add to that tannic sensation. In general, is that correct?
Exactly, yes. Aglianico can be as tannic as Nebbiolo, right, but even more powerful. If you can imagine a really big, burly wine that is an age-worthy wine, and why people tend to use that whole cluster on softer wines, like Pinot Noir, to give it some more structure and complexity. It's counterintuitive, but it's actually the really old way of things being done in that area. People would add everything. They'd add skins to the white wines, they'd add stems to the red wines. They would just use everything. What we found is that it actually smoothes out the tannin and gives just a completely beautiful, wild bouquet. I just love the idea of using everything as well.
Fantastic. You've made the wine, you've got all this wine. What do you do? You have to sell it, right?
Yes.
That's something you've never really had to do before. How do you go about becoming a winemaker and then a marketer?
Yes. Making the wine is the fun part. There's a lot of wine that you have to consume in order to make wine too and a lot of fun meals in Italy. I don't know. I guess I'm just hitting the streets. For many years, I've been on the wine buying side. For nine years, I was the buyer at our restaurants. It is very humbling to try and sell something that you've put your heart into and so much time and effort. I can't say I have no experience with it. I actually did one year working for Vinifera Imports, which was an all-Italian wine distributor. I was 22 years old. It was actually my third job in the wine industry. I worked at Italian Wine Merchants first, and then at the Wine and Spirit Education Trust for a year, and then sold wine for a year. I remember it being so humbling and people treating me so poorly as a sales person, but I think also probably as a 22-year-old who really was in over his head.
That I'd always made it a point to be extra nice to our sales reps and I'm just hoping that some of that karma is coming back towards me now. It's fun to tell people the story and I think more people should know about how beautiful Loreto Aprutino is and what a great place it is two and a half hours east of Rome. You fly into Rome, you drive east. This summer I went to Cilento with my girlfriend. First we went to the Amalfi Coast, a ton of tourists, absolutely beautiful. Spent a sickening amount of money on a hotel that it still hurts when I think about it. Then went down to Cilento and you could stay at an almost equally beautiful hotel for five nights for the same price as one night in the Amalfi Coast. There were no American tourists and the food was better and it was beautiful. Where we are in Cilento is actually in a huge UNESCO-protected national park. It's tens of thousands of acres of nationally preserved land, also on the coast here around the Mediterranean Sea.
I think in both of the cases, these are areas that people should know about. I'm encouraging them to visit. They're beautiful and places that people don't go to as often. I love Barolo as much as you or Brunello. I know you're a big Brunello fan, but I don't think there's anything I can add to the conversation of Brunello. I do think in Abruzzo, in Cilento, in Campania, there's some more that can be explored there.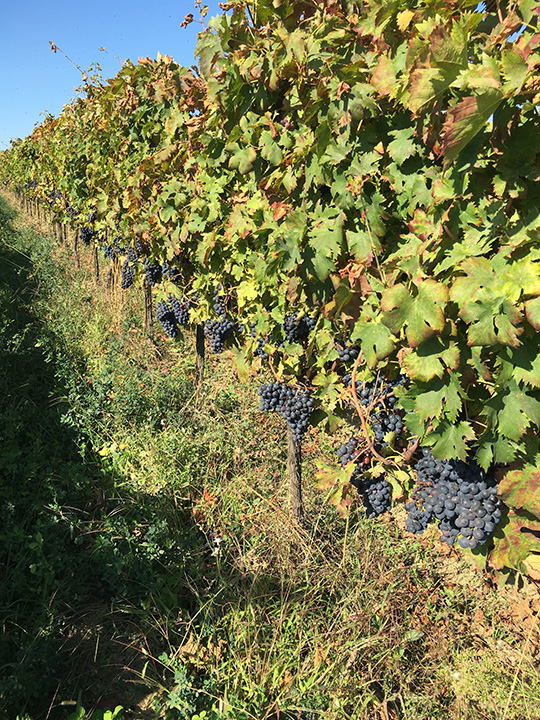 We talked a little bit about the soil and the climate in Abruzzo. Maybe touch on that with Campania.
In Cilento, we're in the southern part of Campania. We don't have that volcanic soil that you have in the northern part, but it's more of a sandstone and clay-based soil down there. What I think is really special is two things. One, we're in a valley. We also do get quite a bit of air coming off of the sea. It's a nice constant breeze and wind. Then being in that national park where ... It's not the idea of Yosemite here. People can visit. It's a national park where people actually live in, but if you're in that, all the land is protected. You can grow agriculture there, but you have to be very conscientious, and this is thousands and tens of thousands of acres of natural protected lands that I think add so much biodiversity in that area that it really does create complex and soulful wines because of that.
Joe, the restaurant business. The statistics for successful restaurants are not good, right? Something like nine out of 10 restaurants fail in their first year, and yet you've been very successful with some of the top restaurants in New York City. First of all, how are you brave enough to get into it? Secondly, what makes a success? How do you become that one in 10 and not the nine in 10?
Yes. I'd argue that I wasn't brave, I was dumb instead. I was really young. I was working at Babbo as a sommelier shortly after or right after I'd worked at Vinifera Imports. My former boss from Italian Wine Merchants approached me about opening a restaurant with him. I guess I was dumb and lucky. We had maintained a good relationship and it gave me an opportunity to open a restaurant. This is back in 2007 with dell'anima. I don't think what we did was totally revolutionary, but there really weren't a lot of restaurants around at that time that were casual restaurants, small casual restaurants, that had a great wine list with really nice stemware. A staff that was really well-versed in it back in 2007. Really in the West Village, which I think back then, the idea of having dinner in the West Village no matter where you were was this really nice idea, but there really weren't many restaurants that lived up to how nice the idea was.
I think that we were early on a trend of serving great food and great wine in a casual place and not charging people for a tablecloth or expensive lighting fixtures or something like that. It's funny though. Now I think that it's coming the other way around and restaurants are going to have to invest more in design than they were for these last 10 years. Not in a way that it's really fancy, but in a more thoughtful design, and I think you're seeing places becoming much more thoughtful in their design.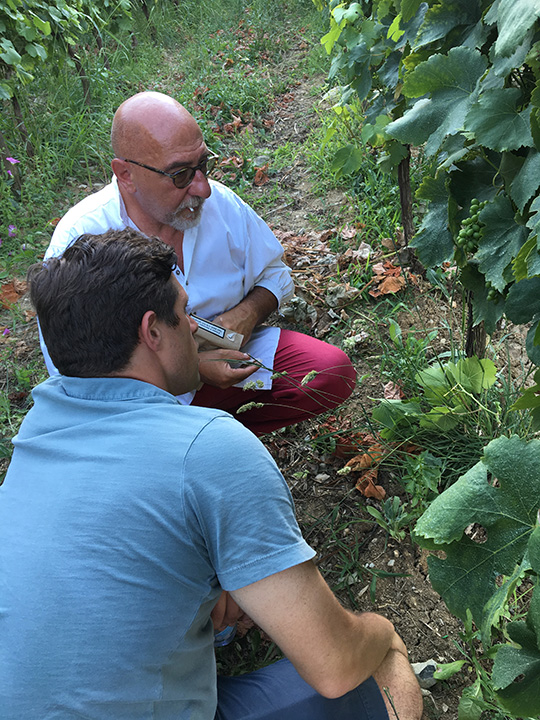 For example?
For example, I think any of the restaurants that Home Studios has worked on are really beautiful. Even as something as simple as a Pauly G's pizza restaurant that has to be thoughtful in their design. June Wine Bar, Four Horsemen Wine Bar. I think they're thoughtful and beautiful in their design. Yeah, there are more and more really pretty restaurants that have opened up recently. They're still casual and I think that's where we are, which is a good place.
What does it take you to be successful? It's becoming harder and harder. It really takes putting together a great team. You could have the best chef or the best sommelier, but if you don't have the team around that, it can't survive. That is becoming harder as there are more great restaurants opening up in cities outside of New York in boroughs outside of Manhattan. I know most of the people who work in restaurants in Manhattan live in Brooklyn or Queens. New Jersey too.
You could say, "I don't need to go all the way into Manhattan if I want to be a professional in the restaurant industry. I want to learn and be better. Now I can work much closer to home," whereas before, you had to come into Manhattan. You had to work in New York City. It's building a great team and that's the main thing.
With Anfora, the focus is on more artisanal ... Would the word be natural, would that be correct? Would you say the focus is on natural wines with Anfora?
Yes. When I opened up Anfora in 2010, the idea was definitely to have more natural wines. We've seen a few wine bars open up lately and that was also earlier on the wine bar scene. I didn't want it to be so funky and so out there where I wanted people who didn't care about natural wines to still be able to appreciate the wine, just for being a delicious, pretty pure wine. I also think that that is a way that, at least for me, things are going ... It's really important that people make wine with really good farming, that respects the earth, that respects the people who work in the vineyards. I know that I personally want to drink things that are less funky. That are prettier. That aren't as weird and wacky. It could be weird and wacky in terms of the grape or the place, but I don't want it to be faulty in any way.
Right. There's a lot of conversation around the world about natural and many people criticize natural wines for the percentage of them which are faulty. Do you feel that that's a fair criticism?
I think that some natural wines are faulty, right, but I also think there are some people who are just turned off to the whole idea as well that they don't taste the beautiful wines. It's going to be weird and wacky. To make a natural wine, especially with low sulfur, that isn't weird and wacky, it takes a lot of manual work. It's no chemical work, but it's a lot of manual work, right? It's not lazy winemaking. I see you guys have some really beautiful Beaujolais here and those ... A lot of Foillard. Foillard uses very, very, very low sulfur, but those aren't weird, wacky ones. Those are beautiful. That's one of the wines I have the most in my own personal cellar. I point people to wine like that to show it just takes being a good winemaker and you can make a wine that people will like. There's some validity to the criticism, but not universally.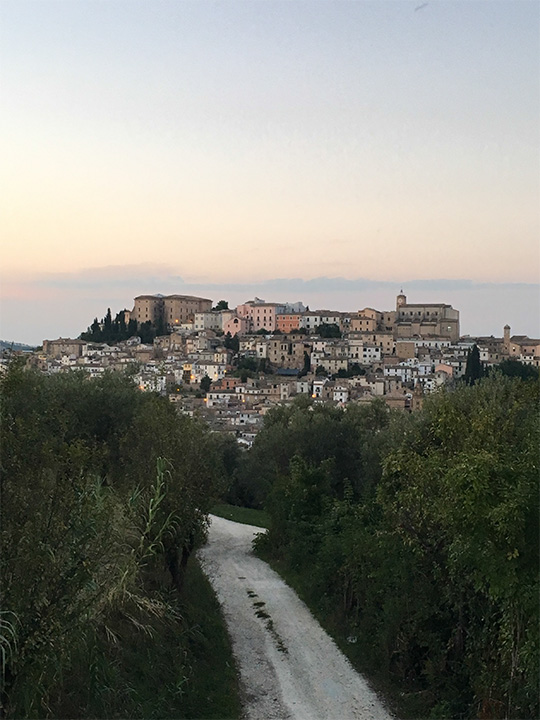 Owning a restaurant, you must have sales reps coming in every single day saying, as you are now, trying to sell their wines and having a passionate pitch about something. Yet you can only have so many wines on a wine list. How do you decide which wines you go for and which wines may be good, but they don't quite make the cut?
Yes. That's the tough thing. I should say first I recently stepped down from my position as the executive beverage director of all the restaurants. It's not something that I'm focusing on, and now there are assistant beverage directors at each of them who are great and who do a lot of great work. I've worked really closely with all of them, but there are a lot of factors that go into it. In the ideal world, I taste all the wines of one particular category and say, "Is this better than the one that we already have on the list? Yes." Okay. Once we run through the one we already have, we'll switch it out, but as you probably know, logistically that doesn't always work that way, and there are multiple excellent examples of wines.
What I would always do I would taste with the assistant beverage directors at each of the restaurants every Thursday from 12:00 to 2:30 and we'd set up five, six, seven appointments. At the end of it, we would discuss "What were your top 10 wines? What did you think of them compared to the wines we have on the list? Is it worth switching it out?" I always kept the tastings just to that one day during a specific time. We'd all taste together. For me, that was the best way to just keep things systematic. In my earlier years, someone wanted to taste with me, I was like, "Sure, I can taste Monday this and Tuesday at that time." It's just too hectic and hard for me to keep my thoughts in line when you have all these other things happening in the restaurant and the most important thing is just getting the restaurant open.
You're here to taste something at 3:00, there's a minor emergency at 3:30, you heard that your busboy can't show up, and now I have to fold all the napkins for the night and get the restaurant open at 5:00, and do everything else, I probably am not paying that much attention to the wine I tasted at 3:00. I think it's just the best way to keep everything systematic.
Are there certain regions that you get excited about? I was at Anfora maybe, I don't know, a month and a half ago or something, and I had a pretty cool wine from Croatia, which was lovely. It was someone's birthday, and there were two wines. It was really a very thoughtful wine. Are there regions like that that you get excited about that are off the beaten track?
For sure Croatia is one of them. I think everywhere along the Adriatic, Greece and Croatia and Italy, there's something to those wines that I find really appealing. I think as someone who is a wine lover and curious about it, and has a lot of experience in the traditional wine regions, this push towards more Eastern Europe and places that have been making wine for so long, but we're just now able to get them here in the States or they're just now going through these quality revolutions where they're discovering old grapes that haven't really been used commercially in a long time. Those things excite me very much. In general, the idea of an indigenous grape is most interesting to me. Cabernet Sauvignon and Chardonnay, Merlot, Pinot Noir, they're grown all over the world, and I strongly like examples of them from all over the world. Intellectually, and what I think is often the best deal too is a grape that's indigenous to one area and only grows in that area, and doesn't grow anywhere else, except for maybe some random, crazy person in California, right.
I find that you can get really distinctive wines that way. You can get really good deals for wines that way. I think why we it is because it's able to transport you to a place. It can be something that's specific and unique and has something of an intellectual capacity to it. That's a lot with the work that you're doing here at the store. For me, an indigenous grape is the best way to do that because it's the grape of that area. It's what traditional to that area and it tastes like that area.
Check out Joe Campanale's column on Grape Collective about how he develops his wine lists.