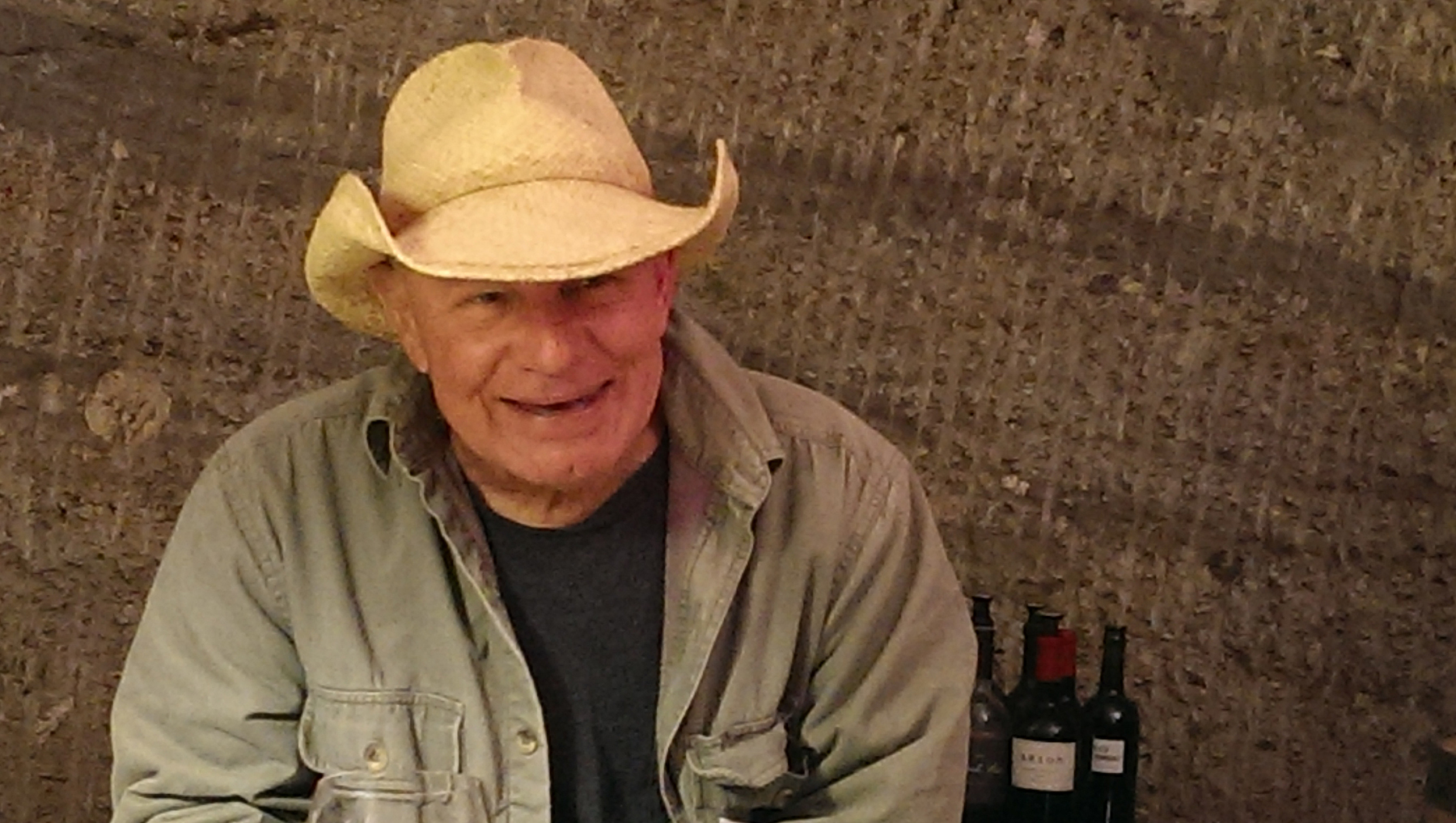 We'd had no intention of visiting John Caldwell. Our trip to Napa had been meticulously plotted, so the first time we heard a suggestion to re-route to meet "The Smuggler of Napa Valley," we just smiled.
But then we heard the suggestion again, this time from Julien Fayard, winemaker at Purlieu in Coombsville, in the far southeastern corner of Napa. Caldwell is a legend. Fayard was insistent. "You really must take the time," he said. "You won't regret it." And he told us a colorful story behind that notorious nickname: involving the smuggling of illegal rootstock back from France.
We landed on Caldwell's doorway.
Tastings at Caldwell Vineyard are by appointment only, but although we'd showed up uninvited, Caldwell's wife, Joy, greeted us warmly and ushered us into a tasting that was just about to start. We were seated at a large round table deep in the cellar with two gentlemen from Virginia's Early Mountain Vineyards (owned by Steve Case and his wife). There was a plate of cheeses and numerous bottles of wine already open.
John Caldwell held court. Bold and brash, he'd likely performed his tasting routine hundreds of times. But the speech didn't seem canned, and we felt lucky to have heard his story—that of a pioneer, raconteur, grower, smuggler—straight from the source.
Caldwell had come to Napa in the '70s, purchasing 65 acres in the Coombsville appellation for $2,000 per acre. But he managed to negotiate a down payment of just $5,000, and his plan was to subdivide the lot and sell off a portion, using the profits to pay for a life of travel and leisure.
Then the Napa Planning Commission threw a wrench in the works, abruptly changing the subdivision rules and yoking him to the entire acreage. His dreams of leisure thwarted, Caldwell decided to turn the land over to viticulture.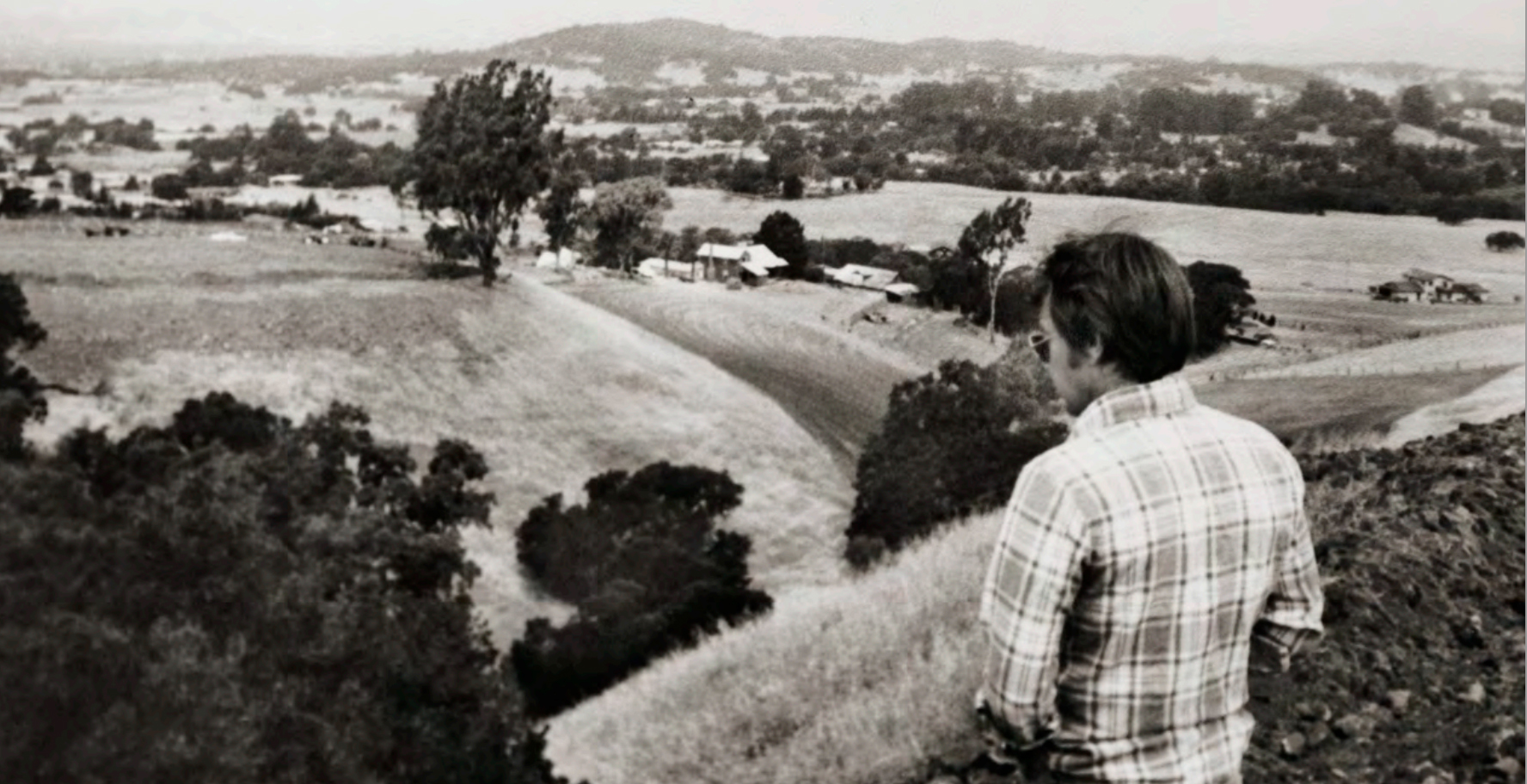 John Caldwell in 1982 in Coombsville, pre-planting.
In the 1980s, it was illegal to bring in French rootstock in to the United States. Unwilling to settle for mediocre vine stock, John Caldwell set about a cunning plan to plant what he considered best French rootstock.
He had found a grower in the Niagara region who was bringing clones from France into Canada, and from him Caldwell was able to procure 6,000 grafted vines. In 1983 he hired a Rent-a-Wreck and made four trips across the US-Canada border with the illicit goods. (Those were the trips that earned him that notorious nickname.)
On the fourth and last trip over, he was caught by US Customs, which confiscated 1,500 of the vines. And when he got back to Napa, he was raided by the California Department of Food and Agriculture, which tried to confiscate the other 4,500, a act prevented through a clever subterfuge involving switching French clones with locally-bought vines.
Caldwell planted his first vines in 1984, and suitcase clones notwithstanding, he eventually went legit, establishing a nursery and licensing program for the premier stock. Today, Caldwell is widely credited with introducing the most significant Bordeaux rootstocks and clones to North American viticulture. California Cabernet Sauvignon wouldn't be the same without him.
Over the years, Caldwell Vineyard has expanded to 120 acres and has supplied fruit to some of the biggest names in Napa, including Joseph Phelps and Pahlmeyer. Since 1998, Caldwell has been making his own wine, too, and now offers over 20 varietals, including Cabernet Sauvignon, Merlot, Tannat, Syrah, and Chardonnay.
His vineyards in Coombsville sidle up to the Vaca Mountain Range, 600 feet above the valley floor. Here, temperatures are ten degrees cooler than below, and there's a persistent light breeze. The vines bud earlier and tend to ripen later, which Caldwell says gives the wines good structure and complex flavors. The volcanic soils offer a distinct mineral profile.
Ninety percent of the winery's sales now happen in the tasting room, and it's easy to understand why. John Caldwell is a great winemaker, but an even better storyteller. When he holds court at a tasting, who could say no?
We tasted five wines that day. His Chardonnay "Clone 809," which, at $45, was the bargain of the bunch, came from some of John's infamous smuggled vines. The Signature Collection Cabernet Sauvignon ($165), was a powerhouse of fruit with terrific grippy tannins. Too grippy, Caldwell admitted: He aims to make his wines approachable from the minute of release.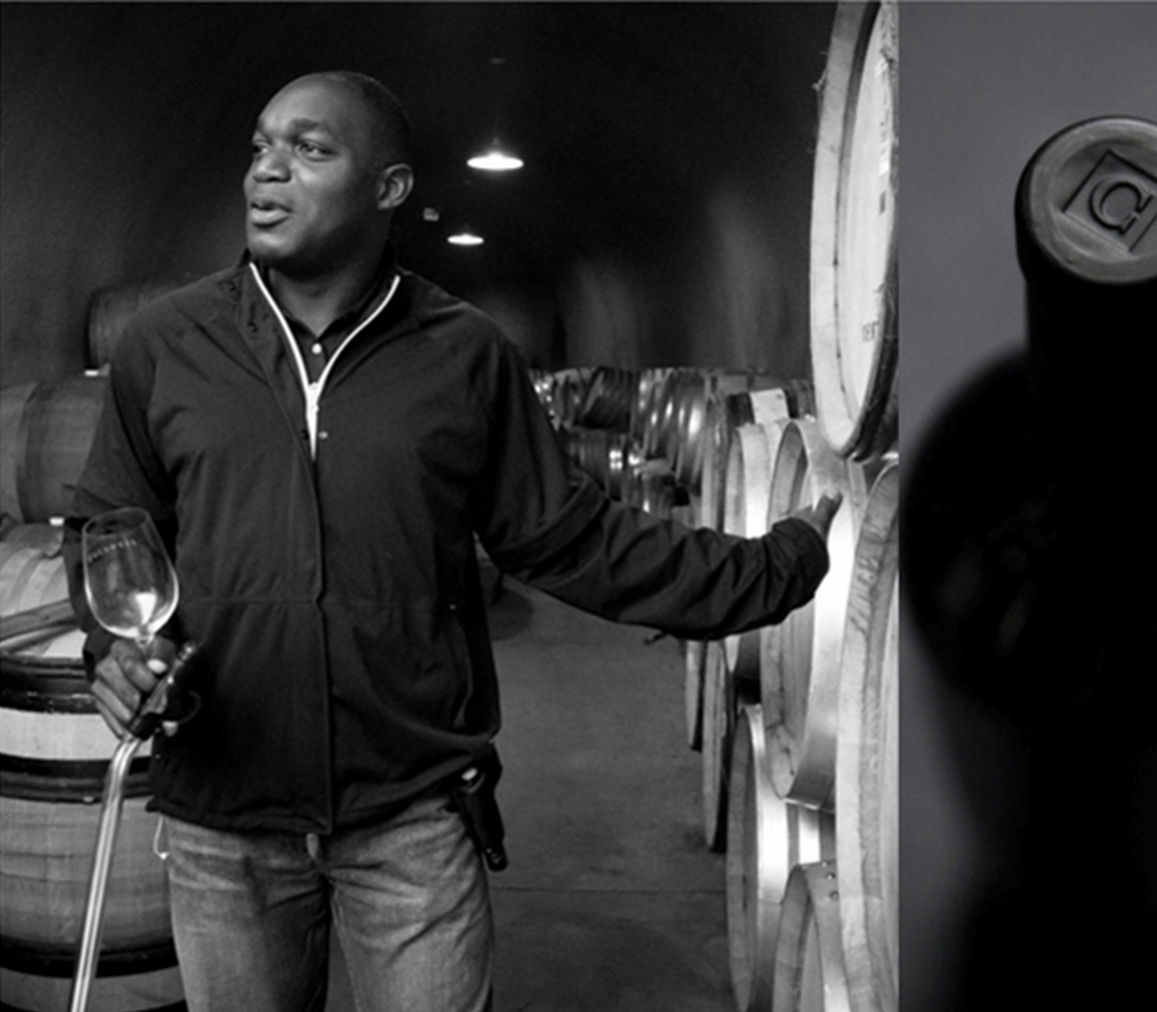 Caldwell winemaker Marbue Marke
As we tasted, we were joined by Marbue Marke, Caldwell's winemaker. Marke, originally from Sierra Leone, is a tall man with striking features and a big smile. He stands out in a mostly white and Mexican Napa, and joked that on more than one occasion, he's been mistaken for a janitor.
Marke pulled out a bottle of the 1999 vintage of the Signature Cabernet, which he'd found and purchased online, and presented it to Caldwell. Their entire stock of that vintage had been destroyed in a fire at a storage facility, so the wine had to be found elsewhere. Caldwell insisted that we open and share the bottle then and there—a rare privilege and a shocking gesture of generosity. The wine struck me as somehow a reflection of the man: It had that brown tint at the edges you see on older red wines, when the tannins have mellowed. But although it was well-aged, its structure was still there, as was that unmistakable backbone of big Napa fruit.
On Caldwell's in-house price list (just past the excellent Cabernet Franc), there's a list of stemware for sale. New to the card is a Riedel wine glass etched with "John Fucking Caldwell."
Caldwell shrugs that the glass was his wife's idea, and it serves as an icebreaker when people sit down for a tasting. But to me it's more than that. The glass puts you on notice, in a good way. It says: "You are at a tasting with one of the wine world's greatest personalities. You are drinking a part of Napa history. You are drinking wine with John Fucking Caldwell. Relax, and have fun."
Read a blow-by-blow account of the smuggling story in the World of Fine Wine.
Note: Our current commenting system is resticted to only allow commenting by people via Facebook: we received the following comment via email:
Let's not forget that what "John Caldwell, The Smuggler" did was blatantly illegal. There was the possibility that the plant material he brought into the US could have had pests and disease that could have devastated the grape industry. He brought the material in disguised in shoe boxes as his occupation was selling shoes. The US has authorized grape importation centers that allow us to bring in plant material legally. He lied and deceived CDFA and USDA APHIS, but was never prosecuted.
Glen and Terrie Stoller
Sunridge Nurseries