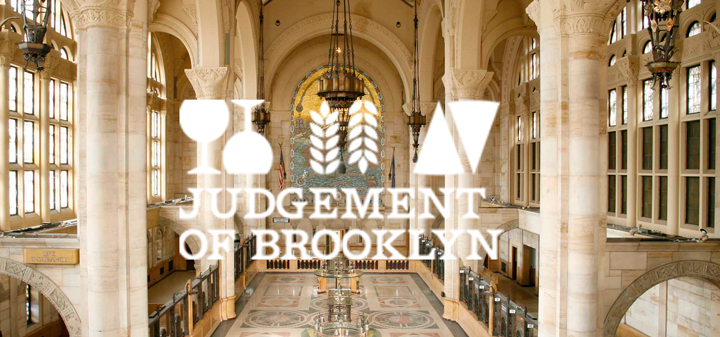 An old rivalry find themselves on new footing, in a city whose transformation is as shocking and surprising as the original results. Inspired by the 1976 Judgement of Paris which deemed wines from Napa Valley as better than wines from France, the 2014 Judgement of Brooklyn will once again put French wines up against American wines in a blind taste testing. But aside from the contextual premise, much has changed: Brooklyn is as reimagined as cities come, the city (or burough) undergoing significant transformation in the way of both reputation and lanscape, culinary and otherwise; French wines are not the end-all be-all of wine, with everyone from South America to China now trying their hand at the pursuit, and largely succeeding; and "acceptable" American wines are no longer confined to a couple of regions but are grown and produced in all corners, of both the contiguous United States as well as the far reaches of Alaska and Hawaii. To say that "much has changed" might inheed be quite the understatement.
Nonetheless, and quite frankly all the more, the Judgement of Brooklyn promises to be an exciting event for those attending, both as "competitors" as well as those there to simply enjoy the tipples. Held this coming Saturday, May 17, the gathering at Skylight One Hanson in Fort Greene will unveil the results to the blind testings, comparing 16 American wines and beers to their European counterparts.
Tony Didio, invited to participate in the blind taste testing, felt that the organizers did a great job. "I had no idea what each wine was," admitted Didio of Tony Didio Selections, a brand managment company specializing in wines. "Individual judges were at podiums where we blindly tested 30-some odd wines, and we would then fill out a form on color, aroma, taste. The environment was great and it was a lot of fun."
While the judging has already occured, attendees are still invited to the unveling and will be able to taste all the entries. They will also be encouraged to dine on food from Brooklyn's world-class eateries.
Ray Ankton, a wine educator and one of five offical wine judges listed on the event's site, feels that the blind tasting format is not only good for judges in determining winners of competitions, but for wine drinkers of all walks in allowing their own personal preferences determine what they like and don't like.
"Any wine professional or enthusiast who is worth their weight in salt would want to be a part of this — tasting blind," says Ankton. "It's forward thinking in that people get caught up with labels all the time, and sometimes its for good reasons. There are [winemakers] who do not compromise and always give good quality, but price isn't always the determinate, and Cabernets don't always have to come from Bordeaux or Napa Valley. Great wine flourishes anywhere in the world, as long as you have a good winemaker who produces it properly."
And with the orginial Judgement of Paris becoming more and more of a distant memory, Didio appreciate the reminder the Judgement of Brooklyn is serving as, especially in perserving the legacy of the hallowed winemakers who participated in the event so many years ago. As for the relocation to Brooklyn? No one seems to mind, and to some it makes sense, even in comparison to its more famous neighboring borough, Manhattan.
"There are Brooklyn enthusiasts, and there are Manhattan ethusiasts — and the main difference is that Brooklyn enthusiasts are open to everything," Ankton explains. "I hope it turns out to be approachable to the consumer and that they end up understanding that there is a lot out there."
"More people exposed to good wine is a good thing," Didio concludes. We'd have to agree.
Visit judgementofbrooklyn.com for more information and details on tickets and how to get there.
And read an in-depth interview with Bo Barrett, whose father began the celebrated Chateau Montelena. Their victory at the original Judgement of Paris was featured in the movie Bottle Shock.