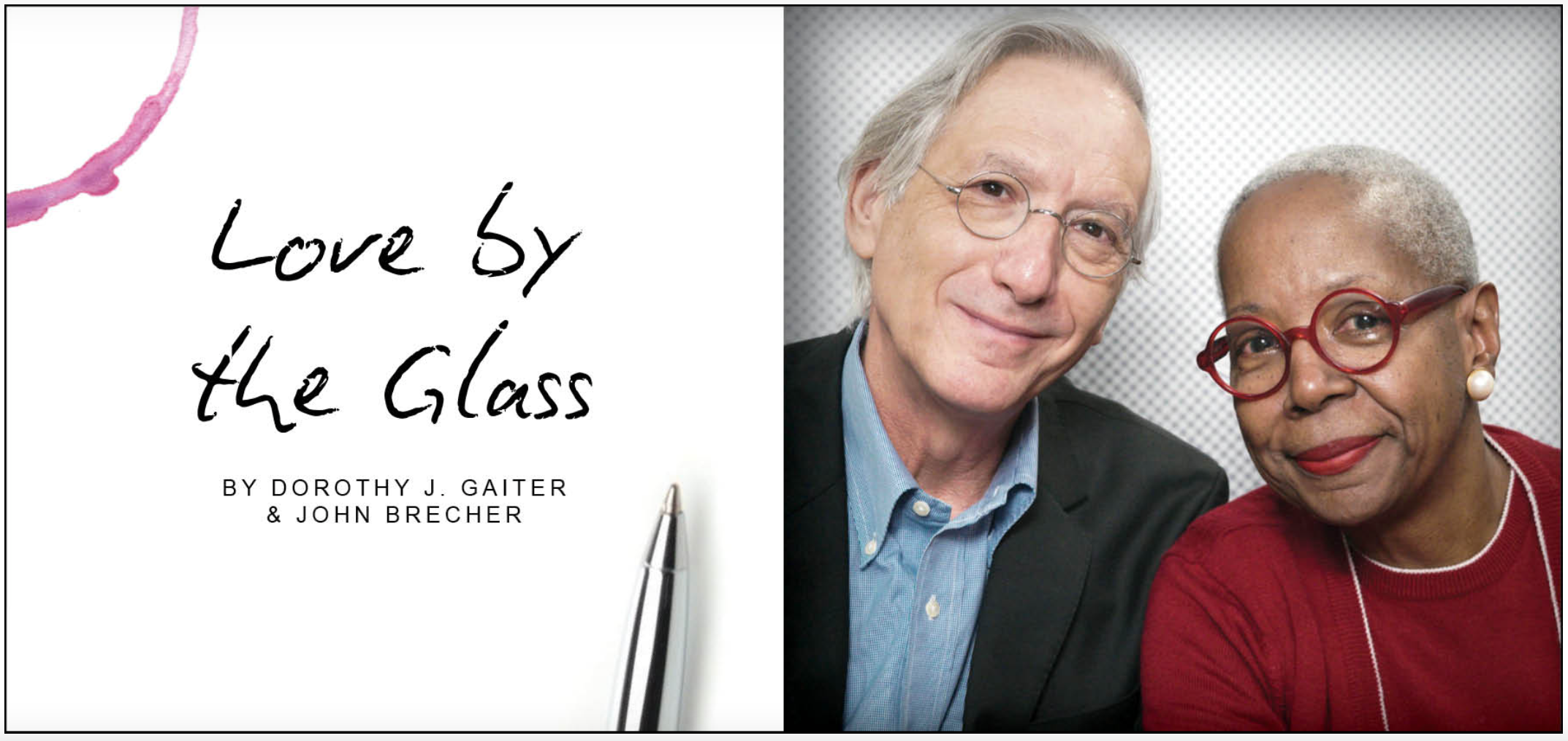 Age can be a wonderful thing, in people and in wine. If they're lucky, it can imbue them with wisdom, a clearer sense of what they were meant to be, as well as a validation that choices turned out well. We thought of that recently when we tasted two Fiddlehead Cellars Grüner Veltliners, the 2017 Estate and the 2015 Bebble Reserve, made by Kathy Joseph, the pioneering founder and winemaker of Fiddlehead Cellars in the Sta. Rita Hills of Santa Barbara.
We don't see a lot of Grüner Veltliners from the U.S. The grape is associated mostly with Austria. We don't think of most of them as particularly ageable and yet these are Fiddlehead's current releases and they rang our bells. The winery's representative, who sent us the wines, wrote that Joseph was the first person in the region to plant the grape. That was in 2012. Clearly there's a story there, so we contacted Joseph.
Joseph, a native of Chicago, has a bachelor's degree in microbiology and biochemistry, which gives you some idea of how focused she has been on every detail of site-specific, inquisitive and ecologically responsible winegrowing. She moved to California in the '80s, got a graduate degree in enology at UC-Davis, worked at Long Vineyards and Joseph Phelps and joined Robert Pecota winery in 1984, becoming its head winemaker. In 1989, she founded Fiddlehead Cellars, becoming one of the first women to own a winery in Santa Barbara County.
She didn't own a vineyard, though, until 1996, when she purchased 100 acres of what she named Fiddlestix Vineyard in the cool-climate Sta. Rita Hills, five years before it became an AVA. According to her website, although she had worked in wineries in Napa and Sonoma, she didn't have the money that purchases in those areas commanded so she focused on places that were not as popular yet like the Sta. Rita Hills and Happy Canyon, where her oaked Sauvignon Blanc, made famous by the movie Sideways, is grown. She also makes Pinot Noir (Alloro and Oldsville Reserve) with grapes from the now renowned Willamette Valley in Oregon. We wrote about her delightful Pink Fiddle, a rosé of Pinot Noir, last year. In 2021, she sold her famed Fiddlestix Vineyard to a partnership led by Santa Barbara native Justin Willett of Tyler Wines, who had purchased Fiddlestix grapes in the past. The interview has been edited.
Grape Collective: Tell us about that Grüner from Austria that impressed you and stoked your devotion to the grape.
(Photo: Kathy Joseph, photo credit Fran Collin)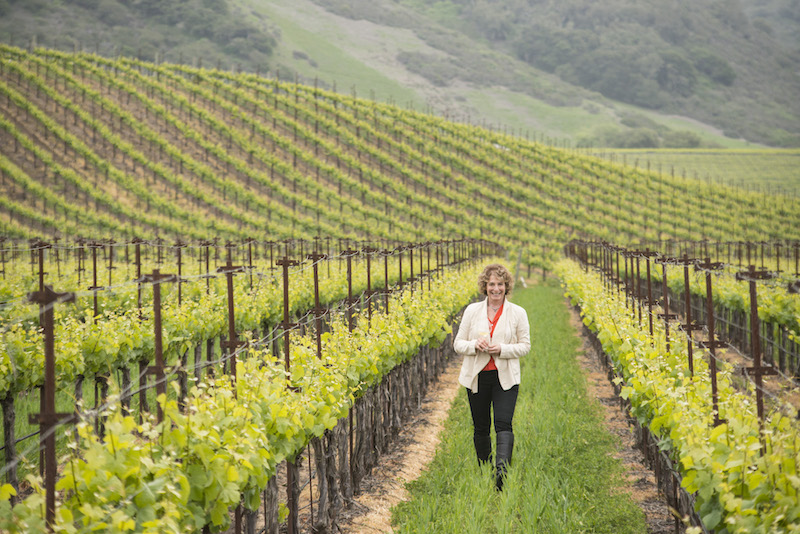 Joseph: When I started Fiddlehead Cellars in 1989, I was dedicated to making place-driven wines and it ultimately led me to limit my production to Pinot Noir and Sauvignon Blanc in order to produce what I felt was a better result. I believed these varietals had an alluring character, balance, and substance. But what made me a better winemaker was my history of making other wines and exploring new varietals within these regions. During our team harvest lunches, we explored any and everything (essentially to give purpose to our mission). Somewhere along the way, I crossed paths with an import broker out of Berkeley who represented German and Austrian producers. In my quest to expand my varietal knowledge, I somehow decided to focus on Grüner (probably because it tasted so good!). Every year, I poured cases and cases of Grüner Veltliner (and some Riesling, as well) at our harvest table, which was open to staff and to many friends. I always sought variety for tasting options and included less expensive bottles, reserve bottles, small producers, giant producers, cork finished wines and Stelvin finished wines.
In the end, I was completely intrigued with the range of styles Grüner lent itself to. And it was not a very big leap for me to see that it was an overlap with Sauvignon Blanc. So, while I loved many bottlings over the years, I was especially taken by the Grüners that stylistically added a modest body to the crisp backbone of the wines. No one wine was an epiphany for me -- rather I so appreciated the depth of character of the wine in its delicate way, and its versatility in how you could make it. Many of the older vineyard designates of Schloss Globelsberg stood out for me. F.X. Pichler and Bründlmeyer were other impressive producers that caught my eye.
Grape Collective: Where did you get the 4-year-old Grüner vines that you planted in 2012?
Joseph: From a nursery which had certified wood of European origin, but beyond that, no, I did not smuggle in budwood. However, while the vines were planted in 2012, they have significant budwood vine age. The backstory is I was planning on planting a 10-acre property solely with Grüner, but the partnership went bust. Thus, I already had grafted cuttings that I had nurtured in a nursery at Fiddlestix since 2008, which I think allowed me to make a pretty terrific first vintage in 2014.
Grape Collective: Were there skeptics? How many cases was that first release in 2014? How many now? Fiddlehead makes a total of 5,000 cases annually.
Joseph: I was lucky in that I owned more than 100 acres of plantable land. Of course, most was dedicated to Pinot Noir. I really was not worried about skeptics as, ultimately, I did this for me and my love of the grape and curiosity in growing it on the Central Coast of California. And I really had nothing to lose. In a sense it was an extension in investing in an area that was yet to be discovered, the Sta. Rita Hills. I took a chance that a pretty unheard-of variety was on the cusp of becoming a very cool thing! In 2014, I just made the Estate Grüner, about 300 cases from the 2.8 acres. My last vintages I made about 500 cases, but that included the Estate wine, the Bebble Reserve wine and a late harvest wine called Sweetie.
Grape Collective: We've read that you have some aged wines available for sale, including the 2017 and 2015 Bebble we were sent. Are they available for sale from the winery?
Joseph: Yep! I am a huge believer in sharing my wines with bottle age. They only get silkier and more interesting. So, in fact, those are aged, but current releases. But you also have access to the 2015 and 2016, as well as the 2017. We will release the 2016 Bebble this year. All wines are available at the winery and on my website: www.fiddleheadcellars.com
Grape Collective: You sold everything except the brand in 2021?
Joseph: Not exactly. I was growing premium grapes for about 25 other winemakers besides for myself at Fiddlehead. I decided it was time to focus more on Fiddlehead instead of detailed grape-growing for my grape buyers. So in essence, I just sold my vineyard (Fiddlestix) and of course continue to make wine as Fiddlehead Cellars. All those "fiddle" names can be confusing -- but that is what you get from a FiddleChick!
I am now free to seek new horizons and follow what falls in my path and catches my eye, very much the way Grüner did. This year I was very excited to return to my roots and work with some old-vine Sauvignon Blanc, from La Pressa Vineyard, that I worked with over 25 years ago. That was very exciting for me and the limited wine will be released later this year.
Grape Collective: Apart from the source--the Bebble was barrel-selected--were the 2015 and 2017 made the same way? Were the vintages very different? Different visions for them?
Joseph: The 2015 Bebble is a selection of wine aged in neutral oak, whereby certain barrels were "reserved" as they were especially full and expressive. The 2017 Estate has about 20% stainless fermented wine added to the blend.
Grape Collective: How close have you gotten to that storied Austrian Grüner?
Joseph: What won my heart was that versatility of Grüner. Mine will never be the same as the Austrian wines because of its different source. I will continue to buy and lust over Austrian Grüner. That being said, I love the overlap and at Fiddlehead I like to think I make a pretty enticing wine.
Dorothy J. Gaiter and John Brecher conceived and wrote The Wall Street Journal's wine column, "Tastings," from 1998 to 2010. Dorothy and John have been tasting and studying wine since 1973. In 2020, the University of California at Davis added their papers to the Warren Winiarski Wine Writers Collection in its library, which also includes the work of Hugh Johnson and Jancis Robinson. Dottie has had a distinguished career in journalism as a reporter, editor, columnist and editorial writer at The Miami Herald, The New York Times, and at The Journal. John was Page One Editor of The Journal, City Editor of The Miami Herald and a senior editor at Bloomberg News. They are well-known from their books and many television appearances, especially on Martha Stewart's show, and as the creators of the annual, international "Open That Bottle Night" celebration of wine and friendship. The first bottle they shared was André Cold Duck. They have two daughters.
Banner by Piers Parlett