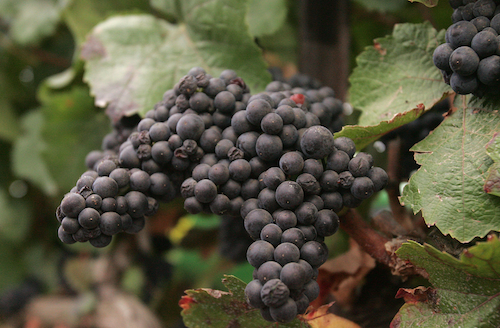 As the fourth most planted red grape in the world and the third most planted red grape variety in France, Syrah or Shiraz (depending on location, style, and type) possesses vibrant dark skin with an excellent full-bodied roughness. While its origins remain open to interpretation, several different theories exist. Though Syrah dates back to 13th century Rhone Valley, France, Phocaeans (inhabitants of the titular ancient Greek city off the coast of modern-day Turkey) may have brought it over from Shiraz, Persia, in 600 BCE. Another theory states that the Romans brought the grape from Sicily sometime during the 3rd century. Wherever Syrah came from, it spans the globe, including Argentina, Chile, South Africa, and New Zealand. Syrah grows on approximately 470,000 acres worldwide, with France, Australia, and Spain being the most prominent producers.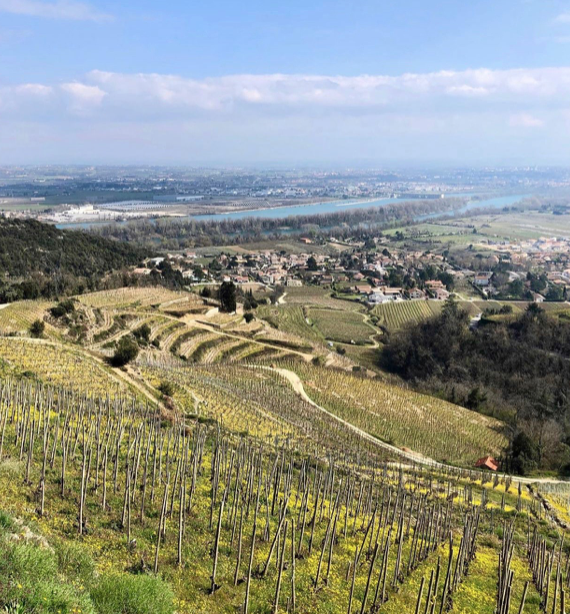 Within France, the Northern Rhône Valley (photo, right) has much prestige with famous regions including Côte-Rôtie, Hermitage, and Crozes-Hermitage. The valley has long been marked as the spiritual head of Syrah, and winemakers utilize the area to base their own wine production. Its style is unparalleled on a global scale. Côte-Rôtie employs the practice of co-fermentation when blending Syrah with Viognier rather than blending it after fermentation. Winemakers carry out this process in a couple of ways. They can add the grapes together before or after the crushing process or the Viognier juice to the Syrah blend. This process can lead to more nuance and complexity within the wine, co-pigmentation, and a higher alcohol content due to chaptalization. Hermitage also has its own distinctive winemaking process, which includes destemming, the process of severing the grapes from the stems, which lowers the total tannins as these wines will usually already have a unique texture. However, the Northern Rhône Valley constitutes a small percentage of the total acreage of all Syrah grapes.
There has been a monumental rise in Syrah growth in the Southern Rhône Valley area, as well as the Languedoc region, where most Syrah in France undergoes production. As I delve into the different regions of Syrah production, I must point out the heated difference between Syrah and Shiraz. While they are from the same grape, Syrah connotes a more European-focused wine with more savory and austere flavors, a lighter-bodied feel, and a lower alcohol content. Shiraz refers to an Australian origin (some say Shiraz is Syrah with an Australian accent!) that is more full-bodied, more alcohol-heavy, fruitier, and riper. James Busby, the father of Australian wine, is usually credited with bringing Syrah to Australia and beginning its transformation into the more well-known Shiraz in Australia. While their differences were initially geographical, winemakers produce Shiraz and Syrah worldwide. Jancis Robinson discusses the differences between Syrah and Shiraz and their evolution and says, "Earlier in the century some of the more commercial wines grown in California, where Syrah is the usual name, were labelled Shiraz in an effort to ride the coat tails of what was then a love affair with all things Australian." She continues, "But recently there has been a sea change in perceptions of the red wine platonic ideal so that even some Australian wine producers...have started to call their wines Syrah rather than Shiraz, mirroring developments elsewhere in the southern hemisphere."
The contrasting characteristics have their origins in climate. In warmer climates such as Australia, grapes ripen faster, growing more sugar and having fruitier and heartier flavors and textures. Temperatures that are a little cooler will then make the lighter Syrah. Within France, I will discuss two regions, including the already mentioned Languedoc and Hermitage. The Languedoc region follows a primarily Mediterranean climate but contains various microclimates, including coastal and mountainous areas of the region. This particular climate, as well as the stronger winds, helps expel pests and other detriments, which has led it to become the leading organic wine producer in France. While rainfall is low, the region contains many water reserves and soil types, including clay and limestone; sandstone, pebbles, and granite are also common. Hermitage includes many granite hillsides. Its orientation and position allow it to benefit positively from the most sunlight. The region also has a wide variety of soil types, including sandy gravel and limestone.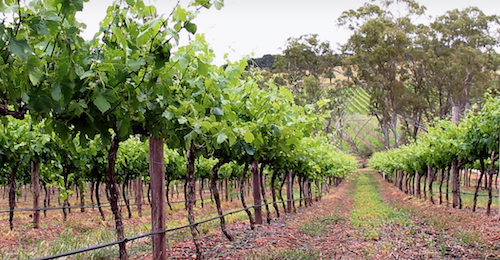 The Land Down Under accommodates the second most Syrah production with its most famous region, the Barossa Valley (photo, left), located on the southern tip of Australia. It exudes a warm and dry climate with little to no rainfall or humidity, which offers plenty of sunshine for the Syrah grape. However, it does suffer from a lack of water reserves and shallow soil. The McLaren Valley, adjacent to the Barossa Valley, sits at a low altitude and possesses a more Mediterranean climate. Its many different types of winds create unique and distinct vineyards. It contains a wide variety of soils because of its earthly diversity ranging from different sandy loams to clay types. Most of these soils are free draining, which helps to facilitate high yields.
The region of Priorat in Northeastern Spain is well-known for its distinctive and porous soils. Since the land is usually infertile, the completed wine is highly concentrated. Like other areas in Spain, it enjoys a mild Mediterranean climate with some continental attributes. Priorat wines are blends, with Syrah being a popular choice for its contribution to making the wine more full-bodied and earthy.
The United States encompasses some unique places where Syrah grows. The Golden State is home to many fantastic wine regions, including Paso Robles, where Syrah produces plentiful. While the area contains thirty different soil classification types, they are primarily bedrock-based soils that originate from volcanic rocks and weathered granite. Something notable about the Paso Robles region is that it abounds in calcareous soils and has reasonably high pH values. The climate is usually cool and Mediterranean. While California provides an environment conducive to winemaking, other parts of the country also offer this.
Washington State produces abundant wine, specifically in the Columbia Valley in the Cascade Mountain Range. This climate is more on the arid side and enjoys a continental climate which necessitates irrigation for grape and wine production. This type of irrigation and warm temperatures allow more control over grape production compared to other regions globally. In addition, the soils are usually sand-based as phylloxera, an insect pest known for its growth on grapevines has not been present, allowing vines to be grown on their rootstock. In contrast to grafting, which entails transplanting grapevines onto phylloxera-resistant rootstock, own-rooted-based wine can be more powerful, flavorful, and healthier. It can also help with the longevity of the vineyards. The Wine Spectator's Aleks Zecevic explains, "Most own-rooted vines are old, and the two winemakers, as well as others I've spoken with, agreed that older vines in general, with their deeper roots, don't need as much fertilization or irrigation, handle extreme weather better and are more resistant to fungus and diseases.This can help them more consistently produce balanced wines of character."
Another factor that will contribute to the taste of Syrah or Shiraz is the presence of oak; in the French Rhône Valley, large oak "foudres," which can hold up to 1,000 liters of wine, are utilized. This process will aid the oxygen to help permeate the wine giving it secondary characteristics that differ from an oaky flavor. In countries usually outside Europe, winemakers will utilize smaller oak barrels in wine production which will instill vanilla and other baking spices aromas and flavors.
Syrah has a unique place in the world of wine with its global presence, diverse aromas and flavors, and distinctive blends.