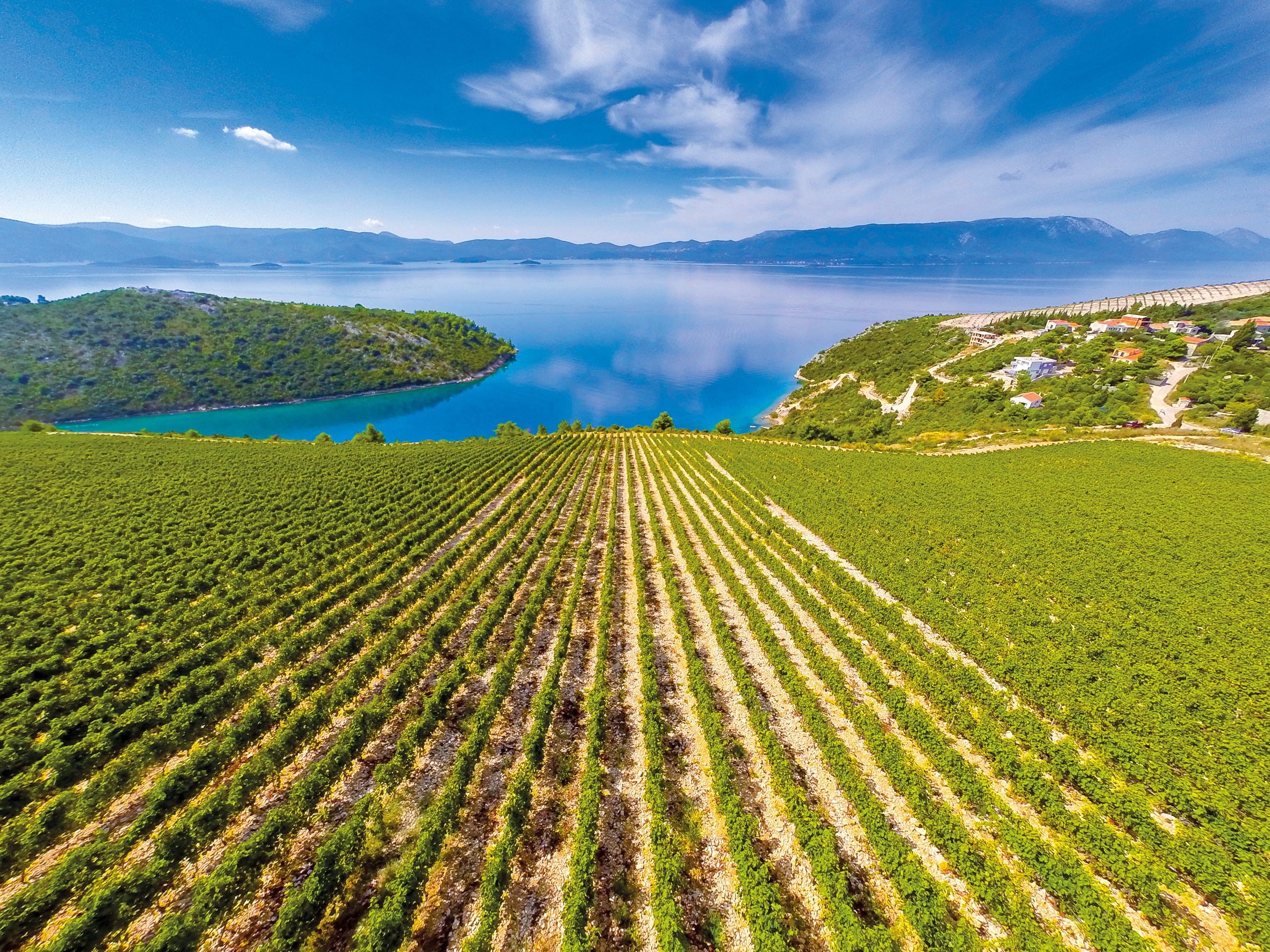 The Mosel meets the Douro meets the Adriatic Sea
Located right between the historic cities of Split and Dubrovnik, Komarna is located on the Dalmatian coast. Vines hang from impossibly steep slopes that face the deep blue Adriatic. Komarna is the youngest wine region in Croatia, it was only officially approved by the government in 2013.
The region consists of seven wine growers and five commercial producers: Rizman, Vina Deak, Terra Madre, Saints Hills, and Volarević. All of them farm organically as Komarna is taking steps to become an entirely certified organic region.
Some could argue that all of Croatian wine is young, which is only half true. Located in southeastern Europe, Croatia's modern culture primarily represents a blend of Austro-Hungarian, Mediterranean, and Slavic influences. Even though Croatia's cultural heritage is one of the oldest in Europe, it is a young country as independence was declared in 1991. Production and consumption of wine in Croatia precedes its political timeline. Wine is deeply rooted in the culture, and Croatia's viticulture is believed to date back to at least 500 BC.
Croatia's rich viticultural history is tied to a plethora of indigenous varieties, nearly 150. Two of the leading indigenous grapes in Komarna are the dark skinned Plavac Mali and the light skinned Pošip. They both have proven their abilities to make serious, complex wine in other parts of the country.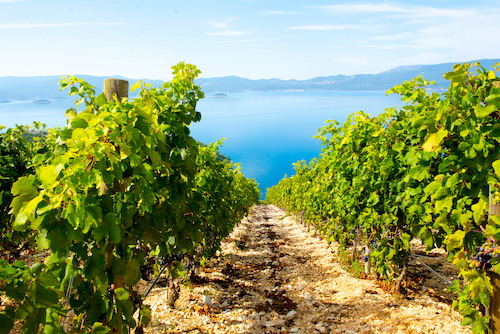 Plavac Mali is the most widely planted red grape in Croatia. It is the offspring of the original Zinfandel vine, which goes by Crljenak Kaštelanski and Tribidrag on the Dalmatian Coast (further south in Montenegro, it goes by the name Kratošija). Plavac Mali produces wines that are rich, high in alcohol, and are plentiful in tannins.
(Plavac Mali to the sea)
Across the sea and visible from the slopes of Komarna is the Pelješac Peninsula - the spiritual homeland of Plavac Mali. This thin sliver of land has two of Croatia's Grand Crus dedicated to the variety - Dingač and Postup. Komarna shows so much promise that Saints Hills Winery (which has vineyards in Dingač) has invested in the region. The winery is aided by superstar wine consultant Michel Rolland.
"We harvest Dingač earlier than Komarna, maybe 10 days before," says Antonija Antunović of Saints Hills Winery. "Komarna has cooler nights and more wind which preserves the acidity" she says. "In Komarna you'll find more acidity and more red fruit notes, less plum and jammy notes like in Dingač."
This is can be seen in two wines, the Saints Hills St. Roko and the Terra Madre Plavac Mali Premium. Both are more elegant takes on Plavac Mali. They both act like a Mediterranean Nebbiolo with plenty of cranberry, sour cherry, rose petal, and earthy notes with small, biting tannins. When comparing the Saints Hills St Roko to their flagship Dingač, comparisons of Barbaresco to Barolo come to mind.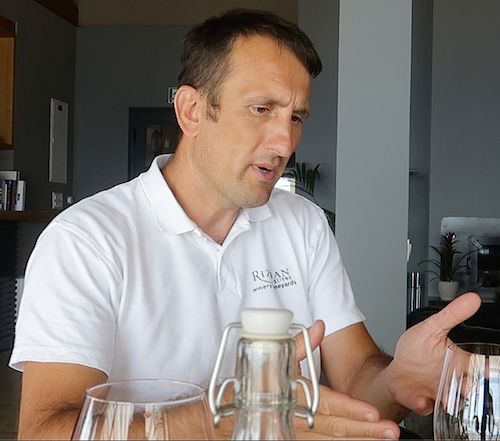 Rizman Winery became Komarna's founding producer in 2006. They produce a similar style of Plavac Mali named Primus. "We want to show the terroir and the variety," says Damir Štimac, owner of Rizman "(at the same time) we are in the new school of wine production." The Rizman Primus Plavac Mali shows plenty of red fruit flavors with a touch of polish. In its short production history, the wine has shown the ability to improve with bottle age.
(Damir Štimac, owner of Rizman Winery)
Josip Volarević has his own take on Plavac Mali. With a PhD in enology, he has been experimenting with harvest dates and aging vessels for years. It has paid off with the Volarević Plavac Mali Platinum, which made the Wine Enthusiast Best 100 Wines of 2022.
Because of the difficulty in ripening in Plavac Mali, it's hard to get it right as Josip explains. "There are four types of berries in one bunch of (Plavac Mali). You have green berries that give lactic acid, you have red berries that usually have more acidity than sugar, you have perfect berries, and then you have raisins."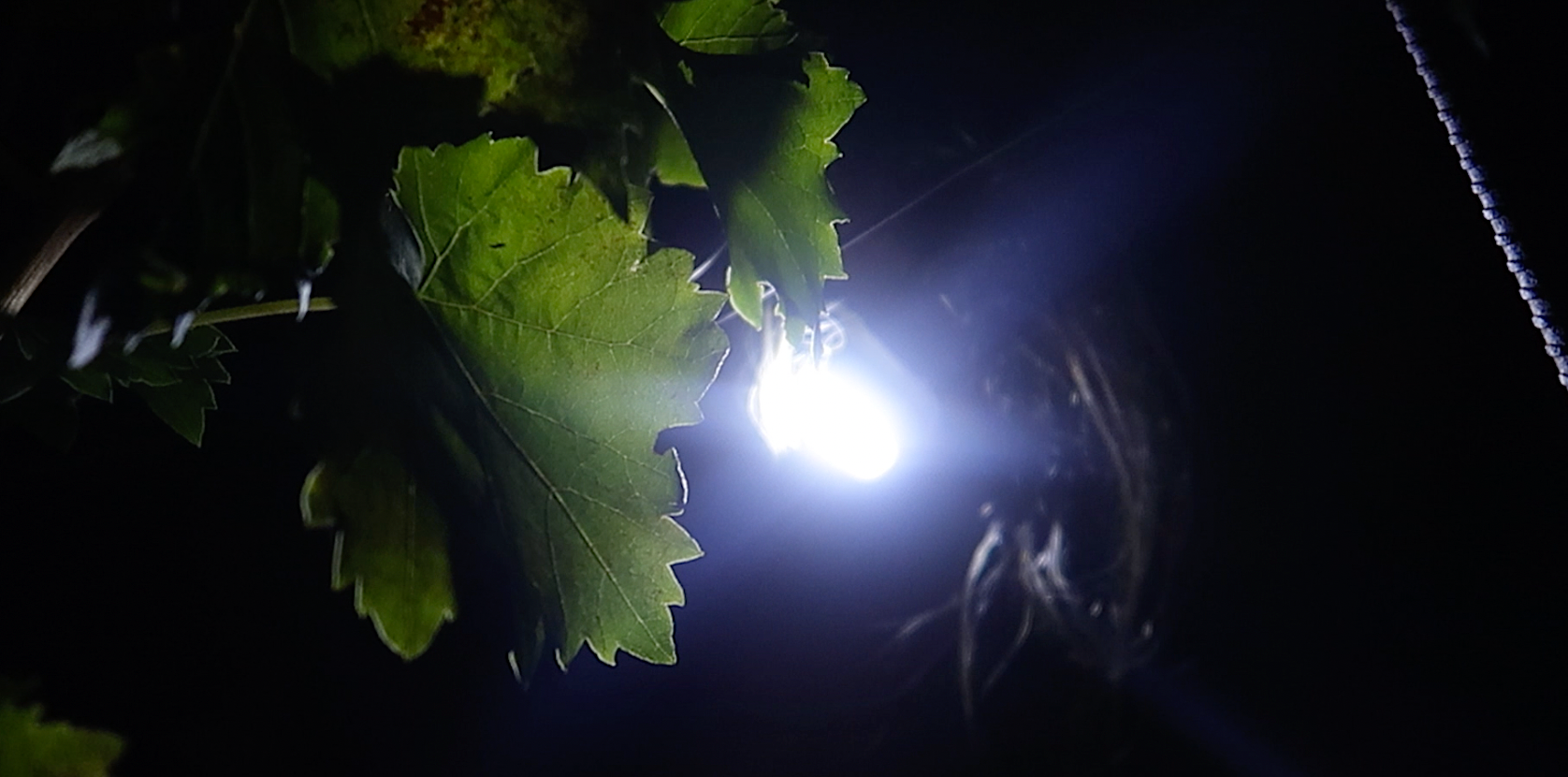 Pošip comes from the nearby island of Korčula, which (according to some legends) is the birthplace of Venetian explorer Marco Polo. It retains acidity well, which is difficult during the hot Dalmatian summers and relatively short growing season. Many producers opt to pick this variety at night to retain freshness. Well-made Pošip can resemble an imaginary blend of Roussanne and Chardonnay. The grape has also has shown the ability to handle barrel fermentation and aging well.
(Night harvest of Pošip)
Because of its potential and character, the price of Pošip has risen in recent years. Most visitors come to Croatia during the hot summer months, which raises the demand for seafood friendly, fresh white wines. The demand is has inspired more plantings of the variety on Mainland Dalmatia.
In Croatia, historical the best Pošip came from the Čara Valley on the island of Korčula. "We must produce our style of Pošip, not ones like Korčula," says Marko Šuman, the winemaker at Terra Madre. With each vintage, the Pošip from Komarna continues to get better but he adds, "you can't produce serious wine overnight, you need time."
The styles of Pošip in Komarna range from the fresh and fruity like examples from Vina Deak and Terra Madre to those with more structure like that of Volarević and Rizman. The later produce two of the best bargains when it comes to fresh, crispy Pošip. They are easy drinking for most palates with notes of pineapple, white peach, and a touch of saltiness.
(Komarna from above)
Rizman also produces a barrel-fermented Pošip with a splash of Viognier added in, named Nonno. With its round mouthfeel and creamy flavors (think Mersault), it rivals some of the best barrel fermented Pošips in the country. It's a must try for those that like full-bodied, structured white wines.
Burgundy is the gold standard for wine regions and terroir as monks worked tirelessly over centuries to map the best plots of land that produce the best grapes - which leads to the best wine possible. With many emerging wine regions, it can take decades to figure out which varieties are suited best for the land. Komarna is already off to a head start by focusing on indigenous varieties. The quality of wine is already high and the future looks as bright as the reflections off the Adriatic Sea.
Josip Volarevič puts it best, "We have everything good (in terms of land, varieties) but we have to work a lot if we're going to compete. If you go abroad nobody knows about Croatia or Croatian wine. We have over 130 autochthonous varieties, it's our mission to bring these to the world."