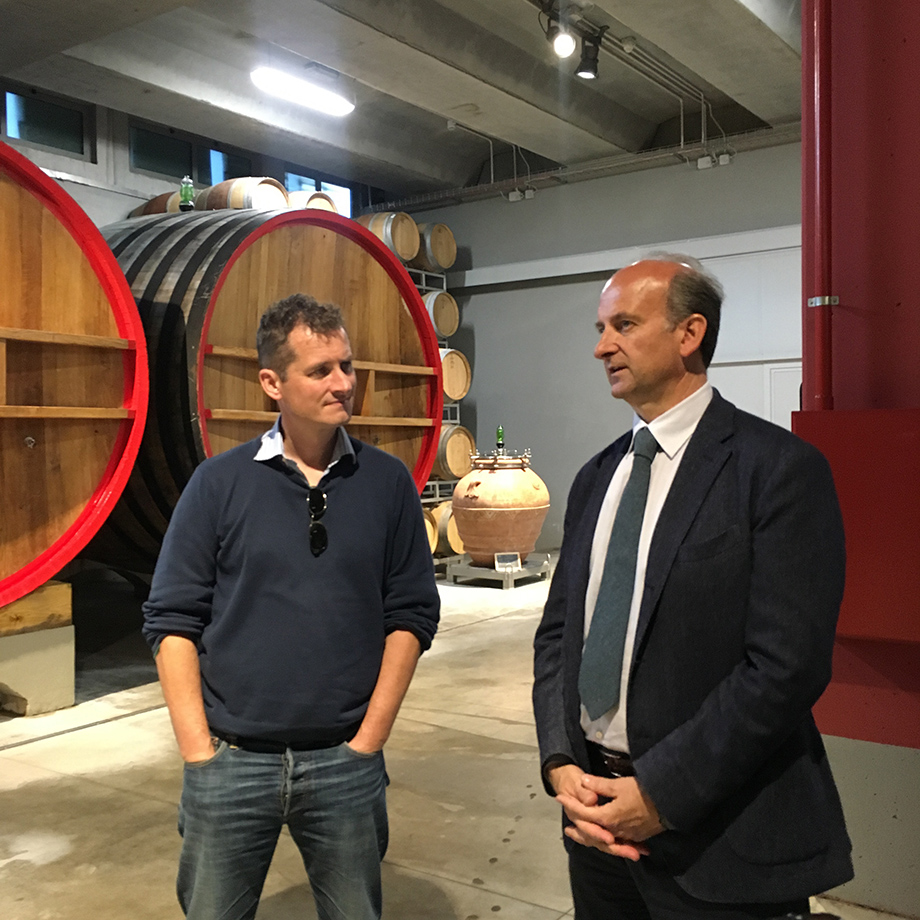 The Frescobaldis are one of Italy's most famous wine families. Originally a prominent Florentine noble family, they have been involved in the political and economic history of Tuscany since the Middle Ages. The Frescobaldi family began successfully producing Tuscan wine around the fourteenth century and soon developed a notable client base. The Frescobaldis are thought to have traded their wine with the Italian Renaissance painter Michelangelo and to have supplied wine to England's King Henry VIII.
In modern times the Frescobaldis have been innovative in their expansion of their wine footprint. In 1995 the Marchesi de' Frescobaldi entered into a joint venture with the Robert Mondavi Winery. The joint venture produced several critical and commercial successes including the cult Super Tuscan Ornellaia (named by the Wine Spectator as the 2001 Wine of the Year). After the Mondavi Winery was acquired by Constellation Brands, Frescobaldi acquired control over the joint venture in 2005.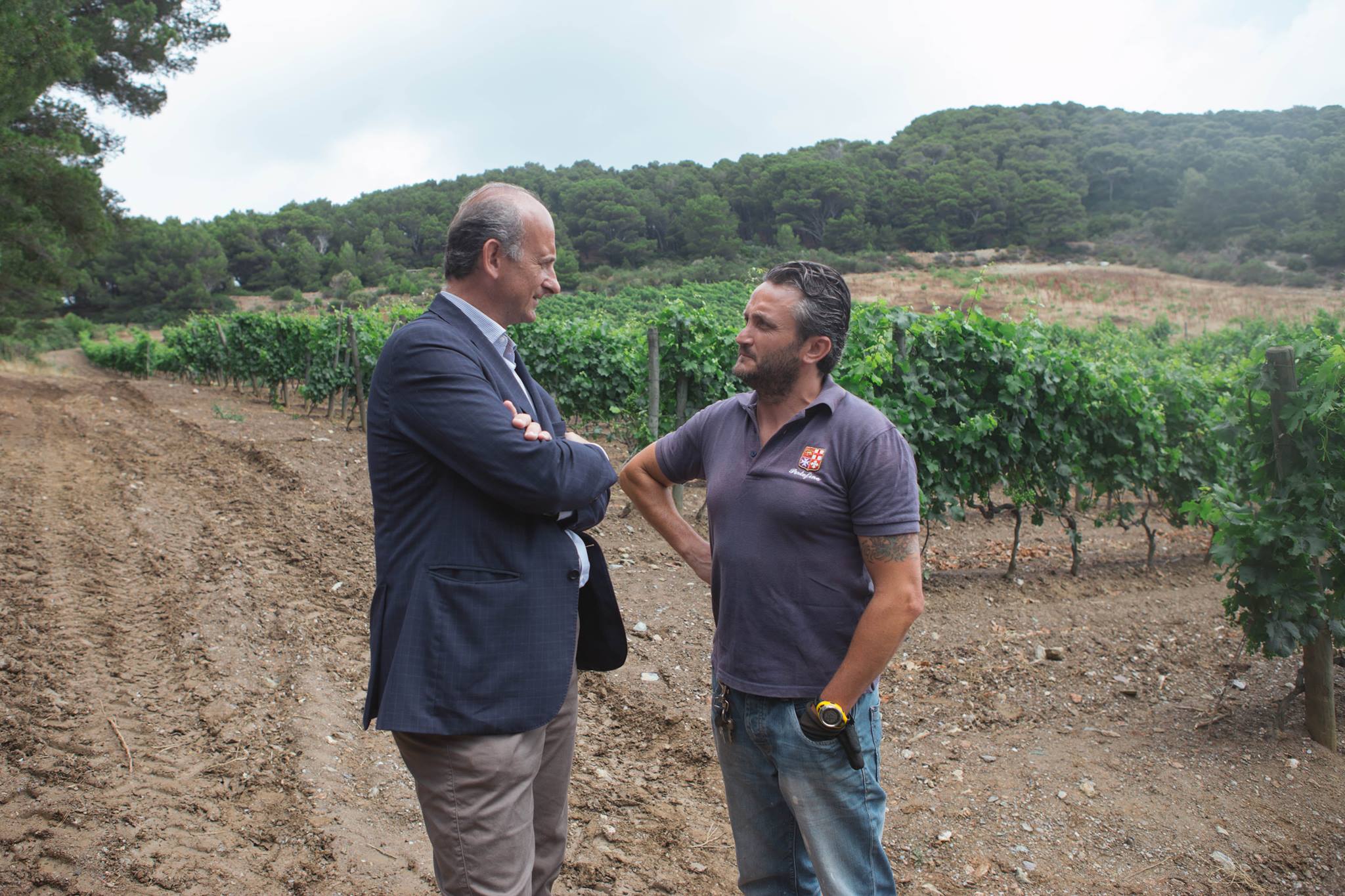 (Lamberto Frescobaldi with an inmate on Gorgona Island)
The Gorgona Island project is another innovative Frescobaldi initiative. Gorgona Island has housed a penal colony since 1869. Since 2011 the Frescobaldi agronomists and oenologists have been working with the prisoners teaching various aspects of wine-growing. The prisoners make Vermentino and Ansonica from vines planted in 1999.
Monty Waldin talks to Lamberto Frescobaldi about the evolution of Tuscan wine, the move to organic viticulture and growing up in a famous wine family.
Monty Waldin: All right, Lamberto. Lamberto Frescobaldi. Tell me a little bit about your family history, your origins near Florence and of course your Brunello di Montalcino estates.
Lamberto: My family did establish themselves in Florence in the 1100, so quite some time ago. They were traders, bankers, and then bought more land around Florence, produced wine over the centuries. Already, wine was a taxed product, so everything was coming into the City of Florence was actually controlled and there's all the paperwork that is actually still available.
In our home in Remole, very close to Florence and very close to where we are right now, we have all archives that they're proving all our life in this lovely world that is of wine, of course with ups and downs, as always, because, as we say in Italian, it's never an ongoing feast. There are difficult times and good times.
To make a long story a little bit shorter, just after the war in the '50s, my father, he was the one that took the lead in the family and gave the turning point at this agriculture family.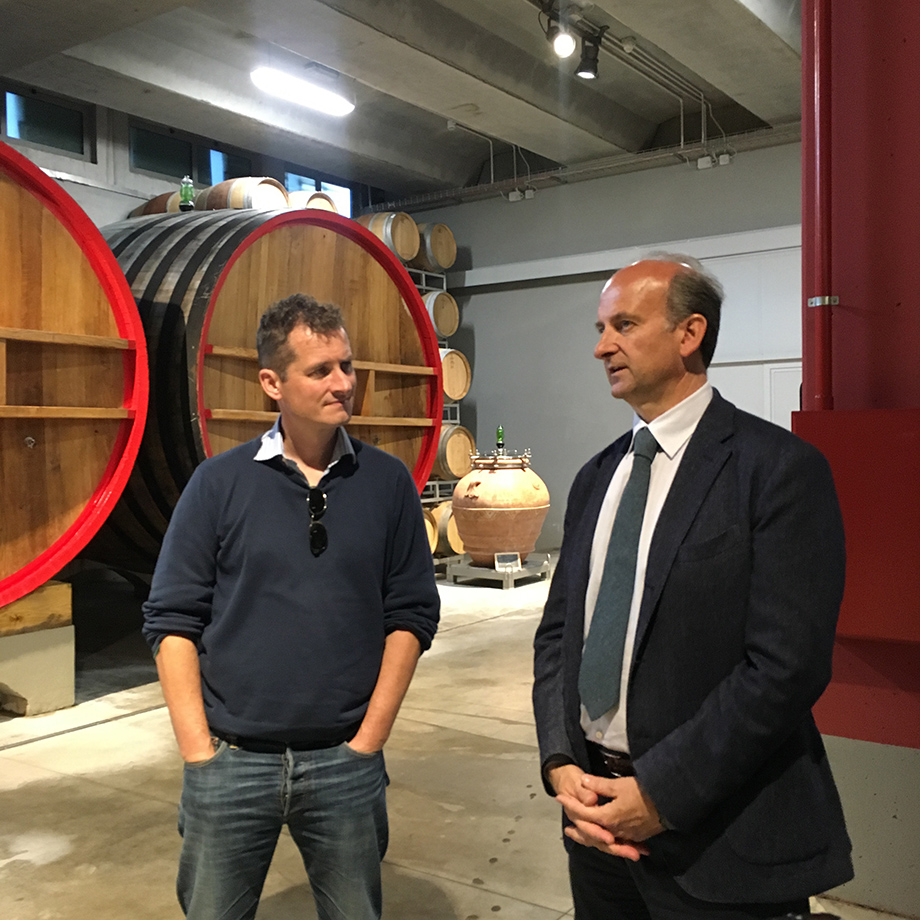 (Monty Waldin talking with Lamberto Frescobaldi)
What was your father called?
My father is called Vittorio. He graduated himself from University of Florence in agriculture. Frescobaldi had big land, a farmland, so we had cows, pigs, woodland, and barley.
Typical Tuscan mixed farm of that period.
Absolutely. Also because those days, it was important was to feed people. There were calories missing for people and wine was a small part of it. In the '60s, there is another turning point. 1963, in Italy, there, the first appellation, they are stated in Italy, as we call them here Denominazione di origine controllata.
The French Appellation controlee.
Exactly. With those appellation, really, there is a turning point. They give much more importance to wines that they come from hilly areas rather than flat areas. Flat areas, they remain for barley, they remain for annual crops. The hills, they are more focused on vineyards. He started to plant more vines than what he had.
In Tuscany, we were somewhat lucky because there are very generous Americans. When they came during the war, they took with them a lot of Caterpillars and they forgot them here. They left them in Livorno.
Usually diggers, like tractors and mechanical machinery.
These hills around Florence were very steep, very rocky. Those days, we had horses and no money either, so heavily powerful machines. These left behind tractors from the war, they were used for preparing the land and planting more vineyards. The vineyards, of course, in the 60s and 70s, it was planted more with a goal of quantity rather than quality.
Then there were some spectacularly places where no matter what you were doing, beat out these poor vineyards, we're able to do great, great wines. Tuscany, I think, came out to be one of the places that got some recognition from the market to produce good wines.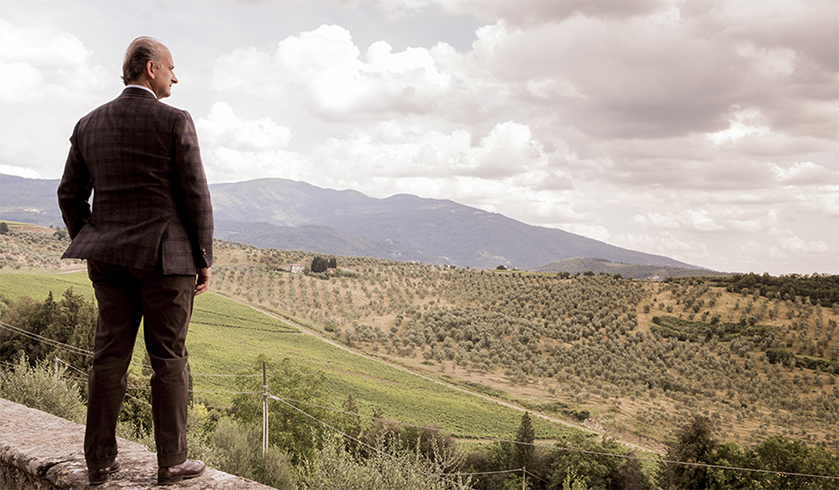 You mentioned about the American influence, the machinery they left behind after the war. You actually went to live and study in America. Tell us a little bit about that.
I did that. In 1985, I was a student at the University of Florence, at the agriculture University of Florence. It was clear for me that I wanted to get to know more about wine and agronomy, because for the fact that I grew up in the countryside, that doesn't mean that you know. You know if you study. Then of course you are maybe more favorable to study something that you've been grown up in.
My University of Florence viticulture was a six-month exam and oenology really didn't exist. The course focused on a big mixture of everything that was transformed.
Products.
In products in the countryside.
For example, milk is transformed into cheese; grape is transformed into wine.
Cheese. Olive tree, olives into oil, and so far and so on.
It wasn't really specialized in wine.
No.
That's what you wanted to do?
It happened that my father gave me this great opportunity, my father and my mother, to go to America, to UC Davis, and I was sent there. For me, it gave me, I would say, a light into what I really wanted to do.
What was it like living there at the time? You were coming from Tuscany, living in America, was it just like a different world to you? Were you surprised by what you saw, not just to study, but just the lifestyle and people's approach to wine and food?
The first thing I did was I bought a red Firebird, a big muscle car. That made me a little bit feeling, a little bit more part of the city, of the country. Yes, indeed, a different kind of approach, a different kind of ...
More professional or more precise?
Very precise. Very precise, going down to the point, and really trying to understand how to make great wines. I was really impressed. I remember. The world was very impressed, from the white wines coming from California, the Chardonnays coming from California. There was quite an important use of oak, but the fruit was so precisely done, very clear. It was definitely a step beyond what we were doing, especially talking about white wines.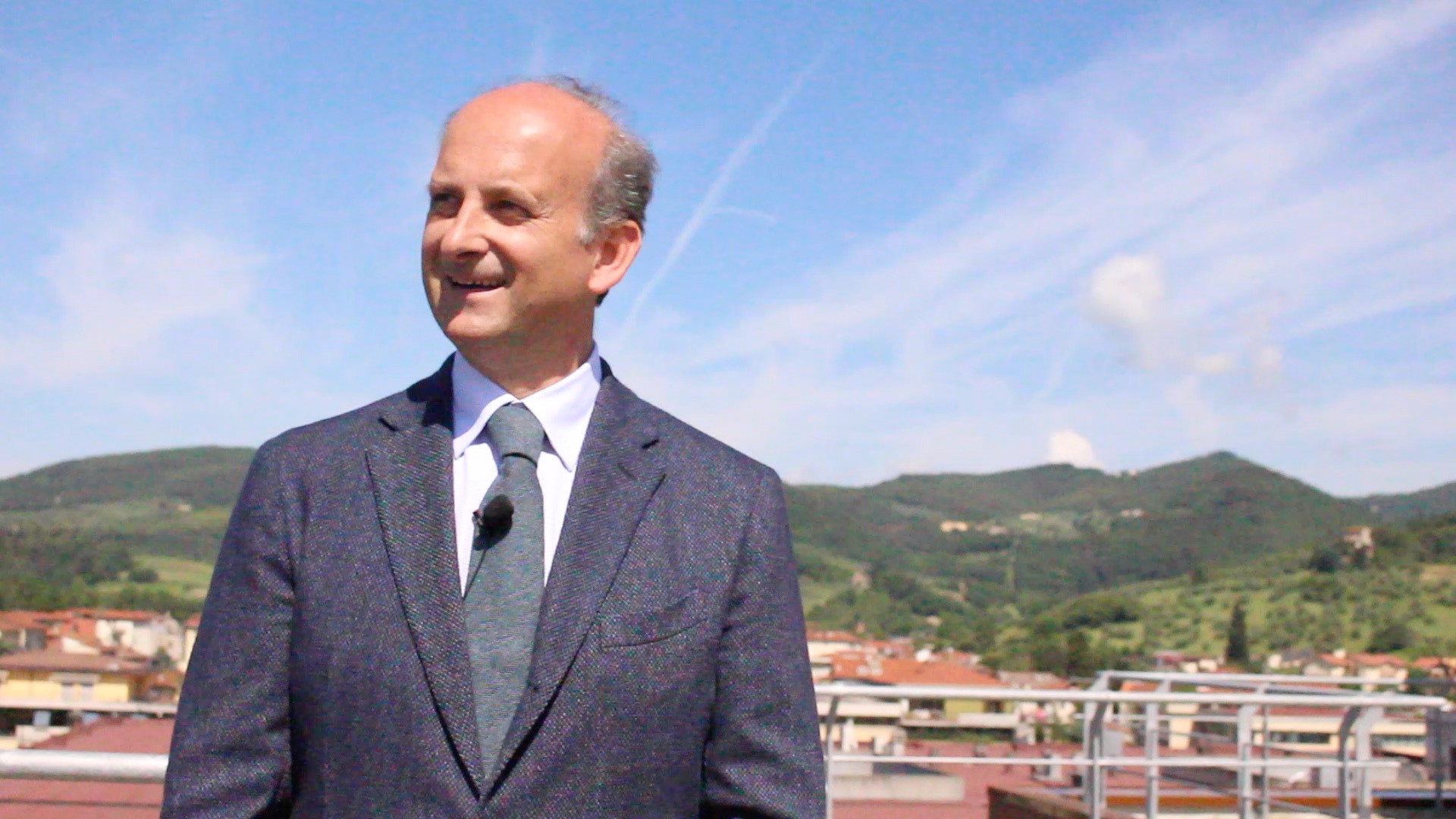 Later on in your life, when you became manager of your Brunello estate, Castelgiocondo, you had this amazing link with the Mondavi family. Was that borne out of your experience in California? Was it just random that you guys got together and doing ...
It was random. Everything happened because the Mondavis were Italian. They came from Italy, from a little town from Le Marche region called Sassoferrato. They moved to America, North America in 1908, and then we know all the story how successful they became and they also wanted to give back to Italy something. They started to search in Italy for somebody to do something together. We got together through a person that knew them, knew what we were, also, ourself. We had the vineyards. We had the Castelgiocondo. I think that was the important thing, is that we were maybe not the best producers, but definitely we had the vineyards.
When you have the vineyards, you can feel richer because you can control the quality, but then you also, sometimes, weaker, because when you have the vineyards, the vineyards produces wine every damn year, no matter what, if there is a surplus, if there is, I don't know what, if there is a war. They're going to produce fruit. Sometimes, you feel them out and you suffer how these vines produce no matter what.
However, the Mondavis, they came up to us. They visited our estate. They visited Pomino [a small region north-east of Florence wherein the Frescobaldi family are the most important vineyard owners]. They visited [Castello di] Nipozzano [a Frescobaldi estate in the Chianti Rufina sub-region joined to the previously mentioned Pomino]. Then we went to Montalcino. The Montalcino estate, Castelgiocondo, it's on the south side of Montalcino, has an amazing differences also of height. We go from 200 meters on the sea level up to 420 meters. I think it's such an amazing location. That impressed them. From there on, we decided to do the Luce project.
People have this image of Montalcino that the streets are paved with gold. You've got famous Americans coming in. When you were a little boy, you went to live to Castelgiocondo. Why did your dad send you to Castelgiocondo? What was it like then? Were the streets paved with gold then or not?
No. Montalcino, it was like many little villages at the time, but also right now, as they are now. It was very, very poor condition. A lot of people left the City of Montalcino. You could not make a living there. Most of the lands there, they were bush land. There was only a small, little hotel with a little restaurant where I think they were physically cooked on fire.
When my father bought Castelgiocondo, they decide to prepare the land, cleaning up the bush land. People that were driving the tractor, we call them tractoristi, they were scared of staying in that piece of Tuscany, because at night, there was nobody there.
People were robbing houses?
There's not really. No. There was nothing to rob, but there were people that were scared because they were in the middle of nowhere. Just to make an example, my father went up to some people from El Circo (the circus). He bought a caravan. He bought it and he made out of it half was living and half was maintenance for the tractor. He put it in Montalcino and the people were actually staying there, because all the houses had no roof. Everything was ruined. That was between 1974 up to 1985, '86. In the beginning of the '90s, things really started to change.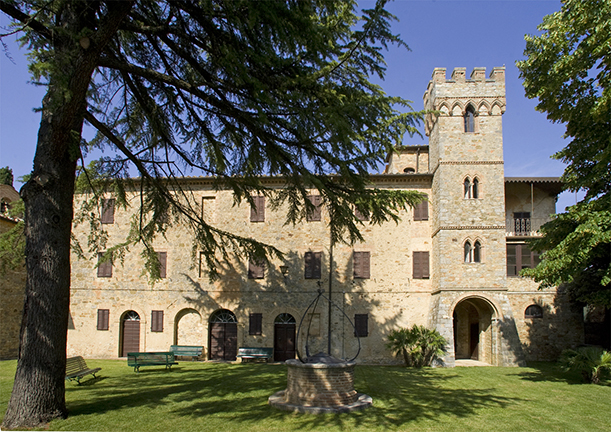 (Photograph of Castelgiocondo)
Why did Montalcino has become renowned? What was the ...
There was already two very famous wineries there. One is Biondi Santi and Barbi Colombini. These two already were making a very good age-able wine, a very good red age-able wine. Sangiovese is the mother variety of all of us in Tuscany, but I would say in Central Italy. It's a very tricky variety. It has a tender, thin skin, so it can crack, it can mold. To make wines that are age-able, you need to pick it and harvest later in the season. Harvesting later in the season, something that has a thin skin, difficult. You really have to find the right location.
To my father, they told, "Look, Sangiovese can really express themselves at the greatest level in this little unknown area called Montalcino." That was everything how it started. It looks like far away 1974. It's 42 years ago. It's a long time, but it's not such a long time.
Because people do look, I think, that the success of Montalcino was inevitable, but it really wasn't, was it?
No. I think thanks to wine critics also. Without any doubts, I know that these days, people sometimes a little bit severe with wine critics, but wine critics, they were able to do then, in the past, and I think most also in the future, they are able to speak to a larger crowd of people. They're able also to say to the consumer, and to the producers, "Look, your wine is good, but try this. Try this out."
It's often, wine producers, they love what they do, because they taste only what they do. They don't open themselves. They don't open their heart. To produce a wine, it's complicated. You have rain, sun, hail, drought. You have everything. When you finally get to the finer products, you're so proud of it.
Relieved. You think that you've done absolutely the best product ever.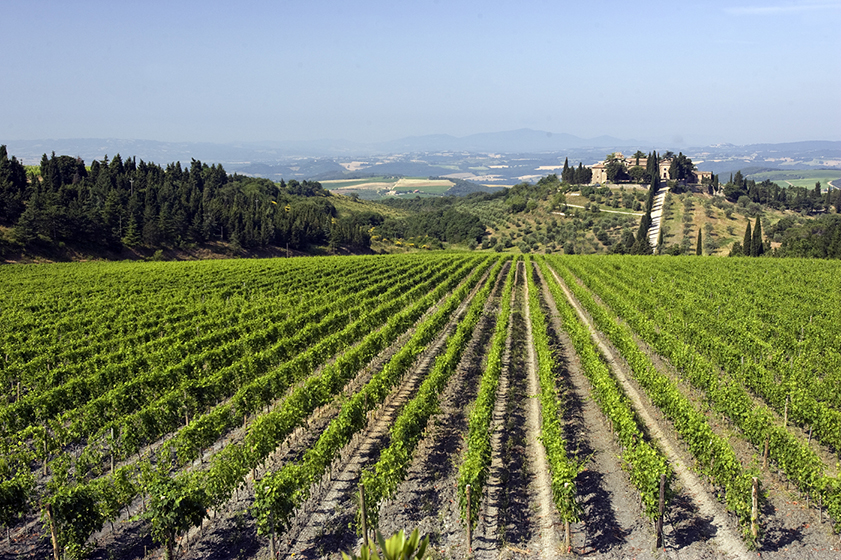 The vineyards at Castelgiocondo
Was that what gave you an advantage? The fact that you're saying that some producers, they're so relieved to produce wine that, "I don't need to taste anybody else because I know my wine is good." Because of your experience in America, for example, and then this link-up, your horizons were opened and you could see what the global market wanted.
It is. I think that there are many people from my age I had those days. I was 22 years old. I didn't have any kind of maybe great experience about wine. I have to always thank a gentleman called Darrell Corti. He had a lovely wine shop in Sacramento. I went up to him once because I wanted to find some Nipozzano for my birthday. I went up to him and I said, "Do you have Nipozzano?" They send me to the cellar. There was quite a lot of pallets of Nipozzano. Then I sat to chat with this guy and he hired me and I started working there.
Selling wine. What he used to do was, once a week, on I think was a Thursday evening, he used to do a tasting of most of his product he had in his store to the people working in the store. He said to me, "Do you want to come out this tasting?" I said, "Why not?" I tasted for my first time wines like Lafite, Margaux, wine from Mendoza, wine from Georgia, Russia, wines from around the world, and from Piedmonte. I had no idea about Piedmonte to be very honest.
I was 22 and in those days you used to drink this rum and coke rather than a glass of wine. It opened my mind. My son, my younger son, he is now going through WSET. This afternoon he has the exam. He's 17 years old.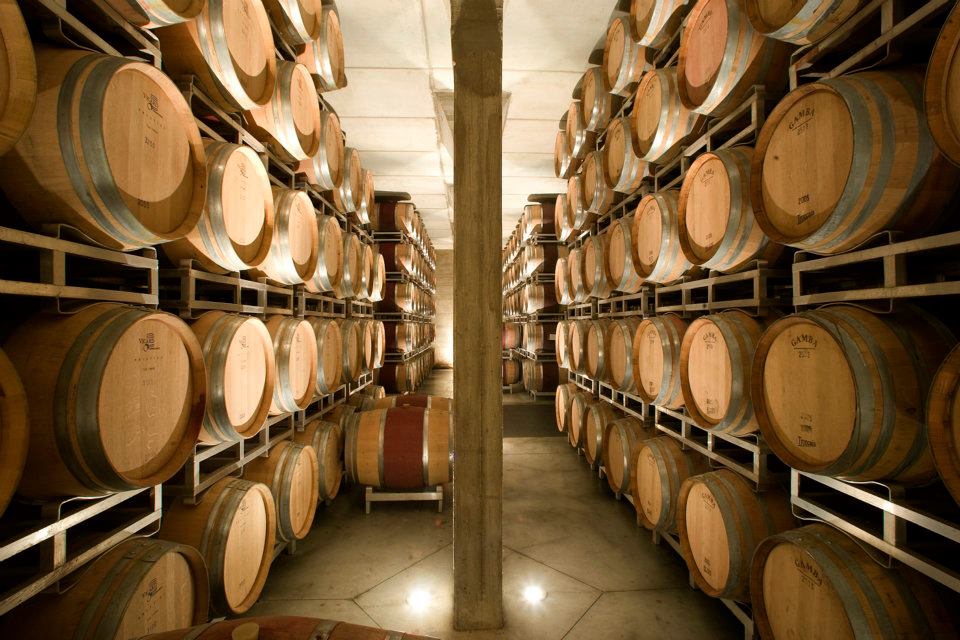 (The cellar at Castelgiocondo)
It's the Wine and Spirit Education Trust exam about the basics of wine.
Exactly. I saw him last night and he said to me, "I've been tasting wine all the afternoon, but now I've understood something." I felt a little bit, shoot, he's 17 and where was I at 17? I didn't teach you anything. It's so difficult to teach to your kids. All these wine courses are so important. As I said, wine critics, they're really ... Often, the wine critic is read by the producer itself. He reads it and he said, "Oh my god, he didn't like my wine." Then you think a little bit more why that happened.
I think to do in a good way, in a good professional way my business, you need to always raise the bar of how critical you are of what you produce. Technically, you never have to be happy of what you're doing. It's a little bit sad, but it's the thing.
In terms of Montalcino or even Tuscan wine, in general, has changed over the last 20, 30 years since you've been involved, do you think there's been this battle between traditional and modern or are we now seeing the two coalescing together? What do you think people's perception of Montalcino, for example, as of the moment regarding those two strategies?
That's a very good question. Definitely, there was a time in the '90s and beginning of the 2000 where Montalcino was pretty much divided into people who were very traditional and people who were very innovative. This I think has made the very traditional maybe looking a little bit critical of way what they were doing and the very innovative also themselves. As you said, now, step by step we'd be merging into going back to one kind of spirit, and then every producer has its own little things.
For example, there were some wineries in Montalcino, maybe a little more modern in the way they developed in the last 15 years, that the cellars that they build was only to contain barrels. Now, instead, those barrels are a little bit fading away and the big boti or the casks are coming in again.
You're saying they're aging wine in a smaller container where it very quickly picks up the taste of oak. You're saying there's a move now to much bigger container where the oak influence is almost invisible, just very, very subtle.
Exactly. Also the evolution of the wine is much smoother, so slower, and the wines, they remain with a little bit more brighter character. At the same time, the quality of managing the vineyard really did a great difference.
You have now the largest or one of the largest organic estates in Tuscany, Castelgiocondo. Was organics for you to be trendy or was it a quality decision?
It was a quality decision. Everything began in 2006. We began with 10 hectares. Of course we picked the most suitable 10 hectares.
There's a little trial.
A little trial. First of all, we didn't lose the fruit because it went rotten, because that's the first thing. Secondly, we had to a little bit set our mind to see grass on the vineyards and below the vines, because we're not using any longer herbicides. That's a little bit of a difficult mindset, because when you get herbicides, it gives the thing that everything is tidy.
Nice and clean.
It's nice and clean.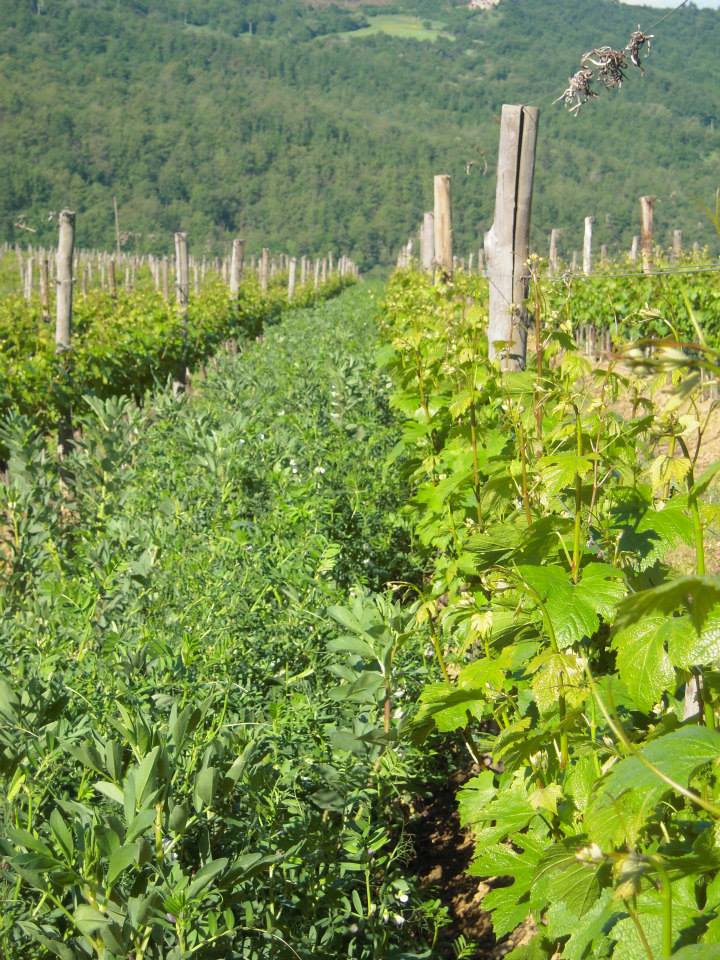 (Lush vegetation at the Pomino vineyards)
Was that your father's generation that they hated weeds?
Yes, but also my generation. When I saw those weeds, how horrible they are. We're doing it for the appearance or we're looking for the quality of the fruit. What happened was that the Sangiovese came with a little bit more of a thicker skin. Going back to what we said, very important is landscape. We were ripping the land after the harvest and then more times in the year.
You're saying that with the weeds, the vine has to maybe put down deeper roots to find water.
Deeper roots.
That means that the grapes are a little bit tougher.
Tougher.
More flavor, more color.
More flavor, smaller berry. All these 10 hectares was very successful. Then we said, "Let's try." After two years, we said, "Let's go to 30." That came out to be quite successful.
That's about 10% of Castelgiocondo, isn't it?
Yes. Now, we are 274. Step by step, we got to almost 100 hectares. After dealing with those 100 hectares, we said, "We are ready to go for it, to go totally." Now, four years ago, we moved into to do actually all the official paperwork. People can say whatever in they like, but then if you have a proof, it's not only what you're saying, but you can also prove it.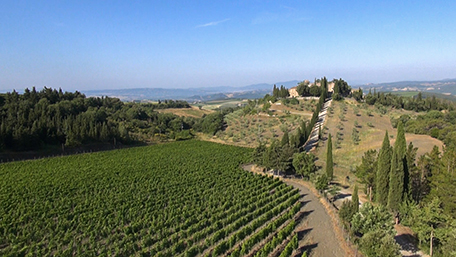 Basically, we're organic and someone independent comes and checks and says that we are officially organic.
Exactly.
Do you think communication has improved in recent years in Montalcino? There's now a group of bio producers that are talking to each other about dealing with weeds or pest or whatever. Has that been a positive move?
That has been definitely a positive move. It has been a positive move, I think, all around the world. Now, there are many people that are looking at that. Of course, there is one big issue. From what is my experience, at least, I talk for myself, so I don't want to offend anybody, I cannot do bio every place I have vineyards. Some places, there are yet some pests that we are not able yet to control them. Maybe in the future I'm going to become even more skilled.
The place that I picked initially was Montalcino and there's where we are now 100% of it, and we're doing extremely well even in a vintage like 2014. That was a difficult harvest.
Because it was raining a lot.
It was raining a lot and then was a little bit for what was technically somewhat for powder mildew. It was a little bit tricky, but we did very well. We had no issue whatsoever. Our costs have grown, but not as much as I used to read in books.
Have your yields become more consistent though?
They have become more consistent. We are spending quite a bit more on how we prune vines and, also, now already in May, we do all the shoot selection. The shoot selection is very important.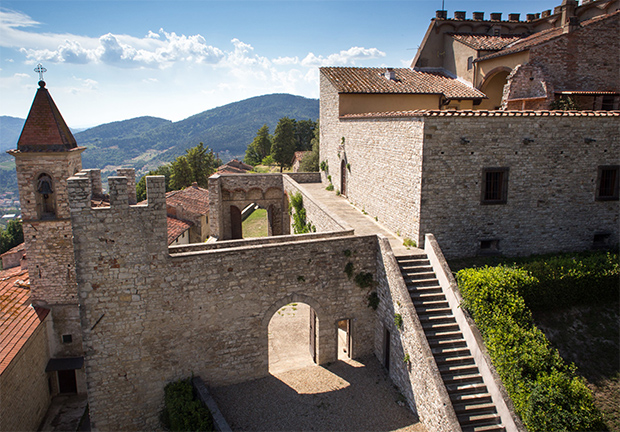 Nipozzano Castle is situated in the heart of the prestigious Chianti Rufina territory, on the mountain slope overlooking the Arno river valley.
Basically, what you're doing is your vines are producing lots of little branches and you're saying, "We don't need all of the them," and get a little bit of air and light through the leafy area so that the grapes get just enough sun, but not too much and it's less risk of having disease.
Exactly. We leave much more air going through. This has two effects and both means cost. One is costly because it's more time. Secondly, you need more skilled people that they do it year after year. When you find people that are good on that, you want them not to leave and you want to keep them.
Isn't that good for the local community? There's a huge move in Montalcino and you're a great example of this more organic farming, which does require more manual labor. Montalcino is a pretty deserted area. It's pretty isolated. Is that not good to get and maybe to try and rebuild the community on a social level there?
This is what great wine location has to be able to do. They've been able to take back the community to live there. Not only because there is good, but actually, you have an opportunity to live. We've been supporting the hospital in Montalcino to remain the hospital there, because if you feel sick, you want to have all those things next to you. We wanted the hospital to be there. Now, there is a little thing, but we've been buying, for example, a second ambulance to all the producers that are sponsoring that to keep a strong community. That has given more restaurants to be there, more hotels.
We also have to do something more for the community in terms of stretching the season of tourism, so not only the summer when it's nice, but it's also when it's cooler. We have to come up with some ideas to keep more tourists there. That means more people living there. It's also the kids that they study during the year and then they come during the summer, but then when they're finished with studies, if you want them to remain there, you need to give them an opportunity, work for a year there.
That goes back to your point when you were living as a little boy, it was completely deserted and even though Montalcino is world famous, people, that is quite an isolated developed place.
It is.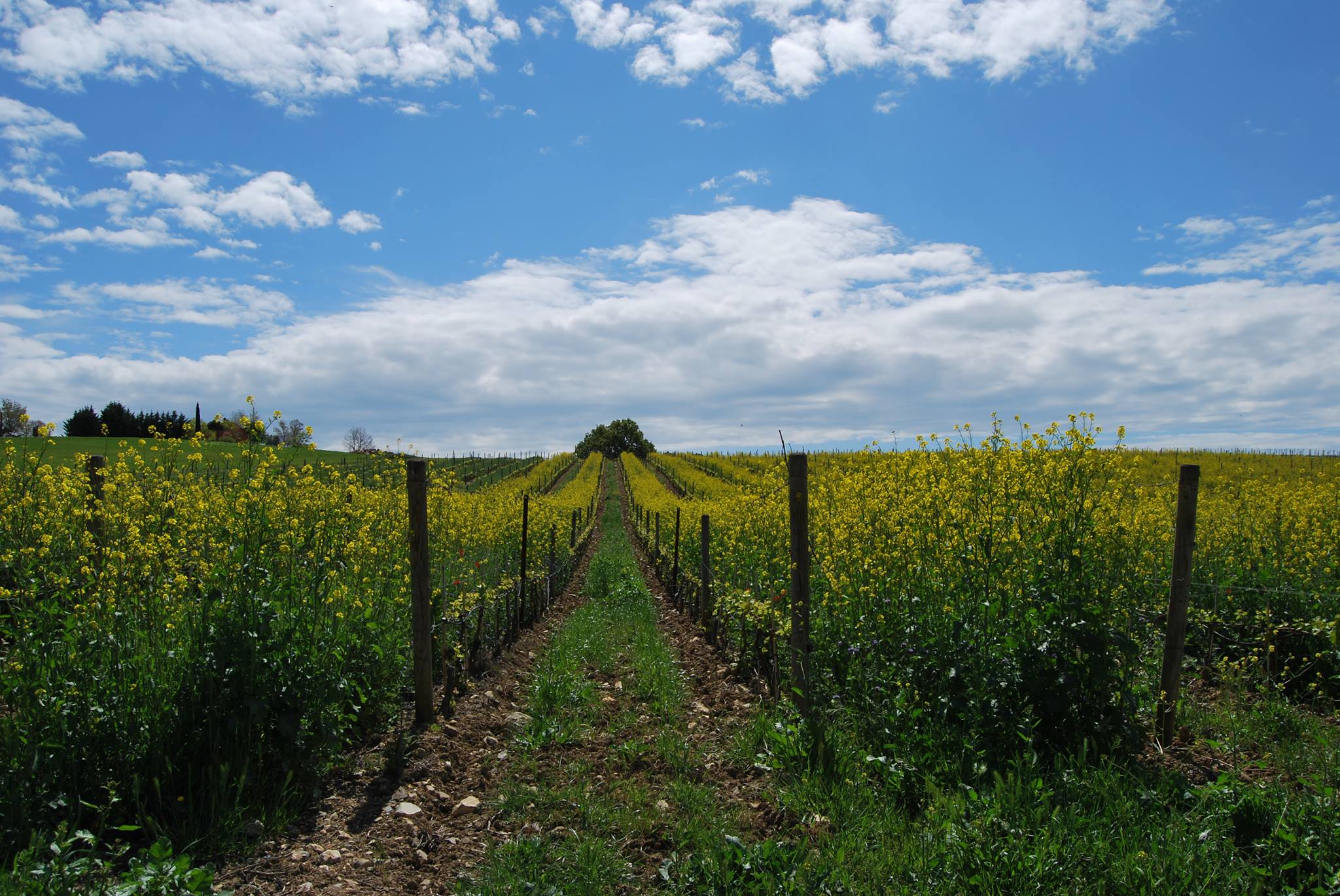 In Maremma, the vineyards at the Tenuta Ammiraglia Estate
It is. It's a very small community and when your young kid, maybe, these days, kids, they like to go to party with their friends. I loved to drive through there with a car, no driving license, none ever, but nobody was there, and so going up and down the roads, the unpaved roads of Montalcino, it's something that you can't forget, those good things when you are a kid. Technically it's forbidden, but you were not doing nothing really.
This is the '70s, a long time ago.
Exactly.
You were talking about when you were smaller and the Castelgiocondo was huge. There was a lot of forest and your dad let you ride a little 4x4 when you were kid. That's what you're talking about.
A car.
Beetle, was that?
The Beetle. The Beetle, you could beat it up and never broke. We used to call here el maggiolone. It was the Beetle with a 1.3 engine, and stealing the small mop hats from people working there and going around, and taking it back at evening without any gas inside.
You've gone actually from a young tearaway to a very smartly dressed Italian businessman that's leading the way with organics.
The Family estate in Chianti Rufina, it's called Castello di Nipozzano. Tell me a little bit about the history from your perspective. Is it a traditional area, a traditional winery? Is it more modernist?
The Chianti Rufina, it's a very traditional place also. The Chiantis, they do come from this part of Tuscany. They were historically quite rustic and they needed tons of aging.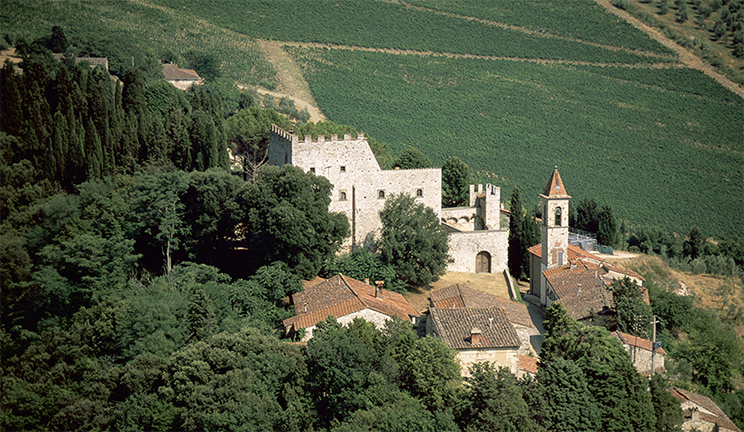 (Castello di Nipozzano in Chianti Rufina)
What's the terroir? Why is that?
The terroir, because we are very close to very high mountains, so the temperatures at night are quite cold, also the warmer season [spring] starts later, so the bud breaks starts later. The growing season is a little bit shorter and if you have a wet September, October, it can be tricky for the Sangiovese there. All of this is true up to the fact that you have to deal your vineyards in a very, I would say, professional brighter way than in the past. Not thinking quantity, but thinking at quality, and looking at the vines and seeing the bottle hanging. You don't have to see grapes.
Castello di Nipozzano, again, for me, I would say it's home, because I grew up from 0 to 11 years old there. It's where I understood that wine had to be drunk in moderation. Nipozzano, again [is] focused on the Chianti Rufina. [The wines] are mostly on Sangiovese, but also Canaiolo, Malvasia. Trebbiano is a small thing, but that's a little bit lost to importance.
Because in the Chianti regions, you are allowed a mix of Tuscan grapes at the moment, obviously, Sangiovese, Malvasia, Canaiolo, those kind of grapes, but also maybe Merlot and Cabernet, and Bordeaux a bit. Do you think that's dying out as we return to tradition?
It is dying out, the use of Cabernet and Merlot, but if I may say, the ones that have been planted in places that they were not suited for those varieties. I believe that we're able to make exceptional Cabernet Franc, especially, Sauvignon, Merlot, and also some Petit Verdot, terrific. We've seen over times and I've seen it myself, in Nipozzano, for example, we have a production of Cabernet Sauvignon quite important. One is called Mormoreto.
Over the last 40 years, we've been moving the vineyards from one location to another, ready to find a great location, because what we are finding each time we were saying, "Wow, this is the grape," and then it was never there. As we planted, we actually pulled it out. Also, what we did in Montalcino, in Castelgiocondo estate, there was a big large vineyard of Cabernet Sauvignon in a location that was absolutely not suited for Cabernet Sauvignon and we pulled it out.
I think that happened in 1995. I believe in 1995, a producer in Tuscany to pull out a vineyard of 10 hectares of Cabernet Sauvignon, you could have easily taken him to a hospital saying, "The guy is sick," but I think we were not sick. I think it was a wise decision because the world doesn't need another Cabernet, doesn't need another Sangiovese, doesn't need another Merlot. It needs a good wine. A good wine is the balance between location, climate and people, but if one of these three are not in place, you're going to do another wine and it's difficult to promote another promote "another wine", maybe at a wrong prices, because Tuscan wines are usually quite expensive.
Chianti is caught in that difficult term. There's so many different styles. There's Chianti, Chianti Classico, Chianti Rufina, which is the best subregion. Chianti could be very inexpensive wine and it can also be premium priced. How difficult is that for you trying to sell your product?
It is extremely difficult because at the end of the story for the consumer is Chianti, period. That is really a endless battle. We have been, all of us, when God decided that we had to come on this world, he told also us that you guys are going to suffer like hell. We suffered like hell. Of course, we need also to do as a product they are also somewhat easier to sell. Chianti has a very defined price point and to break that price point, you really need to spend a lot of time.
In Italy, you can succeed. Abroad, it's so difficult. Let me also say a little something positive about it. These days, everybody has a smartphone. When you pick up a phone, then you can scan the label and you can get quite a lot of information right away. Although it's a Chianti or a Soave, so this big appellation, the consumer is able to get information much quicker than in the past. There is an opportunity, thanks to technology, and thanks to consumer that they want to learn more, and thanks also to the producers that they are wise and good enough to put the information on the web.
That obviously makes the storytelling part of what wine producers do, because wine for many people is a mystery. In your case, a very distinguished family history. How do you think producers can tell, speak their message better, explaining really what Chianti is? How do they keep it simple and engaged with consumers? Are words like traditional or modern useful?
To some extent, yes, but at the same time, the word simplicity in the world of wine, it's very difficult to have. Over time, we have hired people coming from other fields and I'll ask them. We've hired them in the marketing side of the business. They are very simple. When they tell you this, I suffer, but at the same time, I understand what they want to say to you. Our world is very complicated, but then we have to a little bit narrow it down.
We're trying to do this. We vowed however against vandalizing the beauty of the world of wine. One of the thing I would like to tell you is that, the world of wine is like a big cake. There are some people that are interested to have only a small portion of it and that small portion, that is where I would like me to be placed, where it's very important to tell the people what you're doing, where you are, the differences from one vintage to another.
Then there's another big chunk of it that people are a little bit more interested just to have a good glass of wine. Maybe they put also some fruit in and some ice. They do all those things that they're technically wrong, but they do it for the pleasure of doing it. I don't think there is much fault on doing such something like that, because I believe from that stage you can move on to another stage.
Wine is everything, but then wine is written with a small W and another one is written with a capital Wine. That is what I try to do and fingers-crossed, let's try to do it every day.