Matteo Giustiniani and his wife Mina are pushing the boundaries of quality for Italian rosé. Their estate is located in Lucca in north-western Tuscany and they are employing biodynamics and natural wine techniques to produce some of Italy's most exceptional rosé.
The Giustiniani family also has roots in New York as Matteo's brother and uncle are the team behind the successful Sant Ambroeus, Casa Lever and Felice restaurants.
Monty Waldin talks to Matteo Giustiniani about the evolution of his winemaking and what it takes to make world-class rosé.
Monty Waldin: Tell me a little bit about your links with America in terms of your family and restaurants?
Matteo Giustiniani: My uncle Gherardo Guarducci and my brother Jacopo Giustiniani are based in New York. They have several restaurants. My uncle is a partner in Sant Ambroeus and my brother Jacobo is a partner in Felice. Sant Ambroeus is kind of an institution, an Italian restaurant institution in New York. Felice is a kind of wine bar where you can have a very good Italian experience from the wine to the food. We started to do a product [wine] label, Felice, for them.
Other restaurants and important distributors also now trust in our products so we now have Fattoria Sardi rosé, for example, in all the United States or we can see Fattoria Sardi in a lot of restaurants in Manhattan. It was a kind of seed for our winery to have a connection with a restaurant business in the United States; now we have a plant. We are not famous but you can find and you can enjoy our wines in a big part of the United States.
Matteo tell us about the history of the estate.
Fattoria Sardi is a family winery in Lucca in the northwest part of Tuscany. We are between the Apuane Mountains and the Tyrrhenian Sea. It's a very special terroir because the mountains give kind of a cooler weather in our area, so we have very cool nights during September and August, and that's very important for the acidity and the aroma of our wines.
Also, it's very special in the specific part of Lucca where we are, in Fattoria Sardi, because we are between two rivers. One is called the Freddana, which means very cold water, and the other is the Serchio. Serchio is the famous river of Lucca. Both are very cold and make a kind of microclimate. We are in Tuscany so we don't have any problems with ripening our grapes because basically we have a lot of sun.
We miss something in October because this area is also famous for rain. At Fattoria Sardi, since 2000, 2002, we decided to move our production of rosé and white wines.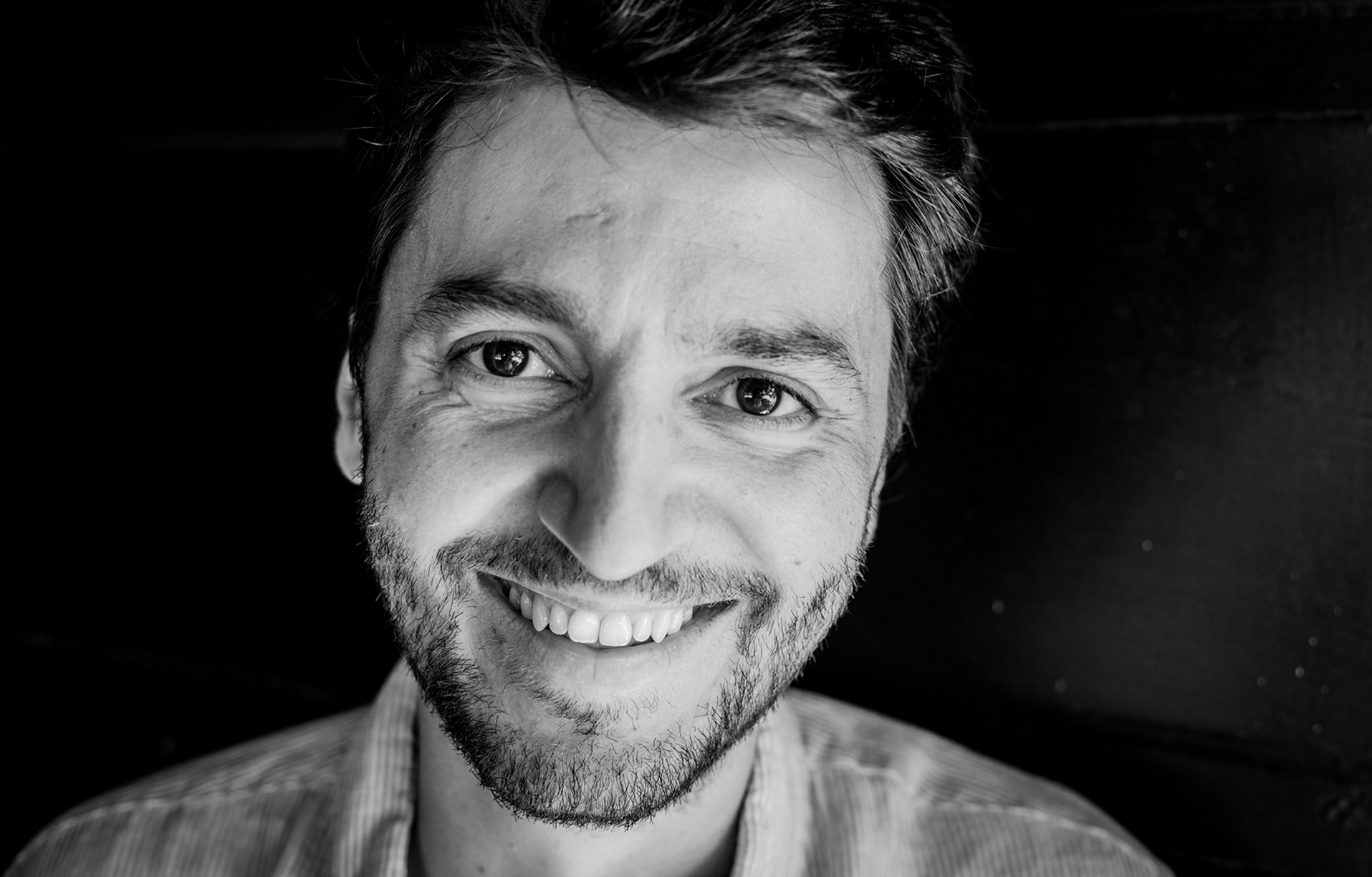 Matteo Giustiniani photographed by Monty Waldin
What was important? Obviously, you're saying that you can get rain at the end of the season. What's the effect on potentially making red wine, exactly, what is the reason for the rosé?
When we have a lot of rain during October, Sangiovese especially has a lot of problems with ripening because there are a lot of diseases - grey rot.
It's a late-ripening grape and if it rains, the berries will just start exploding and rot.
Yes, exactly.
That means you pick the rosé a little bit earlier than you would for a red? Is that the reason?
Yes. We pick our rosé at the beginning of September for Sangiovese.
You're saying it's a bit atypical in Lucca then? Traditionally, the wines in Lucca, what, were mainly red? Mainly white?
Yes. Mostly in Lucca we produce rosso [red] and white [bianco]. Rosso is made with Sangiovese and also with our local varieties. In Lucca, there are also traditions to use French varieties such as Merlot, mostly, and a little bit of Cabernet Sauvignon and Syrah.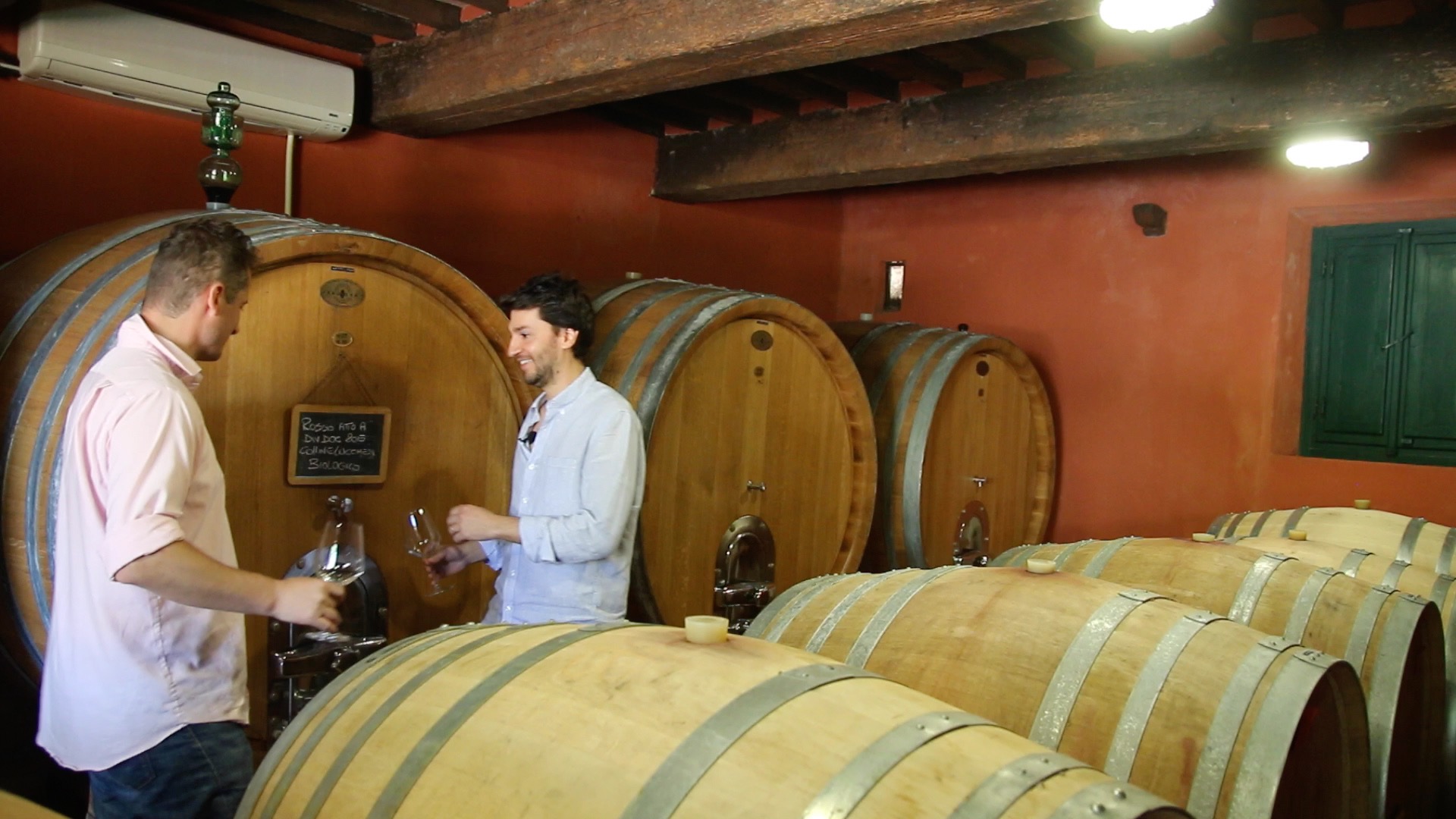 Is that because France is just around the corner? It's a couple hours drive. You always had that French influence, didn't you?
Yes, because we are not far from France. I think there are explanations about why we have a lot of French varieties here in Lucca. The first is Lucca is a very French town. When Napoleon conquered Italy, his sisters stayed here in Lucca for five, six years, and they probably asked for French wines. The very noble family tasted these kinds of wines and said, "Wow, they're very good. I would like to try to plant some Merlot and some Cabernet and Syrah."
Also, honestly, I think we have a lot of French varieties because they ripen early. As I told you, here sometimes we have a very bad October [in terms of weather].
Is that because you're so close to the sea as well?
We are very close to the sea and we are just in front of Corsica and Liguria. Liguria and Corsica, the Tyrrhenian Sea, are very rainy during the winter. It's not dry as in Montalcino or Montepulciano during the winter. Sometimes when the rain comes very early during the fall, as in October, it's very hard to do a very good variety.
I decided to split my production. On the top of the hill, I have Merlot, Sangiovese, and Cabernet Sauvignon where I can do red wines very well over here. Basically, in this soil, I ripen my red varietals early, perfect for red wines. In the other part where I have a very cold terroir the soil is also cold, so I decided to start doing only white wines with Vermentino mostly and rosé with Sangiovese.
What are the taste characteristics of the rosé from Lucca in general and for your rosé in particular?
In Lucca, a red wine and a white and rosé now have characteristics that are very salty, savory. They preserve a kind of acidity but at the same time it's a kind of mix of acidity and salty. Here in this terroir, we find this in red, white, and rosé. If I have to describe my rosé, a fresh aroma as fresh fruit, not aromatic because the Sangiovese is not an aromatic varietal.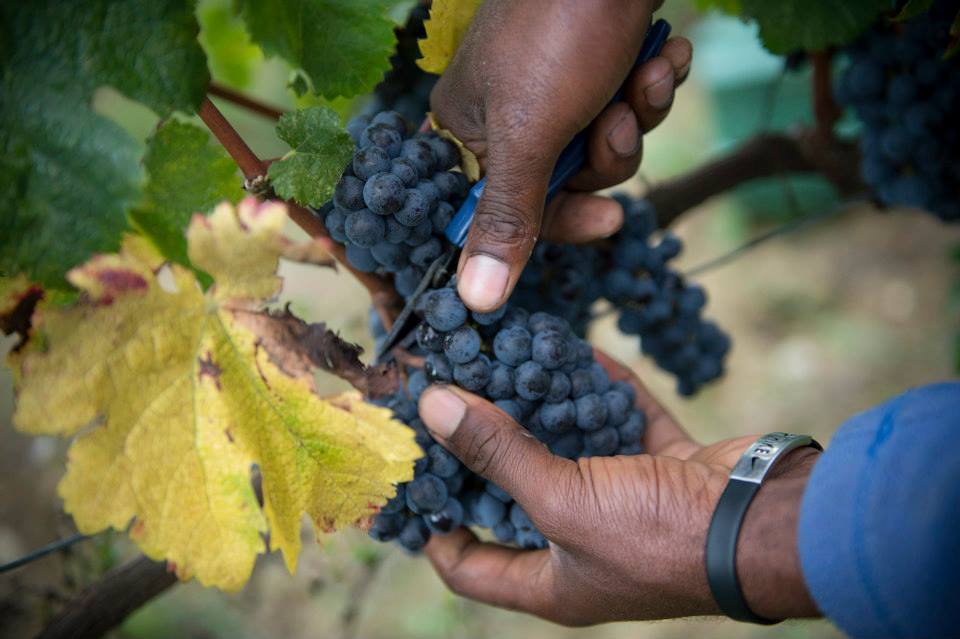 The red fruits, are we talking soft fruit like raspberries and strawberries, or crisper fruit like say cherries?
Crisper fruits like cherry and-
Red apple?
Red apple and sometimes a touch of peach. In the blend, we also use a little bit of Vermentino in the rosé, and Vermentino here being a kind of peach aroma but it's just a touch. We have also flower, floral aroma, flowery aroma. Not rose, but mostly white flower.
When I look at your vineyard, it looks a real mess. It looks weedy, untidy, as if you've forgotten to mow the grass. What actually is going on? What's the reasoning for this?
Here we don't have any problem with the energy of the soil because here we have an explosion of greenness. We have rain, we have cold, we have a very healthy soil so we have to manage this richness of our soil with [a] cover crop [meaning leaving a covering of grass or other plants on the soil to prevent the rain washing the soil away, and to help the rain filter into the soil ready for the vine roots if they need water]. For example, here you can see our cover crop. We have to manage it using biodynamic practices but we don't ever use a lot of 500 (a biodynamic treatment), for example. We have a lot of energy in our soil already so we use it because we are in a biodynamic farm.
We are also organic, of course. Basically, we don't use any chemical fertilizers or herbicides or chemicals for fertilization. Here we have to find a kind of balance. The balance is between making a competition for our vines [via the grass left to grow between the vines rows which competes with the vines for food] because good vines need a little bit of competition between the leaf part, the green part [the vines shoots or branches], and the fruit [the grapes]. If we have only a lot of energy in the leaves, we need something of concentration in our grapes. We try to manage our soil to make a kind of competition, to help the vines to make this kind of competition between leaves and grapes.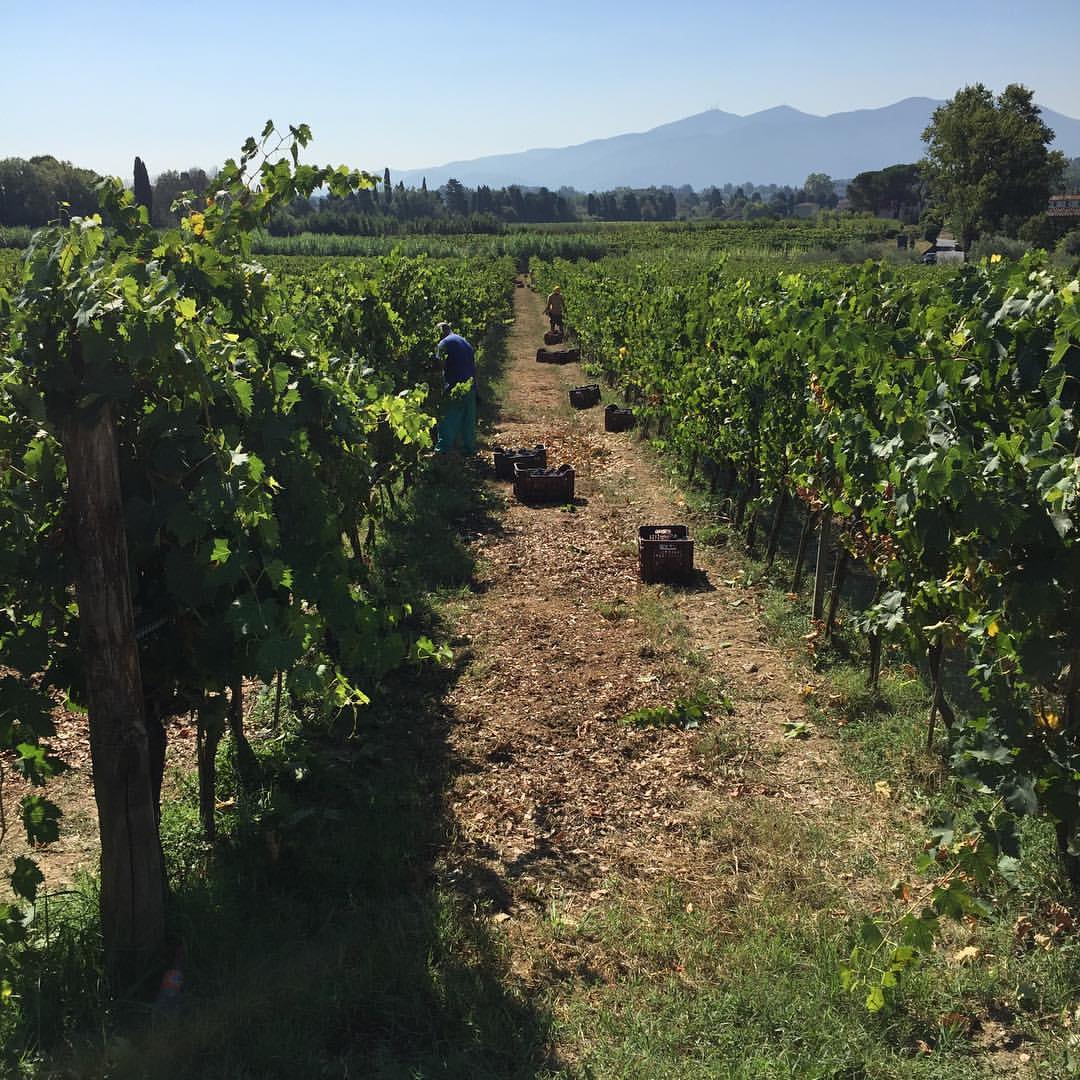 Basically, this grass is pulling energy out of the earth so that the vine doesn't grow too tall and is pulled back within itself so you get healthy grapes that are easier to ferment and make wine from?
Exactly. Exactly. We have two different soils. We have the soil influenced by the rivers, Freddana and Serchio.
What does that look like?
It's a sandy soil reaching rocks. It's kind of a gravel soil.
Gravel.
Gravel soil. The rain can drain very well because there is not a lot of clay so the soil after 30 millimeters of water, of raining, so a lot, can be very dry after just eight hours. We have another kind of soil on the hill, it's a clay rich soil and rich calcareous. In that case, the soil keeps more water so we have to change a little bit how we manage the soil.
What I would like to say is the soil is the most important part of our estate. We study a lot of soil because in the soil we find the balance, we find the balance between this kind of weather and what we looking for in our wines. Every year, we change. Of course, we have a cover crop mostly every year but sometimes we stop and we decide to work [plough] our soil because, maybe, it needs some air because we had a lot of rain in the last year so we need to work it a lot.
Do your neighbors think that your vineyards look really untidy?
Yes, it's a little bit messy.
Or do they think you're a young guy, you obviously don't know what you're doing, you need some help?
Okay. Yes. We don't look for perfect-looking soils but if you see our [vine] canopy [the leaves and shoots], for example, it's perfectly managed. In that moment we have to spend a lot of attention to fight disease. For me, if you don't want to use a lot of copper or sulfur [to prevent vine mildew, see below], you have to manage canopy in that moment. It was a very cold and rainy spring until now. I hope in the future it will be sunny like today.
We have a lot of water in the soil so what I would like to do is to take off this water with this crop or greenness and at the same time, I'd like to spend my energy managing the canopy. If I have a perfect canopy, the microclimate around the grapes is perfect. If I spray the low quantities of copper I can fight disease very well.
Disease, basically, is mildew in this area. Mildew needs kind of an immediately reach around the leaves to develop but if I have the canopy perfectly managed, the sun and the wind can dry the leaves. Also, with a touch of copper, now I can manage this problem.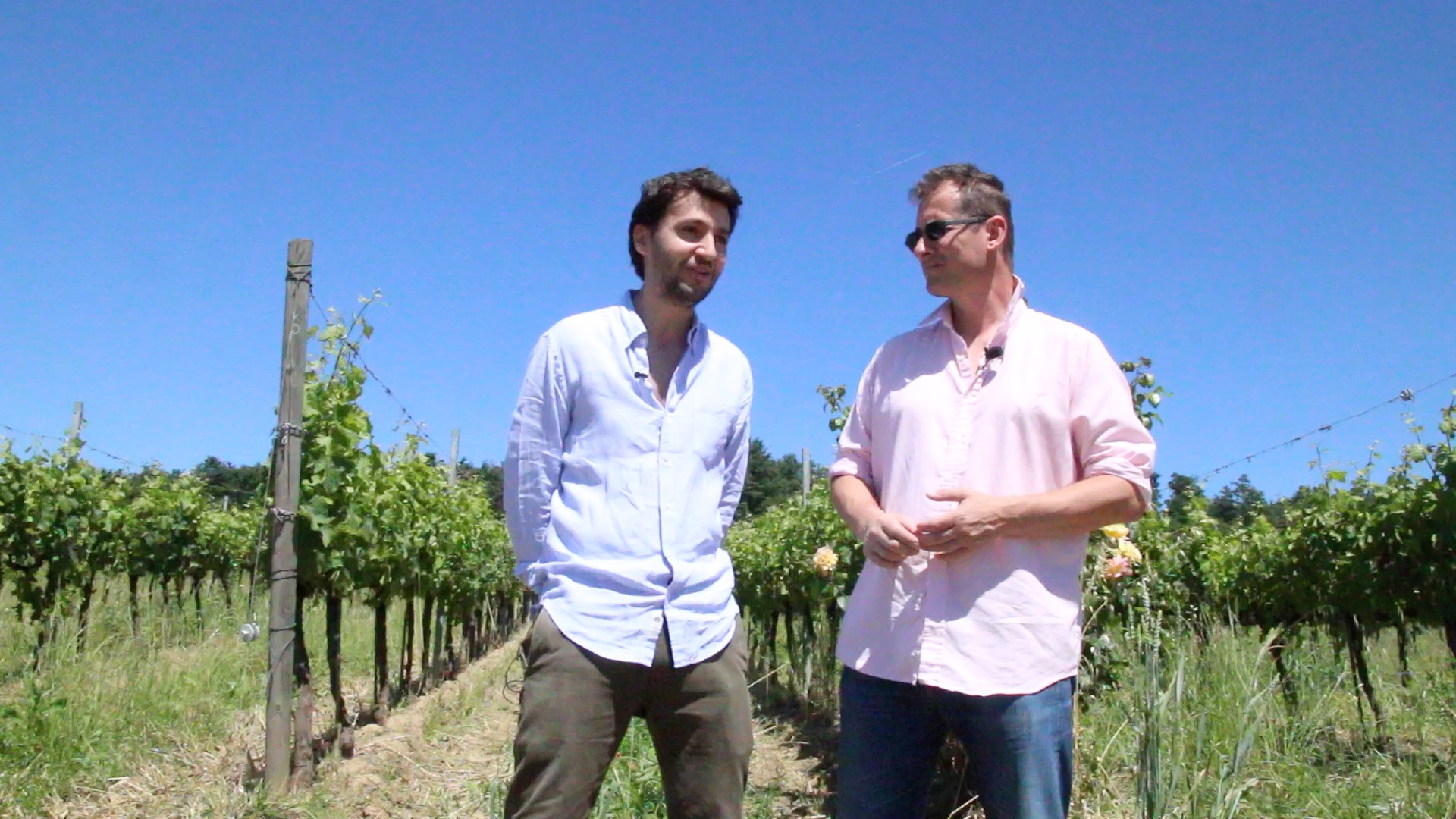 What effect does biodynamics have on the wine?
Biodynamics for me has a big influence in the vineyards. We have a very healthy soil and this healthy soil transmits a kind of balance in our grapes. Biodynamics for me give me very balanced grapes. These balanced grapes need nothing in the cellar. Basically, the difference is not when you taste the wine and you say, "Oh, that's biodynamic." No. I don't look for that. I look to a very good quality wine without any chemical products added in the wine.
Basically, if I have the perfect grapes I can do the perfect wine without adding sugar, tartaric acid, tannins, etc. If you taste the wine, for me, you have to taste my terroir. You don't say, "Oh, that's biodynamic wine." That's my idea.
What does Colline Lucchesi mean?
Here is not really Chianti, it is Colline Lucchesi. I don't know why we are not Chianti Colline Lucchesi as Chianti Colline Pisane or Chianti Colline Senesi or Chianti Colline Fiorentine. Probably because Lucca doesn't very much like Florence, I have to say that. Lucca is a micro-state in Italy. When they decided to give it a name, in looking for a name for this appellation, they said, "Okay, Colline Lucchesi but not Chianti." We are Colline Lucchesi. What is the difference?
The difference is basically all of Tuscany is in Mediterranean weather. Here, we have an influence by the Mediterranean, also the Tyrrhenian Sea and the mountains. That, in our case, are the Apuanes. I think that compared to Tuscany, we are in the cooler and more rainy terroir of Tuscany. What about the other regions? Bolgheri, for example, is totally influenced by the Tyrrhenian Sea and they don't have other influences.
Chianti, Chianti Classico, is very huge so we have to summarize in that case. They are inland Mediterranean. They have a little bit of influence by the sea but mostly by the microclimate that you can find from one hill to the next hill, basically. In Montalcino we have two different parts for me. There is a part that is inland Mediterranean so with not very much influence from the Tyrrhenian Sea but mostly by Monte Amiata and the Appennines.
The southwest part is really, truly influenced by the sea. Montepulciano has truly inland Mediterranean weather. We don't have a lot of influence from the sea, we have a lot of influence from the eastern part of Italy. Basically, they have a kind of influence from the Appennines mostly, and a little bit by the Lake Trasimeno. Here we have this special terroir and how I already explained, it's perfect for white varietals and also for the red wines but in the specific terroir. We have very specific varietals.
It's almost like cool-climate Mediterranean?
Yes, cool-climate Mediterranean. We can say that.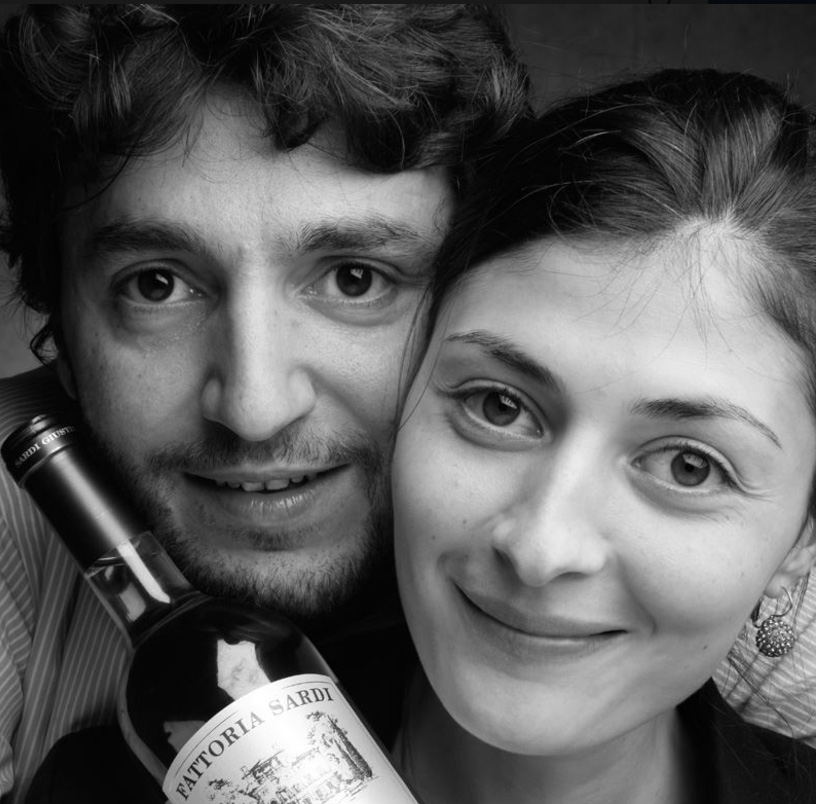 At the moment, you're running the winery with your wife. It's a family winery. How did all that happen?
I met Mina, my wife, in Bordeaux during my study. She is Greek and she was already in France since 2003 because she decided to study chemistry and oenology. I met her and we started living together in Bordeaux and after two years my family asked me, "Why don't you manage Fattoria Sardi? Okay, it's not a big chateau in Bordeaux but maybe you can have the chance to come back to Italy and Tuscany and you already have a job." I said, "Yes, I would like to come back to Italy but, basically, I would like to learn more before I come back to my estate." I started to work with Virginie [Saverys, the owner of the biodynamic Vino Nobile di Montepulciano winery in Tuscany called] in Avignonesi so my family asked me, "Basically, it's the same so why don't you come back if you to stay in Montepuciano and not in Lucca?"
I'm very lucky because Mina is a winemaker too. After a couple of experiences at Frescobaldi and Antinori, she accepted to manage Fattoria Sardi. Now Fattoria Sardi is finally managed by Mina, so a young woman, and me during the weekend. Nina and I, we trust in sustainability of our project so we have biodynamics in the vineyards, we are organic certified, and we don't have any chemical products. Instead a just little bit of sulfite like I've already explained.
Tell me about your philosophy of winemaking.
My philosophy is to start in the vineyard. To understand what I want from the grapes or try to find a good vine grower system, viticulture system for very different wines. Also, find a good point of ripening. The maturity is the most important part. To have perfect maturity for the wine that you want to do. After that, basically, you have to taste and observe the wine. We don't use yeast. We don't add the sulfite, we add sulfite only after malolactic fermentation.
We use oak, new oak, sometimes for Cabernet Sauvignon and Merlot. We don't use new oak for Sangiovese, Sangiovese is aged in second passage barrique [French oak, holding 225-litres or 300 bottles] or [much larger chestnut wood] boti. I would like to say the signature of my winemaking philosophy is good ripeness of the grapes and, for me, it's important that every bottle tastes the same.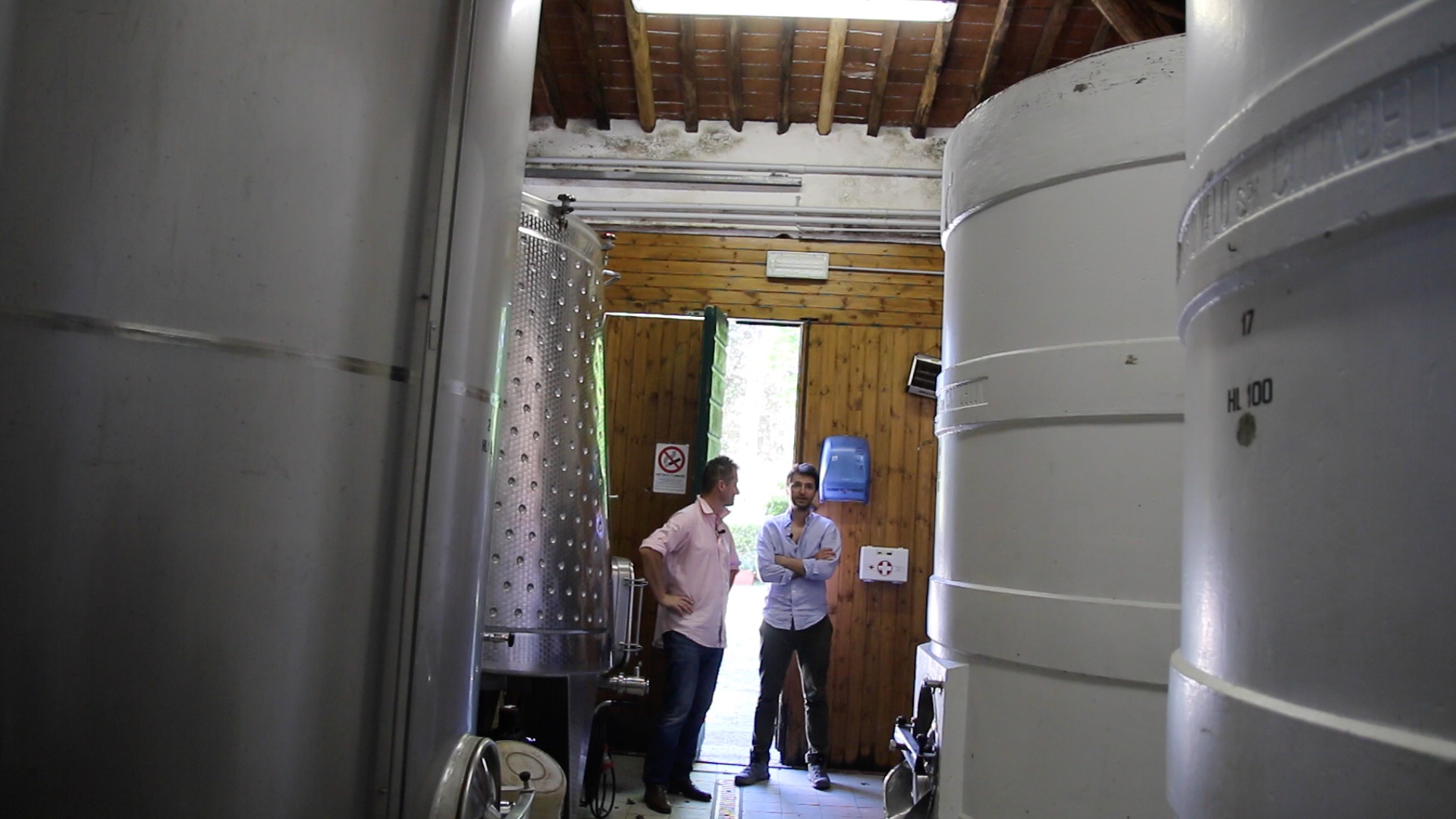 How has your winemaking evolved over the years that you've been making the wine here?
Every year in Lucca, I gain trust [confidence in himself and his understanding of his terroir]. I understand that Lucca has an amazing potential. For example, for white wines, I try to make a bit more maceration [of the grape juice] with this [the grape] skins because this [allows the] wine to age very well. For red wines, now I add sulfite only at the end of the [winemaking] process so basically before bottling. For rosé it's a challenge. Every year is different but for rosé, every year I learn more about the skin contact because the timing of skin contact is the most important part of rosé production.
Why?
Not far from the skin there are a lot of aromas and compounds and the signature of terroir. At the same time, there are the color compounds in the skins. If you make skin contact for a long time you have a very powerful rosé and I don't like to have a very deep pink rosé, I'd like to have this kind of light color rosé.
Every year I try to make more skin contacts so now our secret is to add a little bit of white varietals in the press. These white varietals can absorb a little bit of the color compounds, so I can go a little bit longer with color maceration. I think now I have found a balance but every vintage is different.
Monty Waldin was the first wine writer to specialize in green issues. JancisRobinson.com said of Monty's latest book, Biodynamic Wine (2016, Infinite Ideas Oxford) that "it made me realise I knew next to nothing about biodynamics." Buy it on Amazon.
More from Monty Waldin on Grape Collective.
Find Fattoria Sardi on Winesearcher or at Grape Collective.