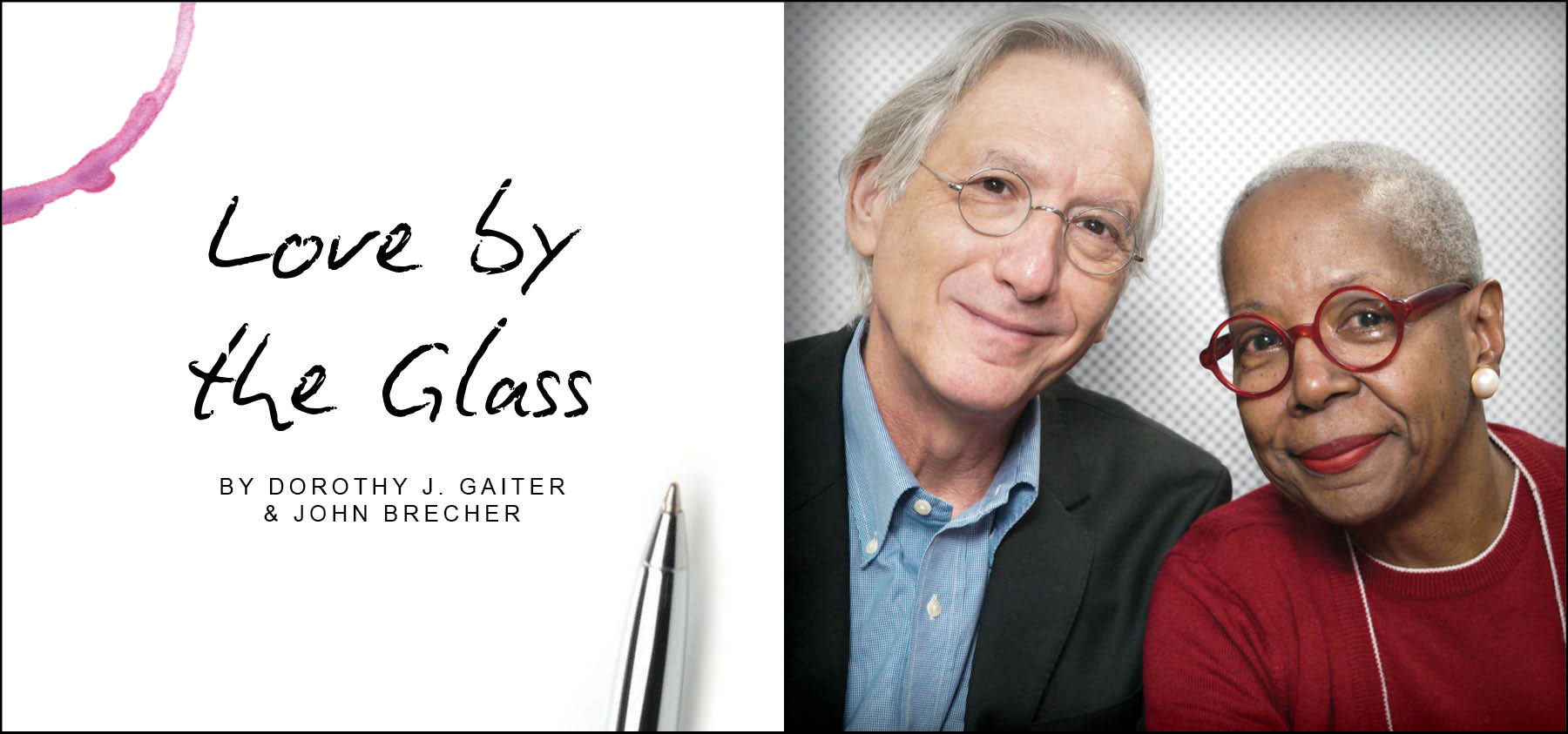 It's that time of year when wine writers declare The Perfect Bubbly for the Holidays. This year, we'd like to throw you a bit of a curveball.
When many people think of rosé bubblies, they think of weddings, Valentine's Day, romance. Partly it's because the wines are such a lovely pink color, albeit 50 shades of red or more. But we think it's also because rosé bubblies are often soft and enticing, seemingly made for quiet toasts and intimate settings.
And, to be sure, that was our introduction. On John's birthday in 1981, Dottie gave him a bottle of Taittinger Rosé. The Taittinger Brut La Française has been such a constant in our life that it was our wedding wine, and we touched a drop of it to the lips of our second child as she was born. But this was our first rosé from that Champagne house. We opened it several months later on the first night we owned our first co-op apartment. We sat on the bare floor, sipping it slowly, letting it feed our dreams about the days to come in "our place" on the Upper West Side.
One of the many things we love about wine is how it can draw history together. The very day we looked up our notes about that Taittinger Rosé for this column, we had earlier helped our daughter Media and her husband, José, move into their first co-op apartment.
That Taittinger in 1981 rated a rare Delicious!, our highest rating. Our notes: "Creamy on nose and taste but very fine and delicate. Extremely delicate, perfumed and lightly fruity. Laid back. Pinpoint bubbles. Elegant, with bubbles ever-so-gentle."
Maybe it was that long-ago Taittinger, but, overall, we haven't really thought of rosé Champagne as being great with food. Sure, we understand that some pink bubblies are more assertive than others, but, still, we have considered them wines to reminisce and dream over.
And then we opened the Lanson Brut Rosé.
We've had a soft spot for Lanson's well-known Black Label since the 1970s. At that time, we were both hard-working daily journalists who toiled long hours and then brought work home. In 1979, not long after we were married, Dottie was passed over for a job at The Miami Herald, quit, and went to work for its competitor. (When the Herald's top editor had asked John if Dottie was serious, John replied, "Ask Dottie.") The Miami News was an afternoon paper, which meant we were working at different ends of the day, so it felt very much like we rarely saw each other. Plus, we were on pins and needles waiting to hear about a job for John that would (and did) take us to New York. We both felt bad in a number of ways, so we went to our wise doctor, who said he knew what was going on. He took out his prescription pad, jotted something down and handed it to us. It said, "Take a weekend off and go to the beach."
Since it was doctor's orders, we did just that. On the way to our hotel, we bought a Champagne that we'd never seen before, Lanson Black Label Brut, the house's signature wine. We drank it on the beach that night and, sure enough, it was a magic elixir. Drinking it from the hotel's clunky glasses, sitting on towels while stars appeared above us, we focused on each other and finally exhaled. (Lanson's Black Label also did well years later in our blind tastings for The Wall Street Journal, which did not take place on the beach.)
So when Lanson asked us recently if we'd like to taste its new offerings, we said sure. We can't remember ever having this nonvintage rosé, but we opened it before dinner, on the deck, expecting a sense of romance, a bubbly caress.
POW. We were wrong. Our notes: "One of the best rosé sparklers we've ever had. Serious. Focused and lemony, in a good way. And it has a lot of red fruit at the end. Definitely a food-worthy bubbly. It's got quite an attack. Reminds Dottie of the strawberries that she would pick in the field in Miami, ripe but with great acidity. She says it walks the line like a red grapefruit. In time, it becomes more and more like a red grapefruit, with the fruit and acidity in perfect balance. And it's quite dry. Think about the confidence that takes for the winemaker." So we saved some to have with Dottie's brisket and, wow, did it sing.
Lanson says this costs $70, but it appears to be widely available at an average price of $58 and many places have it for less than $50. Clearly, it was time to contact to winemaker to ask, OK, how did you do this?
Hervé Dantan, 55, has been Lanson's head winemaker since 2015. He makes about 3.5 million bottles, around 500,000 to 600,000 of them rosé. After a succession of ownership changes, Lanson was bought in 2006 by an alliance of three Champagne families (Paillard, Baijot and Boizel). The group, called Lanson-BCC, owns eight Champagne houses, the company says, and Lanson, founded in 1760 in Reims, is one of the top 10 brands of Champagne. The group's CEO is the well-known Champagne winemaker Bruno Paillard.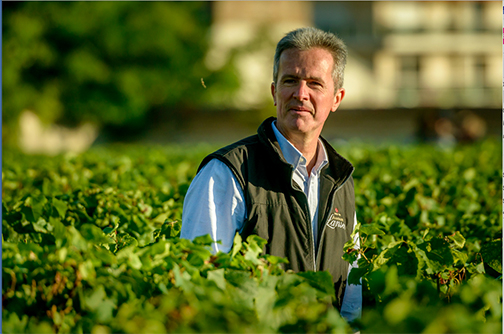 "I think there is a know-how that is special," Dantan told us of his rosé, because Lanson has been making a rosé since 1949. "They were thinking that the rosé would be a kind of Black Label but with red fruit flavors."
Dantan told us that the nonvintage wine we tasted included seven percent red wine -- 70 percent of that Pinot Noir "to add body and richness" and 30 percent Pinot Meunier "to add roundness." (The "white" part of the blend is 53 percent Pinot Noir, 32 percent Chardonnay and 15 Pinot Meunier.) The red wine is added just before the wine is bottled and laid down in the cellar, which is a common method in rosé Champagne.
It is a bit more challenging to make a rosé, Dantan said, because there are more factors to consider, like what the color should be. "You have to play with red wine, with different villages, with plots, with reserve wines, so it's not so easy to make," he said. But with this wine, here's the key:
Lanson's house style, which is unusual in Champagne and has sometimes been controversial through the years, is to allow minimal malolactic fermentation, which is a process that turns tart malic acid into creamy, softer lactic acid. In the rosé, just 20 percent of the wine underwent this conversion. We asked Dantan if this is what made the wine so food-friendly, with such mouth-watering acidity. "It's not just one thing, but it can help," he said. "We want to play with freshness that is well-balanced -- not too sharp. We need to balance.
"Vitality, vibrancy, freshness is what we're really focused on," he said. "We keep natural freshness around apple notes, citrus notes, a wine that will be a little bit more dynamic in the mouth."
"Dynamic in the mouth!" We wish we'd said that. And then he said this: "We're looking for red fruit and citrus notes that give the impression of acidity. The taste is red-fruit notes with tangerine and lemon."
Hmmm. Tangerine and lemon with red-fruit notes. The wine made Dottie think of red grapefruit. The winemaker's comment had us smiling because it was yet another indication that, when it comes to fine wine, you're tasting someone's vision of what that wine should be. We'd say to Dantan: Mission accomplished.
Champagne exports to the U.S. rose to more than 2.1 million cases in 2019, the seventh straight year of growth (the U.S. is the second-largest export market, after the U.K.). Of those, 16.4% were rosé, according to the Champagne Bureau USA, the official U.S. representative for the houses and growers of the Champagne region of France. And, yes, we love well-made, small-production grower Champagnes, too, especially those from Gimonnet, Hebrart, Tarlant and Pierre Péters, which we first wrote about way back in 2004.
We know that, over the holiday season, you may need multiple kinds of bubbly, so here are a few more suggestions based on tastings we've reported this year. For high-end Champagne (about $90) from a larger Champagne house, we're very fond of Charles Heidsieck Blanc de Blancs, which has everything you'd want: real breeding, with elegant bubbles, beautifully balanced acidity, great fruit held tightly in check and plenty of minerals that make you feel like you're in Champagne even if you've never been there.
In U.S. bubblies, we've long been fans of Domaine Carneros, the Napa outpost of Champagne Taittinger that recently-retired winemaker and CEO Eileen Crane built. (Its Ultra Brut is stunning if you can find it and its Brut Rosé and Le Rêve Rosé are excellent, too.) And we had a honeymoon dinner at Domaine Chandon in Napa – just so you know our bias – but, still, its new offering, a Reserve Blanc de Blancs called "By the Bay," 92% Chardonnay and 8% Pinot Blanc, is outstanding for about $30. And here's something that would make a nice surprise: "Rouge" from Frank Family in Napa, which is nicely dry and subtle considering that it's red, which many people might associate with sweet. This, from 73% Pinot Noir and 27% Chardonnay that spent three years on its lees, costs about $53 and would create a great deal of discussion (and plenty of sipping) because it's so unexpected.
For a large, social-distanced gathering, Prosecco is always a good idea, of course, because everyone likes it and it's not expensive. The problem is that many taste like bubble water. In too many cases, Dottie says "this just needs some orange juice." Game over. Look for Conegliano-Valdobbiadene Prosecco Superiore DOCG on the label (that's a special area). This year, we especially liked Malibràn "Credamora" Col Fondo and Astoria, and we've been fans of Drusian for a while.
In Cava from Spain, our favorite this year was Poema, which is available for around $10, a great deal. Codorniu "Anna" Blanc de Blancs Brut Reserva is lovely and widely available for $13 or less. And we'll end with another curveball: "Oudeis Brut" Alta Langa from Enrico Serafino in the Piedmont region of Italy, a beautiful bubbly that's a steal for about $28. Any Alta Langa you see is likely to be a good buy because they're small-production, vintage-dated and made like Champagne, and they're not well-known yet.
All that said, let's come back to our bottom line: Consider having rosé Champagne with one of your special meals over the next couple of months. You might discover new dimensions in the wine that might not be apparent if you just opened it on the beach – although, actually, that sounds pretty darn good right now, too.

Dorothy J. Gaiter and John Brecher conceived and wrote The Wall Street Journal's wine column, "Tastings," from 1998 to 2010. Dorothy and John have been tasting and studying wine since 1973. In 2020, the University of California at Davis added their papers to the Warren Winiarski Wine Writers Collection in its library, which also includes the work of Hugh Johnson and Jancis Robinson. Dottie has had a distinguished career in journalism as a reporter, editor, columnist and editorial writer at The Miami Herald, The New York Times, and at The Journal. John was Page One Editor of The Journal, City Editor of The Miami Herald and a senior editor at Bloomberg News. They are well-known from their books and many television appearances, especially on Martha Stewart's show, and as the creators of the annual, international "Open That Bottle Night" celebration of wine and friendship. The first bottle they shared was André Cold Duck. They have two daughters.

Banner art by Piers Parlett