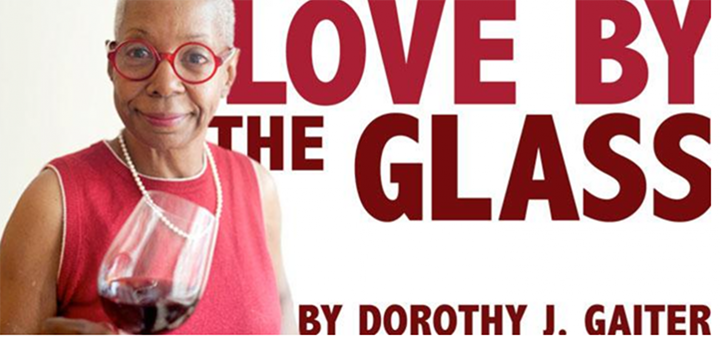 It's a good thing when talent and opportunity meet in unexpected ways. When Claude Taittinger, the second generation to run the famous Champagne house in Reims, was looking for someone to plant the family's flag in California with sparkling wine in the 1980s, he hired the person with the most experience for the job, Eileen Crane, an American woman. Today, 30 years later, Crane is both the founding winemaker and chief executive officer of Domaine Carneros, the Taittinger family's majestic sparkling wine outpost in, well, Carneros.
So much for the stereotype of all Frenchmen being chauvinists!
Crane, mind you, had once been advised by an American male professor at UC-Davis that she'd need six more years of studies and then no one would ever hire her to be a winemaker because she lacked the physical strength to handle barrels. When will this physical-strength canard stop getting in women's way?
Fortunately, Ann Noble, the first female faculty member in Davis's Department of Viticulture and Enology, gave Crane, who already had a masters degree in nutrition from the University of Connecticut, better advice: "You don't need another degree. Just come and take some classes and convince somebody you can do it," Crane recalled when we had lunch recently in Manhattan. Noble went on to create the famous Wine Aroma Wheel, and during Crane's first week at Davis, I read that she met the man who became her husband. He's in the sales end of the wine business now, she said.
Crane, 68, today is considered the most experienced maker of sparkling wines in the U.S. with 38 years in the wine industry. Her wines, made by méthode traditionnelle from hand-harvested, estate-grown grapes and first-press juice, are pitch-perfect elegant, just the thing for Mother's Day or the coming summer wedding season. Méthode traditionnelle or méthode champenoise is the way Champagne and Cava are made, where the secondary fermentation happens in the bottles, creating bubbles.
John and I tasted several sent from the winery and, just for fun, purchased a Taittinger Cuvée Prestige Brut at the same price point as the Domaine Carneros 2012 Estate Brut Cuvée ($35) and preferred the Domaine Carneros. That outcome stunned us. We have a soft spot for Taittinger as its Brut La Francaise was our wedding Champagne and the first liquid to touch our daughter Zoë's lips minutes after her birth.
Crane's love of wine and good food came from her upbringing. Her dad had come back from World War II with a fondness for French and German wines and kept a wine cellar. (Both our fathers fought in the Battle of the Bulge. "They might have come across each other," she said.) Her father's travels later as part of financial firm Dean Witter's international department also afforded him the opportunity to bring back wonderful wines and cheeses to their home in New Jersey. They had wine only for Sunday dinners and he let her help him choose the wine. One Sunday, he pulled out a Champagne and she was hooked. After her master's degree, she studied at the Culinary Institute of America in Hyde Park, N.Y., where she first heard that one could study winemaking. That led her to Davis.
Crane has a beguiling manner, but under that warmth--she spoke with passion and empathy about her employees' reviews and wanting to know if they're happy--I sensed a backbone of steel. Years after the professor told her she'd never be a winemaker, she saw him at a gathering of wine experts. She said she just smiled, watching the lightbulb of recognition go off in his head. Sweet!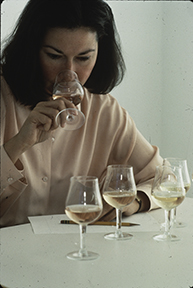 (Photograph of Eileen Crane in 1989 working on her blends)
With smarts and persistence, Crane persuaded Domaine Chandon to hire her first as a tour guide, then assistant pastry chef while still at Davis, and later as an enologist. Domaine Chandon, founded in 1973 in Napa by Moët & Chandon (Moët Hennessy) and first known as M & H Vineyards, was the first sparkling wine venture in California established by a Champagne House. And first to use Pinot Meunier, according to its website.
After several years at Domaine Chandon, Crane was hired in 1983 to make sparkling wine for a new winery, Gloria Ferrer Caves & Vineyards in Sonoma Carneros. When she asked the company's representative who was going to oversee the building of the new winery, he said, "You are," she told me. "I knew almost nothing about construction. It was the hardest two years of my life but it was also exciting. The project was completed on time." The Ferrer website states that it was the first sparkling wine producer in Sonoma Carneros. The Ferrer family owns the Spanish company Freixenet, which released its first bottle of Cava in 1914.
As it happened, Claude Taittinger, who had studied in the U.S. and fallen in love with California, began dreaming in the 1970s about making sparkling wine there. He sensed a growing demand for bubblies that Champagne alone could not meet. Taittinger Champagne was founded in 1734. One day he heard about a piece of property in cool-climate Carneros that they thought would be perfect for the Pinot Noir and Chardonnay that would make up future blends. Turns out, Crane also had her eyes on that piece of land, 138 acres in the center of Carneros, Napa Valley. The Carneros AVA is in both Sonoma and Napa counties.
"Working for Ferrer was a great opportunity but it wasn't quite where I wanted to be long-term," Crane told me. "I'd drive by there and think, if I ever made my own sparkling wine, that's where I'd want to do it.
"Then I read this big article about Taittinger buying it and looking for a young man out of Davis to do it and I was disappointed," she went on.
Jim Allen, who founded Sequoia Grove Vineyards in Napa in 1978 and whose wines were represented by Kobrand Wine & Spirits, as was Taittinger, called Crane and asked her to apply. (Kobrand eventually bought Sequoia Grove and partnered with Taittinger to develop Domaine Carneros.) "He said he thought they needed someone other than a young guy just out of Davis," she told me. So she came in for a chat. Three days later, when he invited her back to talk with someone from Taittinger, she brought her resumé. Over the next four months, she was interviewed four or five more times and had brought in "wines that I had made and discussed stylistically what I thought their sparkling wine could be," she said. They were stylistically in synch, dedicated to making almost effortlessly elegant, balanced wines.
Finally, "they were comfortable that I was the best choice and also had built another winery before and they needed someone to run the construction," she said.
Crane quickly earned the trust of her French bosses to make her own blends but it was not a given that that would be the case. When she was hired, Claude Taittinger talked to her about having her own style and he told her he wanted to make America's greatest blanc de blancs, an all-Chardonnay sparkler.
"When he made this request, I was very nervous. I had made one but it wasn't for aging," Crane said.
"There's a lot of trust," Crane added. "During the first couple or three years, I think they were pretty nervous. I was on the other side of the world. An American woman."
In the first year of this partnership, her French bosses told her, "Send over all of the cuvees and we'll make the blend," Crane told me. "So I sent all of the cuvees and also my blends. In a few days I got a call back, 'Make up your blend.' For the first five years, I would do the same thing and they would always write back, 'Make up your blends.' They never came here and said do this, don't do that. They didn't want imitations of Taittinger. They weren't after that."
Domaine Carneros is certified sustainable and fish friendly and in 2003 it had the biggest solar program of any winery in the world, Crane said. Taittinger was built on ageable Chardonnay and that grape takes center stage at Domaine Carneros, where Pinot Noir is also used but not Pinot Meunier, the third grape type in the classic troika of Champagne grapes. I asked Crane why in an email, and this is what she wrote back:
"At Taittinger's request we planted a few acres in 1988. When it fell to Phylloxera we did not replace it. We put in Pinot Noir instead as we much preferred it. I believe Pinot Meunier in Champagne is heavily used in non-vintage wines as it gives the impression of age more quickly. Also, my understanding is that it buds out later than Pinot Noir and, therefore, offers some timing protection from spring frosts. I do not know many producers who rave about Pinot Meunier, but many find it useful."
One of the first things you'll notice about Domaine Carneros is the vintage-dating of its entire line, even its still wines. An exception is its Blanc de Noir, made from 100% Pinot Noir, which was first made as an experiment, but became wildly popular. TJ Evans was hired in 2008 to make the still Pinot Noirs in a separate winery facility that was built exclusively for still wines. In addition to the still Pinot Noir, the winery makes Chardonnay, Merlot, and a Pinot Noir Rosé. Domaine Carneros' total case production is around 54,000 cases, relatively small.
Making sparkling wines to age is difficult, Crane said. The Le Rêve (The Dream) Blanc de Blancs, made from 100% Chardonnay, is the winery's tête de cuvee, its top of the line and the 2008 ($110) is its current release. When you make sparkling wines to age, Crane said, "you have to project what this wine is going to taste like eight or nine years down the road and it's a challenge to do that. A maker of still wines makes wine once a year. A chef can make his famous dish 15 times a night. But a sparkling winemaker who has an aging program, it takes you four years to learn if you've made a mistake.
"You have to make this sort of palate professional tasting guess of what it's going to be like. The first Le Rêve, I tasted it through three years, four years and at five years saw it turning the corner to come together. The flavors had meld and come together. Tasting sparkling wines through their maturity cycle is like seeing a child and then an adolescent, a young woman at 17 or 18 or 20, when it all starts to come together. It has more style and presence. You have to be able to guess what it'll be when you're looking at a toddler."
Claude Taittinger was a visionary in many ways but expanding into other luxury businesses was a bad bet for the Champagne maker, and its reputation suffered. In 2005, the family sold the Champagne house to Starwood Capital Group, an investment firm, an extremely unpopular move in the somewhat hidebound Champagne region. Claude retired in 2006, and his nephew, Pierre-Emmanuel Taittinger, took over the reins of the company. On May 31, 2006, the family regained ownership of its legendary Champagne house. In 1932 an earlier Taittinger, Pierre Taittinger, bought the Château de la Marquetterie from another long-time winemaking family. Domaine Carneros's château is a replica of the Château de la Marquetterie. Although John and I have visited the winery in Carneros/Napa, I had not met Crane and knew nothing about her, which is shocking given her contribution to wine.
Frankly, it had been a very long time since we had had American sparklers that we liked. There are just so many alternatives out there and for a while, the American wines were not good values, no matter how much or how little they cost. I appreciate that this is a broad brush, but too many seemed clumsy. The tasting that I referred to above, between the Taittinger Cuvée Prestige Brut and the Domaine Carneros 2012 Estate Brut Cuvée, was startling to us because the Taittinger tasted like what we had come to expect, sorrowfully, of American sparklers. "It was not as fine as we'd expect from a Champagne. Simple and routine and bubblies should never be routine," we wrote in our notes. Perhaps it's time for a tasting of other American bubblies.
The Domaine Carneros line up is available at the winery, domainecarneros.com, and some not listed here are at a few retailers, so they're hard to find. But they are an example of what American winemakers can do with sparkling wines.
The 2012 Ultra Brut, $44, a blend of 58% Pinot Noir and 42% Chardonnay. This ultra dry wine (0.5% sugar) knocked our socks off. "Refreshing, elegant straw color and great bubbles. Very focused, with mineral, slate underpinning. A sparkler of great gravitas.
2013 Brut Rosé, $39, 59% Chardonnay and 41% Pinot Noir. Some of the Pinot Noir juice was left in contact with the skins for three days to achieve this warm, salmon color and complex flavors. Lovely for your loved one. Raspberry, strawberry elegance, with nose of rich fruit, citrus and yeast.
2012 Estate Brut Cuvée, $35, 58% Chardonnay and 42% Pinot Noir. The first release of this was 2009. It's aged for three years before release. Nice acidity. Citrus, tangerines. Lovely bubbles. Great with food.
2011 Le Rêve Rosé, $130, 52% Pinot Noir, 48% Chardonnay. The notes with it say, "This wine is created from two different Pinot Noir components: classic base wines without skin contact and base wines that undergo maceration for a few days for color extraction." Our notes read, "Pretty bubbles, nice mouth-watering nose, fresh, clean and beautifully-made. Proud to be pink. A good food wine, too."
2008 Le Rêve Blanc de Blancs, $110, 100% Chardonnay. This is the sparkling house's tête de cuvee, its finest. We opened it too cold and it didn't show much initially. But when it warmed, oh my! As great Chardonnay does at the right temperature, it bloomed.
Dorothy J. Gaiter conceived and wrote The Wall Street Journal's wine column, "Tastings," from 1998 to 2010 with her husband, John Brecher. She has been tasting and studying wine since 1973. She has had a distinguished career in journalism as a reporter, editor, columnist and editorial writer at The Miami Herald and The New York Times as well as at The Journal.
Follow this link to find the wines on winesearcher.com