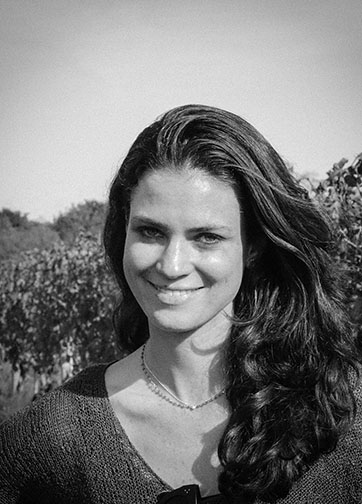 The Macari family started out in Queens real estate with an investment in a farm on Long Island in the 1960s. In the mid-1990s, the current generation, Joseph Jr. and Alexandra Macari, moved their family to the North Fork and planted vines.
Joseph Jr. studied biodynamic viticulture with the late Alan York from California and Alvaro Espinoza from Chile. Based on his experiences there, he developed practices at Macari Vineyards that include a composting program utilizing Long Horn cattle. Today, the next generation of Macaris are involved in the business. Gabriella is involved in sales, marketing, and winemaking, and Joseph M. Macari is the vineyard manager for the estate.
Grape Collective talks to Joseph T. Macari Jr. and daughter Gabriella.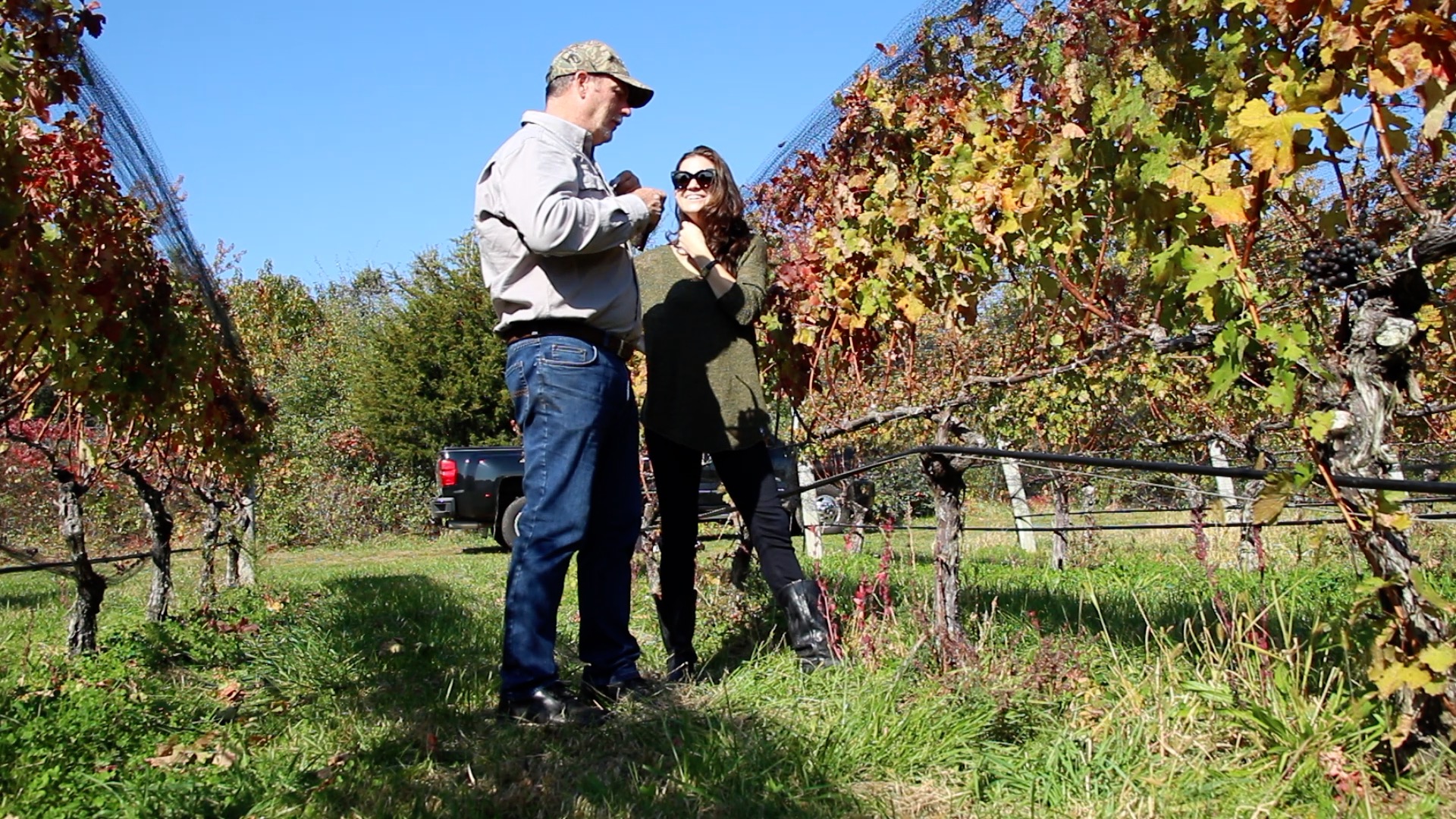 Christopher Barnes: How did your family get into the wine business?
Joseph T. Macari Jr: I moved out here in '89 and we had property that my father was going to build on, and I was driving into Queens for a year and a half to work, which was a long commute, so we basically looked into the wine industry that was out here, which had already started since the '70s. We had all this property and we decided to plant some vines. It was a big undertaking, and we planted about 60 acres in the first year, and there was a big learning curve.
My father was basically making wine in Queens when he was a young boy with his grandfather and his father, so it was an option out here with all this property. We were gonna build in the town. It was a little hard to build out here at the time, and he was so busy in Queens. So he put his energy into starting this vineyard, and we sorted of created a monster.
Gabriella Macari: A happy monster.
Talk a little bit about the different wines that you make.
Gabriella Macari: I think in the beginning we were experimenting a lot and told to plant Chardonnay and told to plant Merlot, and those were two grapes that we really focused on in the beginning. But since probably 2002, we really started falling in love with Cabernet Franc and Sauvignon Blanc. So we started focusing on those two wines and also still blending. Still blending with the Bordeaux style wines and making those great, big-bodied wines in those vintages, but now really focusing on elegant, delicate styles, which is kind of what our palates are now loving.
Joseph T. Macari Jr: Cool climate palate, yes.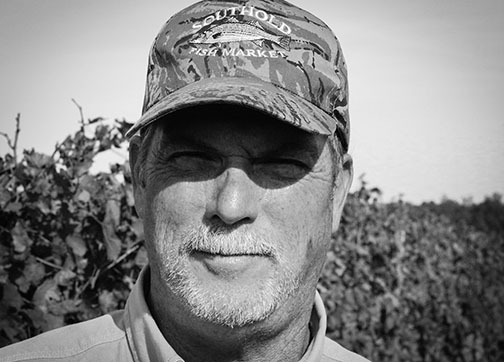 Gabriella Macari: More cool climate, and I think that we're blessed with those cooler vintages and we're able to make those elegant, nuanced wines that we didn't realize we could make. For us, Cabernet Franc, Syrah, we just made an awesome Syrah in 2014, and I think that focusing on working with those elegant styles of wines has been exciting for us. There's so much more beyond what we were told in the beginning.
Joseph T. Macari Jr: It's a small region and there's so much more that you can experiment with. What we learned along the way, it's been 22 years, and it's very amazing to think the quality of wines that we're making on Long Island in New York. There's, I think, over 30 wineries out here. I think when they all start to make good wine, I mean, a lot of them are, and the region in the last couple of years have changed drastically and gotten a lot better. We're getting a lot of exposure in the city.
Gabriella Macari: To your point, what's really amazing is we never knew if our wines could age, so we never knew if the Cab Franc that we made in 2000 was going to sustain 10, 15 years. Now we're finally opening those bottles in the cellar and kind of shocking ourselves, so there this incredible potential for age. We have the fruit structure, the tannins, and the acid. I think as long as we keep focusing on quality, we're making really age-worthy reds and even whites. That's something that with a young region in the U.S., you don't realize.
Joseph T. Macari Jr: It takes time to learn that, so we definitely can age the reds. They have enough tannin. What we really love is, obviously, the variety of grapes that we have, the Malbec, the Cab Sauvignon, which doesn't always ripen properly, but for blending, it's amazing. It gives you that grip, and as far as the whites, the Chardonnay, and now we've experimented, we have 20 acres of Sauvignon Blanc, which we love, and a little Viognier.
You're obviously very near the water. How is the terroir in Long Island? What kind of soil do you have here?
Joseph T. Macari Jr: The terroir in Long Island is unique and different from anywhere else. Basically it's all sandy loam. Very free- draining, which is probably the best reason the grapes do so great here. The vines love not being wet. Being close to the water also is a great, great influence for the vines, especially in the winter. You have the maritime climate and you always have a breeze in the afternoon.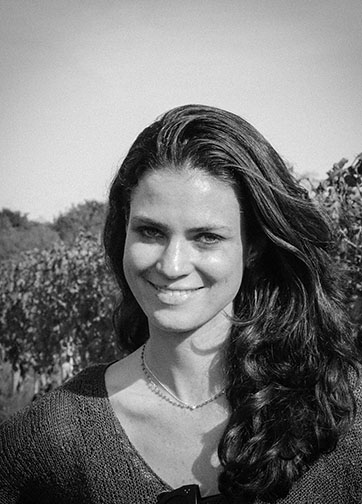 Gabriella Macari: I mean, it'll rain here and in rainy areas, in other viticultural areas, the fruit just stays wet. Where we are, we're right on the Long Island Sound, and there's this beautiful breeze that blows through and dries the fruit off that we're really thankful for. Just because our vines are planted a couple hundred feet away from the Long Island Sound, we think that it's super special.
Our vineyard, in particularly, is really special. It's 500 acres right on the Sound, and it's one continuous plot, so it's one biosphere, if you will. It's one ecosystem where we have animals, horses and cows and goats and pigs that really contribute to the farm, and I think that contributes ... If the word, "terroir" was whatever you wanted it to be, that contributes to our own personal place, which is very unique to us. But Long Island as a whole is really defined by the water, I think. It's super special that we're between these bodies -- the ocean and the Peconic Bay in the middle and then the Sound.
Talk about the biodiversity of the estate and why that's important and maybe a little bit about the cows and the treatments that you're doing and the fact that you're trying to make these wines as naturally as possible.
Joseph T. Macari Jr: Well, in the beginning, we started out with Alan York and doing some biodynamics and, obviously, we still bury horns. We have the cattle just for the manure. We have cattle, goats, pigs, different natural areas. Any type of diversity it's going to be better for growing whatever you're growing, in this case the vines. Using those manures back into the soil and composting is probably one of the best things that we can do for the land, and not using the chemical nitrogen. Just going back with the compost and seaweed or sprays. It's just something personal. It's very personal for me. I feel like the diversity is probably the best thing that you could have in the vineyard.
Talk a little bit about the viticulture and the winemaking.
Gabriella Macari: Between my dad and my brother having a deep passion for the land ... It's funny. I can remember first moving out here and we thought this was amazing because we were playing in the vineyard and running around on the farm, and we were young kids, and people were knocking on our door and telling my father to spray chemicals, and he was like, "What are you talking about? My kids are here. What do you mean my kids can't run around if you spray this? What is this?" I think that sort of pushed him to explore more of hands-off, less intervention because my brothers and I grew up here. It just didn't make sense for us.
Talk about the philosophy of winemaking. Do you consider it non-interventionist / interventionist?
Joseph T. Macari Jr: To talk about the winemaking, hands on, hands off, natural, we had experience with many different winemakers. Some of them were from Chile or France, but basically we want to let the fruit speak for itself, and we believe that the wine is definitely made in the vineyard. I think that Kelly [Urbanik-Koch] is actually doing that right now. She's not manipulating the wine in any way, although you can manipulate the wine. There are so many things you can do to change the wine. We're definitely doing the least amount of things that we can do, and as soon as it comes in, we're doing the best we can, actually.
Gabriella Macari: I think that in the beginning, we were like, "Yeah! Cool! French oak. We have these French oak barrels and they're brand new, and let's put this wine in the oak." We were getting these monster Chards that just weren't true to our region, weren't true to our fruit. Now we have applied this, and Kelly's (winemaker Kelly Urbanik Koch) inspired this incredible sort of hands-off, hang on, let's see what the vineyard gives us every year. Each year, it's so different. '11 and '12 it was rainy and cold, so we didn't make big, crazy reds. 2010, it was a big year, and those wines stayed in barrel. Mostly neutral oak, but definitely a little bit longer than normal. We have to adjust to every situation that we're given, and each year it's so different because of where we are geographically.
Joseph T. Macari Jr: As far as what I think, the whole world is getting away from heavily oaked wines, and especially for a cool climate region, I think stainless steel is outrageous. Cement is outrageous. Wood, you have to be careful. You can make great wine, and you put it in wood, you can ruin it. Being gentle with the oak is very important. It's a whole other science.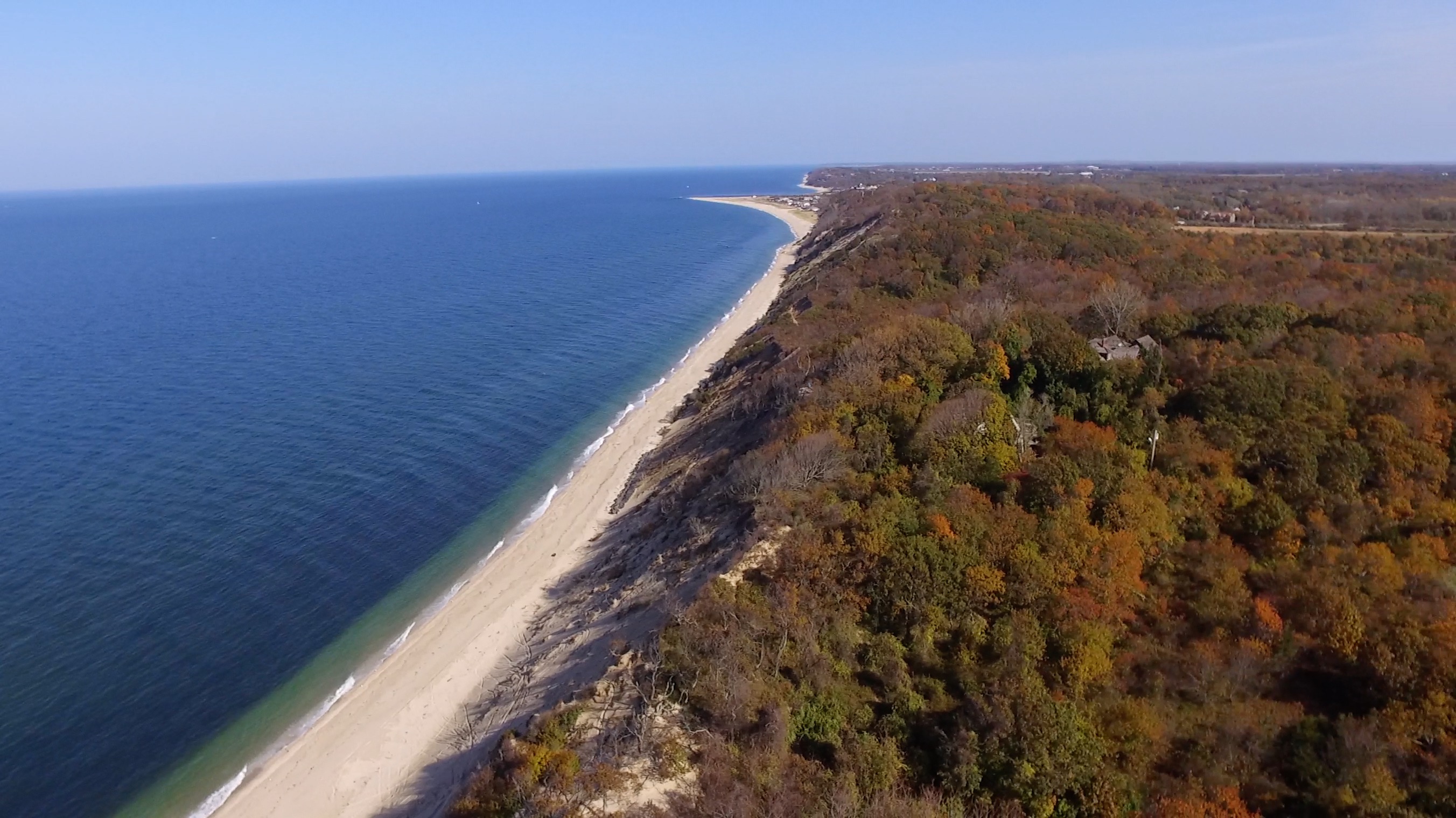 Talk a little bit about how far Long Island has come as a wine region and where you think it needs to go to get to the next level.
As far as Long Island, the progression of Long Island, I think it's come so far where when I first got here, you could hardly drink the wine, I'm sorry to say. Now there are so many great wines and so many great people out here from all over the world. When I first came here, I was like, "Why can't I be in Italy? Why can't I be in France?" Then when I saw the quality from the very first harvest, I was like, "Wow. There's something here." There's something to get up in the morning for. Every day is different. Every year is different.
I think there are so many great people out here, and we're drawing not only tourists from the city, we're drawing people from all over the world. They're scratching their heads saying, "How could they make this great wine in New York?" They've never heard of such a thing. Basically, I never heard of such a thing, so I'm very proud of the wines. I think that, really, what has to happen next is real concentration of technical viticulture. Just really fine tuning the vines, especially in my case. I think the foundation is set with the soil and the composting, and I think our next 10 years will be my son and Gabriella, my whole family concentrating on the viticulture and fine tuning the vines to exactly what we want on each block, and that will definitely make better wine.
The challenge is distributing in different states, especially because every state has a different law in the U.S., so the challenge is sort of breaking those barriers and breaking people's perception, but there's some incredible winemakers, incredible, dedicated vineyard managers, and just really passionate people out here. Sometimes maybe too passionate, too hard working. My parents never stop working, but I think that that's what it will take to bring us to the next level. You have to put the work in now and then maybe in the future it'll grow.
The other thing that's really cool, that's really unique to this region is agritourism. We see so many people, sometimes 1,000 people on a Saturday in this tasting room, and that has really, really, really increased over the past five years, even. There's this incredible experiential.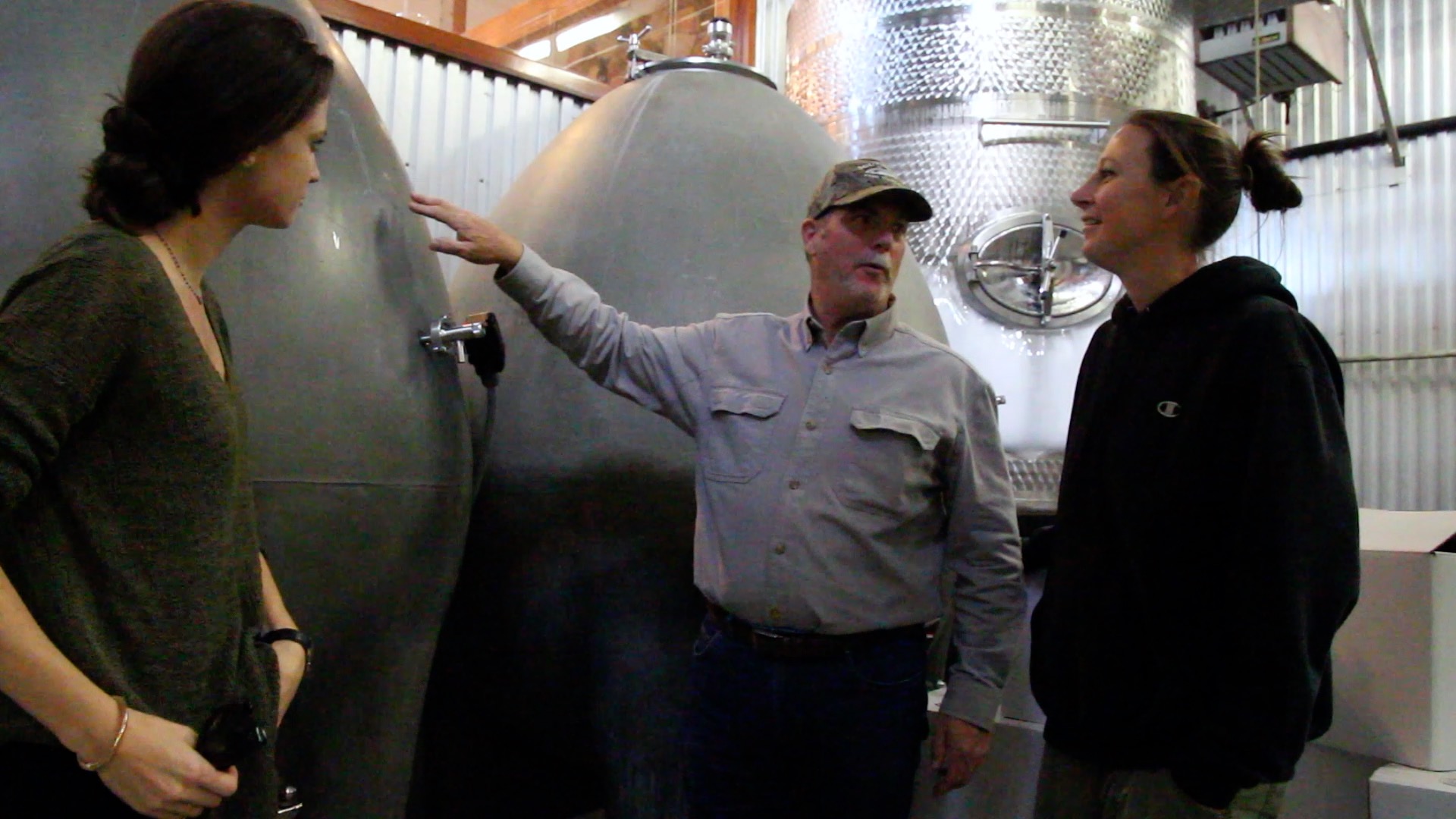 Is there a grape that you think is your favorite for the region, that you think represents the region the best?
Joseph T. Macari Jr: As far as one single varietal grape that I think is the best ... I like them all, but I really have to say I love, as far as red Cab Franc and white, I love Sauvignon Blanc. I really feel Cab Franc represents Long Island very well, and I feel, also, in my vineyard that my first sense of any type of "What is Long Island soil and what is Long Island terroir?" is from the Cab Franc. After 22 years, it's really a short, short time. I really believe that what you do in the vineyard you actually see directly in the cellar. The more you dedicate and the more work you do in the vineyard, I know it's cliché and everyone says it, but it's so true. The Cab Franc really shows that greatly in showing your terroir, which is what everybody wants to experience in a bottle, I would say. I like to, at least. I don't know what the hell I'm talking about.
Gabriella Macari: I love Cab Franc for this place. I agree. I think that it's one of the most interesting grapes that we have planted, and even in cool years it's really stunning. We're really focusing on that.
We make a wine called Bergen Road and then another wine and very limited years when it's exceptional called Alexandra, and those wines are really tight and unapproachable in their youth and almost need cellar time, and then once they get that time, they're really stunning and kind of shocking for us, so older Bordeaux styles blends, but Cab Franc has our heart, for sure.
Talk a little bit about vintage variation and some of the challenges and how your wine production changes from year to year.
Gabriella Macari: There's an incredible amount of vintage variation on Long Island. Obviously, that's what makes viticulture exciting. That's what makes your wines different every year. That's kind of what creates a story for us, too. I think it would be really boring if we made the same wine every year and it tasted the same. For us, to have cooler vintages that we fell in love with, like '08, right now, we have some bottles in the cellar, and that Cab Franc is just beautiful, but it was a cool year, but it's still long and living. I think to have the really, really good, you also have to have the bad, so 2011 and '12, we really didn't make many reds. It's awful and it hurts, and you get emotional about it, but it's also ... I think it's part of where we are.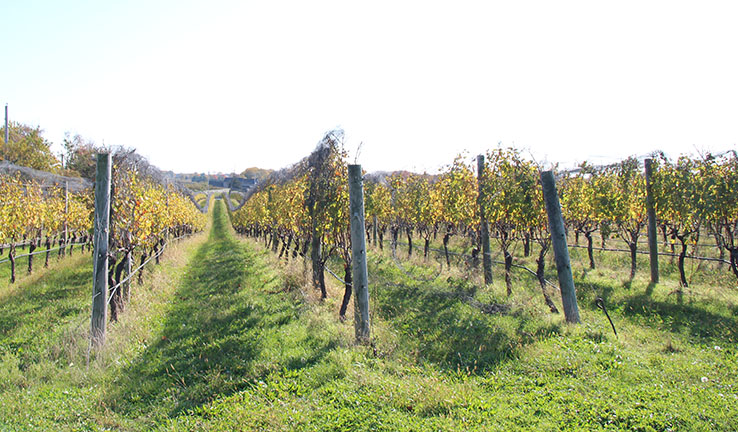 Joseph T. Macari Jr: I think that when we first started making wine, we tried to make big wine and tried to please the public. It didn't happen for a long time. I would say in 2010 we made ... Well, we made bigger wines before that, but in 2010 we made some really, really incredible wines that I didn't think could be made here. Then let's say '13, we went back to having a lighter style and always wishing to have the big wines.
Now I realize that the lighter style is something that I really love because the subtlety in wine is what I really loved, is the different nuances and the subtleties and different flavors. If it was the same all the time, it's just like living in Florida or living somewhere where the season is always the same. It's nice to have the differences. It's nice to get up in the morning and see what's going on. I really fell in love and embrace cool climate so much. Of course, I would love to make wine in California someday, maybe.I enjoy those wines sometimes, but the cool climate is always exciting, and you never know.
The one thing for the market, you make a great wine and you want to make the same great wine the next year and maybe it's different and you're not sure if people will accept it, but people bend and people learn and we find that we do like the lighter styles or the medium body styles as much as we like the heavy styles.
For more on Long Island check out our interviews with: Paumonok, Shinn, Palmer