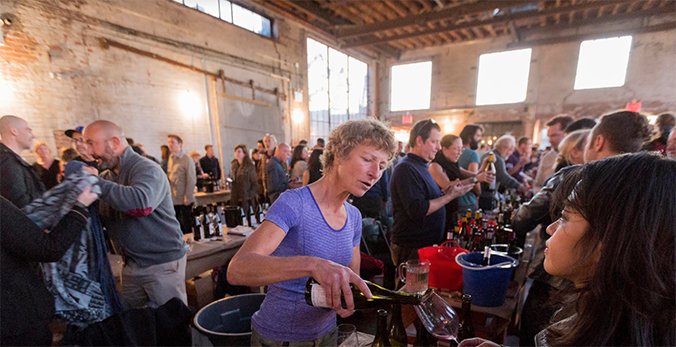 One of the most exciting wine events is coming to the U.S. next month: On November 5-6, 2017, natural wine producers from around the world will gather in Brooklyn to share their wines, their work, their stories. The following week, on November 12-13, they will head to Los Angeles. It's a unique opportunity for wine lovers to meet the growers, farmers, and winemakers behind some of the most dynamic, expressive wines in the world — wines that in many ways define our moment in the development of wine culture.
The RAW WINE fair was called into life by Isabelle Legeron, a veritable force of nature. Raised in a farming family in the Cognac region of France, Legeron grew up watching conventional farming literally change the world around her. Over time, she became convinced that naturally grown and made wines have a profound impact on the planet — and on people.
With a classical wine education, including the distinct honor of being the first woman to earn the Master of Wine title in France, Legeron has a deep understanding of conventional and natural winemaking that allows her to speak fluently in the languages of both. Legeron is the author of Natural Wine: An Introduction to Organic and Biodynamic Wines Made Naturally, which was recently rereleased. As the title suggests, there's a great deal more, and less, to natural wines than many people may expect.
Grape Collective's Valerie Kathawala spoke with Legeron about the RAW WINE movement, what makes the U.S. such an exciting place for natural wine producers and consumers, what people need to understand about natural wine and why we should all relax about wine and enjoy.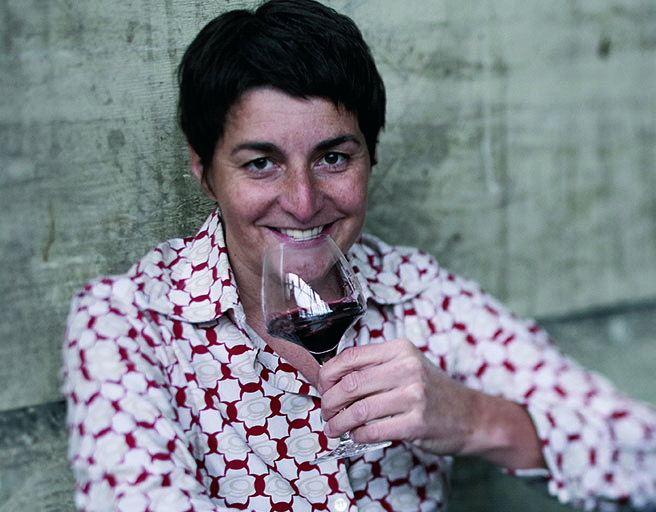 Why did you start the RAW WINE fair and what is it all about?
The first fair was in London in 2012. London is a big market, so I organized the event to bring growers over to the UK to put them all under one roof so they could meet members of the public, chefs, sommeliers, etc. It was a huge space filled with really passionate people sharing their wines and their stories, experiences.
We have a strict set of criteria growers need to meet in order to be included in the fair: organic/biodynamic/permaculture farming, hand-harvested crops, juice that stops fermentation naturally, no blocked malolactic fermentation, low to no added sulfites. Growers need to supply RAW with a full analysis of every single cuvee submitted.
The fair has since spread organically to other cities — Berlin, L.A. and of course New York. It has grown mainly from a desire from the producers, who helped identify which areas really needed a push. This year there'll be 145 growers at RAW WINE NYC and 112 in L.A. A core group of about 70 growers will be at both events. We try to make the event as local as possible. For us it's about making the experience fun and sociable, but also about giving growers a chance to speak with each other. For someone coming from Sicily or Vermont or Northern California, who might feel really isolated where they work, coming to the fair and meeting so many like-minded growers facing similar issues is hugely inspirational. Afterward so many of them say the experience energizes their work.
How can the fair help people overcome skepticism they may have about natural wines, connect them more deeply with natural wines and give them a better understanding of the RAW WINE mission?
Education. There are misconceptions that come from a lack of tasting, understanding. Knowing the farmers, the real people behind the wines gives an appreciation of how hard these people work. It's really important to let people taste through diverse wines and to understand the issues that challenge the growers who make them.
One of your goals is greater transparency in wine labelling. Do you see progress in your goal of having an ingredients list on the back of wine bottles?
In Europe we are seeing progress in terms of allergen labelling on wines — eg., use of animal by-products. This is increasing awareness among wine consumers and professionals about how wine is made and which additives can be used. This is getting people to ask questions and that, in turn, is putting pressure on producers. The actual language that can be used concerning ingredients on wine labels is a bit of a grey area, in my understanding. But there are some producers who use phrases like "Only grapes have been used to make this wine" or "Does not contain added sulfites."
What do you believe are the important distinctions between natural and conventional wines in terms of taste?
Generally, natural wines are more expressive, more approachable, lower in alcohol, more digestible. The differences can be particularly obvious in white wines because there are no added sulfites or there is no blocking of malolactic fermentation [which tends to give a creamier, richer taste and texture to wines].
This is especially relevant to the U.S. market, where rounded, oaky Chardonnays and fuller Cabernets are quite popular and the tastes are different. You may never win over people accustomed to these tastes and I'm very respectful of people's tastes and preferences. But you may win them over with the health argument: When people realize that they're eating free-range food but drinking the equivalent of a battery-farmed chicken.
What role do you see U.S. producers playing in leading the way in natural wine production?
The U.S. is leading the way in terms of sheer numbers of people making natural wines compared with other young wine cultures (e.g., Chile, Australia). More people in the U.S. are becoming interested in the farming aspect of wine and that's what's exciting. We're also seeing a backlash against "modern" winemaking and a much more hands-off approach from producers in California, the Finger Lakes, Vermont, even Texas.
If you could tell U.S wine consumers one thing about natural wines, what would it be?
Ask questions. I would like people to start thinking about wine the way they think about food. What does it do to my body, where does it come from? Wine is an agricultural product. Of course it can be something we appreciate in other ways as well. But I would really like to bring wine back down to what it is and just relax about the whole thing.
From the RAW WINE CHARTER: RAW wines come from organic agriculture, as a minimum, but may also be from farms that are biodynamic or use permaculture or perhaps the Fukuoka model. The agricultural practices used are sustainable. What sets the wines apart though from other conventional organic and biodynamic wines, is that they are made naturally in the cellar.
RAW WINE FAIR NYC takes place November 5-6, 2017 at 99 Scott Ave in Bushwick, Brooklyn. The fair is open to the public and tickets can be purchased here. Discounted trade tickets are available. http://newyork.rawwine.com/2017/buy-tickets-new-york.
RAW WINE FAIR L.A. takes place November 12-13, 2017 at Vibiana in Downtown LA.
The fair is open to the public and tickets can be purchased here. Discounted trade tickets are available.
http://losangeles.rawwine.com/2017/buy-tickets-los-angeles.
All tasting at both events is free with your ticket purchase and you are invited to taste as many wines as you like.