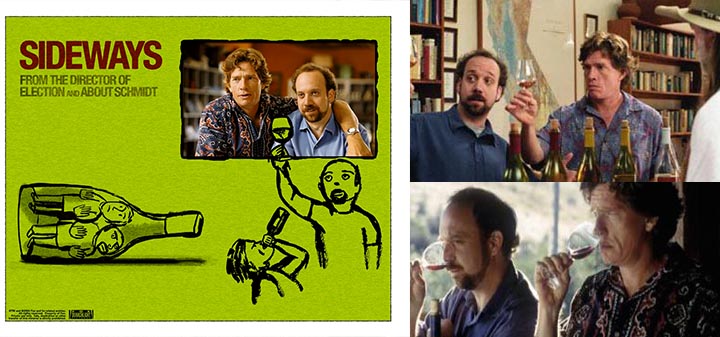 On January 21st, 2005, a little film called Sideways, based on a book by Rex Pickett, was released to movie screens across the U.S. The story chronicled a pre-matrimonial last romp by two old friends through Santa Barbara wine country. The film gained notoriety for its trendy take on California wine, and while it won an Academy Award for Best Adapted Screenplay, arguably its most lasting impact wasn't critical but commercial.
Blame it on a single line. At one point in the movie, the character Miles, played by Paul Giamatti, shouts, "I am not drinking any f•••ing Merlot!" It was a funny line in a very funny movie, but nearly overnight, sales of Merlot fell through the floor.
Up until that time, Merlot had been a huge seller nationally, far surpassing Pinot Noir. Many wine merchants, producers, consumers, and wine journalists who were slaves to fashion tossed Merlot overboard. Meanwhile, Pinot Noir, which had gotten the hipster nod from Miles and friends, was hailed as the new "it" grape.
It's a pity. I was a fan of Merlot before, during, and after the film's release. Good Merlot expresses wonderful aromatics, rich and silky textures, and comforting yet ample tannins.
So, ten years post-Sideways, I decided to look at the fortunes of American Merlot to see how it's really doing. I reviewed data from Nielsen, which collects, tabulates, and distributes information about wine sales from off-premise food and drug outlets—accounting for the majority of sales in the U.S.—and also supplement my inquiry by talking with producers, sommeliers, and other wine experts, too.
Here's what I found out.
What The Data Says
In a Nielsen report dated December 2001, Merlot held a 14% share of the overall U.S. wine market. Merlot sales even topped Cabernet Sauvignon, which stood at 12%. Pinot Noir held a paltry 2% share. By December 2004, just prior to the release of Sideways, Merlot had attained 15% market share.
Suddenly, things changed. By December 2006, Merlot had dropped 3 percentage points to claim merely 12% of U.S. wine sales. Meanwhile, Pinot Noir had risen from 2% to 5%. By last month—March 2014—Merlot sales stood at 9%. Pinot Noir, meanwhile, accounted for 4.5%.
The upshot is that today, Merlot outsells Pinot by nearly two to one, and is the fourth-most-sold varietal wine in the country after Chardonnay, Cabernet Sauvignon, and Pinot Grigio. Merlot may not have re-attained its 2001 dominance, but Merlot is far from dead.
A Drop in Volume, But a Jump in Quality
Merlot has emerged stronger from its period of market readjustment. The many insipid, thin, cheap, and just plain bad Merlots that previously flooded on the market have been replaced by wines with more character.
"Sideways was one of the best things to ever happen to Merlot," said Carol Reber, senior vice president for marketing and business development at Duckhorn Vineyards, a Merlot standard-bearer.
"Those who weren't dedicated to making Merlot in its highest form left the category to pursue other varieties," continued Reber. "This has made for a far healthier and more vibrant category, with more fruit from top-notch vineyards available to those of us who understand and love Merlot."
Jeff McBride, vice president of winemaking at Benziger Family Winery, agreed with Reber's assessment. "The aftermath of the purported fall from grace for Merlot has created an arena of higher quality and a clearer definition of the true varietal character," he said. "No longer the darling for easy and commodity-driven consumption, Merlot has re-established itself as one of the true members of grape royalty and distinction."
Bart O'Brien produces estate-grown Merlot at his O'Brien Estate in the Oak Knoll region of Napa Valley, known as a sweet spot for luscious yet complex Merlot grape production—and often considered Napa's Right Bank. "Merlot is definitely coming back as a varietal," said O'Brien, adding he thinks it's now "almost fully rehabilitated." His Merlot isn't so different now from its pre-Sideways days, expressing—as it should—only vintage differences.
Well-Liked by Somms—And Customers
"People are more willing to try Merlot now that time has passed since the movie was first released," said Danielle Aita, head sommelier at Thomas Keller's Bouchon in Yountville, Calif., and one of the original sommeliers at NoMad Hotel and Restaurant in New York, where she assisted in managing the restaurant's 10,000-bottle wine cellar. She loves Merlot from Ridge and Neyers.
Emily Wines, senior director for beverage at Kimpton Hotels, which runs many boutique hotels and restaurants throughout the United States, feels that Merlot has an important place on wine lists. "Merlot has consistently proven to be approachable and delicious," Wines said, adding that she's never created a wine list that didn't include at least few—often by the glass.
Bouchon's Aita notes that the wine is also wallet-friendly: "Merlot is priced right; it doesn't tend to be too expensive. You can still find great quality wines for a really good price."
Jon Ruel, president of Trefethen Family Vineyards, said of Merlot, "The mouthfeel is softer, obviously, than our Cabernet Sauvignon, but what I really cherish is the floral perfume on the nose." Trefethen's Merlot sales have remained strong over the last decade. In fact they planted more Merlot in 2010 and 2012 to meet demand. Their Merlot is one of my new favorites, hearty and toothsome.
Catherine Rabb, a senior instructor in the College of Culinary Arts at Johnson & Wales University and a wine judge at the San Francisco Chronicle Wine Competition, likes Merlot's food-friendliness and pairing ability.
"A smooth and rich Merlot is an obvious choice with big meaty dishes," said Rabb, "but I am often quite surprised by how well Merlot goes with lots of other food—mushroom-y risotto, tomato based dishes like lasagna, roasted red peppers, pâté. The best pairing I've had was a bowl of white bean and kale soup, fresh sourdough bread and butter, and a rich Napa Merlot. I still think about how good that was."
Wither Merlot?
For his part, Pickett is rueful about his fateful line, which incidentally didn't appear in his original book. "I cut the line for the published novel, not because I wanted to, but because I was given bad advice by a senior editor to do so. Of course, at the time I had no idea that the line would become this trope or meme in popular culture, even to this day," Pickett said. "'No F•••ing Merlot' is the Number One thing I'm requested to inscribe on books."
"Merlot was bastardized by a movie quote," said Grant Long Jr., the winemaker for Blue Oak Vineyards. He produces one of Napa Valley's very best Merlots—a real standout that's velvety, strong, aromatic, and delicious. Buy he's not worried about Merlot's future. "Merlot's roots in wine history will always overcome moments in public opinion. It is no surprise to me, a decade later, to see it gaining a foothold yet again in Napa Valley."
"Merlot isn't going anywhere, despite the negative impact Sideways had on the variety," said Peter Devison, winemaker for Efeste in Washington State. Devison puts his faith in the discernment of customers. "Wine drinkers are becoming much more educated and are making more personal decisions regarding what they want to drink," he said.
Devison, by the way, calls his Merlot "Upright."
• • •
Merlots of distinction include those from Blue Oak Vineyards, Duckhorn, Gundlach Bundschu, Jarvis, J. Lohr, Newton, Nickel & Nickel, O'Brien Estate, Paloma, Peju, Pride, Regusci, Robinson Family, Titus, Trefethen.