For a unique accompaniment to pork chops, try braising lettuce. It may not be the first vegetable that comes to mind for this cooking technique, but that's what I love about author, cook, and urban gardner Amy Pennington and her Fresh Pantry series. It's a year of ebooks, each dedicated to highighting a single ingredient, and showing you new ways of appreciating it on your plate. The recipe below for Mustard-Braised Lettuce and Pork Chops comes from the Lettuce book. It will help you, as the cover says, "learn to love your leafy greens." (Get the Lettuce book or, heck, get the whole series.)
Pennington explains, "Why lettuce?", and how this dish walks a tightrope of luxury and lightness: "Braised lettuce is surprisingly rich and works especially well in this slightly creamy, mustard-infused sauce. Here, thick bone-in pork chops are seasoned and seared. A generous portion of chopped lettuce is added to the pan, in addition to a spoonful of mustard and a splash of heavy cream. All of this cooks down quickly into an intense and flavorful sauce that feels luxurious but is actually light and healthy."
And since this is Grape Collective, how about some wine? I love the white wines of Alsace when it comes to pork. They have enough richness for the meat and the slightly creamy greens. Check out a few selections below.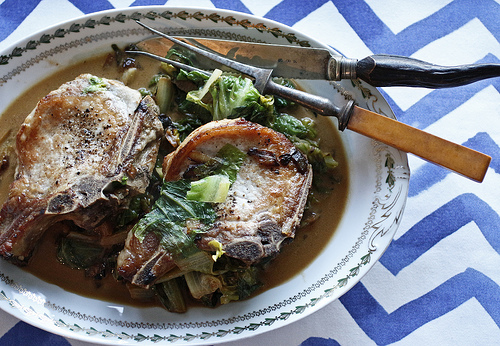 Mustard-Braised Lettuce and Pork Chops
4 thick bone-in pork chops
¼ teaspoon salt
¼ teaspoon pepper
1 tablespoon butter
2 tablespoons olive oil
1 cup chopped onion
½ teaspoon Dijon mustard
½ cup chicken stock
4 cups lettuce, cut into 1-inch ribbons
¼ cup chopped parsley
1 tablespoon heavy cream or half-and-half

Season both sides of the pork chops with salt and pepper and set aside. In a large sauté pan, heat the butter and olive oil over medium-high heat. Once the oil is heated and the butter melted, add the onion and cook and stir until soft, about 3 minutes. Push the onions to edges of sauté pan and add the pork chops, cooking about 4 minutes. Don't move the pork chops around—you want them to caramelize and brown—but stir the onions occasionally to prevent burning. Turn the pork chops and cook on the other side, 4 minutes more, stirring only the onions as needed. Stir the Dijon mustard into the onions (the mustard may be a bit chunky at first). Pour in the chicken stock and add the lettuce and parsley to the sauté pan, sprinkling over the pork chops. Cover and cook for 4 minutes, until the lettuce is mostly wilted but still vibrant green. Remove the cover and remove the sauté pan from the heat. Stir in the heavy cream until well combined.

To serve, place one pork chop on each plate with equal portions of greens and sauce. Serve immediately.

PANTRY NOTE: All sorts of lettuces work in this dish—romaine, Bibb, looseleafs, arugula, dandelion greens, and so on. Mix and match or try them all, depending on what you have around. Any leftovers hold very well in the fridge, covered, and should be eaten within two days. Try slicing the pork thin and making a pressed griddle sandwich—the braised greens are a perfect garnish.
For gardening tips (like prepping your garden beds), kitchen ideas, and other timely tips, check out Pennington's site. And, hey, sign up for her newsletter while you're there.