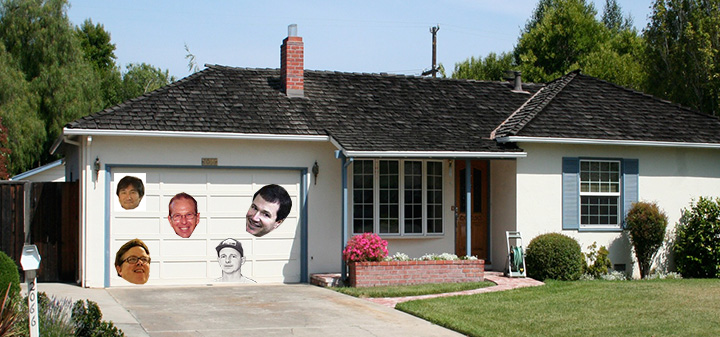 Adam Lee and other winemakers are glad to have moved on from garage winemaking, but heartened that some are still going that route.
Carlisle's Mike Officer was a garagiste before garagistes were cool. In fact, before the term even existed.
Broc Cellars' Chris Brockway was more like a "basement-iste," crafting his concoctions in "one of the few L.A. houses that had a half-slope basement."
Siduri/Novy's Adam Lee (below with his wife Diana) made his first wine in a corner of the winery where he worked in the tasting room.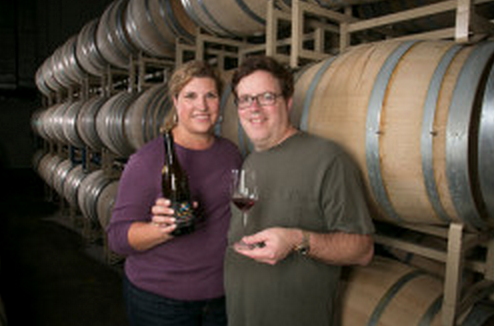 From these humble beginnings, all three have become among the most respected, often revered, winemakers in California. Each of them agrees that it's still possible for aspiring winemakers to start the way they did, but they'll need more money, will have to wade through more byzantine regulations and should do their work in less humble spaces. Oh, and they shouldn't give up that "real" job just yet, maybe for a good long while.
"The idea that you can just quit your day job and start a winery doesn't work," said Lee, who recently sold his company to the Jackson Family conglomeration. "We started with $24,000, and now the figure's probably $60,000 to $70,000."
The good news: "There are a lot of people out here who are very willing and very open to talking about their experiences," Lee said. "If someone gets into this and has very specific questions, someone like Mike or I would be willing to answer them."
Most of these guys' education came from on-the-job training, and learning from their mistakes. Officer, a software code-writer, made some rosé in a friend's garage in Venice, California, before moving to San Francisco in 1987. He bought 100 pounds of zinfandel and generated his first batch in the kitchen. "We eventually threw it out because it was horrible," he said, "but I enjoyed the process."
For a dozen years, he made all his wine in garages, first at a friend's space in Berkeley and then in the Santa Rosa home he and wife Kendall bought. They shared what they made — "one barrel, then three, then five, then nine" — with family and friends. When they got up to 300 cases in 1997, "Kendall said it was time we fish or cut bait," and they launched Carlisle.
The next two years, Officer made his wine at a Santa Rosa warehouse that Lee had just started using. But as Carlisle and Siduri expanded and Lee started his Novy line, "We were running out of space," Officer said. "Adam said, 'sorry, Mike, there's just no room at the inn.' We're very close, and I kid him a lot about kicking me out."
Lee and his wife Dianna had made their first wine, a pinot noir from Mendocino's Anderson Valley, at Lambert Bridge's facility in 1994. "We were VERY fortunate that 1994 was a great vintage so the wine made itself."
They parlayed some pluck with that luck to garner recognition. "We heard Robert Parker was around, staying at Meadowood [a Napa Valley resort]," he said. "We got drunk one night and said 'let's take him our wine. He'll love it.' We drove over there and gave it to the concierge.
"When we woke up the next morning, we felt terrible and thought we had made a huge mistake. We tried to get the bottle back, but it was too late."
In short order, the first Siduri wine was touted in the Wine Advocate with a rating in the 90s.
Still, like Officer, they kept their day jobs and used all their vacation time at harvest. "It was just grueling," Officer said. "I felt like I was crawling on my hands and knees."
Dianna Lee quit her job to devote her time to the fledgling winery in 1999, and Adam followed suit in 2000. It wasn't until 2004, almost two decades after making his first wine, that Officer gave up his vocation, writing portfolio management code, for his avocation.
Brockway (right), owner and winemaker at Broc Cellars, had a briefer, but still circuitous path to his current post. He grew up in Nebraska and embarked for California, soon finding himself "editing really bad TV shows, like 'Super Nerds' and 'The Best Commercials You Never Saw 4 and 5.' Most didn't make it on the air."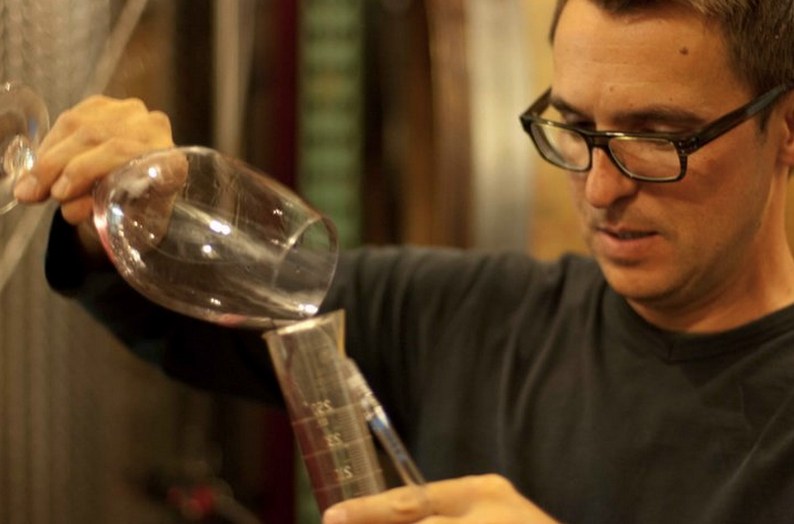 But wine got into his blood while making a 30-gallon barrel of cabernet sauvignon in that half-slope basement. "I decided to trade working in a dark room in front of a screen for working in a cellar," he said.
He moved to the Bay Area, where he worked in a "garage/warehouse-like space, only 800 square feet."
His portfolio expanded rapidly, getting a boost as part of "The New California Wine" movement chronicled in a book of that name by Jon Bonné.
"People now say 'Wow, you're making 8,000 cases of wine.' And I say yeah, and it's a heck of a lot easier than making 500 cases," Brockway said. "The hardest time I had making wine was in my basement."
The three winemakers are heartened to see less seasoned vintners following a similar path today. Not many are setting up shop in their garages, thanks to the recent proliferation of custom-crush facilities, especially in Sonoma County, and to helping hands being proferred by established wineries.
"There are more resources and more people who are willing to take younger people under their wing," Brockway said. "You're starting to see more labels coming out from assistant winemakers."
Among them is his assistant, Martha Staumen, who with three friends is crafting wines under the Les Lunes label (with the initial release later this year).
"The four of them are doing true garage-style winemaking. They're following the French model, leafing the vineyards and doing their own farming," Brockway said. "I have to admit I'm a little jealous of them."
Lee is enjoying a number of small-scale operators including Jake Lindley in Lompac, California, and Ryan Zepaltas (Zepaltas) in Santa Rosa. Officer lauded the work being done by some ex-mates, Kent Humphrey (Eric Kent) and Byron Kosuge (B. Kosuge), at the custom-crush facility Punchdown, where he worked until opening his own winery in 2013. He also cited Justin Lattanzio (Lattanzio) as an up-and-comer.
"Truthfully, today I think it's more difficult to do what Kendall and I have done," Officer said, "but there are some, and I think that's great because that's where a lot of innovation and energy comes into the industry."