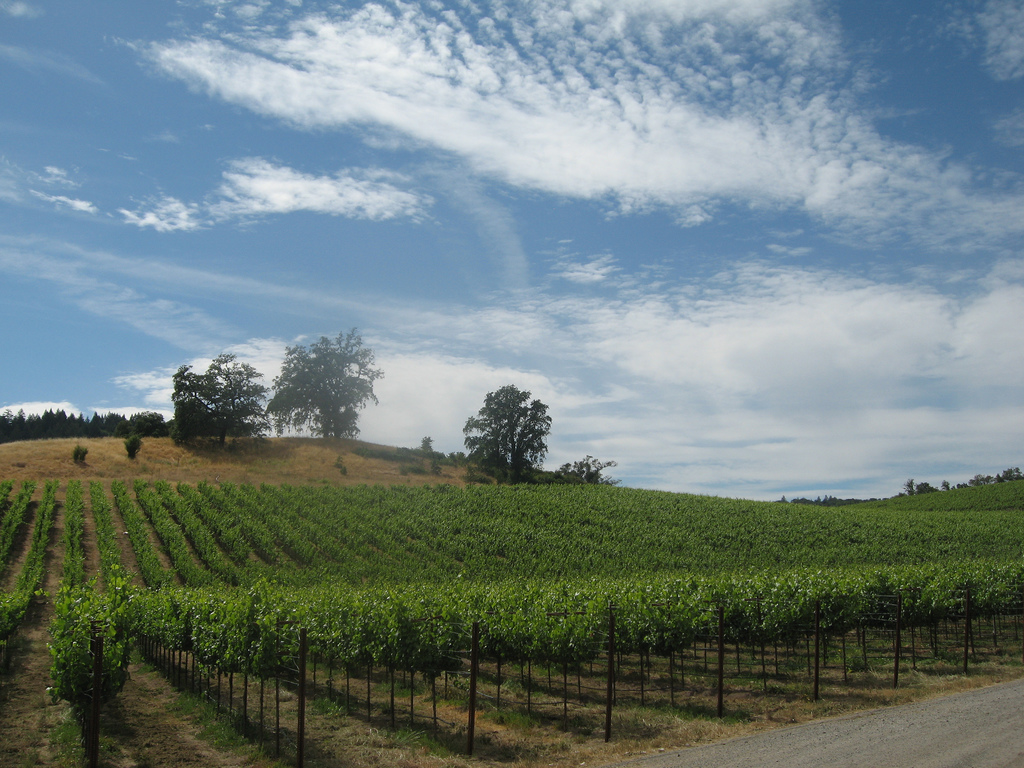 How does the wine industry and wine country cater to the LGBT community? I spoke with Mark Vogler, Principal/Partner at Out in the Vineyard, a Sonoma-based, experiential wine country event and travel company whose mission is "...promoting positive LGBT lifestyles and offering exclusive, luxury itineraries and events." Volger explains how a Mediterranean cruise inspired the founding of the company, talks about the development of the LGBT community's involvement in and support from the wine industry, and, finally has a host of recommendations on where to eat, drink, and taste the next time you're in Sonoma.

Tell me what prompted the founding of Out in the Vineyard. Did you feel the LGBT community was missing something when it came to wine country experiences?

This is not a short answer and there are several factors contributing to our founding:

1. Upon being recruited by Treasury Wine Estates to help build their online marketing channel in the DTC division I quickly noticed that there was no LGBT target marketing for any of their brands, which I found curious for an alcohol producer.

Beer and Spirits companies figured out the value of the LGBT consumer 20 years ago and I wondered why was the wine industry was not reaching out to a highly educated, lifestyle loving, drinking consumer segment? Was it homophobia? It didn't appear to be the case. I was completely out and never felt any discrimination. When I began talking to brand managers and trying to educate them on the value of the segment I was met with blank stares.

2. I have an identical twin brother, who happens to be straight.

My partner and I went on our first all gay cruise with Atlantis Events, which had partnered with Celebrity Cruise Lines for a luxury cruise in the Eastern Med. I didn't realize how "normalizing" it could be and realized that being an all gay cruise, and it wasn't until after the cruise I realized that it was the first time in my life that I didn't have to look over my shoulder when I was having dinner with my partner of 10 years, or walking through the ship's casino together, or sharing a cocktail and lounge by the pool. No one looked twice!

On that cruise, we were the normal ones, and I thought, "This must be what my twin brother feels, every day—or rather doesn't feel. He doesn't even have to consider who he's with and if society disapproves, or wants to literally kill him because of the person he's with in public. He has never had to look over his shoulder. It was the first time I had felt "normal" and free from worry. I wanted to take this new found freedom home with me and thought, "Why can't I have this at home?"

3. After joining Treasury I began getting phone calls and emails from gay friends around the country, initially asking me for wine recommendations.

This then evolved to recommendations for wineries that are "gay friendly," hotels that are ok with gay couples checking in, and restaurants in wine country where gay people can feel comfortable having an intimate dinner with a partner, husband/wife, or date. Then friends of friends started contacting me and it got to the point where I had created a template email of my recommendations of gay-friendly places in wine country. I thought, "Wine country is a luxury travel destination. Why is not one targeting the LGBT community?"

After two years of feeling like I was beating my head against the wall at Treasury Wine Estates, I decided that if they weren't interested in the LGBT consumer—and given the factors above—then I would help the LGBT consumer discover a friendly wine country. I founded Out In The Vineyard with restauranteur and hospitality expert Gary Saperstein, who at the time was managing The Girl & The Fig restaurant on the Sonoma Plaza.

Your upcoming event, The Big Gay Train, features four LGBT winemakers. How have you seen the influence of the LGBT community in the wine industry change and evolve? How have wineries shown their support for the community?

Yes, there has been a change in the LGBT community in the wine industry and wine country. Prior to Out In The Vineyard, we saw some gay people traveling around wine country but there was no focus on where they went. I would hear, "We're going to Napa!" and upon investigation found that they were visiting wineries all over wine country—Healdsburg, Russian River, Calistoga, etc. "Napa" was synonymous for "Wine Country." About two years ago we started hearing a change in the vernacular within the LGBT community and started hearing, "We're going to Sonoma!" that meant "Sonoma."

In some ways the industry has changed and some ways it is still business as usual. Out In The Vineyard has been fortunate to have many wineries show support for the LGBT community by participating in our annual three-day Gay Wine Weekend by opening their doors to our tours and pouring at numerous events.

We have received more and more requests from wineries asking how to approach the LGBT community but, with the exception of La Crema, Lasseter Family Winery, and Gallo's Barefoot brand, few in the wine industry have invested real marketing dollars towards the $800 billion LGBT consumer market.

You're based in Sonoma. What are some of your favorite places to eat, drink, and taste in the area?

Favorite eats:


Taqueria La Hacienda — Looking for authentic Mexican food? Try Taqueria La Hacienda, located in the barrio of Boyes Hot Springs on the northern edge of town. From the outside it might look like a hole in the wall, but Taqueria La Hacienda has the best Mexican food in town. It's spotlessly clean, the is food fantastic, and the margaritas are even better. With both classic and traditional dishes like Mojarra Frita—fried, whole, tilapia, with the head still on—it's an authentic dining experience like those you find in costal towns south of the border. You won't find tourists or Sonoma transplants, who cling to Sonoma's posh east side and plaza. This is the place where the local locals go for great meal and the feel of a night down ol' Mexico way.

Breakaway Café — Don't let the generic roadside diner exterior fool you—Breakaway Café serves some of the best down-home cooking in the valley. If you are looking for a great, country-style, all-American breakfast, you'll find it here. With generous portions of sumptuous fare, you won't leave hungry. It also has a full bar, in case you need a jump-start Bloody Mary or mimosa after a weekend of wine tasting.

Favorite drinks:

Steiner's Bar — Located on the west side of the Sonoma Plaza, Steiner's gives off the vibe as an ordinary, small-town, dive bar but in reality is the most mixed bar I've ever been to—and I've been to many bars on all seven continents (Yes, there is a bar in Antarctica, the southernmost in the world). On any given night you'll find a mix of gay men, straight cowboys, Hispanic farmhands, lesbians, bachelorette parties, vintners and winemakers (gay and straight), and even the occasional transsexual buzzing around the barflies, all having—or looking for—a good time. It's super gay-friendly and Thursdays is becoming known as "ThursGays"—gay night.
Jack London Saloon — Named after Jack London, whose former ranch property (and now state park) is just up the from hill this local watering hole, the spot serves the best burgers and coldest beer in Sonoma Valley. It's a fun saloon with a regular local cast of characters who wander in throughout the evening, including the occasional gaggle of gays out for a night of slumming. You may run into some local winemakers and vintners who stop in for an after-work beer.

The Swiss Hotel — Located on the north side of the Sonoma Plaza, the bar becomes the LGBT meeting spot every Friday after work, where the gay townies come to unwind over strong margaritas, beer, and flatbreads. Be sure to grab a spot on the front patio, because that's where the gays are and not in the small, dark bar inside. Waitress Genie, super gay-friendly, works her ass off to keep your glass filled.
Favorite taste:
Envolve Winery — Not only is Envolve Winery "Bachelor" friendly ("Bachelor Ben" of ABC's reality show is one of the owners), it's super gay-friendly, as only millennials owners can be. (Regardless of having grown up in small-town America, "The Will & Grace Generation" have also grown up with gay characters in the mainstream—on TV, radio, and online.)

Envolve Winery's tasting room is located at the end of "Wine Alley," a collection of wine tasting rooms down an alley on the south side of Sonoma Plaza. It was founded by three sexy fellas: childhood friends Michael Benziger (of the Benziger Wine Family dynasty), ABC's Bachelor Ben Flajnik and the quintessential "boy next door," and Danny Fay. They represent the young hip new generation of winemakers in the Sonoma Valley and they do things a bit differently. They shun the stuffiness of tradition, and there is usually some kind of happening in play—the boys hosting a wine industry party, a band kicking on, or the guys just hangin' with friends.
Favorite Tour:

Kunde Family Estate — Whenever someone asks me for a great winery tour I always recommend Kunde's Mountain Top Tasting is one of the best vineyard tours in Sonoma. Visitors are taken out into the vineyard and up to the top of the estate, located at 1,400 feet, for wine tasting and spectacular views of Sonoma Valley and beyond. On a clear day, the views extend all the way to the San Francisco Bay to the south and past Santa Rosa to the Western Hills of Sonoma County to the north.