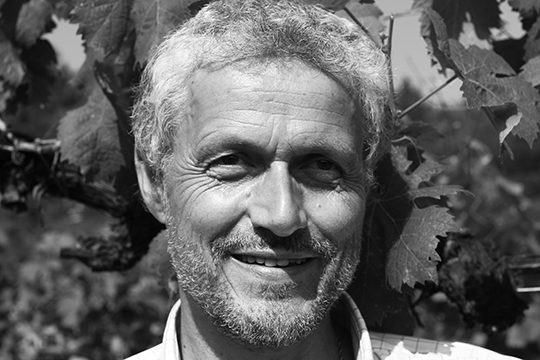 Punta Crena is located in the tiny seaside village of Varigotti in Liguria. The estate is owned by Paolo Ruffino and his three siblings whose family has been tending these vineyards for over 500 years.
The vineyards of Punta Crena are all within 1200 meters of the Mediterranean Sea. The grapes are grown on imposing hand built stone terraces with spectacular views of the water. The Ruffino family has saved indigenous grapes that are critical to the history of winemaking in the region. Winemakers were gradually ripping out these local gems because international varietals are easier to grow. Grapes such as Mataòssu and Crovino are one of a kind - totally unique to Liguria.
Grape Collective talks to Paolo Ruffino about saving the unique and almost extinct grapes of Liguria.
Christopher Barnes: Tell us about the history of Liguria as a winemaking region.
Paolo Ruffino: Liguria has a wine history that is ancient. It was brought to Liguria 3,000 years ago by the Greeks. And from there, it was always cultivated along the face of the coast. History has chosen countless varieties of grapevines for our region. This natural selection has brought grapevines that are adapted for our territory. These are grapevines that are fragrant; they need a lot of sun and a temperate environment. They provide wines that are fresh, fruity, but not heavy and not very alcoholic and that drink well with our cuisine.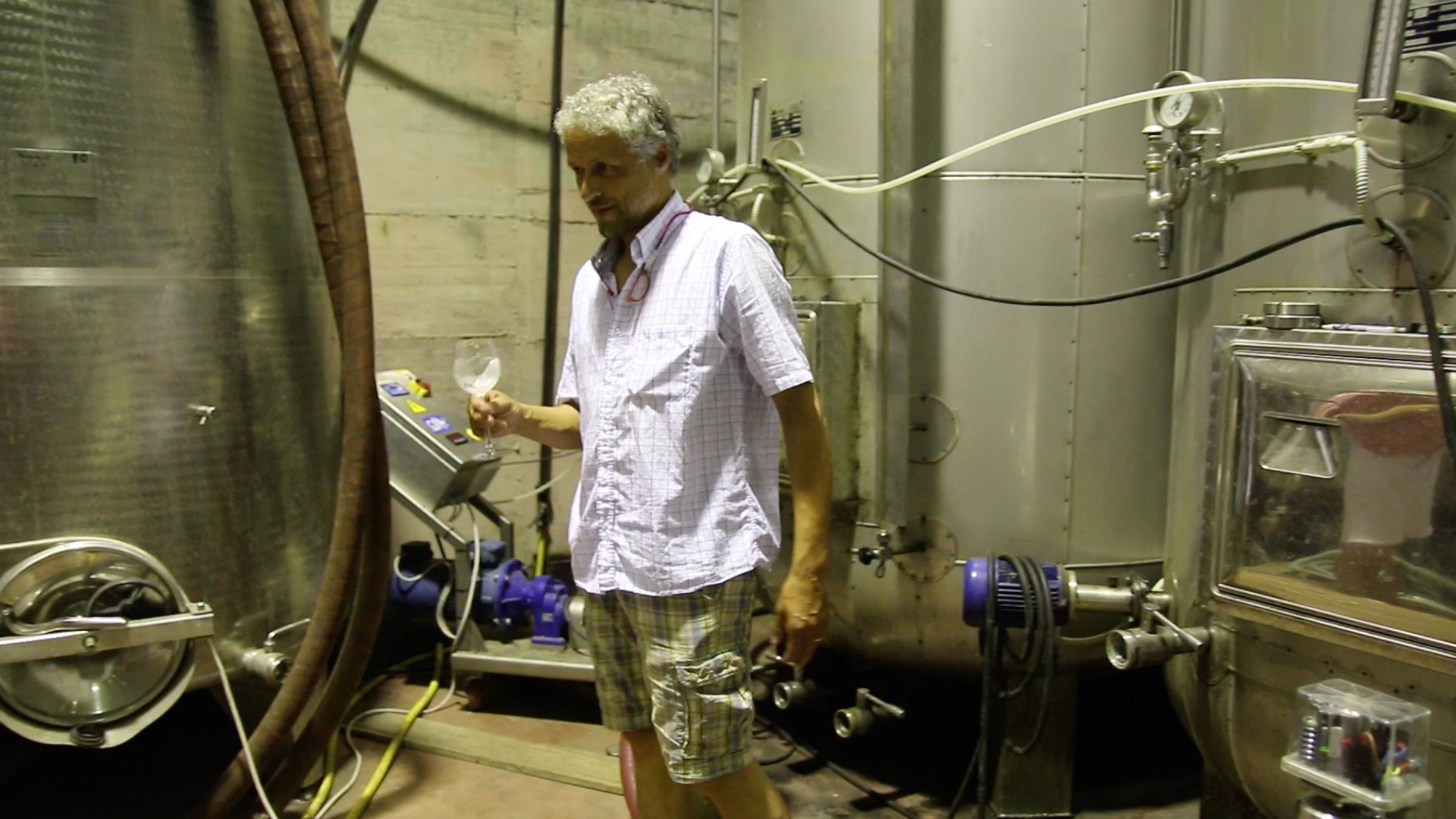 How long has your family been making wine in the region?
My family has lived and worked in this area for 500 years and we have always been involved in agriculture. We cultivate olives and above all, wine. Therefore, we have an extreme awareness of our terrain and of our variety [of grapevines] and above all we have a tradition of agriculture that is not taught in books but that is handed down by our ancestors. As such, we continue to cultivate a traditional philosophy that is hundreds of years old.
What is your philosophy of winemaking and viticulture?
Our important philosophy is respect. We are connected with the grapevines. When the plant is healthy it makes the best fruit. Because the grape does not work for our wine; the grape works for its own DNA. When the fruit is healthy, we are able to continue to plant. And therefore, with respect to production, we have grapes that are as good to eat because they are fragrant and delicious, as when they produce rich wines with body and structure that last a long time.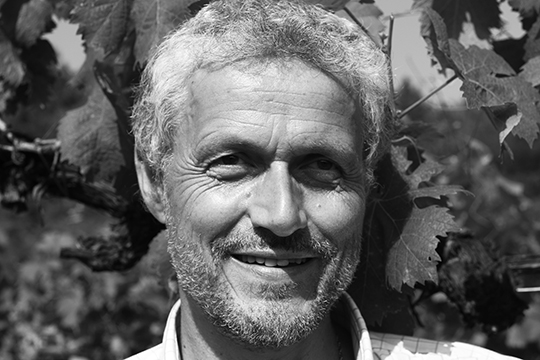 How would you describe the terroir of your estate.
Liguria has a fundamental character of climate. Climate is the best aspect of our region. In my opinion, the climate leaves a strong imprint on our fruit; on our wine. Also, our terrain has an extreme variety of soils. We are close to the sea and the hills, and each hill has its own soil compensation. We are not on a plain of land where everything is homogenous. Every hill is its own terrain. And this favors the variety of our grapevines. The differences from vineyard to vineyard are very noticeable and this is reflected in our wine.
Tell us about the indigenous grapes that you have rescued.
We are furthermore fortunate because there is a vast variety of grapes that are specifically from here; that are born here. Therefore, these are the ones that nature has selected. We very much appreciate this variety of grapes because these are the vines that are married in our territory. This has been done autonomously. The territory has chosen the varieties that are best suited here.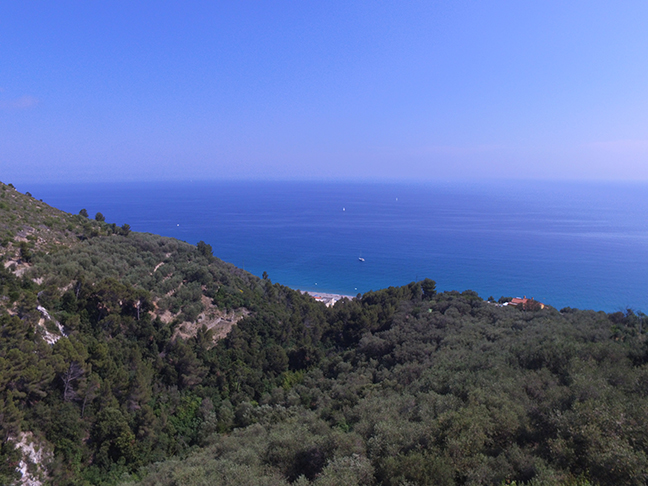 We have saved, above all, Mataòssu. The white wine that was most spread in our region. But it is a vine type that is very difficult to work with and needs a certain equilibrium of climate and terrain. Unfortunately, other grape varieties that are too productive have been chosen and in the process quality has escaped. We have recuperated ancient grape varietals that produce less but that provide wine that is much more structured and elegant.
And these wines have always treated us well. They are the best wines for our cuisine: dishes of fish and vegetables. Above all, vegetables that are cooked with delicious pesto of rosemary or marjoram.
Another important variety that we appreciate, and this was quite fortunate, is Crovino. It has a unique genetic character. Practically, the vine abandons the best berries and focuses on those that are less developed. The best berries fall to the ground and stick together. The grapes grow fragilely and fall easily. In dialect, Crovino means the grape that has fallen.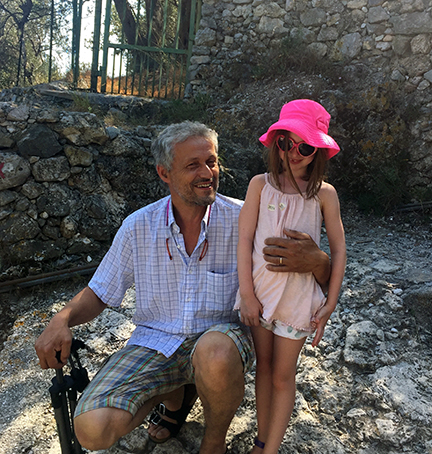 (Photo: Paolo Ruffino with Grape Collective's Clara Maxine Barnes)
During the harvest, it is important not to lose these types of fallen grapes, which are the most structured. And these grapes give us a small percentage of "passito" style wines that naturally occur during the harvest.
There are other lesser known grapes that we are study. One is called Barbarossa, a red wine. Another is called Uva Gatta. These are lesser known grape varieties that we are trying to appreciate to predict the right justification of these lesser known grape varieties.
Talk a little bit about the terraces. How did they get there and how do you grow grapes like that?
The terraces in Liguria provide a unique panorama. Historically, Ligurian men began to construct walls of stone in 8,000 BC, or 10,000 years ago. They built walls out of stones for homes. Therefore, there is a dexterity with stones that is invaluable.
For cultivation with stones there are two objectives: First, to remove all the stones from the terrain, because the soils are very rich with stones. As such, to cultivate we have to remove the stones anyway. Second, to place the stones on a flat surface. Because there is terrain that is very steep, it is impossible to place the stones hanging.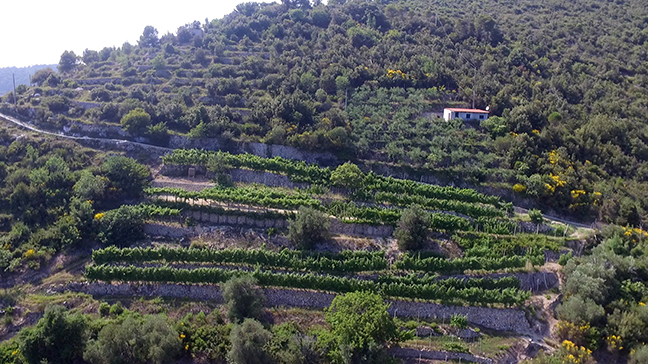 And then there are countless advantages. First of all, the stones increase the amount of sun exposure. Therefore, we have more hours of sun and more surface exposed to the sun. Near the sea, the sun is reflected for even more sun exposure. Second, the stones are warmed and retain heat. Therefore, the vineyard is more temperate and this increases the growth of the vines.
It is very demanding to construct a wall from stone. But it gives us a big hand in the cultivation process.
We are pushing for ancient technology. Because it is the only thing we can rely on when it comes to agricultural labor. Therefore, the first to be happy with the tractor was not my grandfather, but the donkey, because technology can change one's life in irreversible ways.
---
For more on Ligurian wine - check out our interview with Davide Merano of Poggio dei Gorleri.