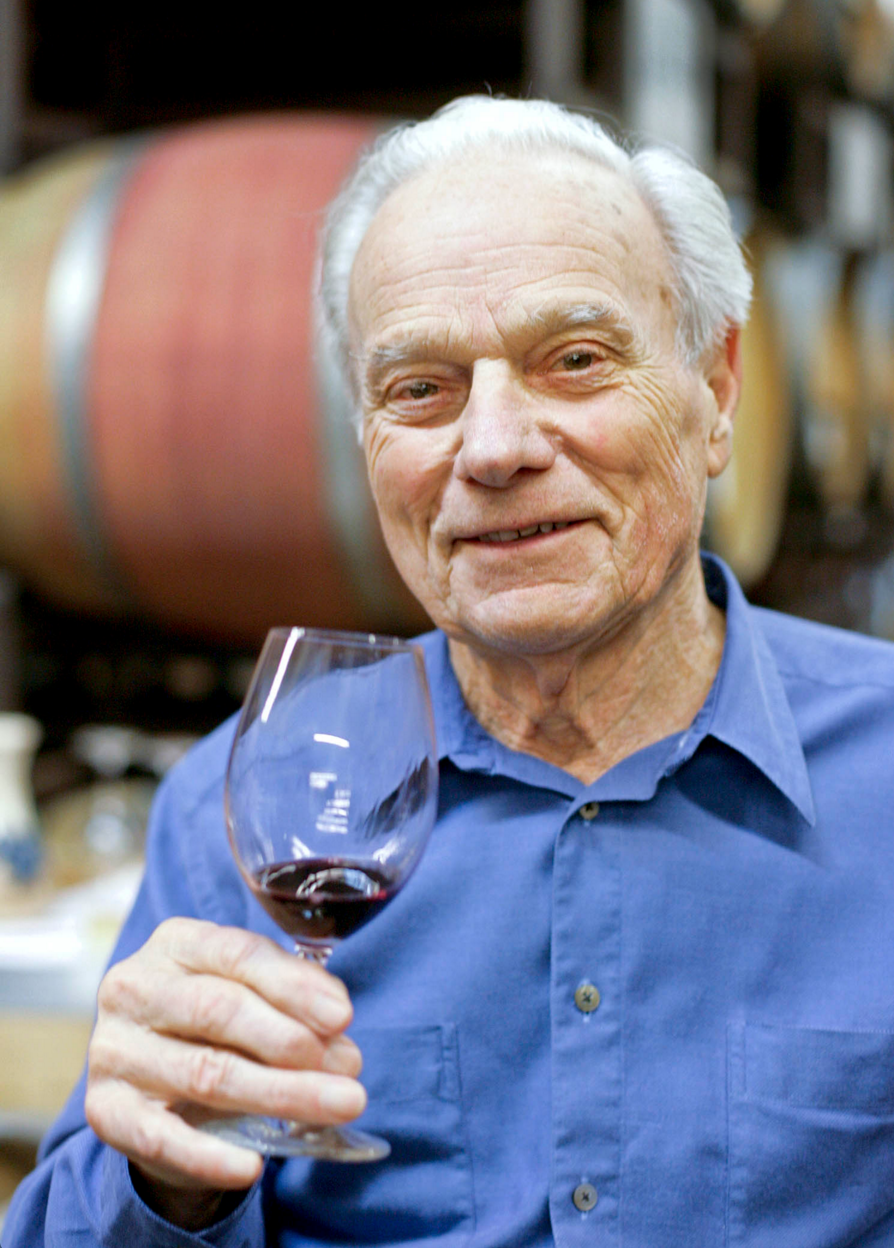 Napa Valley wine pioneer Peter Mondavi Sr. died last Saturday, February 13, 2016, at the age of 101. We interviewed Mondavi in late 2013 at the Charles Krug estate in Napa Valley. He was 98 at the time, but spoke with a twinkle in his eyes and exuded an engaging enthusiasm about Napa, wine and the family business.
For all his success he is possibly most famous for his feud with his older brother Robert Mondavi who was forced out of the family winery in 1965. Robert went on to establish his own winery, the Robert Mondavi Winery, and become known as the face of Napa Valley. While Robert deserves great credit for the tremendous energy with which he helped to propel Napa Valley into an international wine destination, Peter also made significant contributions to the region. The San Francisco Chronicle describes him thus: "While Mr. Mondavi's older brother Robert, who died in 2008, often gets the majority of the credit for putting Napa Valley on the map of global wine regions, it was Peter Mondavi who was responsible for the family's greatest scientific innovations in winemaking." Mondavi introduced the use of French oak barrels to Napa and helped develop the cold fermentation technology which helps to keep white wine crisp and fruity.
Robert, for all of his great successes, lost the family winery when he was forced to sell to Constellation Wines and Spirits in 2004. It is one of Peter Mondavi's great achievements that the winery his father bought in 1943 is still in family hands now run by his two sons Marc and Peter Jr. According to the New York Times, "With holdings of 850 acres, Charles Krug is one of the largest landowners in the Napa Valley."
The below extract is part of an interview that will eventually become a chapter in a book that will be part of the Grape Collective book series Conversations with Winemakers.
Christopher Barnes: Tell us about the history of your family.
Peter Mondavi Sr.: My father and mother (photos below) were the pioneers. In other words, they came over to the United States. My father came first and settled in Virginia, Minnesota. He worked in the mines, but that was not his love. Of course, he had a brother that worked in the mines and he was killed from a cave-in in the mines. My father didn't want any more part of that.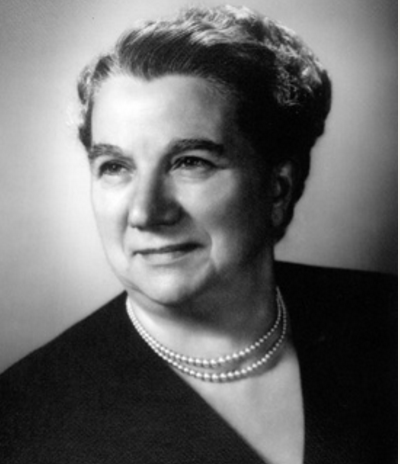 He decided that the United States was the area to be. Not necessarily Minnesota, but that was the area that he first landed in, because he had relatives over here. As I say, he worked in the mines for a short period, but then he made up his mind that the United States was where he wanted to live and raise a family.
Mother was his sweetheart back in Italy so he went back and proposed to her. She was 17 years old. That was a big move. I remember her talking about her own mother. Her mother told her, "It's up to you." Of course, in those days, the young ladies were very mature and a very good help with housekeeping, et cetera, and all that. Anyway, she accepts Dad's proposal and they came back to Virginia, Minnesota, where he started a business.
He didn't get back in the mining business. He said that was not worth having. He and a relative of his started a saloon business. Mother, in the meantime, she was preparing meals, lunches for the miners, most of them were Italian miners. She had a boarding house which she maintained for lunches for about 15 miners. In the meantime my dad had a grocery store business. When Prohibition came, he couldn't maintain the saloon business, so he decided to start a grocery store business.
One thing about my father, with a very limited education he was a natural born businessman. That is so important. He got into the grocery store business. Then, as he had customers there, a lot of European customers, Italians, et cetera, and they wanted to make homemade wine. They urged him to go to California and see what he could find out about buying grapes. I can't imagine that.
He came to California, to Lodi. He shipped grapes for, I think, three seasons. He came from the East, he would travel to the West Coast, ship grapes. With limited language, he knew a few Italians, but I can't imagine how he got started in the wine business, not knowing anything about wines. He was a born businessman. That was so important.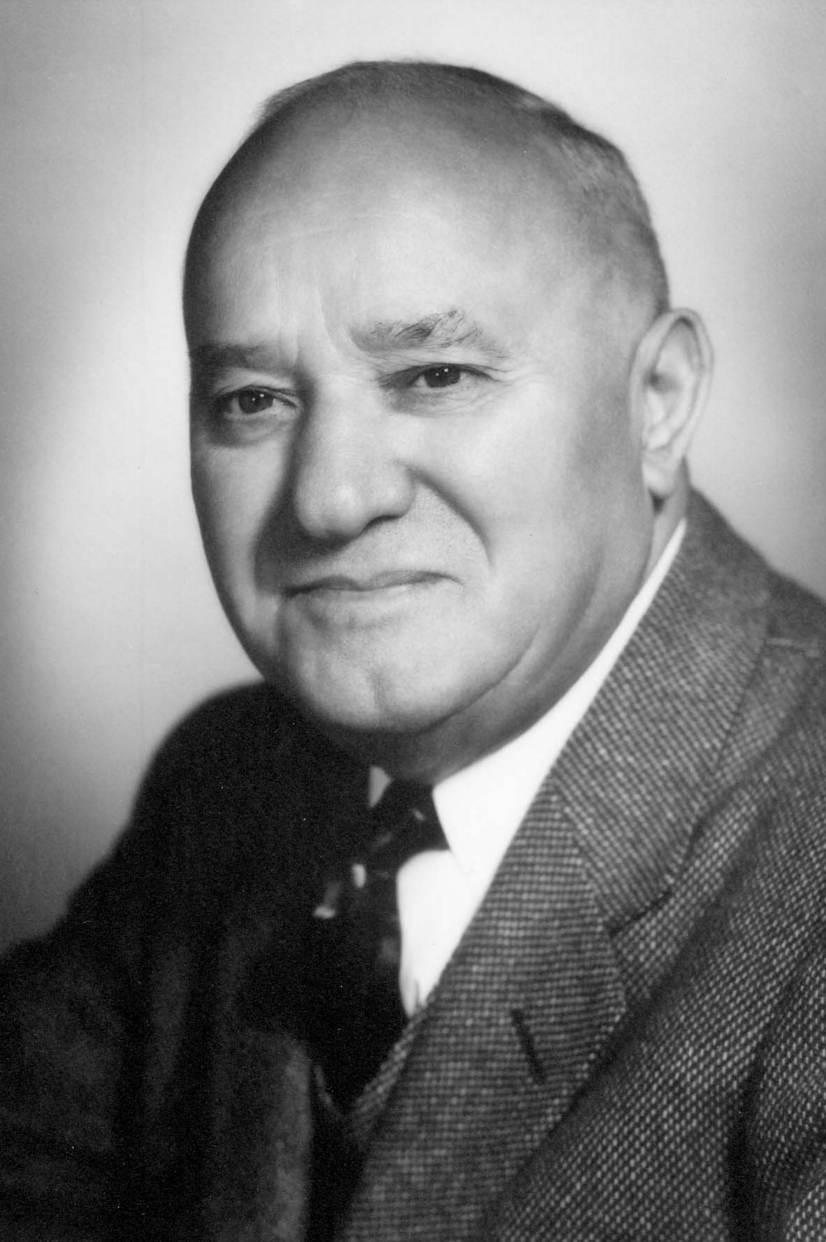 As I say, he did that for three seasons. He figured that was a future. He moved with four children and his wife, Mother, to California, where they raised the important grape, the Zinfandel grape, which is one the main wine grapes in that area. He settled there and he started the business. Then he also got involved in the next thing, the wine business. He wasn't a winemaker, but he was a businessman.
He became the president of the Acampo Winery and Distilleries. They maintained that for a number of years. There were periods in those days, when business got difficult. They ran through some problems. Wineries, at the very beginning were very prolific, but then after that, it was overly done. It went through a slump for the few years. That was when the co-op decided to sell out.
In the meantime, with his capability, he knew about wines. Good wines, especially homemade wine. He became familiar with Napa Valley and also with Sonoma County. He got involved with the wine business while he was still the president at the Acampo Winery and Distilleries. The Acampo Winery and Distilleries was then eventually sold but in the meantime, my father had developed connections up here. Between the selection of Sonoma County and Napa Valley, he preferred Napa Valley.
He's not a winemaker, but he knew his business, he knew the quality, et cetera, and so he got interested over here. In fact, it was the Merryvale Winery here. Of course, it's changed names now several times. It was the Riorda family, mister and missus. They were elderly. He handled their wine while he was still president at the Acampo Winery and Distilleries. He sold their winery and became familiar with the operation up here in the valley. He came to the conclusion that Napa Valley was it. He preferred that over Sonoma County. Of course, it's proven itself these years, although Sonoma is very, very famous too, but Napa Valley seems to really develop this premier wine business.
As I say, he had the Sunny St. Helena Winery, which he bought from the Riorda Family.
How did he introduce you to the business?
He had the Sunny St. Helena Winery here for a few years, but then he sold it and concentrated here on this operation. Of course they took all the concentration here because this was a run-down winery. It had the history, but that was about all. You had the outer construction, but the interior had to be completely rebuilt, which at that time, my brother, Robert, was in the wine business out here along with my father. I was in the service at that time. I spent three and a half years in the service during that time that he purchased the property. Then when I got out of the service, I ended up here, totally in the wine business.
Peter, you initially developed the wine business in Napa working with your father and your brother.
Yeah, they developed this wine business. I remember that occasion because I had to leave from the service and I was up here, because there was a meeting. I was involved with a meeting with my brother and my father and the banker, here, when we went to San Francisco. We were in the meeting with the owner of the property, but was a banker that owned the property. It was an interesting meeting because they were talking, talking. We knew the price was $75,000. That's all I knew about it and that's about what we all knew about it was $75,000 for the property. Mitch Moffitt was the owner at that time, he was a banker in San Francisco.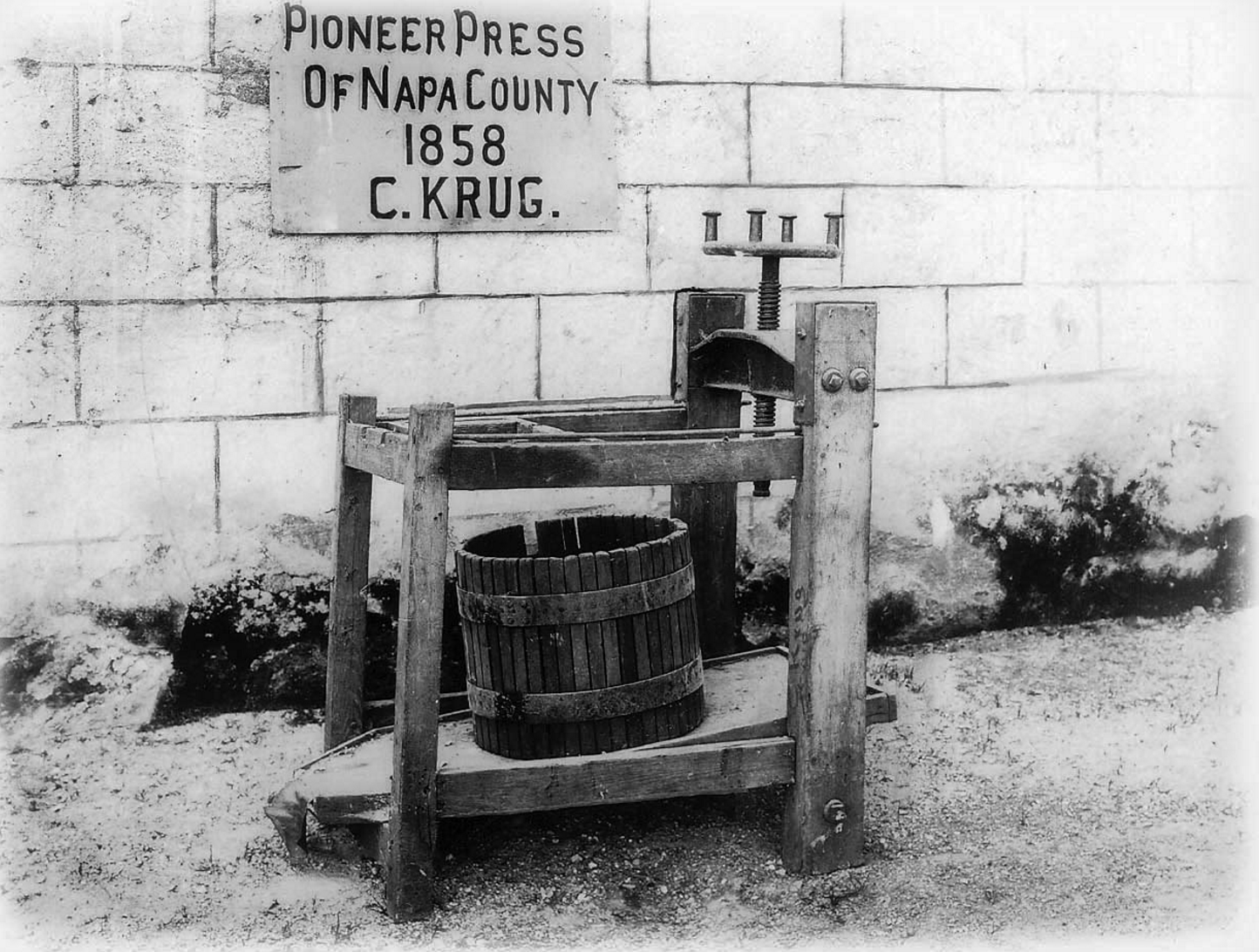 We had a meeting over there when I was in uniform and my brother was there, my father. They were discussing, the banker was discussing this and was discussing that and then he had a telephone call, his secretary called him in, so he went to answer his telephone call. He came back and he said, "It's yours," he told my father. They were just talking about business and all that and they knew the price and all of this when he came back because someone on the telephone was interested in buying the property, but he told them, "It's already sold." He came back to my father and told him, "It's yours." That was an interesting occasion. I had about another two years in the service at that time.
Were you in the Air Force?
Yeah, ground. Supply division. I was very fortunate because I was stationed at Warrington. It was a supply depot for the Air Force. I spent over two years overseas. I was really fortunate, working at the air base there and chartered supplies, certain parts of the planes, et cetera.
Which country were you based in?
England, Warrington, near Manchester and Liverpool.
When you got out of the service did you ...
When I got out of the service I came up here, directly up here. I didn't venture any other place because there was a job here for me already.
Tell us what happened when you got back and how you got involved with the business.
I graduated from Stanford, but on the last semester ... I did about three years in the wine business before I went into the service. I knew that that was my love. Actually I had no other desire. I guess I just grew up with it. I liked the wine business, I liked the wines, and still do even to this day, I never think of any other profession that I would have preferred. Even with the ups and downs. I still love the profession. Of course, at my age, at 98, I still come to the office everyday and see that everything is going as it should be going. They're doing a good job. You've got your ups and downs, but the competition on quality is terrific. Everyone is doing a very good job.
A lot has been learned over the years. In the wine production, there has been a tremendous improvement in the wines. That's true throughout the world now. In the early days, it was the French wines, few of the Italian wines, but mostly the French that had the reputation. Now our country seems to be producing very good wines.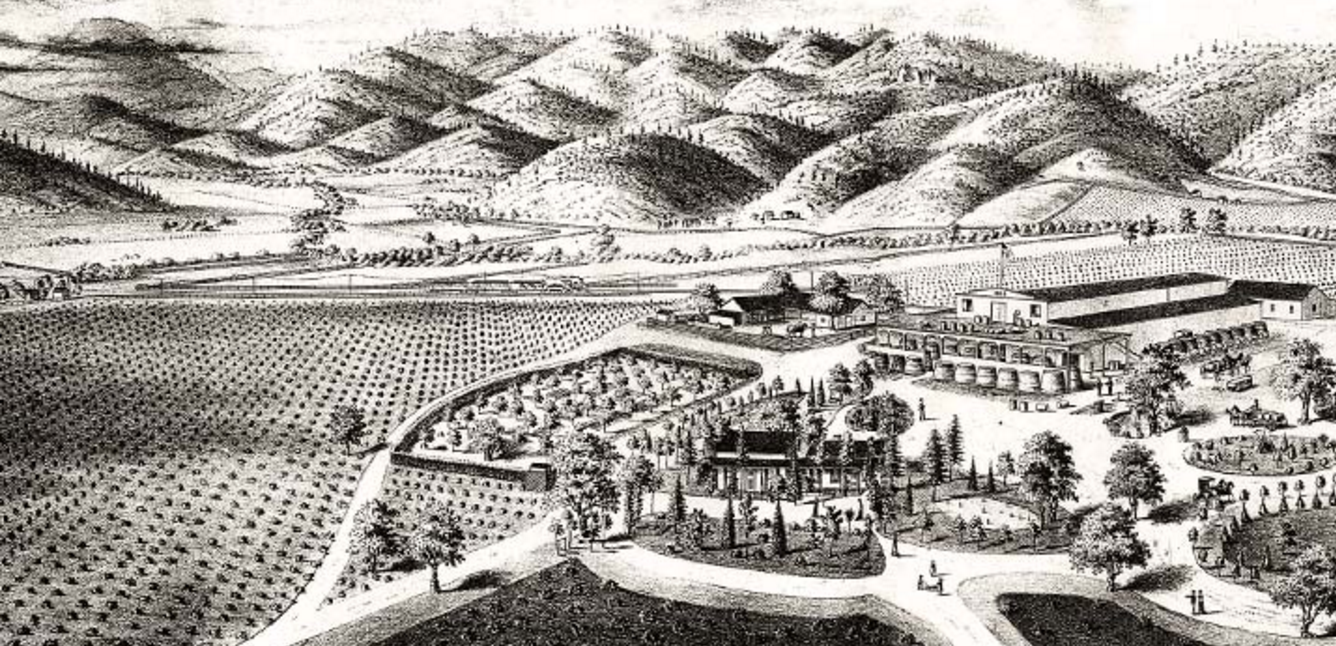 Lithograph of the Charles Krug Winery, CY Dyer 1874
How did you come to take over Charles Krug and how did the split between you and your brother occur?
My brother was very active, he was a real promoter, and he's a real worker. He was a dynamo. He was far more progressive than I. He was the sales type. I guess I take after my father. I think about all the things in the business and my brother was very ambitious and very energetic. The difference was that he was so aggressive. Business was not that good and then he got to the point that the rest of the family wasn't, or at least I wasn't keeping up with him. He decided the only way he could achieve what he wanted was to buy us out. He made a proposal, but we didn't agree, so we bought him out.
The rest of the family members were all owners. Of the four children, we're all owners, my two sisters, Bob and myself, and of course my parents. We were determined to keep the winery in the family. That was the purpose of the whole thing, was to have a family business. My dad told us, "Mother and I have enough to live on for the rest of our life. If you boys really want the winery, I'll buy it." That's why he bought the winery, to satisfy us.
My brother was a terrific promoter and achiever and he was a runner, much faster than I could run. That's where the differences came. I was more conservative and he was ultra vigorous about promoting, et cetera. We were determined to keep it a family business, so the rest of the family, my two sisters, they were interested in the winery, but let's face it, the winery was not making money like income and dividends. I don't know if any winery was paying dividends, frankly. Eventually I had to settle with my sisters.
We settled on a price because they weren't involved with it. They were married and they weren't as involved with it as I was, so we came to an agreement on the price. We settled with them and we've been paying them for a long time already.
We're determined, my family now, my children, et cetera, are definitely tied into the wine business. You have to love the business because there are ups and downs. We are one of the very few families left that still have the wine business as their own wine business. My family is determined to perpetuate as a wine business.
Peter, tell us a little bit about when you bought your brother out and you basically took over this enterprise, what were your thoughts in terms of growing the business and making wine and your philosophy of wine?
My thoughts on it is it's just like a business. I, personally, never looked at anything else. It just seemed to be part of me, the wine business. To this day, I come to the office everyday.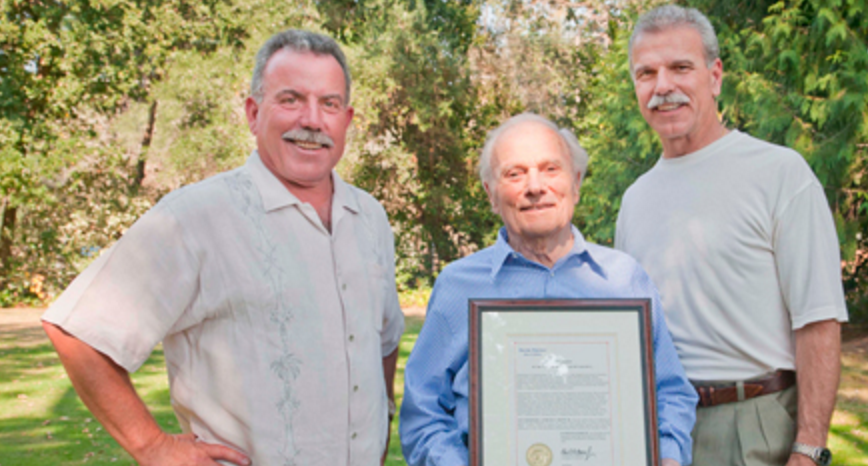 Photo: Marc, Peter Sr. and Peter Jr.
Did you have any thoughts about what types of wines you wanted to make?
The type of wine is a Bordeaux variety, the Cabernets. That's always been the king of the wines, all these years. The French had the big reputation for all those wines and still has the reputation, but they do have a lot of competition now, throughout the whole world. It's amazing. Over here now, the vineyard land, whenever you drive from here to San Francisco, here to Sacramento, wherever you drive, vineyards all over the place.
At the beginning, they weren't worth talking about, but today they all have good wines. They vary in quality because of the nature of the soil, et cetera. We knew in the early days that it required certain soil, but there was a question of getting the right land. Today there is much more emphasis, I see much more emphasis on the quality of the land because the land, the soil itself, and the exposures, et cetera, are very important on the quality of the wine. Cabernet, growing in the right area is the king of the wines, but you need proper soil.
Throughout the years, all we were interested in was buying land at a decent price, not realizing the importance of the location of the land, the type of soil, et cetera. What you need, more or less, is this type of soil, but today it's a question of the mountain lands. As a matter of fact, this is where the original wine producers were harvesting grapes, up in the hills, but then as business went on, it became too expensive to develop the mountain land. Now it's going back up into the hills. You want to get the real king of the wines, it goes to the Cabernets, Cabernet blends. That's where you get your best, wherever the mountain soil is, that's so important now.
We have about 70 acres up in the mountains. We have, total, about 850 acres in our operation, but our top varieties are coming from the mountains, which was were the original family owned wine producers started.
And you're still privately owned. Do you feel the sense of being proven right in the way that you have run your business?
I am very thankful that we maintained the business. I would go to the end. We ran into some difficult times, ups and downs, but I still don't regret all the effort that it took to save the corporation. Now it's a question of how big are we going to get? I don't want my sons to get too big because you devote your whole life to it and it's reinvested and you keep on going. For instance, this property was founded by Krug and it had a lot of history here. You have to be careful about your growth and your spending. We have projects here.
When my father bought the property, my brother did a terrific job when I was in the service. He was a promoter and he was able to get equipment and everything like that to rebuild the winery, the interiors, reinforce the walls. He did that during the glory years, which he gave him a lot of credit for that. He was a driver. He knew who to talk with, governors, et cetera, and it required special permission to get this type of lumber, this and that, and he managed to rebuild the interior and restructure the walls. He did a terrific job on all that.
The only trouble with my brother is he got carried away with his drive. Driving, driving, he sold that winery for a big sum of money, unbelievable, but if he had the drive, once you get older there's only so much you can do. He was a real driver and he really promoted in Napa Valley. Others did a wonderful job, too, but he was the real promoter of the Napa Valley and did a wonderful job on that.
In talking to some of the other winemakers, I think people who have been here for a long time, what some people have complained about is that the corporations aren't invested in the community in the same way as they were when there were more family owners here.
It's an entirely different picture now. It's money. If it's a good investment. They're not in love with the wine business, except for the profit they make. Any business you have, the profit is the important thing, but in our case here, we have more love for the business than we have for the profit. We just want to maintain the business, with the ups and downs. Thankfully, my older son has four daughters and three of them are already involved. They've graduated from college and they're in the sales and business, three of the daughters. The other daughter has yet to finish college and she loves it.
Marc has four daughters and they're all in love with the wine business, so the future looks good. As far as my younger son, Pete Junior, he has a son and a daughter, but they're still in college, but they're all interested in the business. I foresee a perpetuation of our business because we'd like to make a little more profit, but we still like the business enough too. We're not interested in selling it. Any time someone comes to us that wants to buy us out, we just send them a letter, "We're just not interested."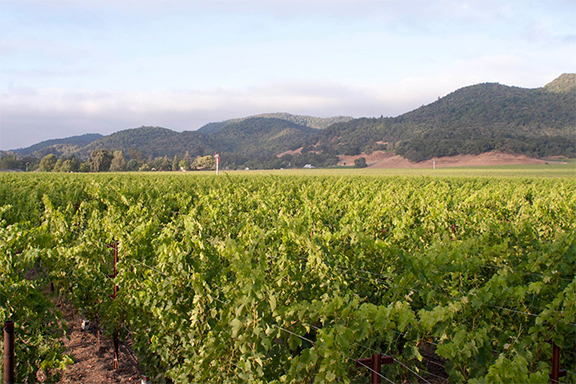 Charles Krug's Slinsen Vineyard
What would you attribute to your success in the business here?
I would attribute the love of the product. The important thing is improving the quality of the wine. We just want to do a better job. We want to make better wine. Before I graduated from Stanford, in the last semester I transferred over to University of California, Berkeley, because that is where they had the research on wine and Professor Cruz was head of the department there. I spent about three years before I went to service, in the wine business. I was going back in the wine business, there was no question about it.
My drive was to make better quality wine. It's such an important thing about the wines, so we keep on improving the quality. I wanted to research the cold fermentation of the whites and if you didn't have the cold fermentation, as we had, you wouldn't have the wines today that you have in the whites and the rosés because you retain the fruit. When it came to a red wine or Cabernet, it's a question of fermentation, at the warmer temperature, extract the color and flavor off the skins. As far as I know, I was the first one to bring in the French barrels here in Napa Valley. That went back quite a few years. That was an important thing.
Now the French all know it's a question, which is the best one? Find the best one. There are different suppliers over there. When I first ordered French hold barrels, I was paying $35 a barrel. Today they're running from $1,000, to $3,000 a barrel.
What wines do you drink other than your own? Are there wines out there that you would drink for a special occasion?
I don't know how to answer that. I just like wines and the better that they are, I'm interested in finding the best wines and I'm interested in us producing the top wine. It's a love that you have for the wines. You have to love the wine business because there are ups and downs. Before, there were only a half a dozen wineries. Now you've got about 450 wineries, all boutiques. A big percentage of them produce probably up to maybe 5,000 cases. We're producing about 85 to 90,000 cases a year. I figure that our maximum, with all of our vineyards being planted, will probably reach 150,000 cases. I warned my sons, "Don't get carried away too far," because you can run yourself into trouble, and lose control. You have to get the wine you want to make.
One of our problems is that when Dad started the wine business, there was a question of a lot of bulk wines and there wasn't the drive as there is today. Wine has improved tremendously. I keep on looking forward to it. I still enjoy it, my sons enjoy it, and the grandchildren enjoy it, so we look forward to longevity.
There's quite a history in this wine business and a lot of the people that are coming in are multi-millionaires and they make their money elsewhere. They drive the prices of your land up. They jumped up to over $100,000 an acre. In my day, you were buying land for $2,000 an acre. That's a big difference. For them it's like a hobby. They want to own part of Napa Valley and be proud of it and do their own entertaining and they become owners of their own winery or become the stockholder. It's a big pride thing.