Have you thought of visiting Portugal for its wines and more? If you're looking to get excited about this country, hard to argue with the enthusiasm and knowledge that Master Sommelier Keith Goldston showcased at a recent lunch sponsored by Wines of Portugal I was invited to attend. Here are a few tidbits from Goldston that should pique your interest about the country, especially its food and wine:
With any luck, you can touch down in Lisbon via a plane from Newark in less than five hours.
If you are a card-carrying member of the ABC (Anything But Chardonnay/Cabernet) club, Portugal is your mecca.
Vinho Verde is more than just inexpensive, fizzy white wine. It's actually a region producing still whites of distinction (we enjoyed a nice 2012 Soalheiro Alvarino that had surprising richness), rosés, reds, and even sparkling wines.
You like wines with "ripping acid"? Vinho Verde is for you. The Portuguese like to describe these wines as "crispy". (Not just crisp, but with the additional "y".)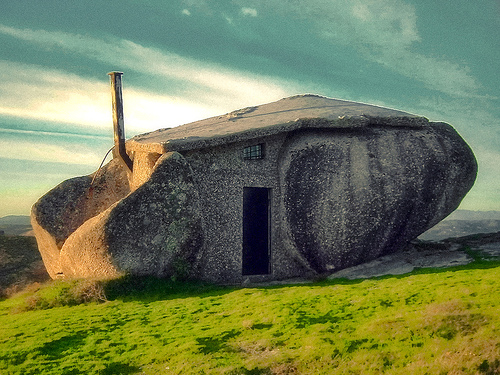 Looking for granitic soils? The Dão region has more granite in the ground than you can shake a stick at. Goldston has never seen vineyards with more granite in the soil. And in the Dão, they don't just use it for their countertops, as you can see in the photo to the left.
One note about the food: "You need to be comfortable with cod," councils Goldston. Prepare to have bacalhau (salt cod) show up in a multitude of forms and dishes.
Looking for the grape in Portugal that Goldston predicts "...will be at the adult's table of great red wines around the world"? His money is on Touriga Nacional.
What wines from Portugal are you excited about?