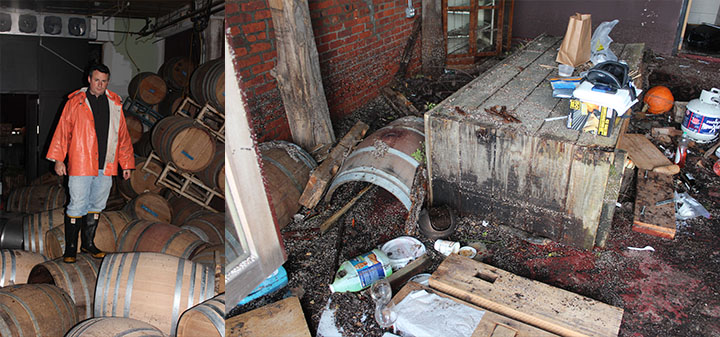 The corrugated-metal gate opens with a tooth-clenching rattle, and there she is, the Statue of Liberty, facing you, New York Harbor lapping against the pier. "You want to know why I started a winery on this spot?" Mark Snyder says, "That's why."
It's all very beautiful and urban and cool. Still, it's hard to forget how those same waters devastated the Red Hook Winery in 2012 when Hurricane Sandy came to town.
Back in 2008, when Red Hook started, I predicted it would fail—and not because of a monster storm. The whole project just seemed too eccentric. Take two of California's best winemakers, the highly eccentric Abe Schoener (Scholium Project) and the highly commercial Robert Foley (Pride), add grapes from Long Island and the Finger Lakes, and make more than 70 different cuvees, retailing from $25 to $55 a bottle. How was that going to work?
Very well, it turns out. The wines were a revelation, showing just what can be done with New York juice.
All of the wines begin with New York fruit, grown in 15 different vineyards willing to tailor their practices to the demands of the winemakers. And the winemakers are important, but—as the French never tire of mentioning—in wine as in real estate it's all about location, location, location.
In the wines made from Long Island fruit, I found a terroir that shines through: It's cold climate. It's maritime influenced. It's minerally. It's strikingly Old World. The Loire Valley comes to mind, as does Northern Italy, especially Fruili. Marry that to California's finest winemaking and you get fascinating wines that are, like New York City, somewhere just between Europe and the U.S.
Red Hook sold out of its 500-case 2008 production and much of the 600-case 2009 vintage. The 2010s and 2011s were happily aging away and the 2012 vintage had just been stored when the storm struck on Oct. 29.
"It was like the winery was a giant snow globe," Snyder says, "that someone had just shaken." There were grapes all over the floor, barrels broken and bleeding wine everywhere, and everywhere the smell of seawater. "I figured it was over."
Within days of the disaster, community volunteers started showing up. The mayor came. New York restaurateurs bought wine. Somehow, Red Hook Winery is back. The only problem is finding wine to sell. Red Hook releases its wines with some aging. The 2009s and 2010s are still available, but most of the 2011s and 2012s were destroyed.
"Not sure what I am going to do about that," Mark Snyder says, "but the good thing is, our wines are getting better and better."
My advice: buy them now, while you can.
----
Read an interview with Red Hook Winery owner Mark Snyder.
"Christopher Barnes: I saw an interview with Neal Rosenthal once, he said something along the lines of he lives in the Hudson Valley, he loves the Hudson Valley, but the Hudson Valley is for growing apples and Burgundy is for growing grapes and making wine. You clearly have the ... an opposite point of view to that. Maybe you can talk a little bit about why you embrace New York wines?
Mark Snyder: Yeah, you mentioned Neal Rosenthal mentioned that the Hudson Valley is for growing apples and not grapes and I could see that argument if you snapshot today. Mention to Neal that 100 years ago, they said that about Napa Valley in terms of growing Cabernet Sauvignon. It's a young region, it's a bustling industry, there's certainly opportunities. You have to look at what is successful from a wine growing perspective and a wine making perspective.
I think we're just really scratching the surface of the potential of New York as a region. I think it's a diverse region. It's not going to be anything like Burgundy or Bordeaux or Napa Valley. It's going to be its own thing. We have to figure out what that is, that's why Red Hook Winery is here ... try and help figure that out. I think when the region first began, they want it to be Napa Valley or they want it to be Bordeaux.
Neal is right in that, it can't be Bordeaux or Napa Valley. What we can do is be New York, we have to figure out what that mean from a growing perspective and then obviously to flesh out the opportunity for wine making in stylistic choices."
Read the full interview with Red Hook Winery owner Mark Snyder.