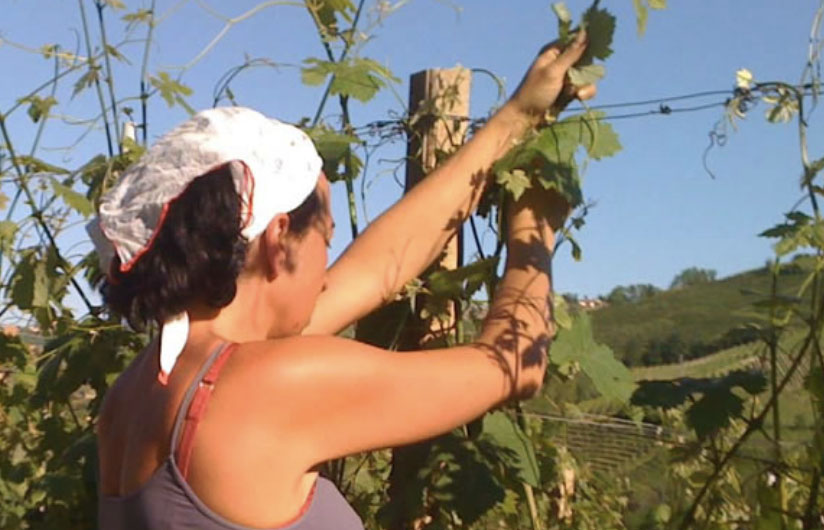 In the early 1800s the Fenocchio family, originally from Monforte d'Alba, moved to Barbaresco where they worked as farmers. Following that tradition Renato and Milva Fenocchio created their own winery in 1993, farming grapes and making wine in Neive, a small town about 10 km from the city of Alba.
The Fenocchios operate several vineyards in the Langhe all with different soil compositions, from calcareous-clayey soils with sandy outcrops in Barbaresco and Treiso, to sedimentary clayey-calcareous marl soils, interspersed with gray-blue sandstones typical of the eastern area of Neive. The 11-hectare farm is operated by the two of them and farmed without the use of herbicides and pesticides.
Grape Collective talks with Milva Fenocchio about the challenges of running a small family business and the philosophical decisions behind their agricultural practices.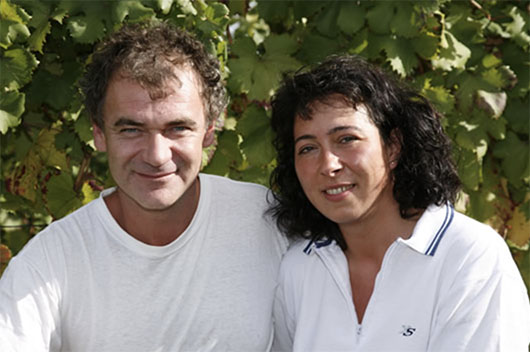 Grape Collective: So Milva, how long has the estate been in existence?
Milva Fenocchio: Our history started in 1993, when Renato, my husband, decided to start a new farm because we are both children of farmers. Our parents still have their own wineries and vineyard, but we decided when we met in 1990 that we wanted to do it together and we wanted to do it without pesticides.
It was too difficult and pretty dangerous to work with our parents, who are relatives and neighbors. We live on the same mill and they have such different ideas. This is why we bought our first vineyard, our first tractor, and everything that was needed for working on our own, because our parents still use traditional agriculture. Instead, we decided not to use pesticides such as fungicide, herbicide and insecticide from the beginning.
For the first years, from 1993 up to 2001, we sold the grapes to other important wineries such as Batasiolo or Bruno Giacosa which is a very close friend of ours. Because we were much younger and totally without money, we had to gain what was necessary for buying everything that was useful for us. So first we needed vineyards and then in 2001 we started producing our first wine, which was the Barbaresco 2001, and we produced 1,349 bottles. I can remember all of them because we had no technologies and we had to work by lending a friend our bottle and the bottle label and prepare all the bottles by hand.
We gave all the bottles we produced to friends as gifts and in the years after, our friends returned to us. We then started selling our wine. That was the first production. Nowadays we are selling most of the grapes we produce and then we produce 27,000 bottles more or less every year.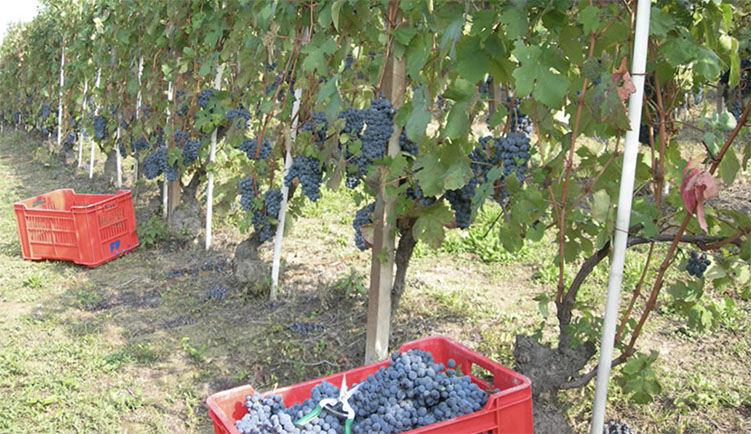 And your parents were farmers.
Yes, they still are.
How was it growing up in a winery, in that culture?
I started working in the vineyards when I was seven years old because my parents always said that it is much better to do two jobs; to study and work in the vineyards rather than do nothing. We started working as very young children and we learned a lot. It was the same for Renato in the sense that he was working on his parents' farm as a child. We both started learning very early on what the soil means, because we think that when you have the soil in your veins, in your blood, you can't go so far from your home.
My parents didn't want me and my brother to do the same work as they do, so I studied as an architect and started working in Venice. I was an architect in Venice, but at the same time I had this idea of working with Renato. At the time, he was working in one of the best wineries in Barbaresco, which is La Martinenga, Marchesi di Grésy, and he learned how to make wine there.
When we decided to work together, our parents were very angry because buying land in our area is very expensive. It was our parents, both families I mean, who for many years went without speaking to us because it was a risk, an enormous risk to them. We were lucky though because we agreed that it was the only thing we could do and we had some friends who helped us. For example, Bruno Giacosa, who is a very dear friend of ours, helped by teaching us about winemaking with as little means as we had at that time. In those years we built the cellar and we built a winery. It took five years because we had to do almost all the work by ourselves and now we are working much better.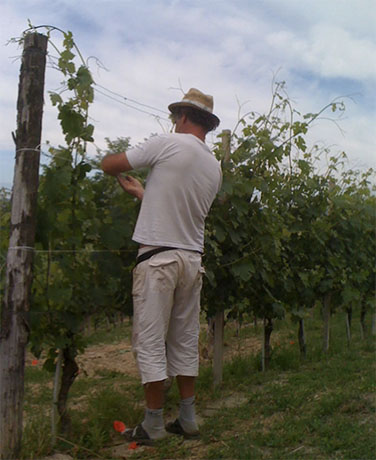 And I guess being an architect you must have had some good ideas about how to build a cellar.
Yes, the drawing was mine and the work the same. We spent the evening of Christmas in 2001 digging under the house because we had to build the tasting room and it was very hard work. You can imagine how hard it was with two very young daughters, but we were happy because at the end we could do it.
Our girls were raised in the vineyards just as we were raised in the vineyards by our parents. Aurora was born in 1999 and Elena, the youngest, was born in 2001. They really were raised in a basket for grapes because we could not have a babysitter and we worked together so they were always with us. This is why we couldn't use pesticides. It was an idea of ours at first and then we had two babies in the vineyard so you can imagine it was not possible to use venoms of any kind. Renato always told me that if the girls were raised with us then they could see the grapes from when they were flowers, and then little and green, and then finally ripe. Of course the girls wanted to taste the grapes and we could not say that they are poison and you can't eat them.
Since your family farms using traditional methods, what did they say when you decided not to use pesticides?
They told us that it was not possible. And not only our families but all the people we know said this. Renato comes from Barbaresco I come from Neive and they are very little towns and you have to imagine that the main problem was the pesticides, the medicine and the information are all produced by the same big companies.
All the farmers are taught by these big companies how to use pesticides, so their idea as well as our parents' idea was that it was not possible to produce without them. Over the years we lost two harvests because we didn't use fungicide, in 2002 and 2006. It was really a problem because you can imagine our family lives on this kind of work, but in the end we were happy because we could work as we wanted to.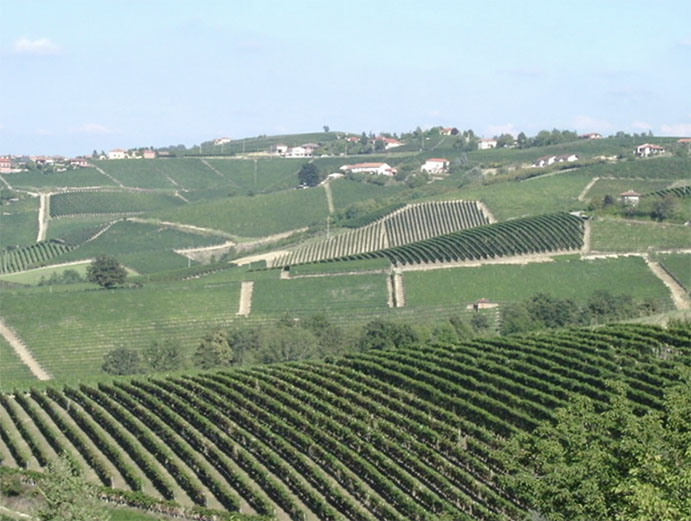 When something like that happens, when you lose a harvest, that's a major event. Do you then reflect and think boy, am I doing the right thing not using pesticides?
Yes, always, always. It happens all the time because the little grapes appear around April 20th, and the harvest is at the end of October, so every time you see a cloud in the sky you think am I making the right choice? But it was the only choice because when we wanted to have babies, we discovered that in the places around Alba, there were 30% more children with disease than in all of Italy. It seems very strange because living in the countryside, everybody expects this type of environment to be cleaner than any other area as we have a lot of big cities in Italy, a lot of industrial places. But 30% more is really a lot.
That is a lot. What did you use to treat the grapes other than pesticides?
We are doing a lot of experiments in the sense that we don't use fungicide, but working without this kind of pesticide means that you have to do a lot of end work more. For example, we have to have all the plants cleaned from the excess leaves. This means four or five times a year you have to do this work of pulling all the leaves out from the trellises, and then you also must have few grapes because it is important the grapes do not touch each other. If the grapes are too close then the humidity during the night or during the storms goes into the grapes and stays there. When the temperature is pretty high it is very easy to develop mold, in Italian "muffa," which is the disease for which you use a fungicide for keeping the skin well.
Then, for keeping the quality high, we do another type of work, which is the selection of the grapes. This is done not only once per year, but anywhere from three to six times a year. In 2014 we did this six times. We have to cut the excess grapes so the remaining grapes are much stronger, the structure is much better, and when the grapes are okay it is much easier to make wine without any kind of chemistry inside.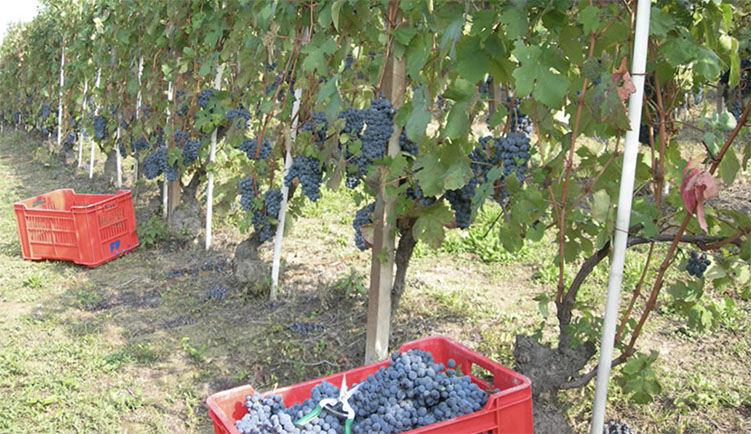 So are your yields lower than people using traditional viticulture and pesticides?
Yes, yes. Another thing is my husband is cutting the grass these days and instead of using the herbicide only once, he has to cut the grass six to eight times per year, so you can imagine how much more work it means. But at the end in the winery, we don't use tannin or gum arabic or other stuff, we only use more or less a third of the sulfites we could use by law, so our wine contains 35 to 38 milligrams of sulfite per liter and no more. The limit by law is 100.
Why did you decide not to use pesticides in your viticulture?
Yes, we decided not to use pesticides because our land was destroyed by pesticides. It is sterile in the sense that in past years, a lot of farmers used too many pesticides, then at the end the plants are not healthy in the sense that you can see they produce leaves, they produce grapes but they are always very, very clear in color. Now, after all these years of agriculture without pesticides, our plants are much stronger. It is just like with people in that when a person uses a lot of medicine for preventing diseases, the person ends up much weaker and so he has to always use more medicine. More and more medicine.
For the plants it is the same thing. If the plant is healthy, it doesn't need any other kind of pesticide, so we can see after 20 years without pesticides that our plants are much stronger than before and it can be clearly seen by the color of the leaves, by the length of the roots, and by the fact that our vineyards are the last ones to lose the leaves in the autumn. Last year, it was so amazing because we have all the vineyards divided into the three bottles that can produce the Barbaresco DOCG and we could recognize our vineyards in the middle of the others because ours were the only ones that still had leaves in the beginning of December.
Fantastic. In terms of the terroir in your estate, describe it.
The climate is changing so much, so it is difficult to talk about, but the terroir is incredible. We live in an area that is very difficult to explain because we have a lot of hills and from one hill to the other, the soil changes. The exposure is very important too. We have this friend, Bruno Giacosa, who is an excellent man and he taught us that there is no vineyard similar to another for the taste, for the perfume of the grapes, and the wine that is produced.
The soil is more or less calcareous in our area. I prepared this map for showing the main differences, but the main difference is in Treiso and in the southern part of Neive, the soil is a bit lighter and there is blue marl and the perfume of the grapes and the perfume of the wine is a bit more delicate, but more elegant. In the northern part, which includes part of Barbaresco and the northern part of Neive, the soil is more calcareous, stronger and warmer, and it gives the wine a particular character of strength and a long finish.
How would you compare Barbaresco to Barolo? I mean, they're both made with Nebbiolo. How are the wines different?
The wine is different because you have to imagine that it is the same plant, the Nebbiolo plant, planted in these two areas. The Barbaresco area is smaller than the Barolo area, it is more or less one third and the Barbaresco production land is not as strong as the Barolo land, it's more delicate and not so warm. The Barbaresco is maybe more elegant and I hope the Barolo producers won't be angry with me, but maybe more elegant and easier to drink.
The Barolo wines have a structure that can't be achieved by Barbaresco because they have a very strong soil, calcareous, very warm and the tannins are much more important than in the Barbaresco. This means that they need, for example, one more year of wood aging than the Barbaresco and the Barolo has great strength.
How has the winemaking and the viticulture evolved over time?
It evolved a lot in the sense that when we were children, the quantity produced was much bigger than now. I remember we harvested the Nebbiolo plants in November because the quantity of the grapes was so much that it was not possible to have all of them ripen by the end of October.
Now, the quantity of grapes left on the trellises is much lower and so the tannins are much more ripe. This means that the wines are ready sooner. When we were younger, it was not possible to taste the Barbaresco or Barolo until at least 10 years after the harvest. Now, the Barbaresco is ready three years after the harvest and the Barolo four years after the harvest.
They are wines that have to be aged more in the sense that the more they are aged the better, but they can't be tasted. You can imagine then in terms of pesticides, now we are seeing that there is a green movement which is developing. We started using no pesticides about 19 years ago, now there are farms that are trying to do that and people are trying to spread the right information all around.
We hope that in a few years a lot of other farms will start using no pesticide. It is not easy because it means a lot of hand work but we think that it is the only way.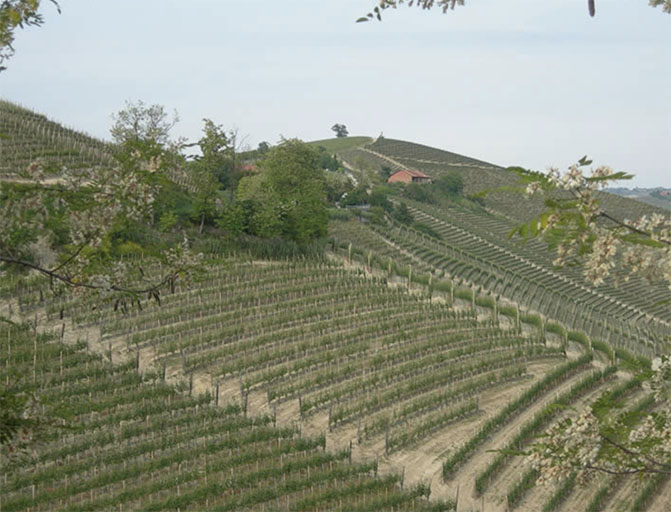 Did you explore processes like biodynamics and the kind of treatments that go along with that as part of this push to use no pesticides?
There are some farms that are trying to do that but no. We are trying to learn something about that but it is another kind of philosophy and now I think we are focused on our way of not using pesticides.
Tell us about the different wines that you're making right now.
Yes, we are making the classical wines of our area so, Dolcetto d'Alba, Barbera d'Alba, one blend which is called Aurora and then we produce Langhe Nebbiolo and two Barbarescos. Then we are making experiments because my husband is always full of ideas and so he wants to play. Now he's preparing a white wine with fermentation on the skin. More or less we are more focused on red wines because we were raised with red wines and they are the wines of our land.
For example, the Dolcetto D'Alba is produced and used in 100% Dolcetto for Dolcetto D'Alba. It is a very young wine produced using no wooden barrels so only stainless steel tanks. We also produce the Barbera D'Alba, which is done using only Barbera for Barbera D'Alba grapes and it stays up to eight months in traditional French barrique. It is the only wine we produce that stays in French barrique.The name of this wine is Elena because our daughter drew the label. We also produced the Aurora, which is a blend, 70% Nebbiolo and 30% Barbera D'Alba.
We produce a Nebbiolo-based wine, the Langhe Nebbiolo. For this wine, the DOC allows us to use up to 50% of the different kind of wine than what is on the label. Normally farmers use 50% of Barbera, Merlot, or Cabernet because Nebbiolo is very light in color, and it is important to some farmers that the Nebbiolo be darker, but we use only 100% Nebbiolo for Barbaresco grapes and we don't use wood at all. It is only kept in stainless steel tanks.
What is the white grape that you have planted?
We planted some Riesling and Viognier and we are making some experiments with that. We have vineyards of Arneis, given to us by my parents because now that they are getting older, they are understanding that we made the right choice so they are giving some vineyards to us.
That's very nice, I guess that's sort of very affirming of the choices that you made.
Yes, we are very happy because I was raised in these vineyards and now we can work these vineyards as we want to, so it is really a good experience.
I think people more and more are embracing food and drink that is free of chemicals. It seems like you were well above the curve, you started before this whole trend of natural foods kind of evolved, which is nice.
Yes, yes, we are happy and it seems that people are understanding our wines are really handmade without pesticides and by two people. I think it is important when you know the producer who is behind any kind of food produced.
And it's just you and your husband and one other person managing this with your daughters helping?
Yes.
That's a lot of work.
Yes, for sure because we work more or less 360 days per year, but I think that when you love your work it is not so hard and okay, we have a lot of responsibilities, you know it is good. The farm is our third daughter but the difference is the other two, Aurora and Elena, are older now and they can take care of themselves. The farm will always need to be cared for by us as a baby.
Tell us about the two Barbarescos that you produce.
We have vineyards of Nebbiolo for Barbaresco in five different Crus. In Neive, Barbaresco and Treiso, for example we have vineyards in Barbaresco in a place called Nicolini, then we have one in Treiso and little vineyards in Ausario in Treiso and we have more vineyards in Cru Starderi, which is one of the best places for the production of Nebbiolo for Barbaresco.
Right now we produce all these kinds of wines separated from the fermentation to the end of the aging process, and then we decide how to mix these different wines for producing the normal Barbaresco. It is a Barbaresco base, which is a blend of different Crus. It is aged for one year in 1,000-liter wooden barrels of Slavonian oak, and it is a bit lighter but more balanced than the other one.
Then we have our Riserva which is the Starderi Barbaresco. It is a single vineyard so all the grapes for producing this Barbaresco come from the Cru Starderi Neive. The stature of this wine is so strong that it needs longer aging so it stays for 21 months in 3,000- liter wooden barrels, always Slavonian oak. I think that the first wine can stay in the bottle for 15 years because it's well-structured, but it is not as strong as the Starderi which can stay in the bottle for 20 to 25 years.