Armenia, one of the world's oldest wine-producing regions, has a rich winemaking history dating back thousands of years. In recent decades, the country's wine industry has experienced a renaissance, thanks in part to the efforts of passionate individuals like Vahe Keushguerian. As an entrepreneur and advocate for Armenian wine, Keushguerian has played a significant role in revitalizing the country's viticulture and putting Armenian wines back on the global wine map.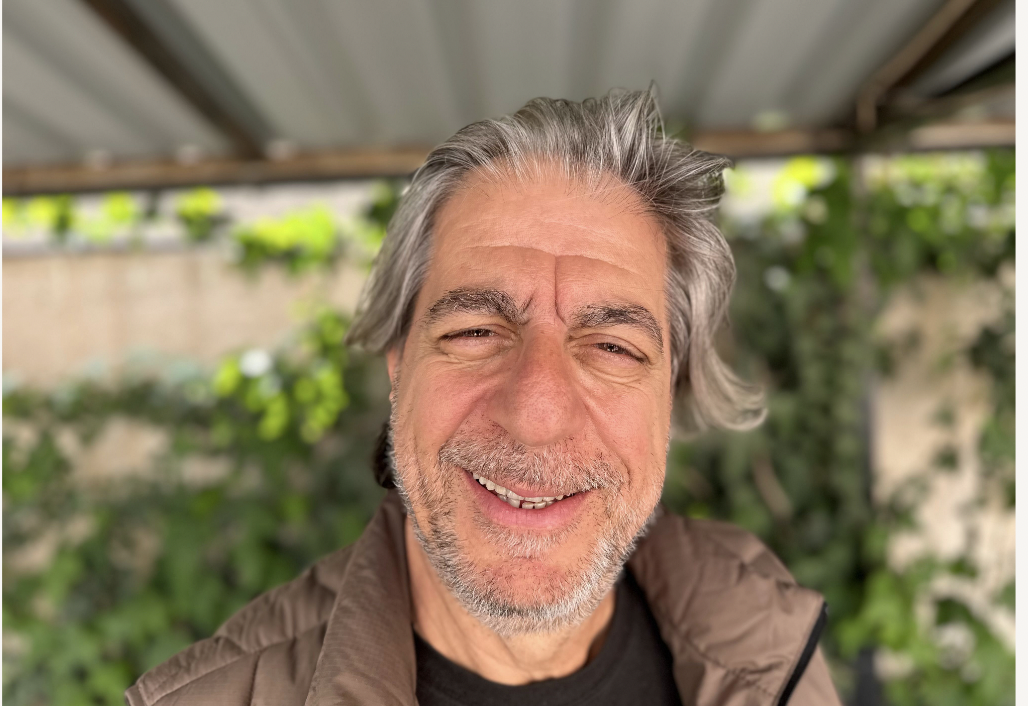 Keushguerian was born in Syria to Armenian parents, raised in Lebanon, then lived two years in Italy, before moving to the United States. His parents instilled in him a deep appreciation for his cultural heritage, including its winemaking traditions. His personal connection to Armenia and its wine culture inspired him to embark on a mission to restore the country's winemaking reputation and bring its wines to the world stage.
One of the essential aspects of Keushguerian's vision was to focus on indigenous grape varieties that had been cultivated in Armenia for centuries. These local grape varieties, often unfamiliar to the international wine community, were the backbone of the country's winemaking heritage. Keushguerian recognized the importance of preserving and promoting these grapes as part of Armenia's identity and authenticity in winemaking.
In addition to focusing on traditional grape varieties, Keushguerian also aimed to modernize winemaking practices in Armenia. He implemented state-of-the-art technologies and worked with skilled winemakers to improve wine production techniques. This modernization, combined with respect for tradition, enabled the Keush Wine Company to strike a balance between innovation and heritage, producing wines that appeal to both local and global audiences.
Keushguerian's efforts also extended beyond his winery. He actively promoted Armenian wine culture through educational programs and events, highlighting the historical significance of winemaking in Armenia and its relevance in the modern wine world. By organizing tastings, seminars, and collaborations with other winemakers, he fostered a sense of community among Armenian winemakers and encouraged knowledge-sharing to elevate the overall quality of Armenian wines.
As a result of Keushguerian's efforts, Armenian wines have gained recognition and have begun to attract wine enthusiasts and experts from around the world. By focusing on indigenous grape varieties and combining traditional organic methods with modern techniques, Keushguerian successfully brought Armenia's wines to the global stage. Through his pioneering efforts, he became a driving force behind the renaissance of Armenian wine, leaving a lasting impact on the nation's winemaking legacy.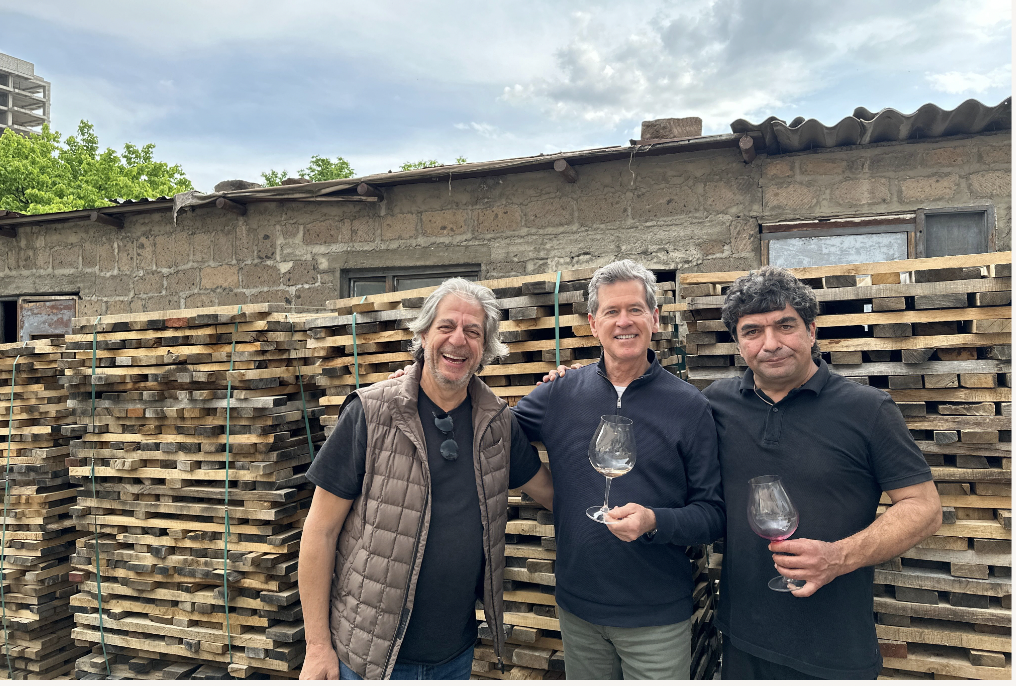 Grape Collective: How did you get involved in the wine business?
Vahe Keushguerian: How did I end up in wine? I started early on. I was 19. I lived in Italy, and that's when I discovered wine, the Italian wine, Chianti. Then I went back to the States, I went to college and then became a restaurant manager. I opened my own restaurant. That was in 1985 or so, when I had early access to wine, buying for my restaurant. I then made a bigger restaurant. I got more involved, and at some point I fell in love with the whole idea of wine.
(L to R Vahe Keushguerian, Paul Hobbs)
I started importing wine. I left the restaurant, I sold my share, and I started importing wine from Italy, from France into California. And I think that wasn't enough. I had to live in Tuscany. So I packed up my family and we went to Tuscany. It was the dark days in '94.
In '94 every property was for sale in Italy. So I leased vineyards. I leased a winery. I started making wine. I went to Puglia and made wine there. So that's how I got involved. Somewhere around '96. In '97 I came to Armenia to visit as a tourist, and I was told that this is where everything started.
This is the ground zero of winemaking, the history of winemaking, of viticulture. So I fell in love with the idea. I came here to buy land and planted vineyards 20-some years ago. I came back in 2009 and I've been here ever since, making wine for myself. I have an incubator winery and I make wine for other people who have vineyards and want to make wine. So roughly for 30 to 33 years I've been involved in wine.
Tell us about the origin stories surrounding Armenian wine.
So how did it happen? Why Armenia and how come some people consider Armenia to be the origin of wine where it all originated? Well, there are two routes. One is the mythological, which normally is based on something in history that has happened. Noah went on the Ark, the flood, and then it landed on Mt. Ararat, which is the highest peak in this plateau.
Then he came down and the first thing he did was plant a vine. Then, of course, everything is fast, very quick in the Bible. He planted vines, made wine, got drunk and so on and so forth. So that's the mythological, and it might be that there is some basis to that. There must have been flooding somewhere around here and so on and so forth.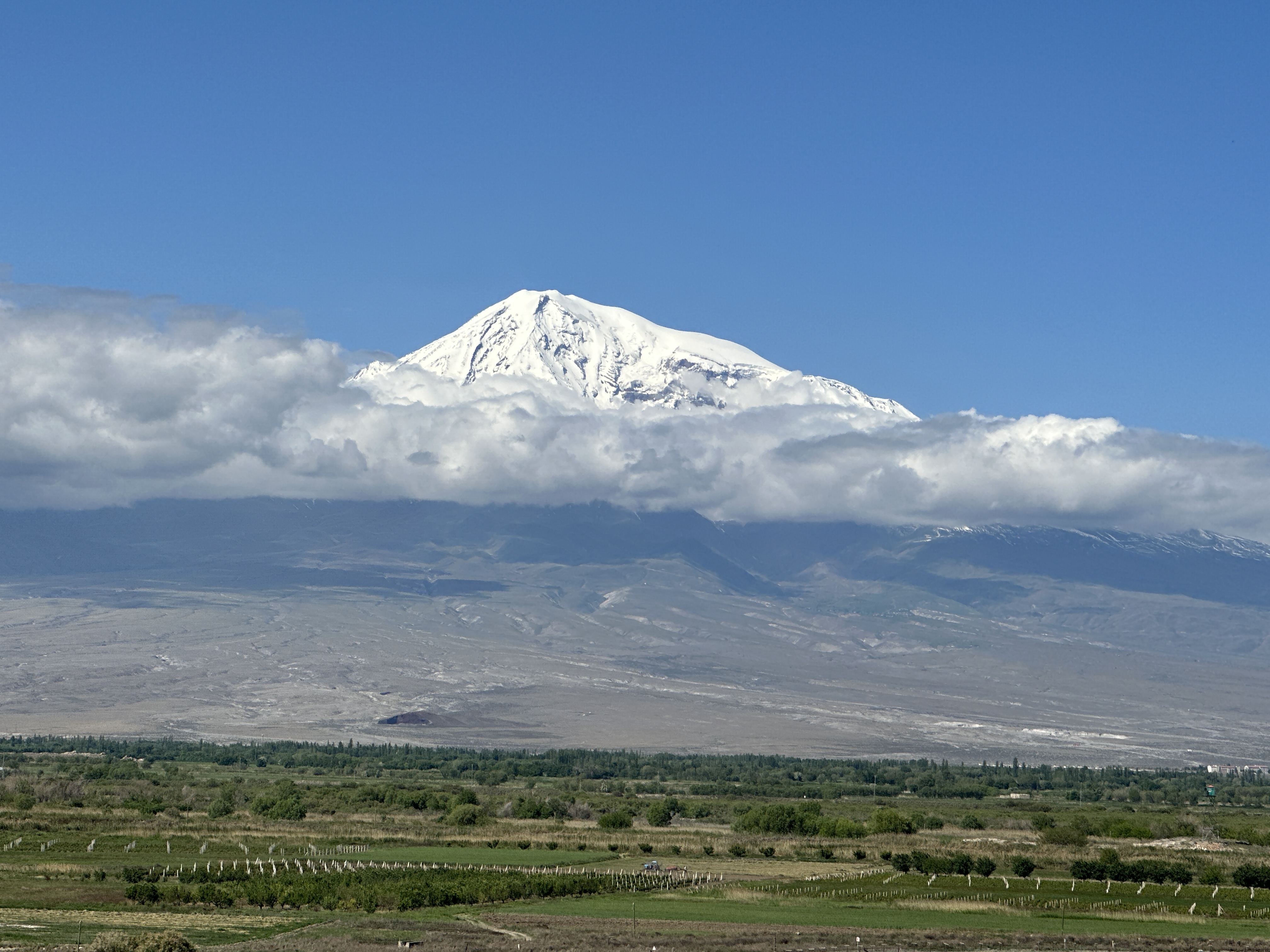 So there's some truth. I mean, of course it's not true. You know, everyone has their own interpretations. But the truth remains that we talk. We have the oldest winery in the world which is in Areni - 1 Cave, and that carbon dated 6,100 years as the oldest evidence of winemaking.
We found pips, stems that were petrified. So with carbon dating they figured out 6,100, so that 6,100 years of systematic winemaking it means big amphora, medium-sized amphora, our small amphora. And I don't think you go from zero to amphora in two years so let's add a few hundred years, if not a thousand years on that to reach that point.
So we thought about 7,000, 8,000 years of winemaking. Two months ago Science magazine published an article which was a big collaboration between scientists from Armenia and around China. And they dated it to 11,000 years. So now it is 11,000 years ago. It is from these foothills, not Armenia proper, because they can't identify exactly, but it was the foothills of Mt. Ararat—could be Georgia, could be northern Iran, could be Armenia.
From here the vitis vinifera emigrated to Western Europe, apparently in parallel from Eastern Asia the table grapes, eating grapes, also did independent of each other. So there's two families and this was just published. And so we go back 11,000 years. Eleven thousand years, we might say what's the big deal? It's a huge deal because it means that somehow the grapes grown here found fertile land, fertile not in the quantity sense, but that it had high acidity. They had the right terroir to make the wine, and these wines were coveted. And there's history. Herodotus said Armenian merchants took the wine to Babylon and so on and so forth. So that makes it a patrimony of sorts, not ours, but global patrimony. And the last maybe ten years is when this sense of discovery, experimentation came into it.
So there were thousands of years. Then we had around 78 years of Soviet rule where they cared, but they didn't care that much about the varieties. They wanted quantity. They needed to take wine to Moscow, to St Petersburg. Armenia, Georgia, Moldova, Ukraine, and had to supply all of these grapes to go to Russia.
So now since independence and especially the last 12, 13 years, this wine renaissance has happened in Armenia. And now we're rediscovering what we had and what's good to keep, what we need to work on. So that's the story overall.
Now we have around 100 Armenian varieties that are genetically fingerprinted. In the old days if you opened the book, there was a drawing of a leaf, the bottom of the leaf, the bunch and then the description of the bunch. That's how we said, oh, this is Areni, oh, this is the other clone of Areni. Now we're saying this is a clone of Areni and this is the clone of Voskehat.
It's a wonderful thing that, you know, it took 11,000 years to come here. Now how long hopefully will take another few thousand years. Our job now in this decade for two generations is to make great wine in Armenia. It is as simple as that.
Talk about the indigenous varieties in Armenia.
So I guess that's the big question. Why not Pinot Noir, why not Riesling? Why Armenian varieties? It's very simple. It's very clear. Some comparable fruits. Better than if not, we know in Burgundy there is incredible Pinot Noir, not many others can grow it. I have some places in California where you can make it, but none will reach the greatness of red Burgundy. Chardonnay is a chameleon. You can have it cheap and you can have Montrachet. We have made Chardonnay and it hasn't worked here. It wasn't bred for these lands. We have very different soils and it's very different from Burgundy and very different from Champagne because of the climate. The harvest time to hang from the acidity, the soil, it just doesn't lend itself to it.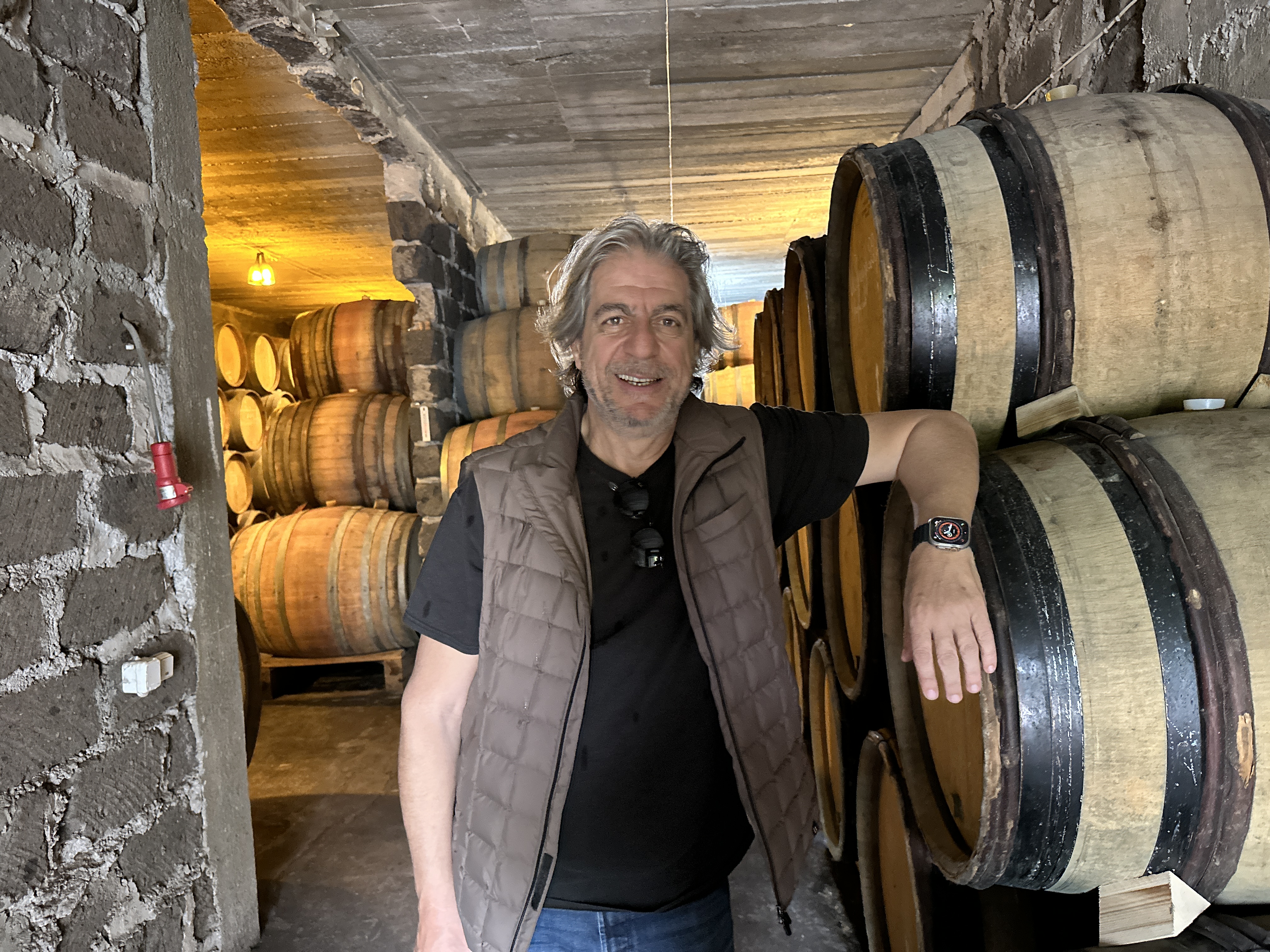 So we can experiment. That's not a bad thing to experiment and see that you can plant, plant Merlot, plant Syrah here. It's good to experiment, but the odds are against them. They're stacked against them. We use Armenian varieties for the basic reason that they were selected not scientifically, but fruit growers, farmers, whoever lived in this part of the world, saying the wine from this variety ages better, the wine from this variety is fresher. The wine from this variety I have clients ordering maybe from royalty or from Babylon or other parts of the world.
And so the reason they want it is because the wine is good and it can age and it can keep, that's the reason they want the wine. So now we don't want to invent the wheel. So what we're doing now is experimenting with these varieties which have natural acidity, they have structure, they don't rot perhaps.
Is the world a better place if we have another Cabernet Franc from Armenia, will it change anything? You know, will it change a lot? And we have a great idea you can do Areni, Chilar and all of these varieties because we want things that our palate isn't used to.
Once you drink the great Riesling from the top vineyards in the Mosel you will never go back because it's an experience, same in Alsace. And you try to prove that you can do the same wine. Riesling in Armenia…you can try. But the odds that Armenia is going to make great Riesling are really, really minimal.
But will we make great Voskehat. Absolutely. We have experimented and we know the results. Once we do clonal selections, we know the right vineyards, we understand the nuances of these parcels from that parcel. Then we will start making some world-class wines. We're making very good wine styles, classy wines, some by chance, some by design.
In another couple of decades we will have some really beautiful jewels because of three things that we have that normally we don't have everywhere and we don't have it absolutely anywhere else in combination. One is high-elevation vineyards. We have them. Secondly, we have volcanic soil and we have a lot of indigenous varieties. You throw them all together and now we are a very unique product that no one will say, "Oh, this looks like a Cabernet from Chile." They taste round, sweet, and international. In Armenia, you would not have that because they're unique and that is the reason that we should invest in our varieties, work with our varieties, perfect our varieties and to make great wines.
Why shouldn't the drinker in a nice restaurant in New York not have the opportunity to have a beautiful Areni? It's gorgeous. It would be similar stylistically to maybe Brunello, for example. You know, why shouldn't they have this? They should, because it's more fun at the end of the day.