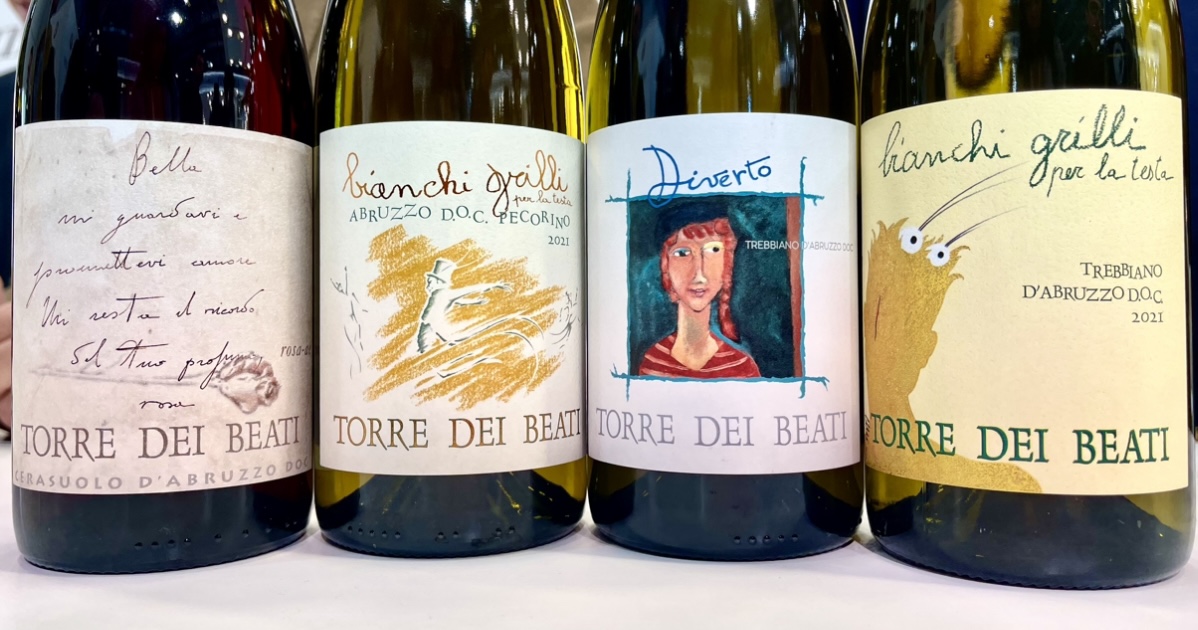 Torre dei Beati is a winery in Loreto Aprutino, a charming hilltop town in central Italy's Abruzzo region. In 1999, Fausto Albanesi and his wife Adriana inherited a small parcel of family vineyards, sparking a shared passion that changed their lives. At the time, winemaking offered a creative escape from their day jobs, with Fausto employed as an engineer and Adriana as an accountant.
Their journey towards full-time wine production spanned 17 years, and today, Torre dei Beati produces some of Abruzzo's most noteworthy, terroir-reflective wines. The winery's 52 acres of native, organically-farmed grapes are planted between 800 and 1,000 feet above sea level and about 15 miles from the Adriatic Sea.
The hilly vineyards rise towards the Gran Sasso d'Italia, the highest mountain in the Apennine range. This location provides the vineyards with daytime warmth carried by sea breezes and nighttime coolness descending from the mountains, an occurrence that is accentuated during the last month of grape maturation when the Gran Sasso's peaks are already covered with snow.
Grape Collective met with Albanesi in April during Vinitaly, the world's largest wine fair, where he was presenting the new vintages to an international gathering of wine trade members.
Lisa Denning: It's great catching up with you in Verona at Vinitaly. Why is it important for you to have a booth?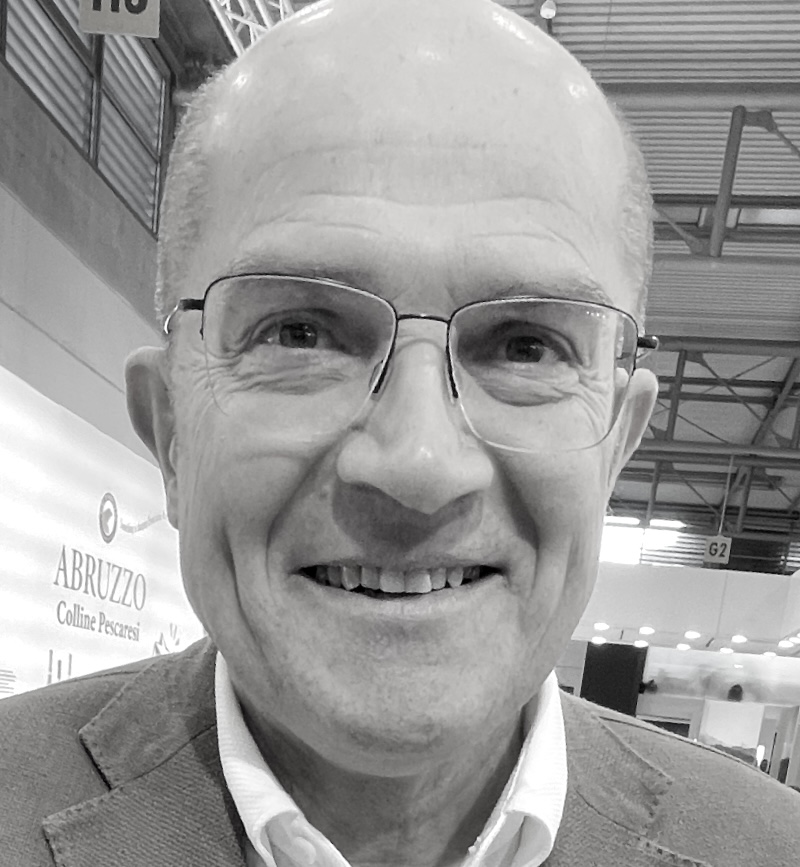 Fausto Albanesi: Vinitaly helps because you meet people, talk to people, present new vintages, meet customers, and try the wines together. You don't do the actual business here anymore, but being here is important. Our job is as farmers, working in the vineyards, so it's a pleasure to come to a place like this to show our wines and see the response from the people who try them. It's good to see what else is on the market too, not that it changes my style. I would never do that. I would feel like a betrayer of the land to make the same wine as others when our vineyards are so different.
Can you tell me how you got into winemaking?
Adriana's grandfather was very traditional, and he left almost everything to his sons because they were the males of the family. We inherited a very small part of the land, about seven hectares, with an old house. We started this adventure together in 2000, and in the beginning, we continued working at our other jobs. It was a lot of work, but it was a labor of love, and we found that we really liked making wine. Wine has always been my passion. My wife and I met at sommelier courses in Sicily, drinking sweet wines.
Officially I stopped working as an engineer seven years ago, and it was very scary at the beginning because I used to work at a research center and worked with people that spoke the same language, and then I changed everything, including the people I would be working with. But when you work at a huge company, you are a small piece of a large puzzle, whereas at the winery, I build and do everything, from deciding which labels to use to building iron doors at the winery.
We started with red, Montepulciano d'Abruzzo, and we only use indigenous grapes, no international varieties. After seven years of working in a small space, we built a new, larger winery and planted new vineyards, so it's been an adventure that has happened slowly and carefully. Our winery is simple and focused on making the best quality wine. We work in a way that will leave this land intact and alive for the next generations. We now have 20 hectares, so we've grown, and our total production is around 100,000 bottles per year.
What factors make Lorento Aprutino so suitable for growing high-quality wine grapes?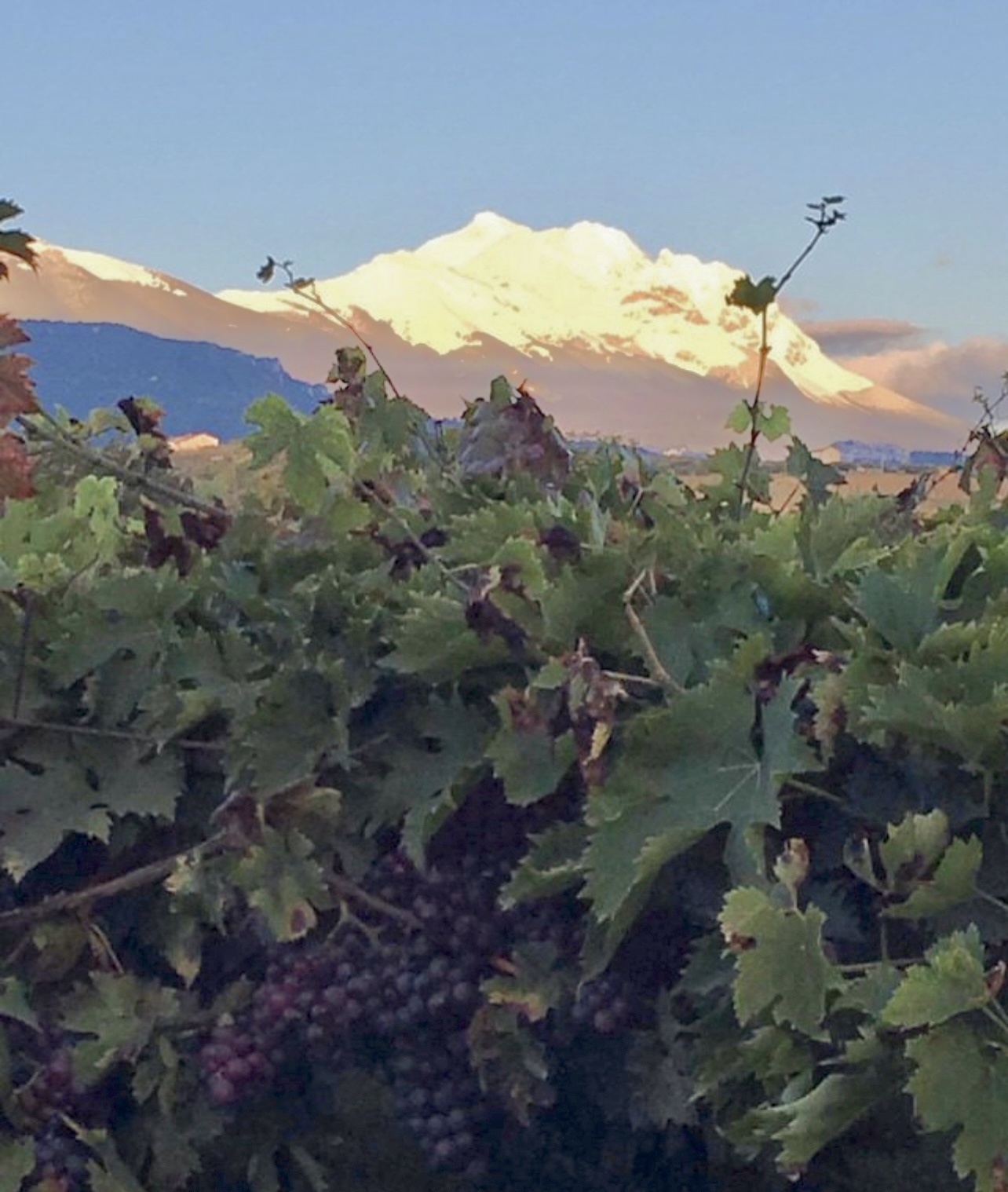 Loreto Aprutino is a small town close to the southeast peak of the Gran Sasso mountain range, the Monte Camicia (2564 m). The Tavo River comes down from the mountain in a northwesterly direction, and right on the southern side of Loreto Aprutino, it changes direction to the northeast. From there, the river reaches the Adriatic Sea in just 20 kilometers through a very straight valley.
The closeness between sea and mountain, connected through this straight valley, is the secret of the renowned Loreto Aprutino wines. If you were here now, you could feel the wind coming up from the sea to the mountain, while at night, a colder wind comes down from the mountain towards the sea. That means a good night versus day temperature range which keeps the acidity and freshness of the wines, even though the alcohol can be high.
On the other side, if you were here looking out the window, you would see the landscape. It may seem just like a rhetoric speech, but I think the wines truly express the character of the man making them and the landscape. Here in Loreto Aprutino, you cannot find the steep slopes like in the south of Marchè or the north of Abruzzo, nor the flat black soil you see in the region's south.
All the hills around here are green, round shaped, and "relaxed," never so steep, threatening, or harsh. The soil is mainly clay, retaining water. The consequence is that the wines here are mostly about freshness, complexity, and elegance more than black color and jammy taste.
Can you tell me about the winery's name?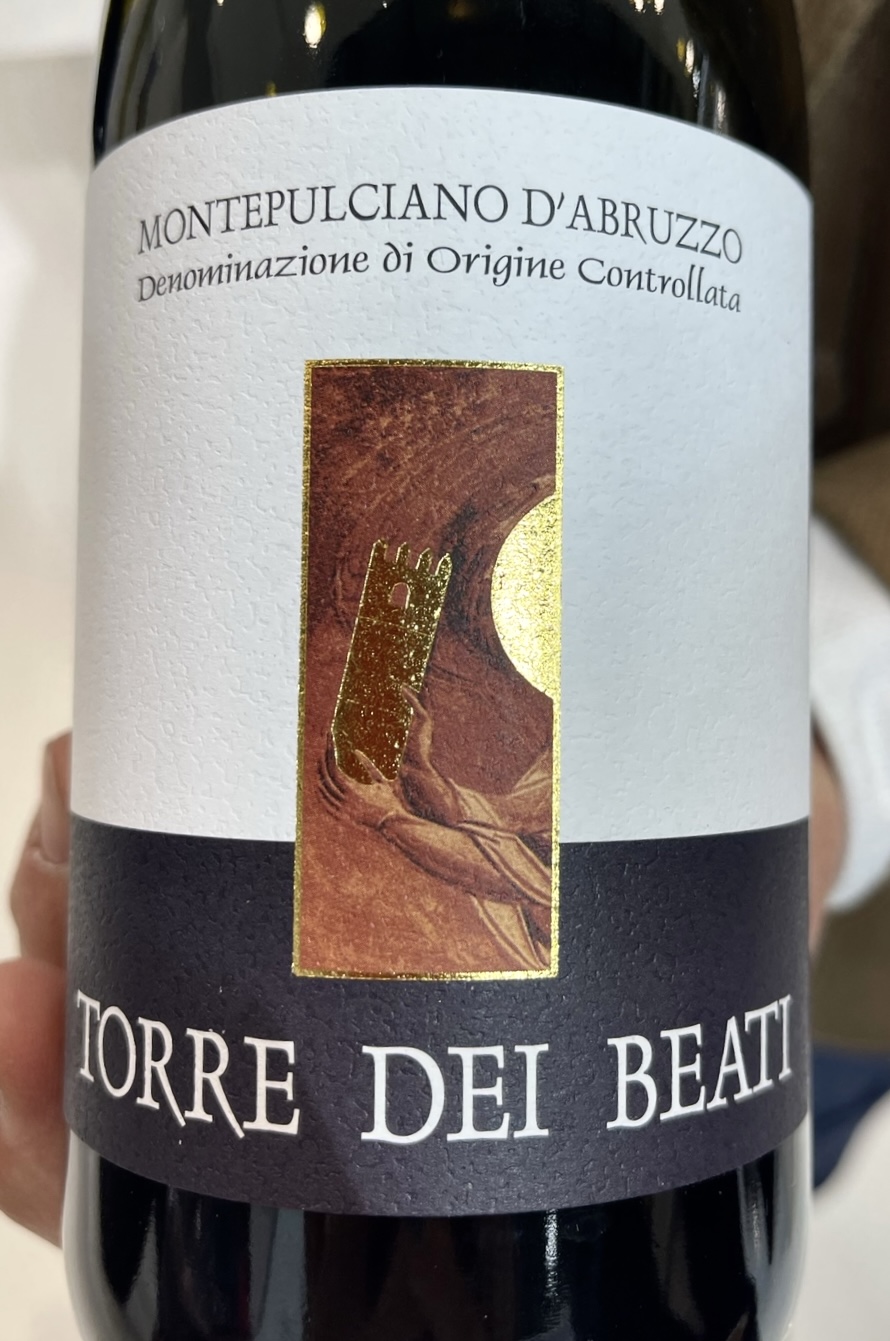 We named the winery Torre dei Beati because there is a church in our town with a large 14th-century fresco on the wall. It's very famous. The story is that many souls need to go through several steps to reach the final tower, but when they reach it, they go to heaven. Torre dei Beati means Tower of the Blessed, and this parable embodies the core principles of our business, a passion for expressing the true essence of our grapes through careful work in the vineyard and winery.
Speaking of careful viticulture, have you always practiced organic farming?
Yes, in the 90s, we converted everything to organic from the land we inherited, which Adriana's grandfather didn't farm organically. 2014 was a tough vintage for organic wine growers. Now there are more organic products we can use to help fight diseases in the vineyards. At the same time, the climate is changing, so new challenges are coming, and old challenges are coming back, so we have to fight looking forward and backward.
Can you tell me a little about Montepulciano d'Abruzzo?
Montepulciano is a very important grape of Italy. It was born in the heart of Abruzzo, and in its native region, which is a very green region, it is able to combine a good yield with outstanding quality. It gives good acidity, good alcohol, dark and stable color, and intense fruitiness, turning into deep complexity while aging. It also gives a very peculiar rosé, the Cerasuolo. Not all the great red grapes give great rosé wines.
The area for the Montepulciano d'Abruzzo DOC cultivation is huge as it is spread on a large surface ranging from the border to Marchè in the North to Molise in the South, from the sea to the mountains. So it is easy to understand how many different expressions you can find from the same grape variety inside such a huge area.
Elegance is the main challenge for the Montepulciano winemaker. Montepulciano is a generous grape, but it can also make wines with a reductive character. What I do to avoid that is aging all the reds in French oak barriques of different ages to try to let the wine breathe in a natural way. I see that this expensive process brings the wine to a clean and elegant style and to a natural stability. It allows me to avoid further intrusive operations like clarifying and freezing and to bottle in a very natural way.
You produce two white wines called "grilli per la testa." What does that phrase mean, and what are the wines like?
In Italian, when you say you have "crickets on your head" (grilli per la testa), you mean that you have unusual, strange, crazy, or original ideas.
The most common style for Trebbiano and Pecorino wine is to sell them very young, as soon as the appellation rules allow it. My crazy idea, the cricket on my head, is instead to release these wines (Trebbiano bianchi grilli per la testa and Pecorino bianchi grilli per la testa) when they are really mature, normally a year and a half after the harvest, which is a much longer time than usual. It is not a free-of-charge option because to release these wines after this period, you have to "build" them for this purpose, starting in the vineyard.
Besides the Trebbiano bianchi grilli, I have another Trebbiano that I released for the first time this year (the 2021 vintage) in a very small quantity. The vineyard is not in Loreto Aprutino but in Francavilla al Mare, close to the sea. The soil there is completely sandy and on a very steep hill. This gives me smaller berries containing less juice than you typically get from Trebbiano. The wine has more body and "verticality" and different complexity. It is aged for one year in ceramic barrels and is named Diverto. It will be imported for the first time in NY in October. The quantity is just 2,000 bottles, so I didn't print any brochure or tech sheet about it to avoid pushing sales.
You also make another white wine from Pecorino with flowers on the label, correct?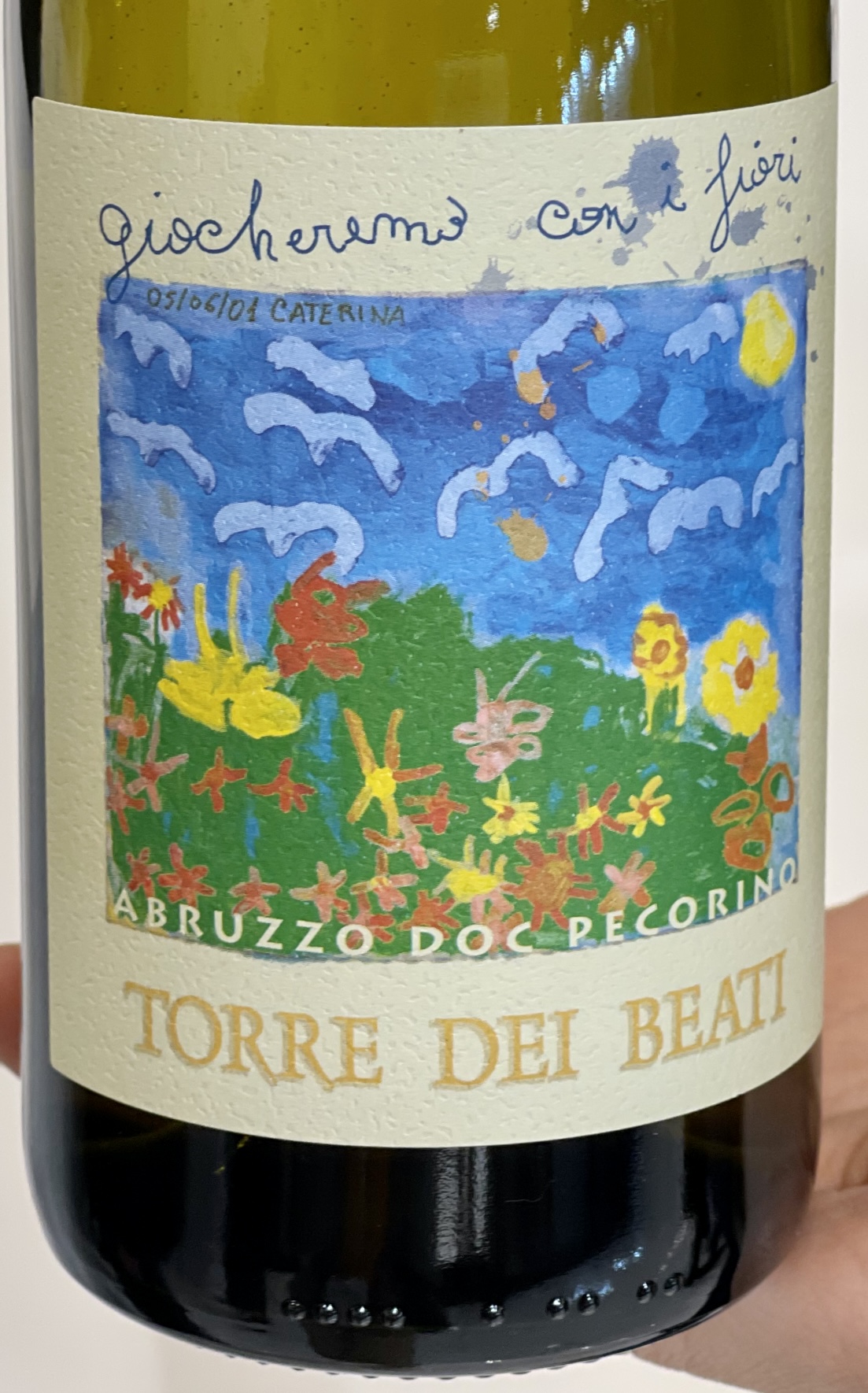 My grown daughter made the label in preschool when she was three. The name, Giocheremo con i Fiori, means "We will play with flowers." This wine is very flowery and fresh. It has a lot of freshness and acidity, and it's a very small production and only aged in stainless steel. The alcohol level in the 2022 is 14%. It was a very hot year, even hotter than 2021, which was also a hot year.
Can you tell me about your Cerasuolo d'Abruzzo?
Cerasuolo wines are considered rosé wines, but they differ from what people think rose wines should be, the light Provence style.
Cerasuolo d'Abruzzo DOC is the name of the appellation. It is not the name of the grape; it is just the name of the color: cherry. We are not allowed to write the grape's name (Montepulciano) on the label. If I did, I would get a 4,000 euro fine.
And you know why? Because it's true! In Italy, you cannot say what is true!
It's because of the crazy "war" between Tuscany and Abruzzo for the name Montepulciano. According to EU regulations, the appellation's name must be the geographical name. In Tuscany, the appellation is Vino Nobile di Montepulciano, with Montepulciano being the town's name. In Abruzzo, Montepulciano is the name of the grape, not the geographical location. After years of lawyers, they allowed us to use the word Montepulciano, but only in the name of the appellation, i.e., Montepulciano d'Abruzzo, but not on the label as the grape's name. So to find out the grape for the Cerasuolo wines, you have to go on the website and look for the regulations, which is about 70 pages long, and on one line, you'll see Montepulciano as the grape for Cerasuolo.
I think of your Cerasuolo as a light red. It's darker in color than other Cerasuolos I've tasted.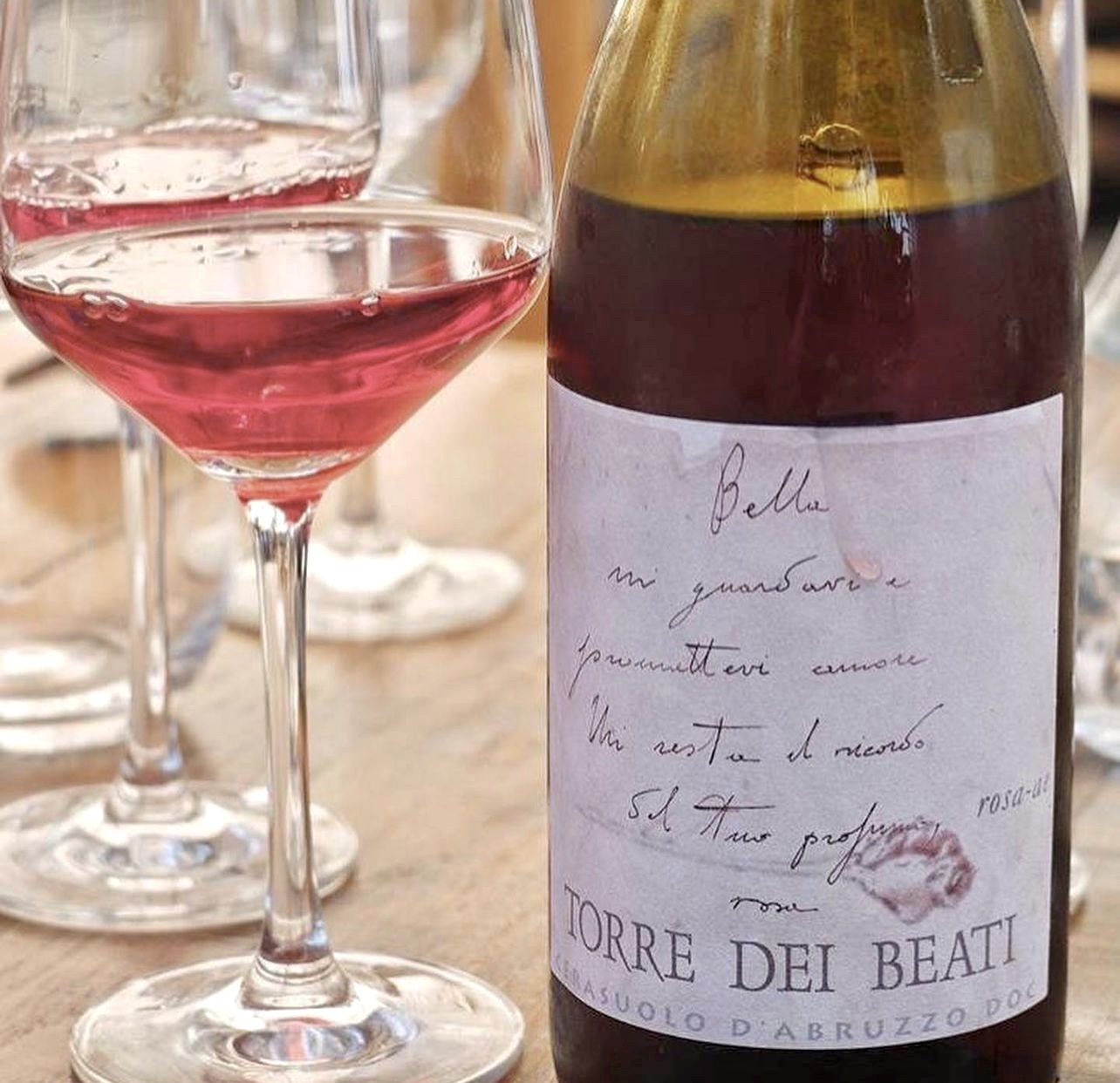 The trend in our region is to make more French-style rosés, lighter in color and body. It's like a betrayal of our tradition. I would say if you are following somebody else, this person is first, and you are second. I think it's crazy to try and be like somebody else. It's much better to improve the quality and image of your own product. Cerasuolo is a unique wine, and for our Cerasuolo, I keep the traditional full-bodied wines. The red wine is fermented in stainless steel and then spends 15 months in used 4-year-old French oak barrels.
Do you have a favorite vintage?
Normally I define 2020 as the perfect vintage. I've never seen a vintage with such balance, hot but not too hot and with rain at just the right moment, and never long periods of rain or drought so the vineyard never went under stress and the harvest was at a normal time, at the end of October. The maturation of the grapes was at the same time as the polyphenols. So the wines have great acidity and freshness. They are the best wines in my winemaking career.