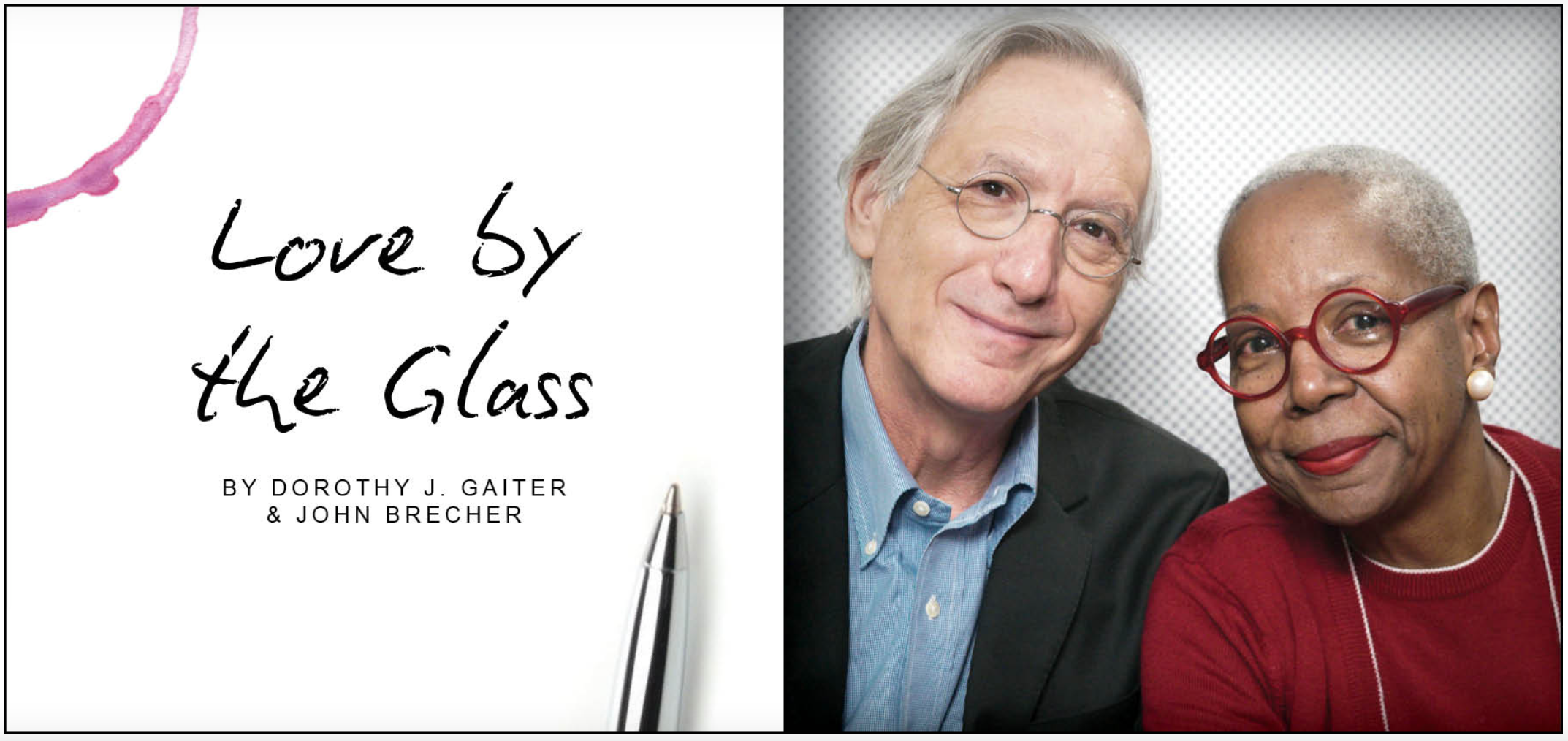 We recently returned from the International Pinot Noir Celebration in McMinnville, Ore., a gathering of about 1,000 winemakers and passionate wine lovers from all over the world. We delivered the opening address, attended most of the large events during the three days and then spent a bit of time wandering around the spectacular vineyards of Willamette Valley.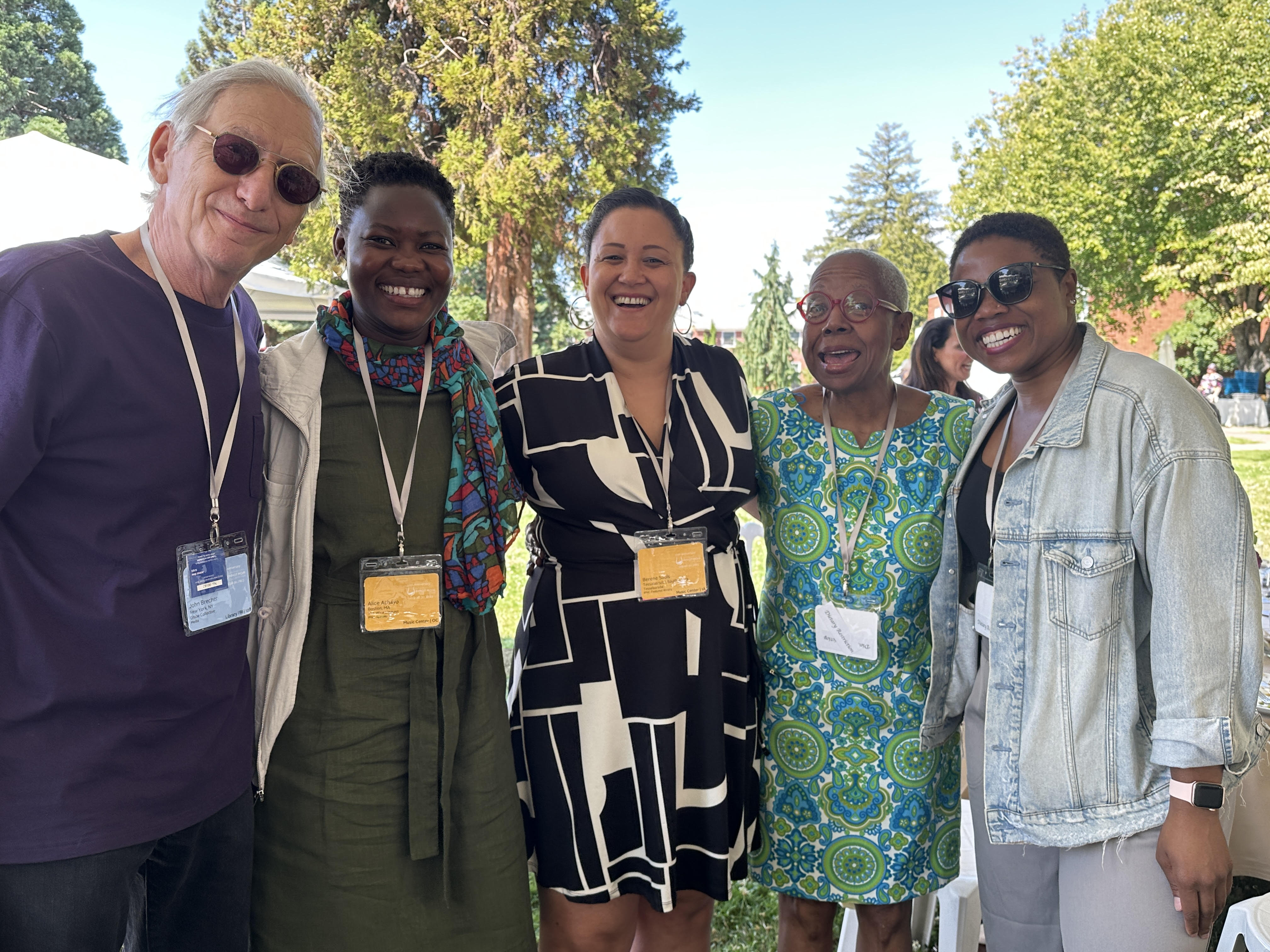 While IPNC, which began in 1987, especially focuses on the winemakers and chefs and farmers of Oregon, the 70-plus featured wineries are from many countries. How many chances will we ever have to meet, in one place, Laura Catena from Argentina (Domaine Nico), Berene Sauls from South Africa (Tesselaarsdal), Kathy Joseph from California (Fiddlehead), Nigel Greening from New Zealand (Felton Road), Susan Sokol Blosser from Oregon (Sokol Blosser), Chisa Bize from France (Domaine Simon Bize et Fils) and so many more?
(John; Alice Achayo (The Wine Linquist); Berene Sauls (Tesselaarsdal Wines); Dottie and wine writer Chasity Cooper)
We have been enjoying wine from Oregon for decades, but this was the first time we attended IPNC. It's awesome, and if you are ever able to attend, you should (an all-events ticket for all three days costs about $1,600). We came away from the celebration– which included seminars, tastings, a traditional salmon bake on Alder spikes and more – with some thoughts based on many conversations and we are going to get right to them:
–Climate change is freaking out winemakers just about everywhere. There is no other way to put this. They are not a little bit concerned or beginning to be worried. They are freaked out and believe strongly that everyone should be. Yes, there have always been hot summers and cold winters and fires. But winemakers are very sensitive to any change, because their vines are, and winegrowers tend to keep meticulous, day-by-day notes about temperature and rainfall, sometimes going back generations. One after another, winemakers talked about how this affects both short-term decisions (when to pick) and long-term decisions (where and what to plant).
--As a result, there is no more important word in wine right now than sustainability, but that generates robust discussions about leaf removal, plowing and water retention – subjects that we can only begin to understand. Over and over, winemakers pointed out that vineyards are a small part of agriculture in the world, but one of the most visible parts, and therefore they have a special responsibility to act. In addition, as several vintners told us, they can only do a little, but they can at least do their part. Diana Snowden Seysses is winemaker at her family's Snowden Vineyards in Napa, and works at organic and biodynamic Domaine Dujac in Burgundy with her husband, Jeremy Seysses, and his family who founded the Domaine in 1967. "How do you move from denial, dread, anxiety, and, guilt …to a place of power and action," she asked the group. She recommended a website for information, IPCC for the Intergovernmental Panel on Climate Change, but said there are two concepts to keep in mind: adaptation and mitigation. "Coping with the consequences of climate change and the unraveling web of life is adaptation. Mitigation is stopping climate change and the world's extinction. Putting air conditioning in our cellars is adaptation. Planting trees in front of south-facing windows, adding insulation, collecting rain water, re-wilding land are all mitigation and adaptation rolled into one. No climate strategy or conversation is meaningful without a conversation about mitigation."
Mimi Casteel, winemaker-owner of regeneratively farmed Hope Well Wines in Oregon, said she realizes that her view runs counter to the embrace of mechanization in vineyards, which she termed an adaptation. But "all of us should be putting more people on the land," she said. "If we keep removing that piece, we've already decided where this is going to go. We need more people in our vineyards. We need more people touching the places that are going to mean everything for their children and we cannot know terroir without our people." Her excellent pinot was Sunday's Child.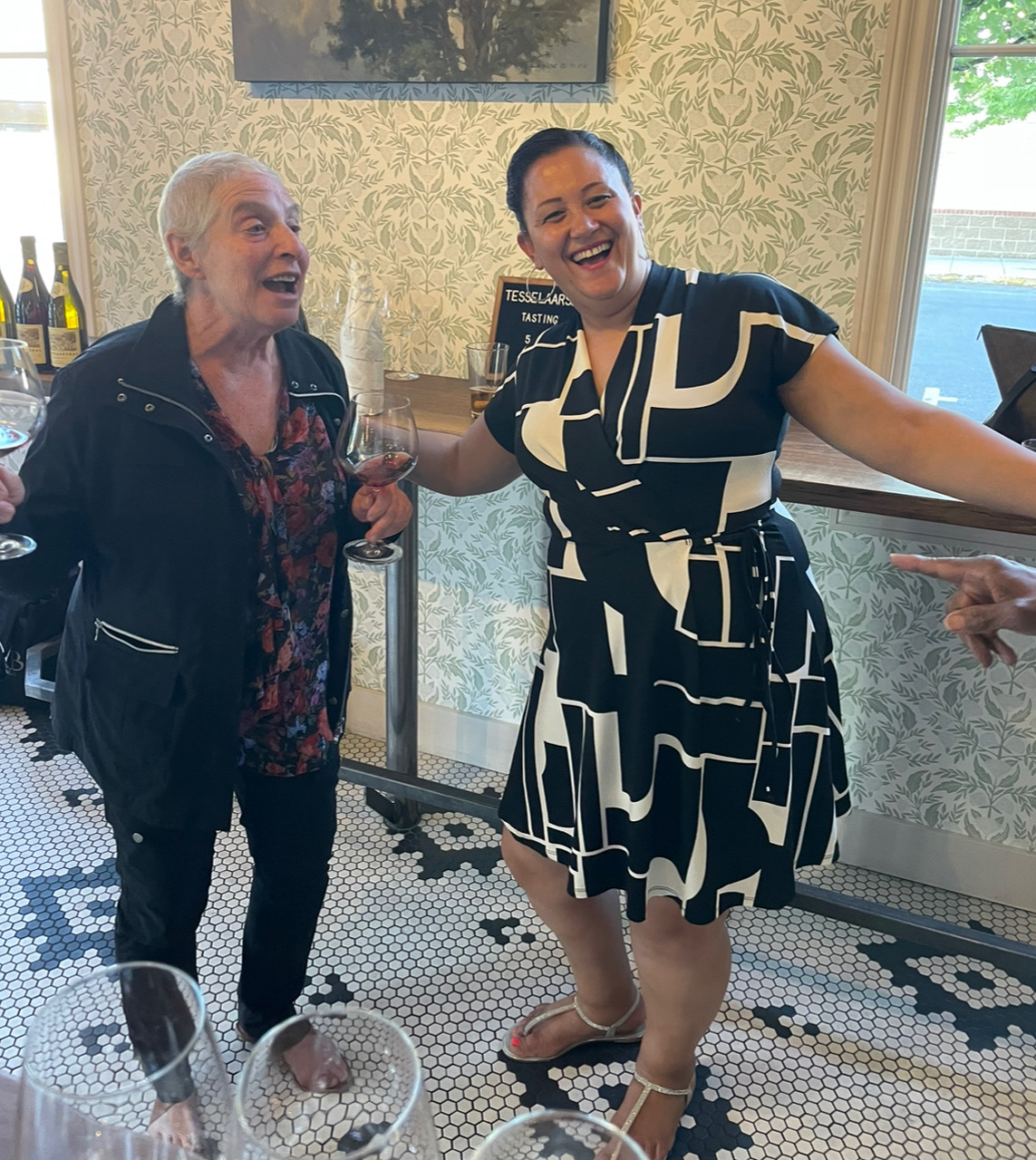 –But consumers need to buy in, and it's not clear that they will. Sustainability costs money and it's not yet clear that consumers will pay more. Wineries are concerned about the environmental costs of heavy bottles, but too many consumers still confuse the weight of the bottle with the quality of the wine within. Reusable bottles seem like a great idea, in theory, but consumers have not embraced that, either, and there was quite a bit of discussion about whether, in the long run, this accomplishes much anyway if in order to be reused, the bottles have to be transported somewhere in some carbon-producing manner.
(Kathy Joseph, Fiddlehead Cellars; and Berene Sauls, Tesselaarsdal Wines)
Jeremy Seysses of Domaine Dujac told the gathering that there cannot be a truly sustainable wine industry without fairness. He is a board member of the Roots Fund, which seeks to support BIPOC individuals who want to move up and into the wine industry. He used his resources and social stature, he said, to help get Roots Fund scholars into the Burgundy School of Business in Dijon which will greet its fourth and fifth Black women students this fall. "It's very important that people have the option to move up in a business. Then everyone is taken care of and can live and raise children and be proud of their profession. So get political and support the right kind of wineries, the right kind of political candidates and make sure this business gets to carry on," he said. He brought his yummy 2018 Morey-Saint Denis.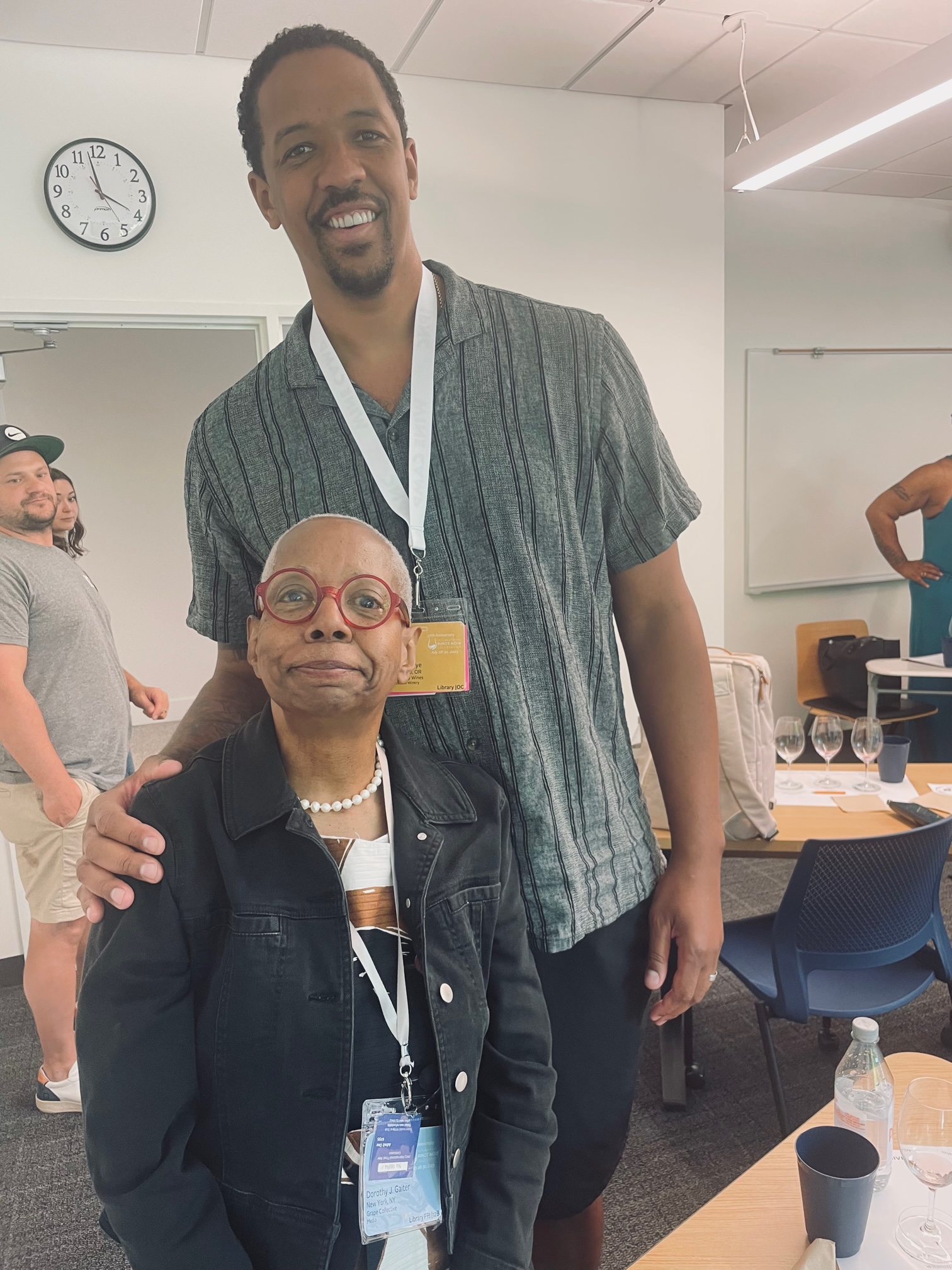 –Sometimes celebrity labels are real wine. We are highly skeptical of celebrity labels. In many cases, the wines are made in bulk by the same-old, same-old giant companies, with a big name to say, basically, "I was in the vineyard to make sure the grapes were picked at the right moment." Bunk. However, there seem to be more and more exceptions to that. (We wrote recently about Brad Pitt's rosé.) We spent some time with retired basketball star Channing Frye, who is deeply passionate about wine and about wine's ability to connect. (In our picture of him, Dottie looks like Papa Elf from the movie "Elf.") He now owns a wine brand, called Chosen Family, in Oregon and has collaborations with some heavy-hitting winemakers in the industry. He's currently looking for distributors. Another NBA star, CJ McCollum, is very deeply involved in his Oregon winery, called McCollum Heritage 91, which is made at pioneering winery Adelsheim. We were especially impressed by his Chardonnay. McCollum recently purchased more than 300 acres that have been planted to vines.
(Dottie and Channing Frye, founder of Chosen Family Wines and former NBA star)
--The basketball-wine connection is real. We'd heard about this and read about it, but, as we said, we tend to be skeptical. But Frye was so turbo-charged about wine and basketball that we asked him: Why basketball? Why not baseball, for instance? We are New York Mets fans (there – we said it) and our team utterly imploded while we were in Oregon. With a few exceptions, like the Mets' own Rusty Staub, baseball or football are not closely associated with wine. Why basketball?
"They promote their players as individuals and what they're into," Frye said. "So because we're into wine, the NBA algorithm bombards you with us and wine. Also, wine is how we communicate. When I won a championship, wine was the thing that was the biggest connector not only to us as players, but with our coaches."
He said the NBA bubble, during the pandemic, when all the teams were together, helped solidify the wine connection with players sharing bottles, but it started before that.
"I got on the plane and I had two bottles of wine and I was sitting next to Kevin [Durant] at the time and Kevin and I would drink and it was like, man, you're not bringing enough wine and I'd go like there's 15 of you. I'm not bringing 15 bottles. You don't know what you're drinking anyway.
"And so all of a sudden I am drinking Oregon Pinot so they made a rule: Channing, if you're going to bring it, you've got to bring six, for everybody on the plane. So within a month, one month, everybody who brought when it was their turn, you could tell exactly what they liked. So for me, it was always something from the Northwest. And all of a sudden, all of these guys, whether it was LeBron or whoever it was, it was like, why did you bring this, so now we're getting educated. So I'm a Northwest guy, Kevin's a big Old World Bordeaux kind of guy, LeBron is a huge Italian."
They traveled with their own glasses on planes.
"So the wine culture became a huge part of that and the knowledge part of that. Guys are reading books about acidity…and trying to figure out every part of the wine industry. Wine and basketball are very much intertwined because, of any other sport, it is all about the individual and what that individual is into."
And the NBA supports that. "Whether they're into tech, whether they're into racing, whether they're into anything, the NBA wants you to know that person because they figure if you love that person, no matter where he goes, you're going to buy a Blazers jersey, you're going to buy a Mavs jersey, you're going buy a Heat jersey and you will watch him. So instead of promoting the teams up and down, you will love a player."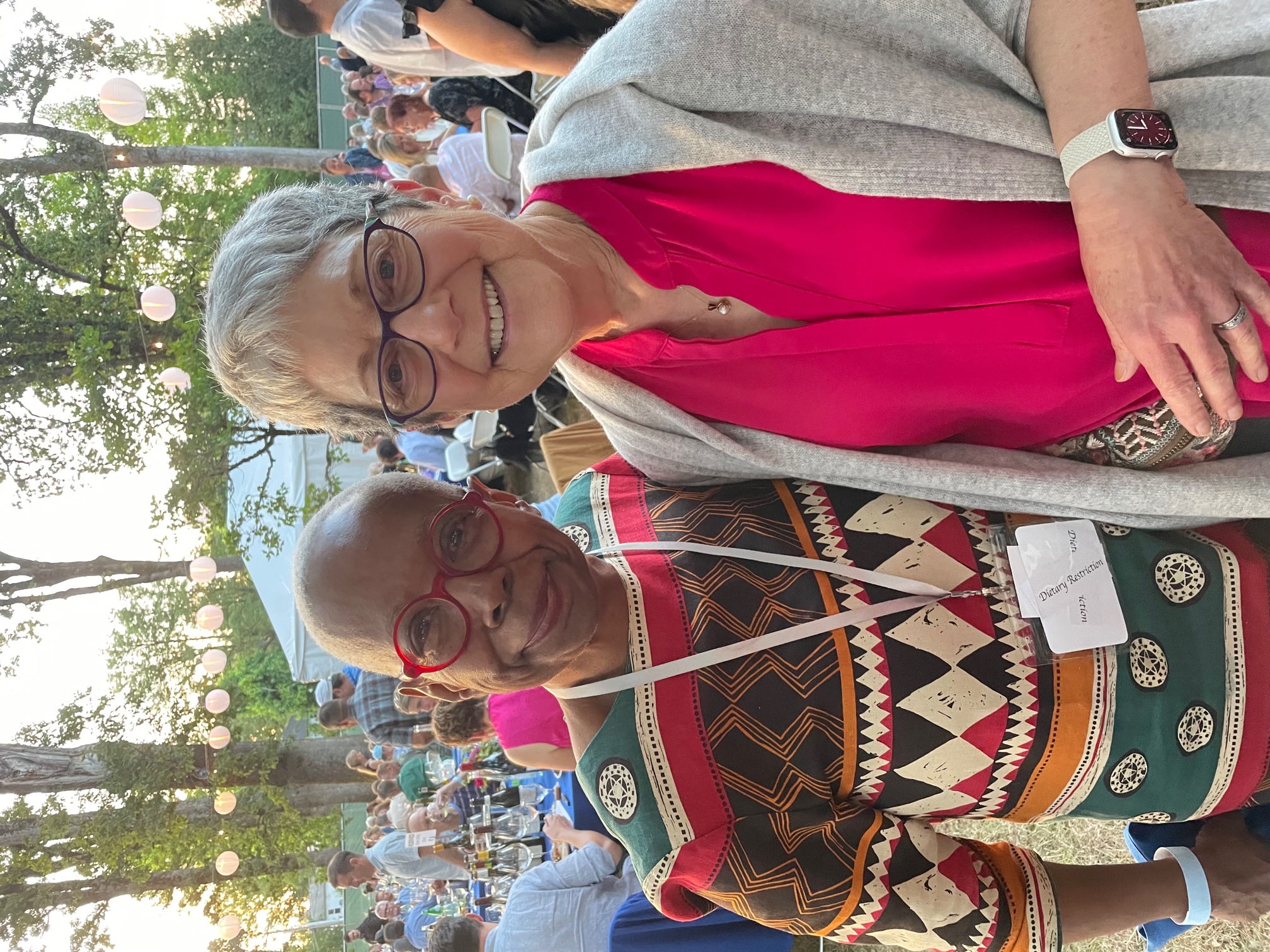 How do they separate themselves from other celebrities who just slap their names on labels?
"We meet with the winemaker and taste through the wines. I wrote the copy on the back label of the bottle," said Ashley Combs, who helps run McCollum's wine business, which is still direct-to-consumer until production grows. "We know we don't know everything, but we're being ever curious and students of this industry."
(Dottie with Susan Sokol Blosser, co-founder Sokol Blosser Winery)
–As the McCollum shows, be on the lookout for Oregon Chardonnay. Pinot is the grape of Oregon and it's very special. There isn't much Chardonnay, but it's growing in popularity and plantings. We find them particularly focused and clean, with a bit of explosiveness on the tongue. We think you will be seeing more soon. They likely will not be inexpensive, but they tend to be good with fine meals. (Quick shout-out also to small wineries trying other things, too, like Syrah from Hundred Suns. Outside of IPNC, we also tasted an excellent Riesling from Project M and Pinot Meunier from Flâneur.)
–Other states can learn from Oregon. It is not a giant wine region, but we'd guess that most fine restaurants in the U.S. feature some wines from there and the vast majority of sommeliers are quite familiar with Oregon wines. Maybe it's just that Oregon produces excellent wines, but we believe there are other states also producing good wine that fly far below the radar. Pioneers of the Oregon industry say that much of this involves collaboration – that the industry, still young, only grew because they worked together to discover and share best practices and sell their vision. To mitigation, we would add the word cooperation, for a sustainable industry.
–For now, at least, the Willamette Valley, where we spent our week, reminds us a bit of old-fashioned Napa and Sonoma. There is still something of a small-town feel and some of the pioneers, or their families, are there. Grab those experiences while you can.
Dorothy J. Gaiter and John Brecher conceived and wrote The Wall Street Journal's wine column, "Tastings," from 1998 to 2010. Dorothy and John have been tasting and studying wine since 1973. In 2020, the University of California at Davis added their papers to the Warren Winiarski Wine Writers Collection in its library, which also includes the work of Hugh Johnson and Jancis Robinson. Dottie has had a distinguished career in journalism as a reporter, editor, columnist and editorial writer at The Miami Herald, The New York Times, and at The Journal. John was Page One Editor of The Journal, City Editor of The Miami Herald and a senior editor at Bloomberg News. They are well-known from their books and many television appearances, especially on Martha Stewart's show, and as the creators of the annual, international "Open That Bottle Night" celebration of wine and friendship. The first bottle they shared was André Cold Duck. They have two daughters.
Banner by Piers Parlett