Nestled within the picturesque landscape of the Vayots Dzor region in Armenia, Zorah Winery stands as a testament to the rich history and vibrant resurgence of winemaking in the country. Established in the year 2000 by Zorik Gharibian, an Armenian living in Italy, Zorah Winery has swiftly garnered international recognition for its commitment to producing exceptional wines using indigenous Armenian grape varieties and employing traditional winemaking techniques.
Armenia, one of the world's oldest wine-producing regions, boasts a winemaking heritage that dates back millennia. This historical legacy has provided Zorah Winery the inspiration to revive ancient winemaking practices. At the heart of Zorah's success lies its dedication to preserving and celebrating Armenia's viticultural heritage.
The winery's name, "Zorah," is a tribute to the biblical Mount Ararat, which plays a central role in Armenian culture and folklore. The estate's vineyards are located at an elevation of around 1,400 meters above sea level, benefiting from the region's distinctive microclimate and volcanic soils.
Zorah Winery's commitment to authenticity is evident in its choice of grape varieties. The winery primarily focuses on cultivating Armenia's ancient grape varieties, with "Areni Noir" being the flagship grape. This red grape, native to the Vyats Dzor region of Armenia, has a history dating back thousands of years and is renowned for producing wines with complex flavors and unique characteristics. By championing indigenous grapes, Zorah Winery contributes to the preservation of Armenia's viticultural biodiversity and showcases the true potential of these varieties on the international stage.
Zorah's winemaking philosophy was crafted in concert with famed Tuscan-born oenologist Alberto Antonini, known for his work with the prestigious Antinori and Frescobaldi estates in Tuscany, who was brought on board as a consultant at the project's start. The key winemaking objective at Zorah is a celebration of Armenian wine traditions. The winemaking process at Zorah involves a combination of old-world techniques and modern expertise. Grapes are fermented using native yeasts, and the wines are aged in traditional Armenian amphorae known as "karas," which are buried underground to maintain a stable temperature. This method draws from the ancient winemaking traditions that have been practiced in the region for centuries.
Beyond producing outstanding wines, Zorah Winery also serves as an ambassador for Armenian winemaking on the global stage. Its success has contributed to increasing interest in Armenian wines and has played a role in elevating the country's reputation as a quality wine-producing region.
Grape Collective talks to Zorik Gharibian about his pioneering work and the growth of the Armenian wine sector.
Christopher Barnes: How did you get involved in the wine world?
Zorik Gharibian: I've always been a wine lover. Actually, I think I love the vineyards more. It is the love of vineyards and nature. I've always had an interest, and appreciated quality wine. So the research with wine is never ending. It is a fantastic way of life.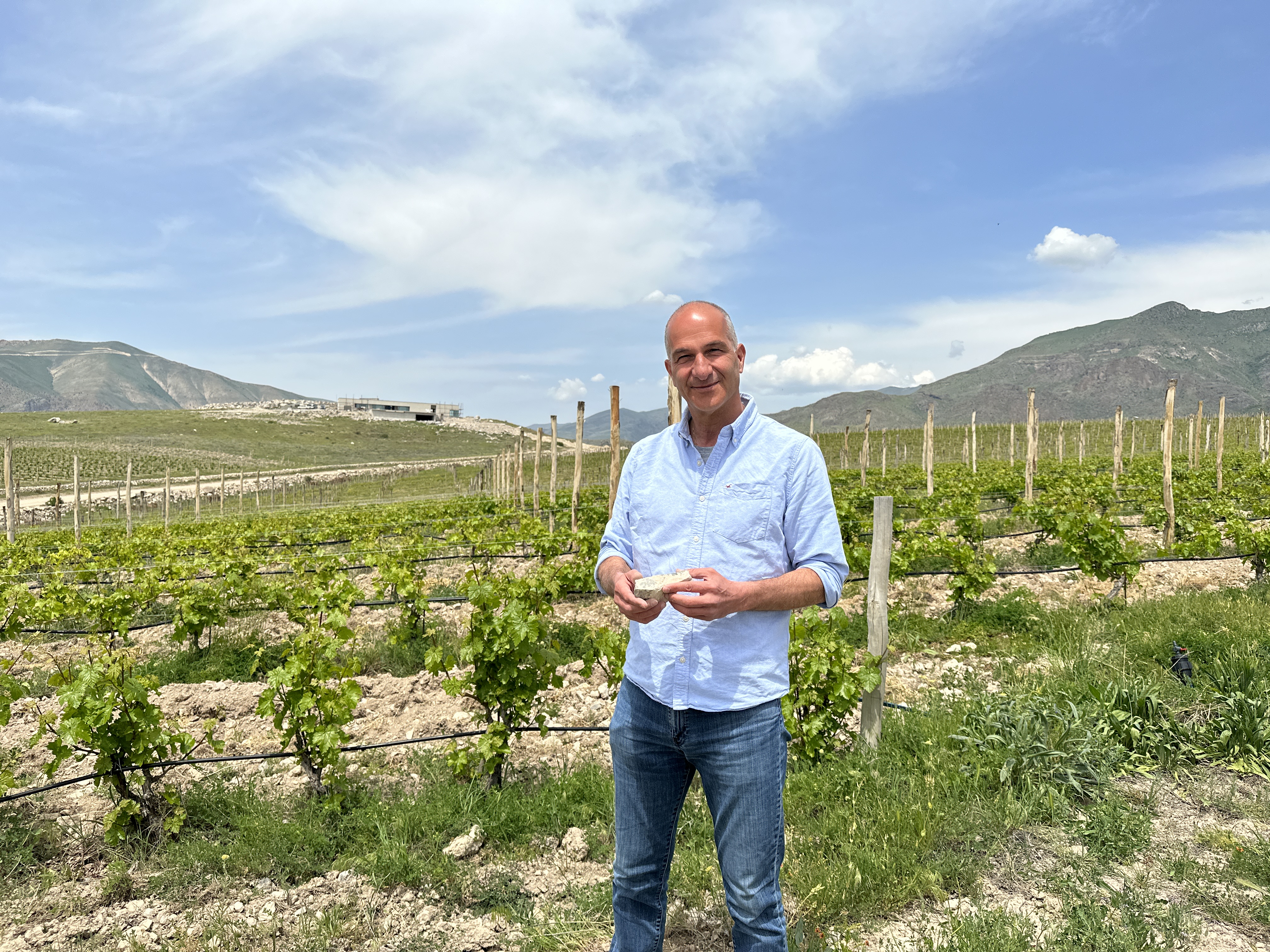 (Zorik Gharibian)
So at a point in my life, I said, why not try to make a winery and vineyard? Actually, the initial plan was to have one in Italy, but then it happened that Armenia got its independence. For the first time, I visited Armenia in 1998. And from then on, coming and going to Armenia, studying a little bit more about my country's history and varieties and the traditional aging method, I decided to not make another Chianti in Tuscany and come here to do something from scratch that nobody had ever done before in modern Armenia.
How did you get started in Armenia?
It was about the beginning of 2000. And because our terroir has never seen the phylloxera, the progress here in Armenia, it's a little bit slow, at least for me. When I decided to work with native varieties, they didn't have any credibility in Armenia.
As there was no phylloxera here, no phylloxera meant no nurseries. So for 10 years I've done all the experiments to create a selection of vines all my own, and I found the grape Areni and I called it 'Areni Noir.' And this has taken all these many years because there was no precedent, nobody to follow. It has been a fantastic journey. In the 7th or 8th year it was difficult. It has been a fantastic journey, though it was difficult.
From the first moment, I wanted to make a high quality Armenian wine, promote it around the world and use a traditional aging method. It is nice work, but when you haven't produced anything and year after year passes, you don't know if the vision you have is going to be realized.
So one or two years before arriving at my first wine, they were very difficult years. But I was born lucky, even with wine, I have a lot of luck with me, after years of hard work. So from the first moment when my wine was out I have always had journalists like you and Masters of Wine helping to spread the word about my wine, helping it to keep going up.
Talk a little bit about the indigenous varieties in Armenia and why they're so exciting.
We are so lucky in Armenia to have hundreds of native grapes. And actually the research has not even been finished. So there will still be more discoveries.
On the other hand, we have to be careful because, until now, Armenian native varieties have been neglected. Only in the last few years has there been this research. I think in Armenia the understanding has now arrived at a better level so that we are better able to protect our native varieties. This I am very glad of because at Zorah, we believed in our native varieties from the beginning of 2000 when everybody was making jokes about my wine that I was going to make.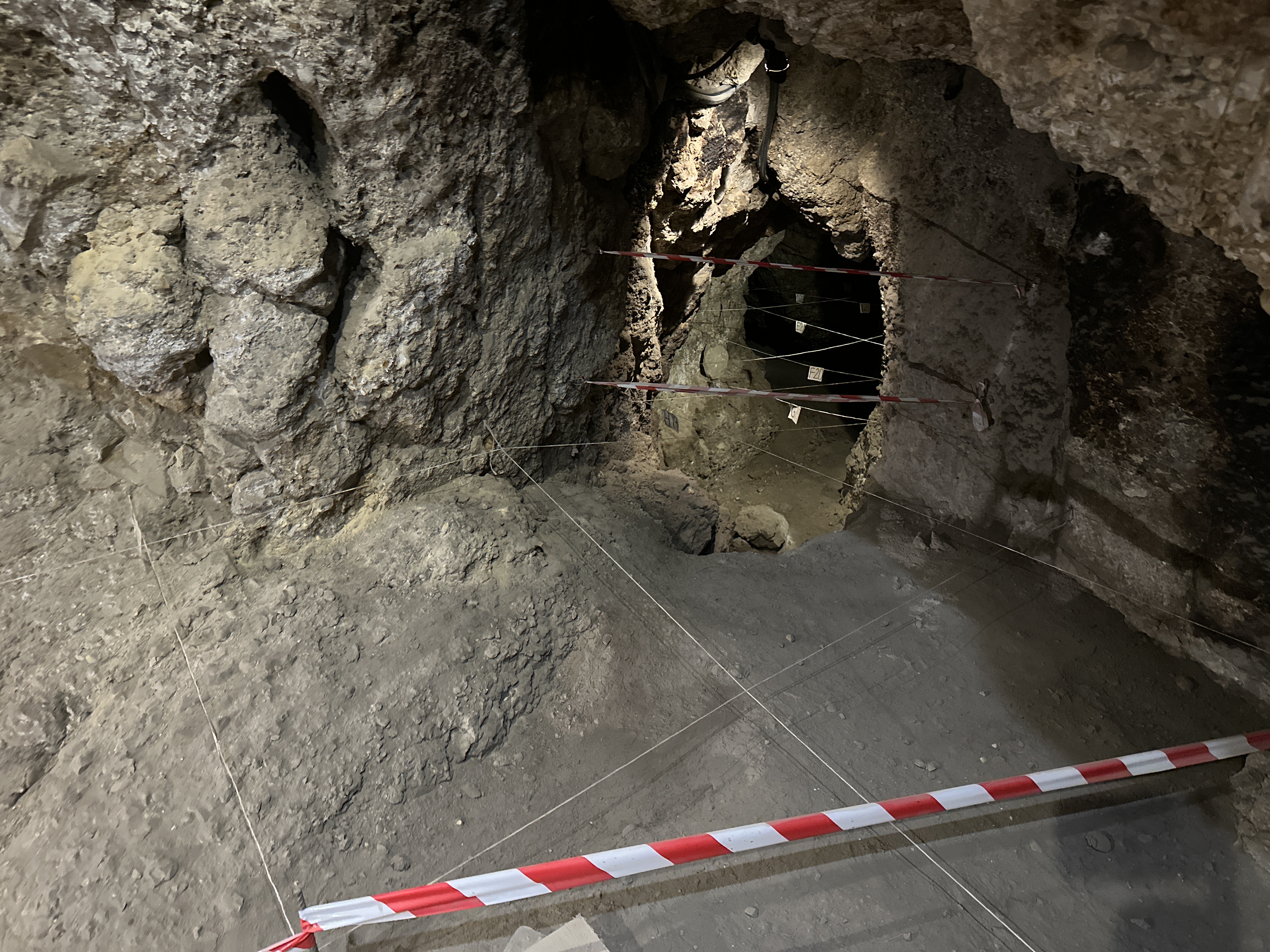 Now I'm very proud that there is this attention. I mean, why get so excited? Because I believe in the story we have with our native varieties. Just imagine Areni which is the king grape variety of my region Vayots Dzor, which has been here forever. Because the oldest winery in the world is just my next door neighbor, the Areni-1 cave. Aside from the amphora, they have found the ancient pips and stems using DNA analysis and have connected these grapes to the Areni that grows in Vayots Dzor today. Here we have a terroir that has never seen grafting of its native grape varieties. Even if you are not a winemaker, if you are a beer crafting guy, you will get excited because this is history and this is the beginning.
(The Areni-1 cave)
Armenia, of course, is not only about Areni, we've got so many other varieties, and with one of my projects, the Zorah Heritage Project, that I started a few years ago, I've already produced two wines Zorah Heritage Chilar and Zorah Heritage Sireni.
What I'm intending to do is to create a collection of excellence of Armenian native varieties and bring them under the umbrella of Zorah Heritage. So this collection will eventually have more wines under this label. And the essence of this project is to use native varieties of Armenia that are on the verge of extinction or a good signature grape of our region. What is important is that, in Zorah's opinion, they represent excellence of Armenian native varieties.
The first harvest of Chilar that we did in Vayots Dzor, we didn't have vineyards dedicated only to Chilar. So the first harvest has been picking amongst the rows. Now we have propagated Chilar out here in our vineyard. I hope there will be other colleagues in Armenia who will embrace Chilar and there will be many more vineyards dedicated to Chilar.
Zorah Heritage Sireni is a new approach in the Armenian scene, because I have mixed the red grape Sireni with the white grape variety Ararati in the same wine. So the Zorah Heritage is 80% Sireni and 20% Ararati, which is a white grape variety. And there are no vineyards dedicated to this. Actually, in modern Armenia, nobody has ever made a wine with Ararati, but in my opinion it is so great that it gives it freshness and complexity.
Sireni is the signature grape of Artsakh Nagorno-Karabakh, our southern region. And actually this year we don't know if we can do the harvest because the road is blocked by Azeris.
Conflict has been a factor in Armenia for much of its existence. Talk about how conflict has been part of the people's existence here and even today, as a country and as winemakers, as a community, it's something that you are dealing with.
Having to deal with the conflicts, apart from being a winemaker but as an Armenian, is difficult and it is a sad thing because we have lost a lot of wineries.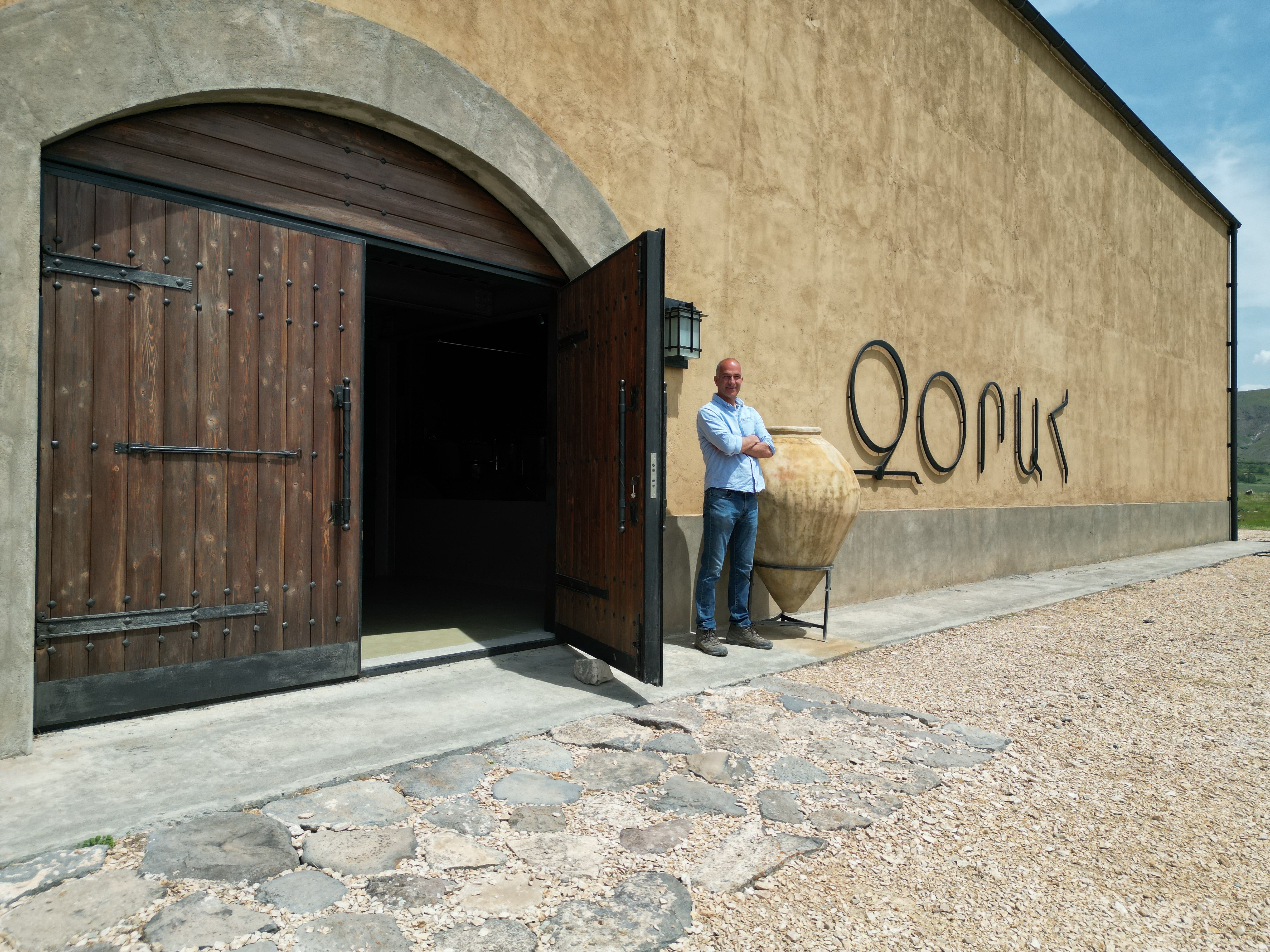 Kataro and other friends have lost their wineries. It is not only because of Artsakh that we are in a difficult position right here where we are. Nakhichevan is not even four kilometers from here. There is an Azeri post that is that close.
The border with Azerbaijan is only 30 kilometers from here. But you know what? Armenians have been here in this territory since the beginning. We are the native people of this region. Wars make us more resilient and we are the last bastion of Christianity going to the east. We have been here for thousands of years.
The other neighbors have arrived lately, so I hope they will become wiser, because all Armenia wants is to live in peace, make wine and grow. We are resilient. We are here and I'm sure we are going to stay. I don't know about our neighbors.
We are in the middle of pan-Turkism, which is the main problem. I mean, Armenia is in the middle of two Muslim countries. But we have to remember that we were here when they arrived, so we didn't arrive later. So they have to come to terms with it. My vision is to live in peace all together with our neighbors in the future. But unfortunately, we have to wait.
So there's conflict between Azerbaijan and Armenia over Nagorno-Karabakh, Artsakh region?
If you talk about Nagorno-Karabakh, Artsakh also has always been Armenian. There are monasteries dating back to, I don't know, thousands of years. I mean, there is history there that nobody can deny.
And even today, 99% of the population is Armenian. So we don't have to prove anything that that's our land and that's our community there. But I think we have to arrive at a peace so everybody lives in security and peace. I hope this will become a reality very fast, because meanwhile, young guys are dying every day and families are without fathers. That's very sad. (Since the ceasefire to the war in November 2020 there have been over 1,200 casualties related to the conflict.)
And talk a little bit about these two wonderful origin stories that you have for Armenia.
And so there's these two wonderful stories that have Armenia at the center of winemaking in the world. Each serious country that is making wine needs a legend. I think Armenia has the king of legends. The first vigneron of the world, Noah, descends on the spiritual mountain of Armenia.
I mean, you cannot beat that one. And then you go to the history, as you say, and this winery, my next door neighbor is the 6,000 years of history, Areni-1 cave. Armenia is not only about this archeological site. In my opinion, our Golden Age was 3,000 years ago in Karmir Blur where they have found 500 big amphoras confirming that Armenia is not an improvised country that is trying to make wine.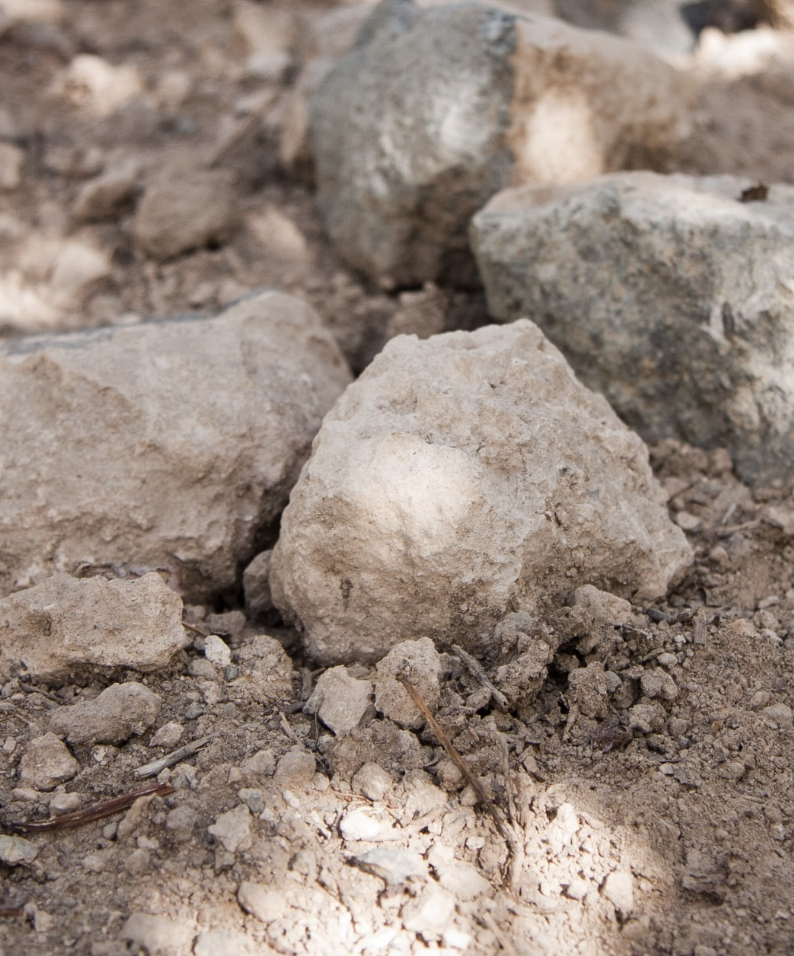 Our history had to stop because of first the 1915 genocide, then Soviets decided that Armenia was going to only make brandy. So the winemaking was left a little bit behind. But if you look at the facts this is why I was convinced from the first day that they could make good wines in Armenia. We have the highest altitude in the Northern Hemisphere in Europe, for sure we are the highest spot. Here we are talking about 1,400 meters. I've got other vineyards at 1,600 meters. Then you have fantastic soils, limestone soils, no phylloxera. That's a blessing. Obviously not all of Armenia, but my region. I'm talking about Vyats Dzor. And then you've got native varieties and there are plenty of them. The traditional aging method, the amphora, which Zorah is trying to give the rebirth in Armenia.
(Zorah soil)
So you got everything. I mean, if you put the chain from the beginning; legend, history, terroir, native varieties - the only thing missing to Armenia is that nobody knows us. And as a wine lover, I think Armenia has a great potential. Now, I'm not talking like a winemaker, but as a wine lover of the world, all wine lovers around the world, if they are true wine lovers, they always like to discover new things.
With Armenia, you discover a new country that is not improvised. And I think with all the credentials that we have with our terroir, our varieties and everything, we've got a great future. Armenia has a great future. We have to play it right.
Can you expand on the Noah myth?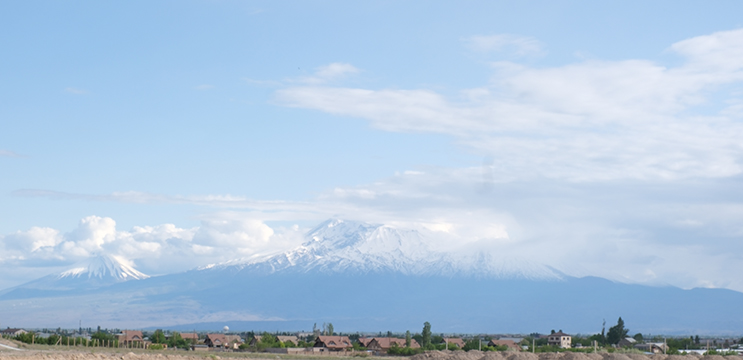 So any serious winemaking country needs a legend. And I think Armenia has got the king of the legends. Everybody knows about Noah's Ark descending on Mt. Ararat.
(Mt. Ararat)
Noah descended in our valley, planting the first vine, making wine and getting drunk by his own made wine. Mt. Ararat is Armenia's spiritual mountain. And right there you have the first vigneron in the world, made in Armenia. So you can't get a better legend. I call it the king of the legends. But Armenia is not all about legends.
We've also got a fantastic history. We have the 6,000-year-old Areni-1 cave, which is my next door neighbor. We also have Karmir Blur, another fantastic archeological site which dates back to 3,000 years ago. And in my opinion, that was the golden era of Armenian winemaking because in one place they have found 500 big amphoras confirming that Armenia has always been a winemaking country.
Talk about the heritage of amphora in Armenia and what you're doing to bring that back into the culture of winemaking.
Armenia's traditional aging method is in amphora. That's the fact with Areni-1 cave, with Karmir Blur. And any monastery in Armenia, you dig in a little bit, you will come up with the amphora. So, amphora has always been part of our winemaking history.
We have lost the connection with the past because of the last tumultuous 200 years. We have had genocide, Soviet rule, and before that, other wars. So we have lost the connection. But, it is a fact that amphoras are the heritage of Armenia. So what Zorah has done, from the first moment as a philosophy, my philosophy has been to work my native varieties and age them with my traditional aging method, which is amphora. That has been a very difficult thing to do because there was no precedent, no living precedent that we could follow.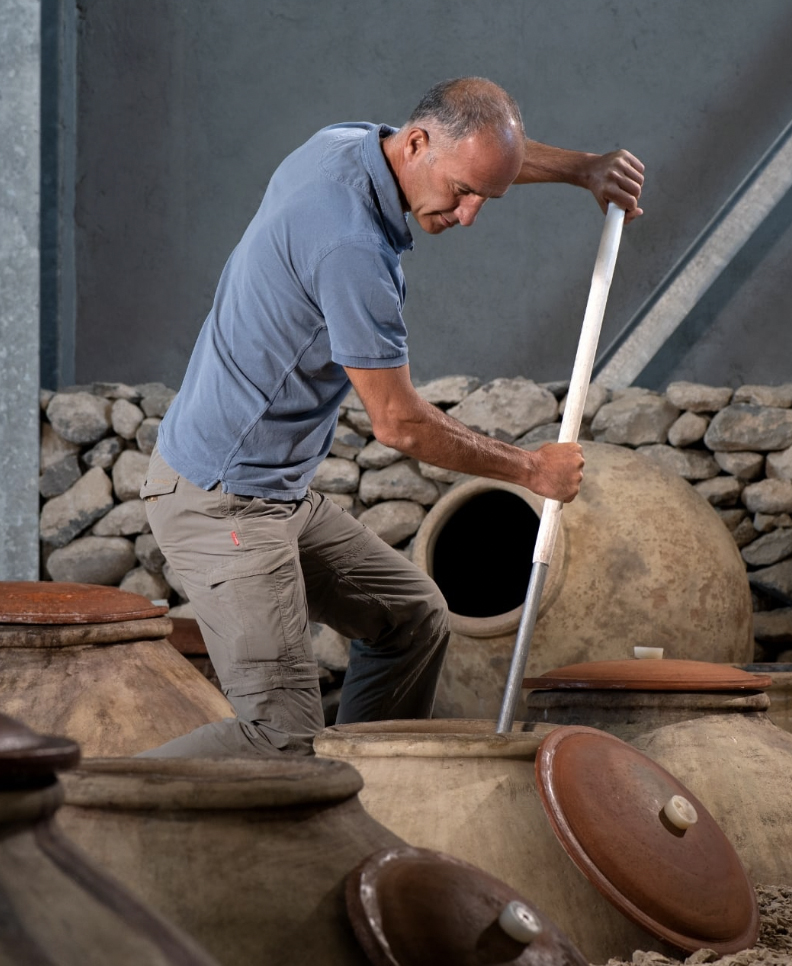 Zorah is the first winery in modern Armenia who believed in the native varieties and in the traditional aging method in amphora. And not having any example to follow as you can imagine, the progress has been very tumultuous and you make mistakes, you go one step ahead and ten steps behind. But the journey has been fantastic.
After 20-some years of working with the amphora my conviction is that if you have a fantastic terroir and you want your vineyards, your altitude, your soil to talk and the winery to be silent, you have this luxury in your hand, then you have to use amphora.
Amphora doesn't add and doesn't take away anything from the fantastic grape that you have. But if you have any doubts about your terroir and you are not sure your grapes are 100%, then with using amphora you don't have anything to cover it up. Amphora doesn't cover up anything, just makes it with micro-oxygenation, which makes it more fantastic.
And I keep saying wherever I go in different countries that I have presentations, I try to make this point that Armenia has its own way of aging and sadly there is no literature behind this. This is Zorah, and was discovered after working ten years by looking at the historical photos, some Soviet photos that are from our archeological sites that date back to 3,000 years ago. I noticed that my forefathers were letting one third of the amphora out of the ground because we have photos that clearly show that the exposed parts were decorated. Then the rest is under the ground.
I've experimented with many types of amphora. I've experimented with the amphora totally out of the ground, as well as totally inside the ground. And I say, okay, let's start to experiment also with how my forefathers did with one third of the amphora out of the ground. And after a few years, I'm now changing all at the winery. I'm going with this method and I think this has to become the Armenian way of aging inside the amphora.
Because my forefathers 3,000 years ago had already understood the best way to age inside the amphora and I say it very quickly and not being too technical. There are countries that have the amphora totally out of the ground. There are countries that have amphora totally inside the ground.
Modern Armenia has to go back 3,000 years and have this method one third out and two thirds in. And why with this method do you have the two thirds of the amphora in the ground? You have that stable temperature, you have slow micro-oxygenation. This is what wines love, slow micro-oxygenation which you lose when it's totally out. But when you are totally in, you lose the inspection and going back to the one third out you have the inspection.
But the most important thing is that in the same vessel you have two different temperatures. The liquid that is out of the ground has a different temperature and the liquid that is inside the ground has a different temperature. So you create a natural rotation during the aging. During the aging, the wine has not stagnated.
You can't do more than this, you have stabilization of temperature, you have slow micro-oxygenation and you have a natural rotation without use of any pumps, electricity. So this is, I think, what Armenia has to promote as a traditional aging method.
Let's talk a little bit about what wine means spiritually to the Armenian community as a whole.
In our monasteries you see the cross, then grapes, you walk in the capital city, the ornaments are all about grapes. All our folkloric songs, they are talking about wine. Having fun and wine are always the centerpiece. We don't forget that Armenia was the first Christian country and when we became Christian, wine became even more important in our daily life, in our religious ceremonies. And wine has always been in Armenia. So many historical sites, archeology sites, are proving that unfortunately we have lost the link to tradition over the last 70 years.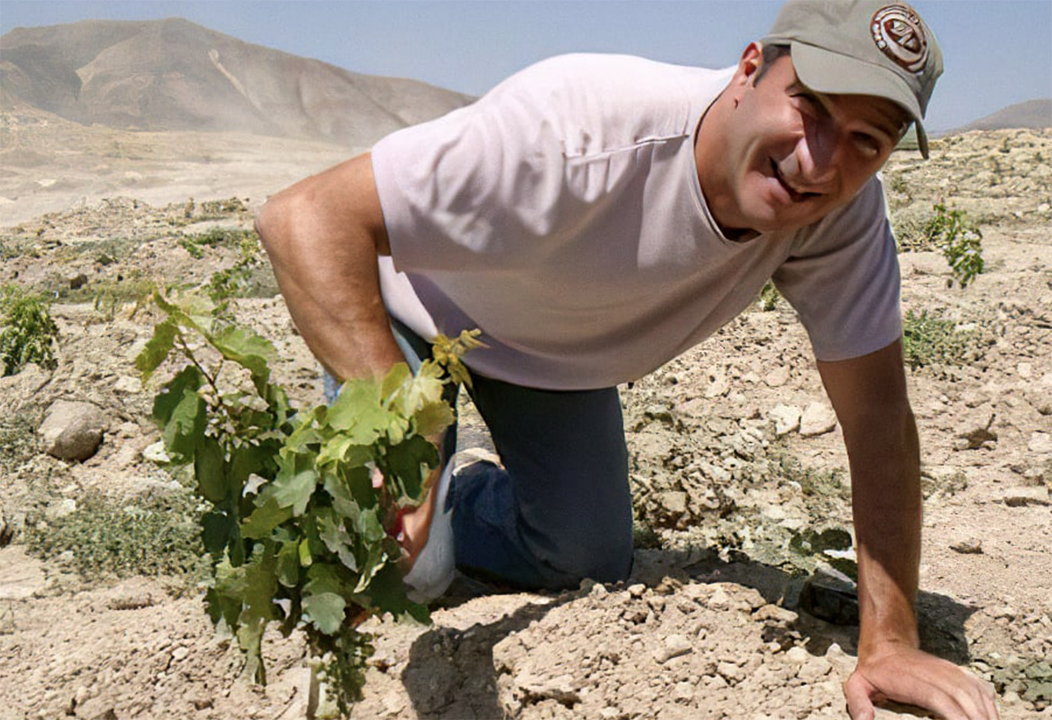 And to be honest, when I arrived in Armenia the first time in 1998, the country was full of vodka drinkers. And, that was the Soviet heritage. And before that there was the genocide. And of course during genocide, nobody was thinking of making wine.
So we have lost the link. But yes, in 1998 it was all about vodka. So we had a country that had lost its connection with the past. And when I started Zorah, I was always dreaming. I would say maybe I will not see it, but it would be nice to have wine bars in Yerevan and people drinking wine.
And I must say the Armenians are really fast and it hasn't passed a long time that if you walk now in Yerevan, in the capital city of Armenia, now we have streets dedicated to wine bars. Now the young generation is totally into wine, I'm quite sure now it is already back inside the Armenian daily life.
It has to grow a bit more and I hope all together, all the winemakers in Armenia, we understand that we have to make excellent wines because Armenia is too small to make mediocre wines. We don't have the territory. So I hope all my colleagues, and me included, we do better and better wines and like this we will be first successful in our own country, so we will have more people drinking wine instead of vodka.
And then why not have recognition around the world? I'm sure that Armenia has a great future because we've got it all. We have the whole process in the chain, the legend, history, native varieties, high altitude, and amphoras for aging, which is our tradition, we have it all. It's only the recognition that is missing.
It is quite romantic that so many Armenians have come back to Armenia after independence and helped to rebuild the wine industry.
It's beautiful to see all Armenians that have gone away during the genocide, generations after are coming back. I think what our neighbors tried to do, it turned back on them because now we are more Armenians around the world and we have more connections in the world than I think very few other populations around the world have. And I'm very glad that now we have our independent country.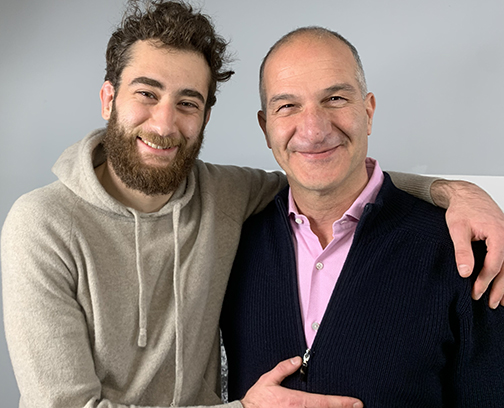 So all the know-how is coming back home. I'm very proud to be part of this movement of people coming back to Armenia to contribute. And it's not only about wine, it is in all the sectors. We've got, I'm sure you know that we have more Armenians out of Armenia than in Armenia. There are 2 to 3 million here in Armenia and around 10 million if I'm not wrong around the world.
There are also some Armenians from Armenia making wine, but looking at the numbers, it is mostly Armenians who have come back to Armenia. And that, I must say, gives us a plus point because all Armenian wines that you taste today, or at least 99% of them, don't have any Soviet heritage.
(Zorik Gharibian with his son Oshin)
The Soviets designated us as a brandy-making nation, so not having any Soviet heritage, the game, if we play it right, the game becomes easier for us than for our other neighbors because we don't have any connection with bulk wine. And I think Zorah and my colleagues, we are playing it right.
And what are your hopes for the future of Armenian wine?
My hope for the future of Armenia is that Armenia becomes a strong category because with Zorah, now most of our wines are exported and we are in more than 30 countries. And what is saddening is that in most of the countries that we are in, Zorah is the only wine from Armenia on the menu, so I hope we soon see a page full of Armenian wines.
I hope when one enters any Michelin-starred restaurant in the world, they will have to have Armenian wine if it's a serious Michelin-starred restaurant. That's my hope for Armenian wines in the future.
Being in a Michelin-starred restaurant isn't the only aim. But of course, if you want recognition as a country, getting into Michelin-starred restaurants gives recognition that you need, then the other places will follow. Zorah has already done that. We are in many. Only in Italy, I can say we are in 21 Michelin-starred restaurants already. I remember because I looked at the database two days ago.
I hope that will be the goal for Armenia to arrive at that point. Not only Zorah, but others will arrive at that point. Obviously, that will not be the only point of arrival. We also need recognition from people like you, journalists, that are curious to discover new things as well as opinion makers. So we need the whole movement to follow us, to help so Armenia can become better recognized in the world.