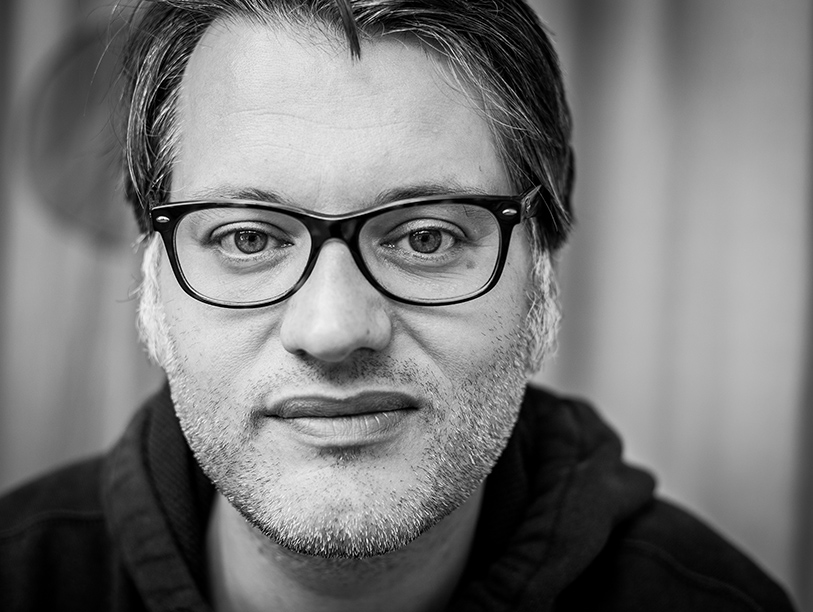 The Le Ragnaie winery is owned by husband and wife team of Ricardo and Jennifer Campinoti. The winery extends over 28 hectares in Montalcino. The land is cultivated with vines and olive groves and they practice organic agriculture. The vineyards are divided into three distinct parcels of land throughout Montalcino which allows them to produce three diverse 'terroirs' of Brunello.
La Ragnaie are amongst the pioneers in creating single vineyard designated wines in Brunello.
Monty Waldin: Ricardo Campinoti of Le Ragnaie, tell me a little bit about Montalcino. Why has it become so famous?
Ricardo Campinoti: I think Montalcino has become famous for a number of years because, first of all the quality of the wines. The wines are great if you taste them against other great wines of the world. They hold their own, so I think the wines are definitely a major factor to Montalcino's popularity. Also I think it's a beautiful place with a great location geographically. We are in a fantastic area as you can see if you look around. We're near Siena, near Florence, near the sea, some beautiful towns. I think it's a luxury that lots of other wine areas don't have.
What about the Sangiovese? What is special about the Montalcino terroir?
Well, obviously Montalcino sits at 567 meters on a pyramid-shaped hill, which has four different sides with different characteristics. I think we have the right amount of rain, the right amount of wind and we are protected from the Amiata Mountain [Monte Amiata, an extinct volcano, is the highest peak in this part of Italy and protects Montalcino from the south-east, blocking cold air which brings rain or hailstones] on one side. I think the geographically and geological reasons make Montalcino a special place to grow Sangiovese. Also because Sangiovese is the most widely planted grape in Italy, and that Sangiovese wine comes out with good quality only in very few places. I think that Montalcino is one of them definitely.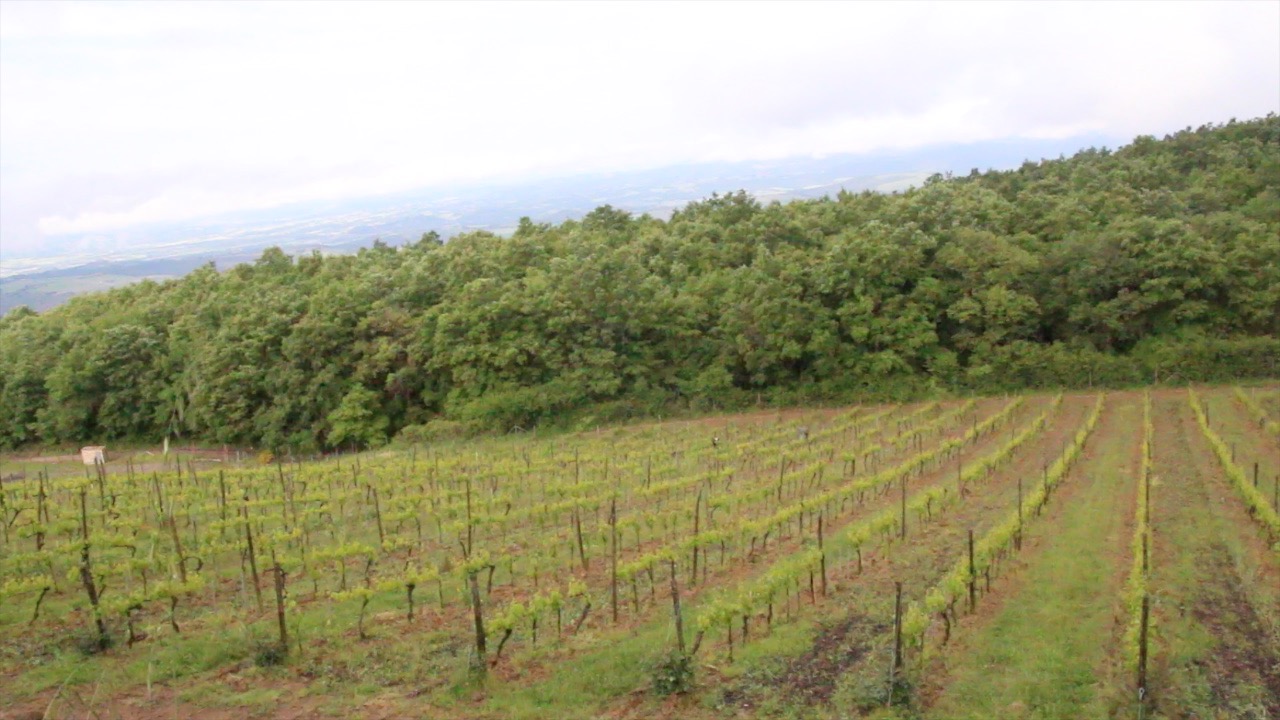 You're quite individual, you've got vineyards in various places why is that?
Two reasons: one, because we are a new estate, in wine terms. I started at Le Ragnaie in 2002, but the Le Ragnaie winery was started in '91. The winery was small and if you want to grow a little bit you have to look outside of your first holdings, which are our highest vineyards. Originally we had two vineyards in two different places. Then I started looking around for more vineyards. I looked at places that I liked most, namely Castelnuovo, [Castelnuovo dell'Abate, a hamlet in the far south-east of the Montalcino region] which is one of my favorite sites in Montalcino. I was able to find something there, in three different vineyard sites in Castelnuovo. Then I found something last year in Montosoli [a small hill very near Montalcino town] what another favorite grape terroir. The reason is one, we didn't have enough land to grow our self, and also because I like the single vineyard concept and I like to experiment with different terroirs.
The idea of making a wine from one little particular plot, whose name you put on the label, that's very Burgundian isn't it? Were you influenced by Burgundy in your thinking?
Yes, I love Burgundy, I've been there several times. I've hinted that they're my favorite wines. I envy them a lot for the different characteristics they can get in a wine in such a short, even area. There you have one vineyard of two hectares and you have twenty different wines [as each producer may only own a few vines in that vineyard as French inheritance laws divide land-holdings up when family owners retire or die]. Here it's a little bit more uniform. At the same time, although Montalcino is such a large area, most people don't realize it because it's a small village, but the surface area of the township as a whole is quite large. So you can have very different wines.
You're saying a big variation then because the natural surface area of Montalcino is the largest in the province of Siena?
Yes, it's the largest in the province of Siena. It's actually 35 kilometers from one side to the other. It's very large and you have different types of soil in the area—different climate, different weather, and different altitudes. Our lowest vineyard is 180 meters and our highest vineyard is 621 meters. The difference is dramatic.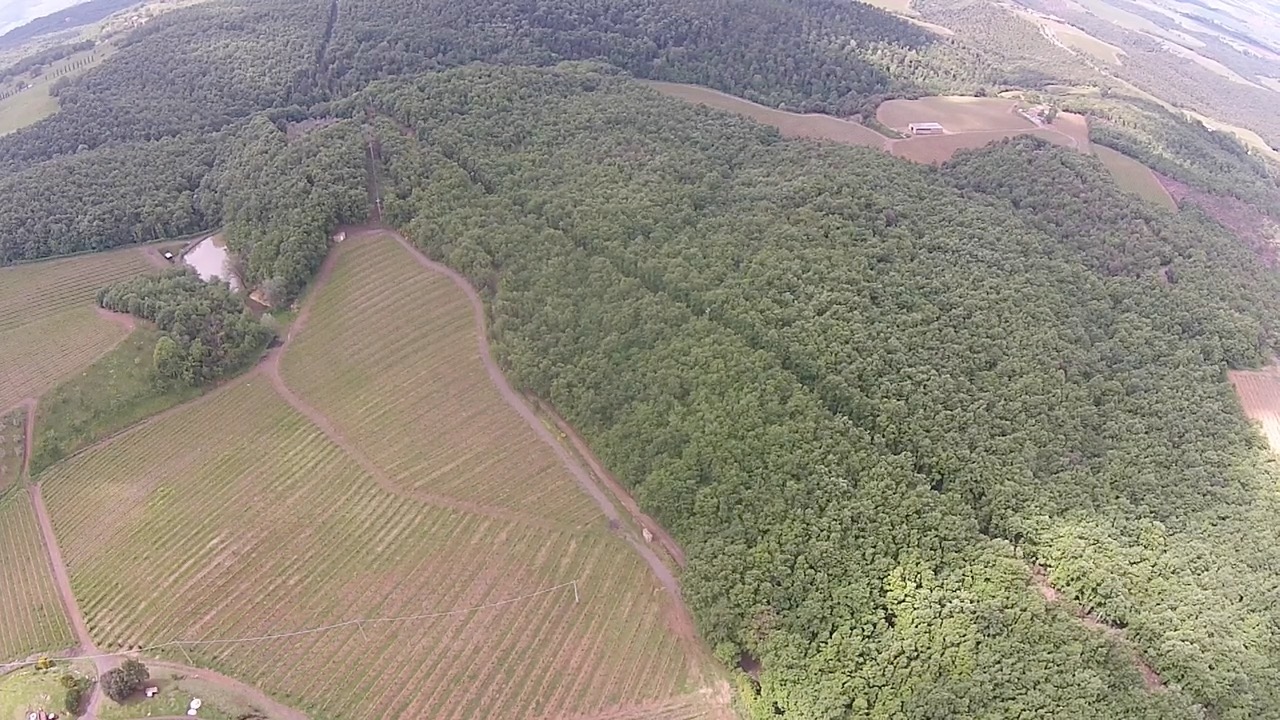 Is that helping in terms of global warming? As the Earth warms up are you finding ripening is getting easier in some of these cool sites now?
Definitely, I don't know if it's global warming. The trend is going up so we have a lot of help up here here [in the vineyard by the winery. Ricardo's highest]. Especially in vintages like 2011, 2007, warmer vintages in the vineyards at Le Ragnaie have performed very, very, very well. It's warm days, cool nights, it's less humid, so you're less susceptible to disease. Also you get less ripening, in the sense that you get good ripening, but slow. You don't get the heat stroke that you can get sometimes, for instance in Castelnuovo in the lower part [which can make for jammier, less perfumed but more alcoholi-tasting wines].
Is that important for Sangiovese in terms of its aroma?
Definitely, for finesse and balance —it's definitely important. Also because I think Sangiovese is nice when it has a balance and elegance. It's also nice when it's muscular and strong, but it's also very nice when it has definition and finesse. You need a little bit of cool climate to add that.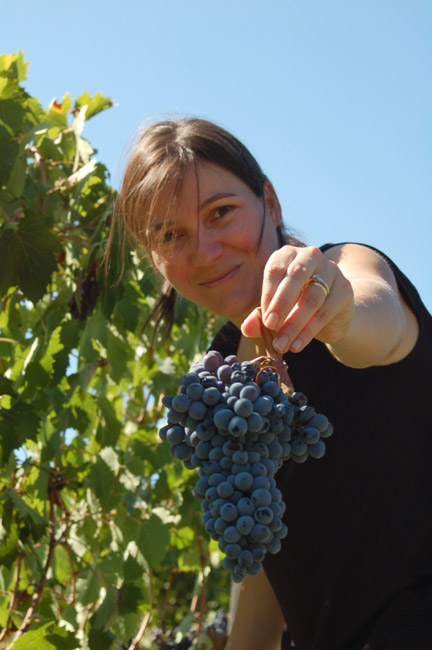 There's a debate in Montalcino about traditionalist and modernist, where do you stand on it? Where do you think you fit in?
I think now ... Traditional. When we started, the first two vintages were a little bit more modern, because I knew less and it was kind of the trend at the time. Since 2005 it's all [aging in] large [oak] barrels, concrete [tanks], and most importantly, traditional style of wine making. Meaning its long maturations, very light ended wine making, we don't go for too much extraction [of tannin]. Also we don't go for too much concentration in the vineyard which is very important. Especially in the warmer part [in Castelnuovo dell'Abate], we try not to have too low yields because they can produce too much concentration in the wines, which I really don't want. So I try to keep a little bit higher yields down there and here, of course, it's a little bit more difficult to get good ripening at 600 meters [here by the winery], so here we keep a little bit lower yields.
So you're saying that when you started off you made more, for want of a better word, jammier wines, with a little bit more new oak flavor. Now you've reined that in a little bit.
Yes, definitely a lot. Now, it's definitely more traditional. Also I went backwards, I looked at the wines I liked most and they were all made in a traditional way. I wanted to make wines that I like to drink.
So when you think about modern and traditional, what do those terms mean to you? Especially the modern, what does modernism mean to you in Montalcino?
I think this is a difficult question. I don't want to sound like I don't like the modern wines because there are some of the so-called modern wines that are great and they have good balance. I think the key is balance. You want to have a good balance between alcohol, acidity, structure, and finesse. I think, for Sangiovese, it's a little bit more difficult to obtain [this] with small barrels. I think Sangiovese, also like Nebbiolo [the grape of Barolo, a red wine from northern Italy], in my opinion, needs to age slowly with the right amount of [exposure to] oxygen [via the oak staves which are porous whilst ageing in the barrel], and also the right amount of oak. New barrels, especially small new barrels, give off a lot of oak to the wine. There was a debate about whether this oak would dissolve after a few years. I think it doesn't. I think its always a bit more present [in the wines once they are bottled]. And also the tannins are a bit more astringent.
I think there's also modern[ism] in viticulture, not only wine making. Modern in viticulture is lower yields, concentration, lots of concentration, extreme ripening [in the grapes]. So the wines are a little bit more jammier to begin with. Also there's modern in the cellar, which is shorter maceration time, shorter skin contact, more of the winemaking is made when the wine is still a bit sweet. The use of small barriques for a shorter period of time. In a way it's also the new oak that impacts a lot, the flavor [of the final wine]. If you use barriques that are old you can feel it much less.
I think the idea of modern is to have wines that are ready and more pleasant when they're young. Traditionally made Brunello when they're young are too tight—specially in a classic vintage, [although] maybe not in 2007 or 2011 [two warm years in which grape tannins were naturally quite soft if very rich]. For instance in 2010 or 2012, which is coming out [being released onto the market] next year [in 2017], will be almost undrinkable when they are young. It's a good thing in a way ... I mean not undrinkable, but I mean difficult to drink, not pleasant. The tannin is still tight, the acidity is still very present. I think that the concept of modern is to make wines that are more approachable to a regular customer, not to a more educated customer.
You're saying, in a way, they're a little bit more simple? A bit more obvious, we would say. They've got this big ripe fruit, there's a lot of oak, and they give immediate pleasure and they don't demand much patience of the drinker. They're almost ready immediately.
Definitely, they're ready ... I don't say that they don't age, but they're definitely ready earlier. I think it was a concept that came out in the '90s to follow a little bit more in the path of Super Tuscans [very rich, soft, big-flavoured, heavily oaked red wines made in the image of what was then happening in parts of Bordeaux]. They were being very successful because they were opening new markets.
Now there is a trend to go back to tradition. I think that our strength is tradition. Our strength is typicity because there's only one Montalcino. Sangiovese from here is special and I think we should just show that instead of showing primary flavors.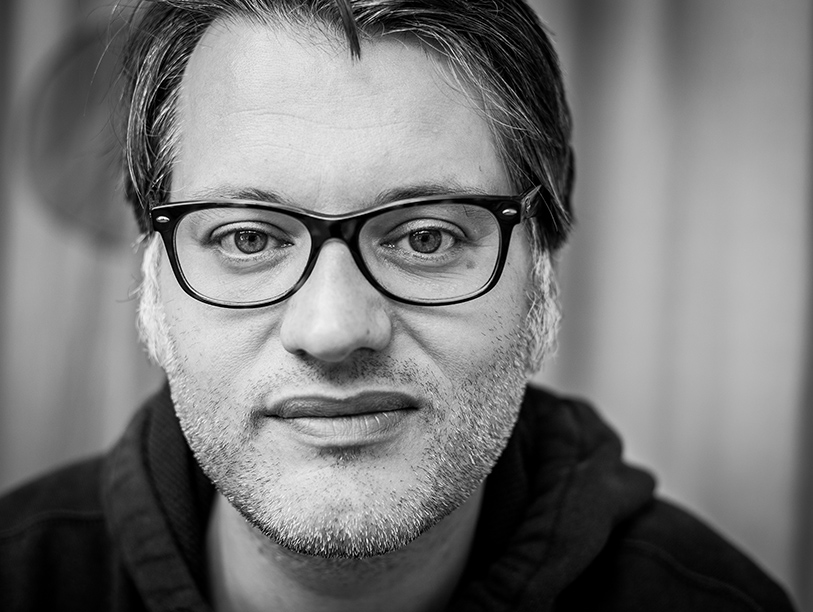 (Portrait of Ricardo Campinoti by Monty Waldin)
When you were younger, maybe you didn't dream you were going to become a winemaker, but did you have a more traditionalist mentality in terms of your dress or the music you listened to? Or were you bit of a rebel?
No, I wasn't much of a rebel to be honest, I was very regular guy. I grew up near Siena, half an hour from here. Definitely I knew what I liked, but I wasn't a rebel in that sense.
What's the next stage for you, you're organic, you've got all these little micro plots, your Burgundian philosophy, where do you see yourself in 10 years time?
I think we are trying to make the best we can with the vineyards we have. The idea is going more towards single vineyards. I purchased another single vineyard last year and I planted another one in 2012. The idea is to do four single vineyard [wines] and one Brunello, and then just keep working, making sure that the vines age well, in a good way, and the wines increase in quality as a result.
Do you think the next trend in Brunello is breaking the constituent parts of Brunello down into these little micro plots? A little bit like this Burgundian model I was talking about earlier on, instead of making these big blends from 50 hectares at a time?
Maybe Burgundy is a little bit extreme, like I said, in very small areas you have lots of wines. I think maybe we should also look at Piedmont Langhe, they have the, MGA, Indicazione Geografica Tipica. We should at least start recognizing a few areas, if not all of them. There are some areas that are well recognized, commonly accepted. For example, Montosoli, Santa Restituta. These are places that consumers already known and understand the quality. I think we should focus more on showing the different sides, because its also more fun. Wines like this they give you a little more thought. It is great to make one wine well, but at the same time it's making it more simple. You can showcase the different terroir's, how they react to a different vintages, and how they are all different. I think that's a lot of think about, and it's nice.
Montalcino at the moment is getting much better at welcoming tourists and making it easier for them to navigate the region. How much more work do you think the zone needs to do to really get its message out to consumers, whether they are experts or simply tourists?
In the sense of zoning for the vineyards, so far we've done nothing, so I think we have a lot to do. All the things that have been done have been done by individuals— from the single wineries. I think that there is now a little bit more of a trend of doing single vineyards and showing ... Several wineries now are starting to do different bottlings, or maybe they have a special vineyard that they want to showcase. When you blend into a single wine you are making, if you put the best vineyard of course you are increasing the quality of your regular wine, but I think you're lowering the quality of your most exceptional wines. It's a different concept. The concept of single vineyard is to have something exceptional that can really be isolated and be good.
Do you see yourself as a bit of a pioneer with this single vineyard thing?
Pioneer? No. I think we really believed in it and pushed it. Also we tried to communicate it. There are other wineries that have done single vineyards for a number of years, like Montosoli [Brunellos from Montosoli include the Baricci family 'Colombaio Montosoli', Caparzo's 'Montosoli', and Altesino's 'Vigna La Casa'], there's Spuntali [Vigna Spuntali, a single vineyard Brunello belonging to the Val di Suga winery. They have three single vineyards in total, the other two being Poggio al Granchio and Vigna del Lago. All are on quite distinct terroirs in terms of altitude, soil type, and exposure to the sun], lots of single vineyard have been done. I think we were some of the first to have it in different areas. We were among the first to have a vineyard in Le Ragnaie, a high elevation, and one in Castelnuovo, a low elevation. They are very different wines, so maybe we're the first to have something like that, really different interpretations of Sangiovese within the same area.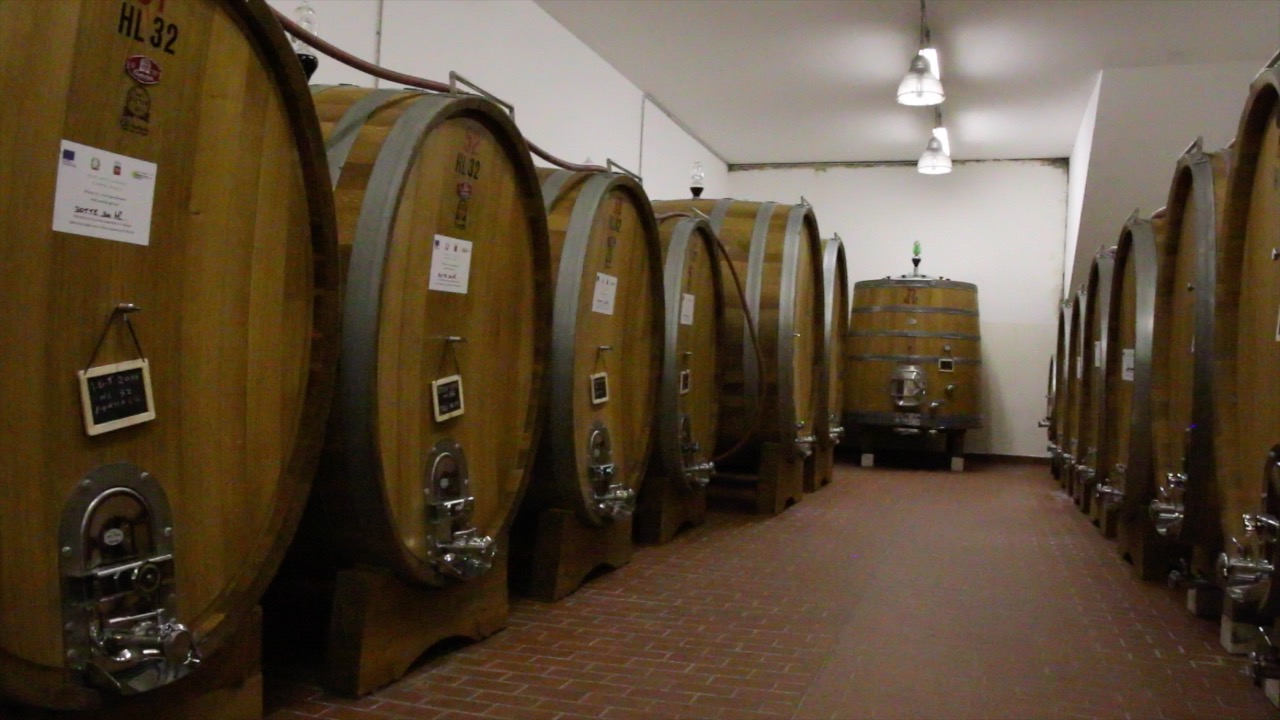 You have an agritourism. If I gave you your lunchbox, your panino, your sandwich for lunch, and you can only choose one vineyard to have lunch in, which is it going to be? Which is your favorite vineyard?
Lunch in the vineyard? Right here [by the winery]. I think it's the most beautiful, and, it's closest.
Yes to the winery.
It's definitely the most beautiful because here you are 600 meters, and on a clear day you can see the Isola del Giglio [the island of Giglio in the Mediterranean sea which is approximately 15 miles [25km] off the Tuscan coast, and the Tuscan coast is 25 miles [40km] from Montalcino] and the Mediterranean. I think the view is fantastic.
We mentioned tourism early on, obviously Montalcino is a kind of global mecca for wine lovers, but it's also becoming quite a bit of a mecca just for everyday tourists. How will Montalcino manage tourism if it becomes increasingly visited by foreigners and Italians?
That's tricky, good places and nice places become touristy because people want to see them. For example, Venice is touristy because it is incredible. I think here [in Montalcino] you would be lucky in the sense that you have to get here. It's not on the way to anywhere. It's near Siena, it's near Florence but it's not on the road to anywhere - the highway's not near. You have to really want to come here so I think that the people that come here are selective. It's lots of wine lovers mainly that come to Montalcino or at least people interested in wine. Most of the people that stay at our bed and breakfast are all going to see other wineries. They all want to taste wines. Even if they have low knowledge, or higher knowledge, it doesn't matter. They are interested in wine one way or the other. It's very difficult to get tourists just because they are passing by.
When people come here do they know a little bit about Brunello? It's become so famous, so quickly ... or have they just heard about this famous wine called Brunello? When they turn up do they think it's going to be white or red?
Exactly. You get a little bit of everything sometimes. Especially from tourists and maybe it's the first time they come, they've heard of it, maybe they've read it once, but they don't have much knowledge of the area. Then you get people that know more than me, they know everything, they know all the vineyards, they know who owns this, who owns that. You get a little bit of everything. Because it's a pretty area you also get a lot regular people who are just into wine but not really wine geeks. For example, if you go to Piedmont [in northern Itay, home of the famous Barolo and Barbaresco red wines] it's only people who are really, really into wine. Here you get a little bit, because I think it's Tuscany. Tuscany has so much tourism, you get a little bit of people just interested in wine at a general level.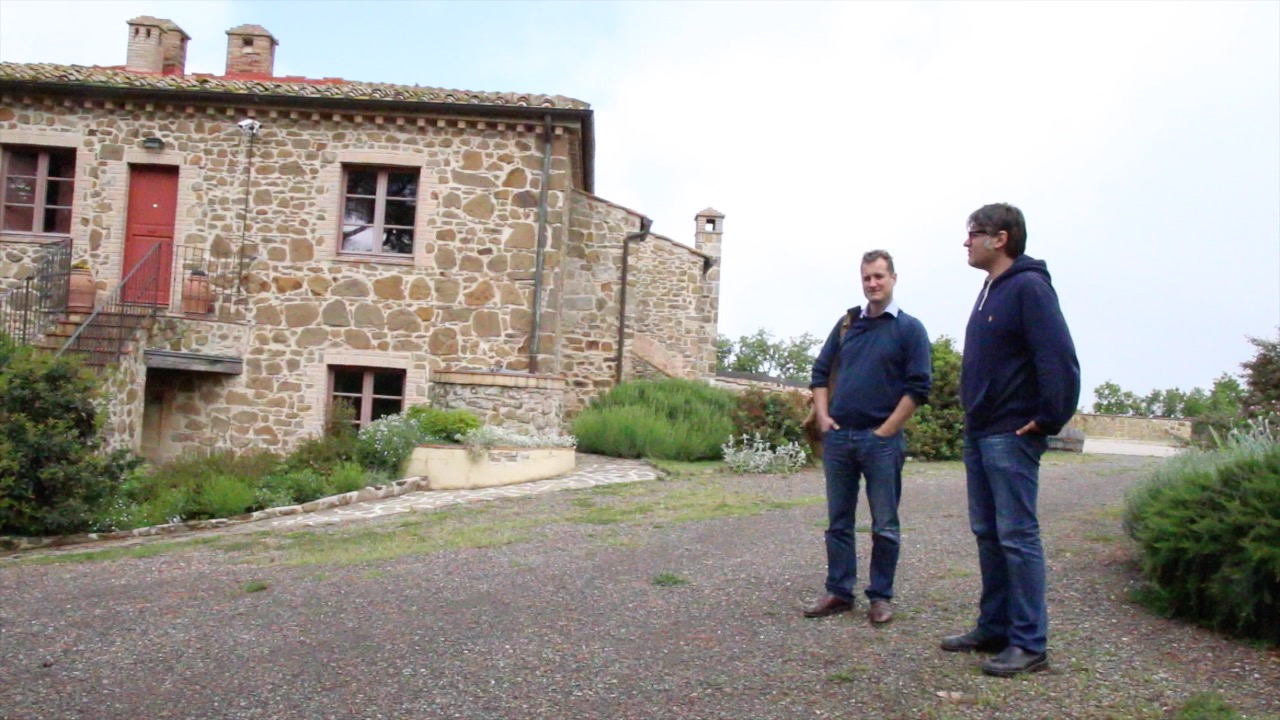 Monty Waldin with Ricardo Campinoti
A few years ago nobody had heard of Montalcino. It was a very, very poor region, there weren't any roads here at all, and now we see some bigger corporate wineries coming in. What effect is that having for better or for worse?
Definitely the economy was less developed. I'm one of the late comers you know. Lots of late comers came in the '80s, '90s. In the beginning there were very few families, you know noble families with lots of land. Then [from the late 1950s] the people that worked for them [as tenant farmers] started getting the land from them and working the first wineries when the consortium [the official body or 'consorzio' that regulates Brunello wine production] was founded by lots of people that were formally [tenant] farmers [but who had now become the landowners]. Definitely it was a farming community, now because of tourism, because of wine, it's quite ...
Mixed.
Mixed! People are more well off. It's definitely a bit more different. People don't have many financial troubles anymore, which is good. Not like, for instance, in some other rural areas of Tuscany. We're definitely lucky. I think what has changed a little bit more is the workforce. You have to get the workforce from other places. There's lots of people [working here] that were not born here, [as] there's more necessity for people to work as well well [because the vineyards have expanded and wine-growing is a labor-intensive process].
So you're saying it's easier to find people to work outside in the vineyard to do the pruning and the tractor driving? Or are you saying it's quite hard now to find people?
It's difficult, especially because the people that were born here are more knowledgeable of the area, There are not many of them, and they are all employed and the employers don't want to lose them. So it's not easy to find help and if you have someone really good, you tend to keep him, obviously. It's difficult but I think Montalcino has brought a lot of work and jobs to the surrounding villages. Also people [living] towards Amiata - lots of people [from Amiata] work in Montalcino and commute.The whole economy has benefited from the boom of Montalcino.
Does it help that you're organic, would someone working in a vineyard say, "I really want to work in an organic vineyard." Perhaps they feel it's going to be safer. Does anyone ever say that to you?
No nobody, to be honest, has ever said that. The people that work for us are definitely very happy that we do organic. You can tell by looking at the vineyard that there is more life. We still use copper and sulfur for certain diseases [permitted organic treatments for downy and powdery grape mildew respectively], but that's it. We don't use anything else, we don't use herbicides, we don't use any other chemical fertilizer. Everything here is natural.
How was it you ended up here?
We actually started here in 2002. This farm was owned by another Montalcino family; they already had an agriturismo. I believe this was the first agriturismo in Montalcino. We did renovations, we changed things, and put a little bit more work into the vineyards, and acquired more vineyards.
In terms of this estate when did it start and then when did you become involved as a family?
The first label that I have with a bottle that says, "Le Ragnaie" is from 1991. The farm has been here pretty much forever, this was a traditional podere. A little farm of Montalcino with groves, fruit, vegetables and a vineyard already. They started in '91 making wine, we started in 2002.
We bought this place in 2002 and we started working on the vineyards. Then in 2006 we acquired more vineyards - the vineyards at Castelnuovo. In the beginning we only have here and Petroso [a small vineyard at 380 meters surrounded by a forest and very near the town of Montalcino]then we acquired the ones in Castelnuovo, two small vineyards in Castelnuovo, and then we rented some more in Castelnuovo, and now the one in Montosoli. So we started in 2002 which was 14 years ago.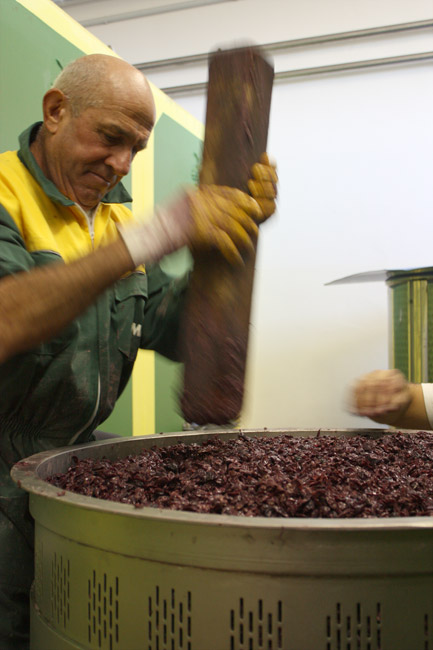 How would you sum up the terroir of Montalcino, in terms of the shape of the area and the major soil types?
I feel more comfortable talking about where we have vineyards. Knowing all of Montalcino is not easy. I know, for instance, by looking at the map, most of Montalcino is not planted with vines [most of the land in Montalcino is forest]. If you look at the northwestern area, it's all forest, and the northeastern area [around the hamlet of Torrenieri] is mostly clay, so it's wheat. The vineyards are really concentrated in the center, north, and in the southern part. We have vineyards in 5 different sites right now. At Le Ragnaie, we are at 600 meters more or less. We start at 540 and the highest vineyard is 621 meters. Composed mostly of sandstone, the soil on the top is very sandy and fine. Underneath you have sandstone, which is the basically the stone you see here in the buildings. It's lots of rocks and rocks that chip very easily.
Petroso is sort of similar to Le Ragnaie, it's about 400 meters elevation, the soil is a bit similar, and it is right next to the village. At Castelnuovo dell'Abate we are have three different sites [La Fornace, Loreto and La Cava]. Here there's more clay in the composition of the soils, so the wines tend to be a little more richer, stronger. In the lower part there is a little bit more clay, in the highest part there are more rocks. It's interesting there is lots of rocks from the river, like Châteauneuf-du-Pape.
These big round pebbles!
Yes, also in the area of Fornace and Loreto. Here the difference is the temperature. We are 180 meters and 400 meters at Fornace, so the area is definitely warmer compared to Le Ragnaie. We start harvesting much earlier there. We start harvesting the first or second week of September and we finish Le Ragnaie the third week of October.
What impact does the Mediterranean sea —the hot air from the Mediterranean—have on Montalcino?
We get the sea wind here coming from the southwest and it will flow through the vineyards of the lower part of Montalcino coming up. Whereas Castelnuovo is very protected by the Amiata Mountain, for the wind. It's warmer in the southwestern part compared to the southeastern part. The southeastern part is more protected. So Castelnuovo usually gives a very good balance between elegance and structure, because it's warm but it's not too warm. So you can keep the good finesse there.
You just mentioned Mont Amiata, what is that and why is it so important to Montalcino? Where is it on that map, or where would it be if it were on that map?
The Amiata on that map is around here. You can definitely see it, it's a mountain that's very high. You can ski up there, there was snow up until 2 weeks ago [early May]. It protects the village of Montalcino, especially the southeastern part, from the wind that comes from the plains. It's very important for that reason.
Is that one of the key reasons why Montalcino has become so famous? Sangiovese needs a bit of heat to ripen because this big extinct volcano is blocking that air? Is that a key factor?
I think it's definitely a key factor. The uniqueness of Montalcino is its geological situation and definitely Mont Amiata has a very big impact, because it's right here.
What about the highest vineyards? You mentioned your vineyard, but we're looking at the ... Is that mainly forest, is it too cold to go above?
There's nothing really higher than us. Our neighbor is the same height as our highest vineyard at 621. Then if you go across the street there is an archaeological dig, right across the street and then it starts going down again. Here you arrive at the area where there is Biondi Santi that area over there [to the east]. So basically we are at the top of the hill but facing southwest.
Right. And the little vineyards around the town you mentioned Montosoli, why is that important? What is Montosoli?
Montosoli is in the northern part of Montalcino. It's a cooler area compared to the south. Montosoli is a special hill with a special terroir. It produces wines that are structured, they have good power, but also they have a lot of finesse as well. They combine the power and the finesse of Montalcino. We started working there last year, in 2015. So far it's still a work in progress, but it looks very promising.
You mentioned that one of your vineyards is so high you cannot actually call the wine Brunello, even though it is made from the "Brunello" or Sangiovese grape, and you have to label it as Chianti Colli Senesi, which means Chianti from the Siena hills. And Siena is miles away [15 miles/25 kilometres]. What is that about?
We have vineyards above 600 meters. 600 meters is the cut off [point in terms of the maximum height above sea level for Brunello wine], or at least was the cut off. Now we're changing the law.
Because of global warming?
Yes. The Consorzio—we decided together with the Minister [of Agriculture] to change a little bit of the regulation and that's one of them. So now you will be able to make Brunello with all the Sangiovese from Montalcino. Until now you could not use the name of the grape above 600 meters. I believe the law was put in the late '60s when rules started a little bit. Back then it was cooler and also maybe there was less viticultural knowledge and maybe people were going for higher yields [meaning the grapes would not ripen well enough to produce acceptable quality for a Brunello wine]. So I think they decided to use 600 meters as a good number to have a cut off.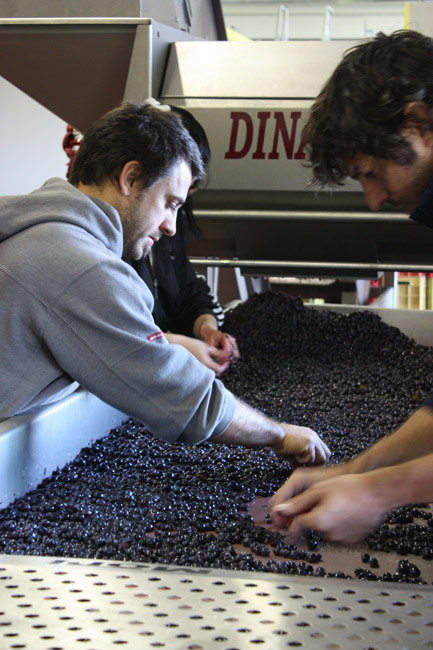 The worry was that above 600 meters they didn't think the grapes would ripen, so if unripe grapes were being made for Brunello, it would have given a bad image to the region.
Exactly, so they decided that anything above 600 meters would not make the cut for Brunello [di Montalcino] or Rosso [di Montalcino]. When we started we decided that we would [sell the wine from our vines above 600 metres] as Chianti Colli Senesi. Nobody knew that Chianti Colli Senesi is also in Montalcino. It's actually a historic appellation for the Montalcino area. There also old bottles of Biondi Santi Colli Senesi label [Biondi-Santi was the winrey that 'invented' Brunello in the 1880s by planting only Sangiovese vines which produced especially small, dark and thus well-flavoured grapes. The word 'Brunello' translates as 'little dark one'.]. Before [the] Rosso [di Montalcino denomination was created in 1984 as a sort or 'junior' Brunello made with no or little oak influence and bottled within a year of the grape harvest for earlier drinking. Brunello can age several years in wood before it is bottled.] lots of the second wines were labeled as Rosso dei Colli Senesi.
If I buy a bottle of wine from you and it comes from 601 meters, and I buy one from 599 meters, what is the difference in price percentage wise? Is the Brunello four times the price of the Chianti?
Pretty much, maybe even five.
Just for a couple of meters….
Just for a couple of meters, exactly. We cannot use, and now we are not even using the Chianti anymore, because our 2014 was too dark in color. The Chianti DOCG [the rulemakers] did not allow [this 2014 wine to be called Chianti Colli Senesi]. It wasn't dark enough it was pale [2014 was a wet year, so the wines were not as darkly coloured as usual]. Yes, there is this rule [about how dark the wine should be] and now they are taking away [this rule]. It also explains the idea that they used to have about ripening. Ripening has always has to be excessive [meaning to get enough colour to satisfy the rulemakers one had to pick the grapes so late they were also over-charged with alcohol which made the wines much harder to drink for current tastes].
What are the effects on the vines of Montalcino of global warming? Of higher temperatures? Or the insects here and the kind of pests that you get? And the flavor profiles of the grapes that you're going to pick?
We're definitely seeing lots of warm vintages. Talking to the older guys —definitely the temperatures are going up. This year [2016], right now its been kind of cooler in the past 10 days, but already in March or April, you can go out in T-shirts. That's not common, we did not have any snow. There is something going on, it appears, by looking at statistics, it's all over the world. The temperature on average is going up. You can definitely see it here, especially in the lower parts of Montalcino. Especially for a grape that needs nice, slow ripening like Sangiovese.
The past few vintages, like 2011 for instance, was really hot. We got a heat spike in August, it dried out the fruit and lots of people had burns in the fruit because of the weather. I think what we're trying to do is pay a little bit more attention to the grape growing, and also keeping a little bit higher yields in certain areas. And not taking too much of the leaves out, because you can have lots of sunburn otherwise. So we had to adjust a little bit, it's not like it used to be. The trend is you definitely see an increase in the temperature and you see an increase in the alcohol in the wines. Nowadays to make a completely ripe wine in a good way [meaning with ripe tannins but without baked, rasiny flavours], that's below 14 [alcohol], it's almost impossible you know? So it's definitely an issue. You are left to adapt and find ways.
So you're basically looking for flavor ripeness but not too much high alcohol level.
That's always a problem. In 2011 for example, our wines are 15 alcohol because, if you want to have complete ripeness and flavor ripeness you have to wait. If you pick too early, they [the pips inside the grapes] are too green [which can give green flavours to the wine]. There's always, in extreme vintages, a battle between balance and freshness, and sometimes you don't win. In 2011, definitely for our standards they are ripe, they are nice, also because the high elevation vineyards, we keep the freshness well but still the alcohol is definitely there.
---
Monty Waldin was the first wine writer to specialize in green issues. He is the author of multiple books, including The Organic Wine Guide (Thorsons, 1999); Biodynamic Wines (Mitchell Beazley, 2004); Wines of South America (Mitchell Beazley, 2003), winner of America's prestigious James Beard Book Award; Discovering Wine Country: Bordeaux (2005) and Discovering Wine Country: Tuscany (2006), both Mitchell Beazley; and Château Monty (Portico, 2008).
Buy Monty Waldin's guide to the best Biodynamic wines on Amazon.
---
As of publication the Le Ragnaie 2009 Brunello is available at Empire Wine in NY for $52.95.