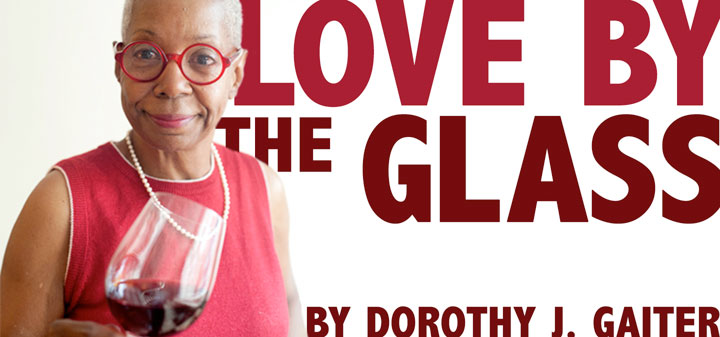 Several years ago, after disappointing experiences with tasting-menu wine pairings at some of the most famous restaurants in America, John and I swore off them. Walking away was sad for us. We had discovered the trend many years before in France and cheered when it caught on in the States. But as we found in 2008, for some of these places, tasting menus had become merely another way to quickly seat 'em, feed 'em and delete 'em.
Nevertheless, because we hate to let a few bad actors keep us away from anything forever, we planned a romantic weekend around a tasting menu and wine pairing dinner at the Crimson Sparrow in Hudson, N.Y. Hudson is less than a three-hour drive north of Manhattan, and this was our second visit to this bucolic hamlet. Our daughters took turns caring for Tiger, our 16-year-old Maltese, who is really their dog but you know how that goes.
In a word, the Crimson Sparrow was a joy.
The best dining experiences are a collaboration between the creators and the consumers. Basically, our pact with the kitchen and/or cellar is simple: "Give flight to your passion and we will gladly follow." At the Crimson Sparrow, we soared and swooped and dove and , well, it was an amazing culinary journey, a tasty, beautiful and surprising foray into the exotic and familiar. (Fish & Game is another restaurant in Hudson that's well-known for its tasting menu. We had a long-standing reservation there, but two weeks before we were to arrive, it canceled, citing a private party.)
Soon after checking into our lovely room at the Inn at Ca' Mea, we walked to the restaurant at the far less trendy end of Warren Street, literally on the other side of the railroad tracks, to see if the menu for the next night was posted. It was. While I like offal, I'd never had lamb's tongue, so I wondered what that would be like. But it was the beverages from Japan that really drew our attention. Of the seven beverages to be paired ($55) with the tasting menu ($75), two were sakes, which are made from brewed rice, and one was a shochu, a distilled drink, in this case distilled from barley. The four wines weren't showstoppers, but the pairings, all of them, sounded delicious. The creative and innovative dishes are the main attraction, and the beverages, it turned out, did them proud the next night, all except one.
The Crimson Sparrow, which opened in June 2012, doesn't have a sommelier. Its co-owners and co-chefs are Ben Freemole and John McCarthy, with McCarthy also doubling as the drinks maven. (He also made some of the beguiling interior design decisions in this casual, welcoming place.) Freemole and McCarthy met while working at WD-50, Wylie Dufresne's trailblazing hub of modernist cooking, which is scheduled to close at the end of November. McCarthy worked there for three years and was head of research and development. Freemole worked there for a little more than one year.
"I am not a sommelier and I don't pretend to be," McCarthy told me when I called him to discuss the pairings. He is, however, a certified sake adviser, who estimates that "about 90 percent of the time" during his down time or when he's socializing with friends, he drinks sake or shochu. "I'm trying to explore wine more of late," he said.
"I gravitate toward sake pairings. I do find that for me, it's a bit more challenging to pair the wine so I taste a lot more wine when arriving at a pairing than I would a sake," he said. His developing taste in wine, he said, tends toward Old World whites and New World reds.
In their cooking, he explained, "we do like Asian profiles. In some ways that lends itself to Asian beverages. It's a natural thing." In November, the restaurant plans to present Sunday sake events. McCarthy traveled to Japan when he was young and more recently had a cooking apprenticeship there, which he said, "made a huge impression on me." Before he went, he studied the language "so that I could be courteous and communicate," he said, adding that now he studies Japanese at least two hours every day.
Here's the wonderful menu, which doesn't really do justice to the strikingly yummy and pretty preparations. I was having too much fun to take better notes. I'm sorry. They change significant elements of the menu every two weeks or so, depending on the availability of ingredients, McCarthy told me. Having farms nearby that offer everything from beef to cheese to honey is a major draw of the area.
Carrots, Radicchio, Lamb's Tongue, Mustard
Dewazakura Tobiroku "Festival of Stars." Japan. This was a sparkling sake, a first for us. The effervescence and minerality played perfectly with the earthy, shaved-thin tongue, which reminded me of liverwurst, and the nicely pungent mustard sauce. The bubbles come from a secondary fermentation in the bottle, like Champagne.
Peas, Chorizo, Cod, Pearl Onion
Masumi Arabashiri "First Run." Japan.
This was a seasonal sake, and had a nice yeasty character that underscored its youth, which worked well with the fresh-picked sweetness of the peas and the earthy, perfectly done cod. This dish was so pretty that I hated to destroy it.
Beets, Hazelnut, Crème Fraiche, Roe
2013 Marcel Giraudon Bourgogne Aligoté. France.
This was one of my favorite pairings. This dish combined the sweetness of the beets, the crunch of the hazelnut and the sublime richness of the crème fraiche and salinity of roe in a most delightful way. The Aligoté from Burgundy is a white that we don't see very often. It has good acidity and toast and citrus notes and zipped with this dish.
Octopus, Pine Nut, Kimchi, Chayote, Chervil
Genkai Iki Barley Shochu-Japan.
I was really looking forward to this dish and it didn't disappoint. I love tender octopus and had never had Kimchi or Chayote before. The Kimchi was a nod to Korea, where John lived for a couple years when he was younger. "I learned the language and the food made a huge impression on me," he said. The shochu was served on the rocks and it had hints of cinnamon, totally enticing. At this point in the meal, we were smiling at the sheer bravado of the kitchen and the deft movement from Japan to France and back to Japan.
Chicken, Escargot, Lemon, Parsley
2012 Tenuta Terre Nere Etna Rosso. Italy
Genius. Textures and flavors that were out of this world. Velvety, fragrant. Heady stuff. Familiar elements made new. This organically farmed red wine was flavorful yet light enough not to overwhelm the dish. It was grown in volcanic rocky soil on the slopes of Mt. Etna in Sicily. Yum.
New York Strip, Rice, Tomatoes, Turnips
2012 Domaine Henri et Gilles Buisson Saint-Romain La Perriere. France
This was the entrée choice that I selected and it was the only dud of the night. The steak was a bit tough and the wine was way too heavy. McCarthy, who told me that he takes criticism well, demonstrated that by saying cheerfully, "I'll take 95%!" He also said, "When people tell me they hated the wine or the food, I always thank them for trying them," which is a good attitude to have when you're pushing the envelope.
For his entrée, John had the Grouper, Edamame, Leeks, Coconut Milk, Lemongrass
2012 Contine Astorini Lacryma Christi Cratere Bianco. Italy.
The aroma of coconut milk and lemongrass just made us want to put our faces in the dish, and the leeks melted perfectly in our mouths (yep, I had some, too). The grouper, one of John's favorite fish, was perfectly done, moist and earthy. We drank a lot of Lacryma when we were young. This one was a blend of three grapes native to the Campania region in southern Italy: 70% Falanghina, rounded out with Caprettone and Greco grapes. It had hints of peaches and sage that with the aromatic coconut milk and lemongrass took us to another place.
For Dessert:
Chocolate, Vanilla, Malt, Cashew, my choice, and Triple Cream Cheese and Honey, John's.
Both bliss.
I pressed McCarthy about the Japanese aspects of the Crimson Sparrow and this is what he told me:
"I believe Japanese cuisine is one of the most beautiful in the world. There is a simplicity that is striking but at the same time, it is very complex," he said, quickly adding that he doesn't pretend to cook strict Japanese food or own a Japanese restaurant: "I am trying to take the basic premises of Japanese and Korean cuisine and include them in what I think will result in delicious food and a unique dining experience."
He and Ben achieved that.
McCarthy said the wine offerings have been criticized as being "light." He added, "Some people have asked, 'Where's your big, lush, red wine?'"
"I'm trying to balance three different types of alcoholic beverages in one pairing menu, from sake to shochu to wine. It's about me experimenting. I have an open mind."
I'd agree that the wine offerings were light and did not match the verve and imagination of the food. People willing to try the food likely have pretty sophisticated expectations about wine. That said, the Japanese beverages were a revelation for us.
Bottom line: We can't wait to get back to the Crimson Sparrow.
Dorothy J. Gaiter conceived and wrote The Wall Street Journal's wine column, "Tastings," from 1998 to 2010 with her husband, John Brecher. She has been tasting and studying wine since 1973. She has had a distinguished career in journalism as a reporter, editor, columnist, and editorial writer at The Miami Herald and The New York Times, as well as at The Journal.