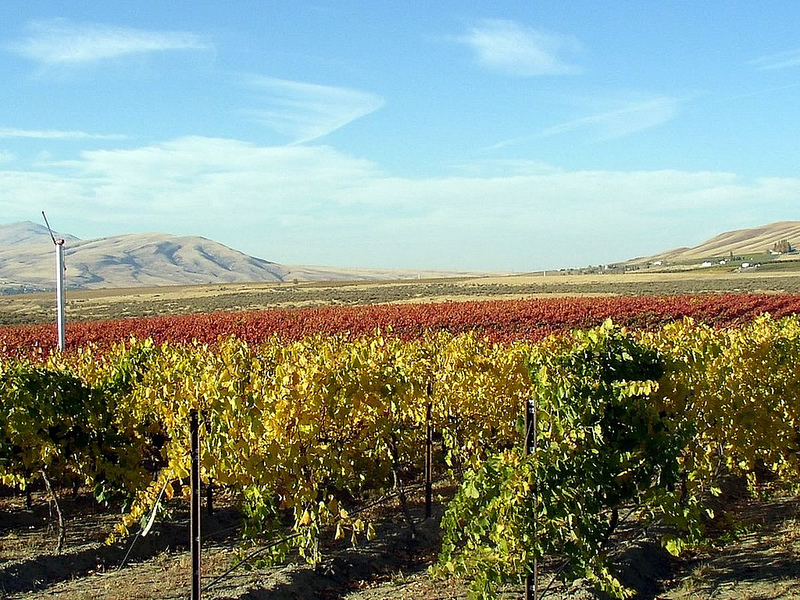 Have you tried Lemberger? Stop right there if you're going to make a crack about the name and stay with me. It's a totally unique grape that thrives in my (adopted) home state of Washington. Possibly you've come across it in Germany and/or Austria, where it's known as Blaufränkisch, but you should get to know how it thrives on US soil. I turned to JJ Williams, Sales Manager for Kiona Vineyards and Winery, where they've been making Lemberger for three decades, to find out about the grape's history at the winery, the challenge to sell it, its future in Washington, and why Lemberger is like a supercharged Pinot Noir.

How long have you been making wine from Lemberger at Kiona? What is its place in the history of the winery and the history of Washington wine?
We planted our first Lemberger vines in 1976. The first two wines released under the Kiona name were a Chenin Blanc and a Lemberger, both from the 1980 vintage. Kind of weird wines to start out with, but that's how we roll I guess. This is, unless someone can prove to us otherwise, the first commercial release of the Lemberger varietal in the United States. We are just finishing up with the 2010 vintage, so we've been at it for 30 years.
We now have 13.1 acres of Lemberger at the Kiona Estate vineyard on Red Mountain. We sell anywhere from 3,000 to 4,000 cases a year, although it's not a high priced wine. The $15 MSRP probably makes it the most affordable 100% Red Mountain red wine in existence.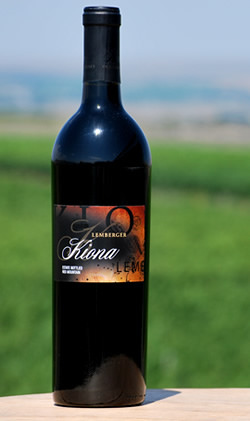 Where is the Lemberger love? Why is it not more popular? is it really because of the name?
I have to imagine that the name plays a significant role in its dis-popularity. Let's just get out of the way the fact that it sounds like Limberger, the famously stinky (but delicious!) cheese. Also, when people find out about its German/Austrian heritage, they often think it's going to be sweet. Which makes sense I guess, considering how that's more or less Riesling country, but they are also making some great cool-climate reds there.
In some markets (like Seattle) it's our best selling wine, go figure. The 2011 just got a 90 and a "Best Buy" from Wine Enthusiast, so the critical acclaim is there. I just think that for the average consumer, if they see a wine that they've never heard of on the shelf, are going to grab something more familiar. There are so many $15 options out there.
Maybe it speaks more to the adventurous/alternative spirit of Seattlites that they love it so much. Some distributors won't carry it. They won't even try it! In my experience, if people try it, they love it. We could probably call it by a proprietary name and sell more, but then we'd be alienating the people who buy it already. That would be a lot of work, and I'm more inclined to spend my effort selling Red Mountain Cabernet Sauvignon than re-launching a $15 product.

What is the future for Lemberger in Washington?
Lemberger plantings are dwindling. It's just hard to sell. We're lucky in that we have a market for it, we're kind of known for it. It's actually a great blending grape as well, you can add it for aromatics and acidity, without messing up tannin/structure profiles. But sometimes a niche product just has to be content with being a niche product, regardless of how great it actually might be. A good analogy would be the Mazda MX-5 Miata. Great car, fun to drive, affordable, and been around forever. But of the 284,000 cars Mazda sold in 2013, only about 6,000 of them were MX-5 Miatas.
Besides us, I know that they grow some at Alexandria Nicole's Destiny Ridge vineyard and Two Mountain Winery's Copeland vineyard. I don't foresee us ripping it out anytime soon, it's a nice product to have. Whenever I got to trade shows I already bring it along, for two reasons: it's delicious and I want people to try it, and it brings people to my table. If you were flipping through a program and saw Merlot after Merlot and Chardonnay after Chardonnay, wouldn't you be intrigued by a Lemberger?

For the uninitiated, describe what Lemberger tastes like. Is it similar to any more familiar grapes? What's a great food paring with Lemberger?
One of the very best things about Lemberger is its food-friendliness. It's bright without being tart, it's got a medium-body (I call it the Goldilocks tannin profile.... just right). Lots of red fruit, mineral, and spice, nice deep color. It's about a good a pizza and BBQ wine you could ask for. I like to tell people it's like a Pinot Noir on steroids, and that seems to make sense to a lot of people. If Merlot and Pinot Noir had a lovechild with a knack for bright acidity, you'd be describing Lemberger. At least our Lemberger.
Red Mountain has a penchant for putting out brooding, intense red wines, so ours is perhaps on the darker side of the Lemberger spectrum. Some of the Blaufränkisch wines from Europe are lighter, almost rosé in color. It's super versatile. I'd pair it with grilled salmon just as easily as grilled lamb.