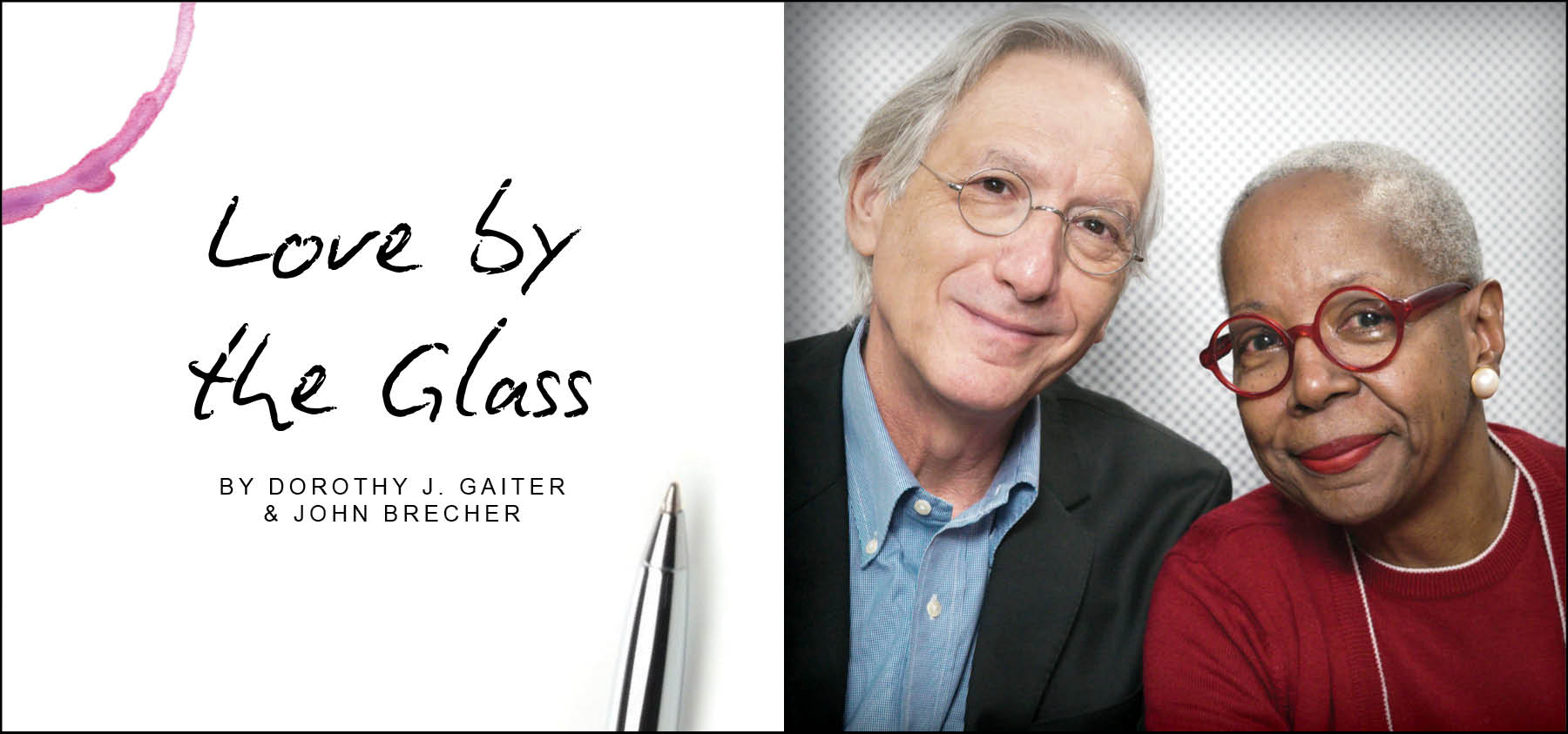 Along with the certainty of death and taxes, a cynic today could add end-of-the-year predictions of a Champagne shortage. Dire climatic conditions this year did result in what's reported to have been a dramatically smaller harvest there, but you're not likely to feel that for a while.
Good news! There's a world of bubblies out there now, but bad news, too many are just OK. A good sparkler shouldn't just tickle your nose but help lift your spirit, something we could all use now as we stagger toward the end of this terribly challenging, sad and frightening year.
We recently advised you to try sparklers from the UK, an aged Champagne, a Grower's Champagne, an Italian sparkler from Trentodoc or Franciacorta, a French sparkler that wasn't Champagne, and a bubbly from "another" state like Bending Branch Winery's sparkling Tannat from Texas.
Now we're back with a handful of other tasty suggestions, from Argentina to Oregon, that are pretty wallet-friendly in these times of inflation. In our most recent column, we mentioned that 50-year-old, family-owned Sokol Blosser Winery in the Willamette Valley of Oregon was a B Corporation, certified as employing practices that help sustain the earth, people, and its business.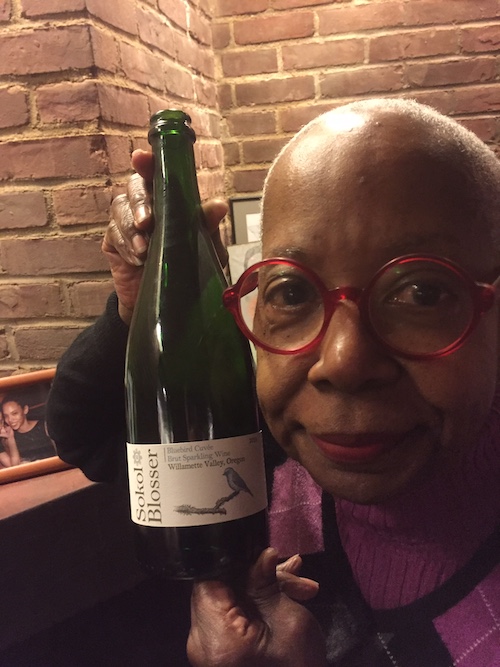 We thought about this the other day when we tasted Sokol Blosser's 2019 Bluebird Cuvée Brut. Yes, it has a bluebird on the label, and yes, "critter labels" generally make us cringe because the stories behind them are often bogus. But this wine is a charming, beautifully balanced, makes-you-smile, 11 percent, méthode traditionelle sparkler for about $25. And the winery's commitment with the Prescott Western Bluebird Recovery Project over the past 20 years to help the native birds thrive in bluebird houses in its organically farmed vineyards is real.
The Bluebird Cuvée is a blend of five grape types: Pinot Noir, Chardonnay, Riesling, Müller-Thurgau and Muscat. Whoa. "So it's not the traditional base for a Brut," winemaker Alex Sokol Blosser, 47, told us when we called recently. "Being in the New World, we can do stuff like this." And now do it well.
A little history: In 1971, Susan Sokol and her then-husband Bill Blosser founded the winery in what became the Dundee Hills AVA. They later divorced. In 2008, when Susan Sokol Blosser retired, their offspring Alex and Alison, now 42, became co-presidents. Both second-generation winegrowers, Alison is also CEO of the 125-acre, 90,000 case winery and Alex is head winemaker. Their father Bill is board chairman. After their older brother Nik became President Biden's Chief of Staff-Office of Cabinet Affairs at the White House in February, his seat on the winery's board was filled by his wife, Deborah Kafoury. Susan Sokol Blosser is now married to Russ Rosner, winemaker emeritus at Sokol Blosser.
"When Mom retired in 2008, she handed the baton to me and my younger sister," Alex told us. "We promised each other by the time we hand the baton, God willing, to the third generation, we'll be known as a sparkling wine house as well as a Pinot Noir house. We knew that was a big undertaking and it would take 20 years to see if this is even doable. So we started researching in 2008 and in 2011, we released our first sparkler, a Brut Rosé of Pinot Noir from a site that we have a longtime lease on and farm."
The Pinot Noir vines on that cool site, Blossom Ridge vineyard in the Eola-Amity Hills, "would ripen enough for a still wine that was compelling every two out of five years, but the other three? Wow. So we decided that this was a good site for the sparkler," Alex said, going on to discuss phenolic ripeness, the "P" in our most recent column about words you must know for 2022. "We could grow grapes there where you get ripeness without brix increase. That's why Champagne works. It's so north that you get maturity. You get flavor development in the grapes but without too much sugar. Once the sugars get too high you get alcohol that's too high and alcohol kills bubbles."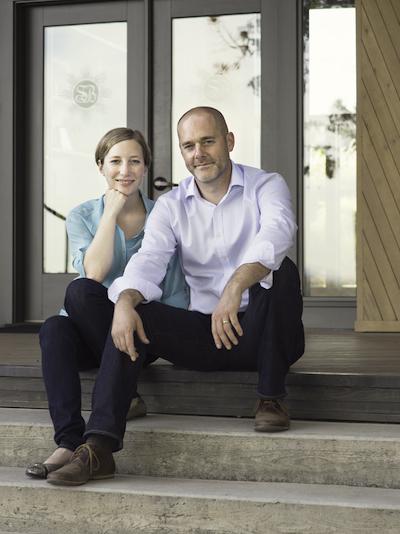 Alex said that Alison, who runs the business, decided they needed a sparkler that didn't require as much time en tirage (on its lees from the second fermentation), three to five years, as that Rosé. She suggested they make a Brut that could be turned around faster, younger, fresher. Thus the Bluebird, now in its fourth release. The 2019, of which they made 2,500 cases, weighs in with a dosage of well-integrated 8 grams. All of it is Willamette Valley fruit, with Pinot Noir, Riesling, Müller-Thurgau estate-grown and Muscat and Chardonnay purchased.
(Siblings Alison and Alex Sokol Blosser. Co-presidents and 2nd generation winegrowers. Photo credit: Carolyn Wells-Kramer.)
"There's an incredibly steep learning curve in making sparkling wine," Alex said, adding that they're fortunate to now have Robin Howell, their associate winemaker, focusing on the sparkling line. When the siblings were mulling over the idea of sparkling wines, they went to pioneer Oregon sparkling winemaker Rollin Soles of ROCO Winery, and previously Argyle Winery, which he sold. "His advice was 'don't do it,'" Alex recalled, laughing.
"When you don't know what you're getting into, I think, it's a lot easier to get started. I kind of did know, but if I knew then what I know now I probably wouldn't do it," he added, still laughing. "We made so many mistakes. With our first sparkler en tirage, half had bubbles and half didn't. We had a consultant and he said, 'Well, I've never seen that before.' It's not easy putting bubbles into bottles but every year we have seen continuous improvements. The Bluebird was the culmination of a lot of learning to know what we had to do to make a fruit-driven, reductionist-style sparkling wine that competes with that under-$25 bottle of sparkling."
Because the equipment for riddling the bottles and disgorging the wine is so expensive, they use a custom facility 15 minutes from their winery where those things are done. "So much of sparkling wine is consistency because you're dealing with a product that every bottle is its own fermentation vessel. The possibility for inconsistency is really high with sparkling wine so the better equipment you have, the more opportunities you have to nail every aspect of the process," Alex said, adding that the presence of this custom facility has resulted in other wineries in the region making sparkling wines.
Last year, Sokol Blosser began making a Blanc de Noir, from 100% Pinot Noir, a fourth sparkling offering. Alex said they'll leave it from three to five years on its yeast to "get that complexity in the mid-palate we want. You've got to be patient with sparkling wine. That's one thing Rollin taught me."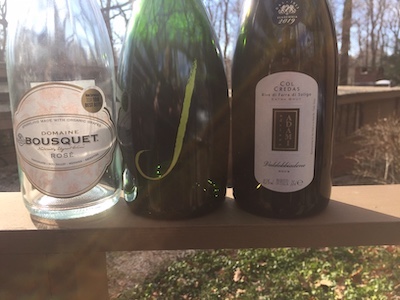 Is your sparkler affirmatively tasty? If not, try another. They are available from everywhere, at all prices. We recently had three others we particularly liked: Domaine Bousquet Rosé from Argentina, which was lighter on its feet than some other pink, inexpensive bubblies ($13); Adami "Col Credas" Extra Brut from Valdobbiadene, a long-time favorite that shows what good Prosecco can be ($23); and J Blanc de Blancs 2014 from California, which had a richness and depth we often associate with Champagne, with the bubbles an integral part of the toasty taste ($80).
Susan Sokol Blosser told us, "My husband and I are monitors for the Prescott Western Bluebird Recovery Project and watch our 11 bluebird houses during the mating season. Over the years we have watched fledge probably about 50 bluebird babies." Fledge, we learned, means that the baby birds have hatched and grown to the point where they can fly. Given the presence of other birds like swallows that fight for the same nests, that is a huge achievement.
Alex said, "My Mom and stepdad, Russ Rosner, they're super into this. They go on walks every night in the Springtime and they feed them. There's this little dish on top of the boxes and they feed them stuff with grubs in it, helping the babies grow. They're the reason we have bluebirds. They're gorgeous. That's what my mom is doing in retirement. She's helping the native Western bluebirds recover around us, helping."
This is an example of doing well by doing good. "Western Bluebirds can eat their weight in bugs. They are voracious eaters. So if you have them in your vineyard that really helps with integrated pest management," Alex said.
In the New Year, we hope you find many opportunities to help. Help other people, help the planet, and help yourself. We could all use more self-care in these trying times. Bubblies, even Martinelli sparkling cider, can help you celebrate life, reaffirm that you're still standing. Indeed you are.
Dorothy J. Gaiter and John Brecher conceived and wrote The Wall Street Journal's wine column, "Tastings," from 1998 to 2010. Dorothy and John have been tasting and studying wine since 1973. In 2020, the University of California at Davis added their papers to the Warren Winiarski Wine Writers Collection in its library, which also includes the work of Hugh Johnson and Jancis Robinson. Dottie has had a distinguished career in journalism as a reporter, editor, columnist and editorial writer at The Miami Herald, The New York Times, and at The Journal. John was Page One Editor of The Journal, City Editor of The Miami Herald and a senior editor at Bloomberg News. They are well-known from their books and many television appearances, especially on Martha Stewart's show, and as the creators of the annual, international "Open That Bottle Night" celebration of wine and friendship. The first bottle they shared was André Cold Duck. They have two daughters.
Banner by Piers Parlett