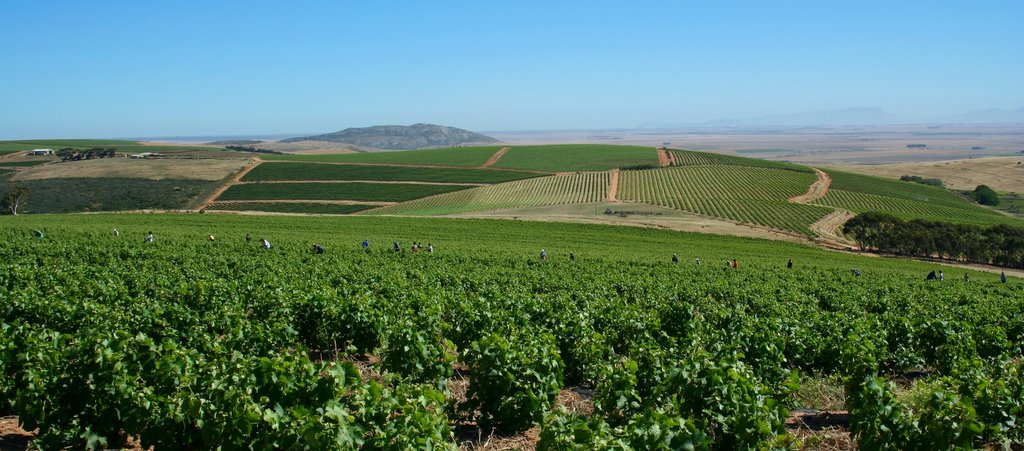 South Africa's Swartland wine region, north of Cape Town on the country's western edge, is a tough place to grown grapes. But that did not deter Charles Back, owner of Fairview, from establishing Spice Route Winery in this viticuturally challenging spot. I was invited to have lunch with Jean-Baptiste Cristini, who is in charge of sales and marketing for Spice Route internationally. Not only did I discover that their Chenin Blanc is excellent with assorted spicy foods like a kimchi-stuffed pancake, but also that Cristini had recently returned to his home country of South Africa after a stint in both Burgundy and Champagne. Following our meal, I sent him some questions that arose from our afternoon discussion. My queries and his responses follow:
Spice Route was established in the Swartland region which, at the time of the winery's founding, was "better known for its wheat than its wine." What makes this place suited for grapes and which ones grow best there?

Charles Back "re-discovered" the Swartland in 1997 when he stumbled across an old bushvine of Sauvignon Blanc planted on a farm that produced tobacco primarily. Taking into account the hot climate and water obstacles in the region, Sauvignon should not grow well in these areas which intrigued Charles even more. Indeed mostly covered in wheat, the Swartland spreads over a very large area with a handful of areas where granite and schist outcrops provide the opportunity to produce fine wines without irrigation.

It is an area of extreme viticulture where compromise can be fatal.

Spice Route vineyards are planted on ferricrete soils of decomposed granite and deep, iron-rich clay, which run over 20 metres deep. Locally we call these soil types Koffieklip (Coffee Stone) and Oakleaf, depending on the level of decomposition of the granite in the soil. It is these soils, coupled with the right choice of canopy management and variety which enable this region to express something different under the unforgiving heat. The large majority of our vineyards are bushvine trained varieties like Syrah, Mourvedre, Carignan, Grenache and Petite Sirah, among others. All our vineyards are dryland farmed. The unique blend of heat and deep granite soils provides the unique character and texture of Swartland wines.

You've also got vineyards around Darling near the Cape's west coast. How does this contrast with Swartland and what grapes enjoy being closer to the water?

Initially, when we planted in Darling it was a sub-area of Swartland. The area is now a separate ward surrounded by the Swartland wine region. Our vineyards are perched high on the mountain on a South-West facing slope with a direct view of the cold Atlantic ocean about 2 miles away. The same deep iron and granite rich soils are found here, but the climate is quite distinctive with the direct marine influence and very cool nights. Here we have the opportunity to plant other varieties like Semillon and Sauvignon Blanc, expressing a similar texture to the Swartland wines.

Pinotage has gotten a bad rap over the years. Describe the quality of Pinotage coming out of South Africa in 2014. Do you still find resistance to the grape when you travel around the world pouring it for consumers and sommeliers/wine buyers?

There is often much misconception or simply ignorance of what Pinotage is, but we have seen over the past 5 or 6 years that the common denominator of Pinotage is much higher than before and the stigma of the grape is slowly fading. It is a fickle grape that suffered from many issues in the vineyard initially. The past decade has produced fine Pinotage in South Africa, cool and warm climate and it is proving to be quite a versatile variety. Richer than both Pinot Noir and Cinsault [Pinotage is a cross of these two grapes], it can show great depth and aromatics, and there is definitely a wide variety of expressions from one region to the next.

From a marketing standpoint, does South Africa need to have a signature red and white wine? Would Pinotage and Chenin Blanc be the most likely candidates?

They are already the signature varieties, but not the only candidates. South Africa has the advantage of having a large spread of climates and soils in a relatively small area, which before visiting the region people often have trouble realising. Pinotage are Chenin are our best candidates across the board as we have the largest plantings of both varieties, and they are both very versatile in cool and warm climates, but inevitably we will see many candidates arise as the market discover that South Africa is rich in variety of climates and soils.

In my personal opinion, Mourvedre and Syrah are great contenders for our warmer climates, and Semillon for our cooler climates, granted now from a "marketing" standpoint! Where South Africa has it's greatest strength is when coming to blends, in both white and red.

How does your experience in Champagne and Burgundy inform what you're doing in South Africa?

Very little! I worked with Chardonnay in cold climates for 10 years, soils that were not more than 150 million years old, and wines with great ability to age and a strong demand from the market.

Today, I am home, with warm climates, some of the oldest soils in the world and wines that are under appreciated or ignored in comparison. Yet every day is more exciting as the challenges are not simply related to a profit margin, it is every one of us contributing, however small, to an industry and a community.

One great lesson learnt in Champagne was that every time the region sells a bottle, the exposure benefits all. It is one of Champagne's great strengths as an appellation and a brand. It is key that South Africa, the Swartland and our other regions do the same.

What South African dishes do you like to pair with the Chakalaka red blend and the Chenin Blanc?

Spice Route Chenin is quite a versatile wine, great freshness, rich mid palate and generous aromatics. Feathered game is always a winner, or simply stuffed quail with quince and soft spices. From the sea, grilled calamari with Thai spices or other. Spice Route Chakalaka is indeed a wine for the table too. Rich in texture it is not a heavy wine so it doesn't require big game meats. A dukka-spiced New York strip of flank steak, or crusted rack of Karoo lamb, our local king of meat would do just fine. We are pretty carnivorous in South Africa!