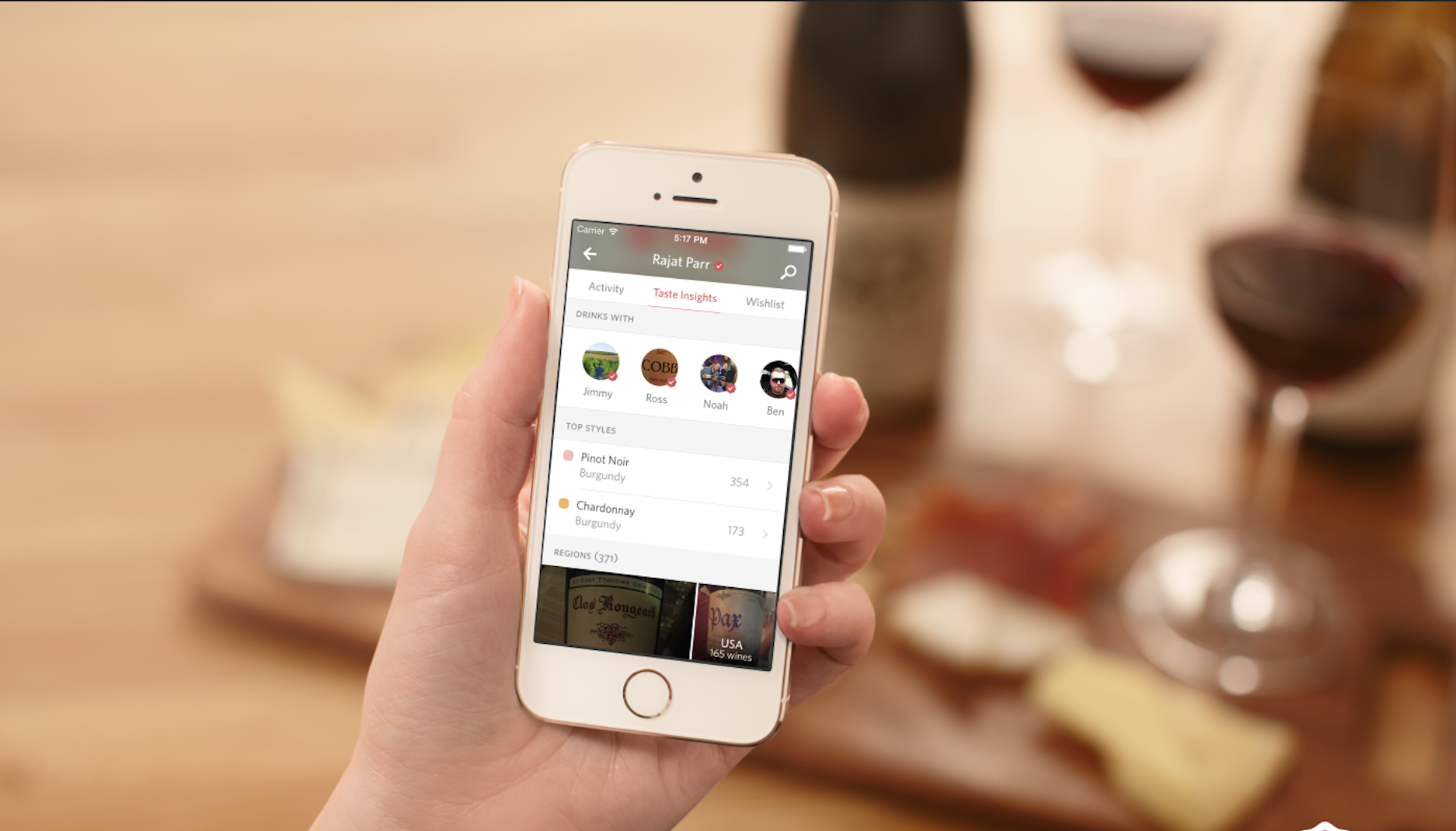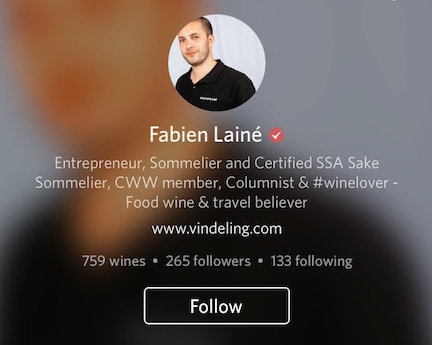 Wine and Soul, Tawny 10 Year Old
"A real #winelover indulgence (or "péché mignon" as we say in France) - a glass of #portwine to finish everyday this 10Y old from Wine & Soul really exalt as one of the best on the market."
Rated 9.3
Rubrum Il Carpino Merlot 2007
"A beautiful garnet 100% Merlot wine from Il Carpino in Friuli VeneziaGiulia - as any great bottle shared with good friends - a very pleasing and mature wine #winelover marked by the aging 18 days of maceration in oak barrels of 24 months in large oak casks of Slavonia and four years in bottle it delivers intensity with a nice complexity "
Rated 9.3
De Sousa Et Fils Cuvée Des Caudalies Brut Rosé Grand Cru Champagne Blend NV
"A great Grand Cru Champagne made of 90% old vines Chardonnay and 10% Pinot Noir - A well balanced Champagne, a bit too "gourmand" maybe for me. The aromatic is focusing on delicate red berries."
Rated 9.1
Bodega Catena Zapata Nicolas Catena Zapata Cabernet Sauvignon Malbec 2004
"Made of 72% of Cabernet Sauvignon and 28% of Malbec, it spent 18 months in French oak barrel - and now more than 10 years in the jeroboam - what a treat it was to have this intense, elegant and rich wine - a unique moment shared with Laura Catena and the team of bodega Catena Zapata and for sure some local slow grilled Argentinian to perfect it."
Rated 9.6
Château Maugey Le Jean-Marc Red Bordeaux Blend 2002
"Another excellent example that there is still some little producers that make magic happen in Bordeaux for very good price - Merlot based with a bit of Malbec - starting to be mature, a great wine with character, length and a story - and it is organic. Thank you Jean Marc."
Rated 9.1
Quinta Das Carrafouchas Vinho Regional Lisboa Red Blend 2009
"The 2008 was a more complex - this 2009 is however a good and easy wine, and a good value for little money - ripe, smooth with marked tannins and food friendly."
Rated 8.6
Dow's Quinta Do Bomfim Vintage Porto 1999
"Maturing slowly starting to move on the fruit and displays secondary aromas - a good port (but nothing to compare with the top vintages)."
Rated 8.9
Niepoort Colheita Porto Port Blend 1999
"Mature, fresh and persistent - a delicious port with balance combining youth and oxidation notes - a nice and good value treat."
Rated 9.3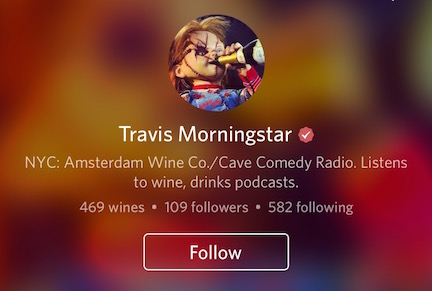 Raventos Blanc L'Hereu Conca Del Riu Anola Macabeo-Xarel-Lo-Parellada 2012
"Beyond Cava."
Rated 9.0
Harmand-Geoffroy Mazis Chambertin Grand Cru Pinot Noir
"These colors don't run "happyfourth"
Rated 9.5
Brigaldara Valpolicella Corvina Blend 2013
"Valp life."
Rated 9.0
Bodegas Flaco Estate Bottled Tempranillo
Rated 8.5
Paul Durdilly Les Grandes Coasses Beaujolais Gamay 2014
"Gamay bears."
Rated 8.9
Sektkellerei Ohlig 50 Degree N White Blend
"Mindless self-indulgence."
Rated 9.0
Maison Frantz Chagnoleau Pastoral Pouilly-Fuissé Chardonnay
"Sleek, silky Pouilly-Fuissé."
Rated 9.0
Château De Pibarnon Bandol Mourvedre Blend Rosé
"Aw yeah."
Rated 9.2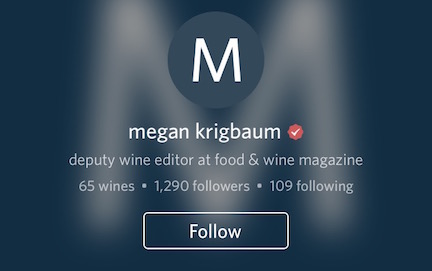 Bertolani Delicato E Fresco Rosé
Rated 8.5
Guilhem Et Jean-Hughes Goisot Corps De Garde Bourgogne Cotes D'Auxerre Pinot Noir
Rated 8.0
Château D'Arlay Corail
"Comte wine with ribbons of Comte cheese. Lithe, fresh, clean. Blend of all 5 Jura grapes!"
Rated 9.0
James Rahn Havlin Vineyard Gamay 2014
Rated 8.0
Arnot-Roberts Luchsinger Vineyard Rosé Touriga Nacional
Rated 8.9
Under The Wire Bedrock Vineyard Sparkling Zinfandel Rosé 2012
"Been waiting to try @bedrockmorgan's pretty, HAPPY sparkling zin for a long time -- best tasted in-vyd."
Rated 8.9
Minimus Wines Celilo Vineyard Blaufränkisch
"Excited about wines coming from the Columbia Gorge. Surpised to know Blaufränkisch is there. Juicy, peppery, good fit for random slew of dishes at state bird!"
Rated 8.5
F.X. Pichler Unendlich Smagard Riesling
"2008 - - ripe golden pineapple, luscious."
Rated 9.5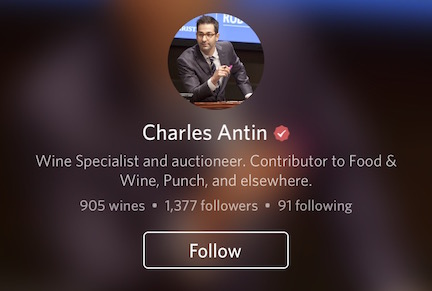 Jacques Lassaigne Les Vignes De Montgueux Blanc De Blancs Extra Brut Champagne Chardonnay
"Yeasty bubbles, perfect for champagne train."
Rated 9.1
Pichler-Krutzler Klostersatz Grüner Veltliner 2013
"Chapeaux"
Château Pradeaux Bandol Cinsault Mourvedre Rosé 2014
Rated 9.0
K Vintners Rosé Syrah 2014
"Not pictured: Pradeaux rosé."
Rated 8.8
Krug Grande Cuvée Brut Champagne Blend
"Always a good day for Krug."
Rated 9.4
R. López de Heredia Viña Tondonia Gran Reserva Rioja Blanco Malvasia Viura 2003
Rated 9.0
Coudert Clos De La Roilette Cuvée Tardive Fleurie Gamay 2013
Rated 9.2
Marcel Lapierre Cuvée Mathieu Morgon Gamay 2013
"Every time I have it, such a treat. Such a cool underbrush and sage thing going on. Great structure too. Glad I have a few mags in the cellar. Will be a different beast in a decade."
Rated 9.4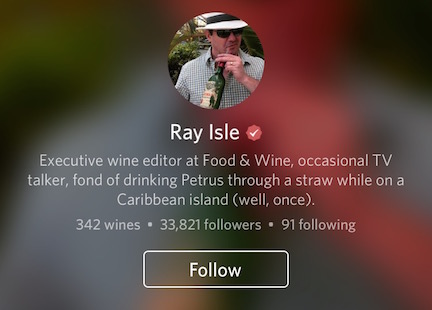 E. Guigal Ex Voto Ermitage Syrah 2001
"Still very young. Rouge, not Blanc."
Rated 9.2
Kongsgaard Vio Rous Napa Valley Viognier Roussanne Blend 2005
"05 vintage of Roussanne/ Viognier. Unctuous, absurdly rich, and bizarrely balanced for all that."
Rated 9.3
Weingut Robert Weil Tradition Rheingau Riesling 2013
"Absurdly good for the price. Could drink this all day long."
Gérard Raphet Charmes-Chambertin Grand Cru Pinot Noir 2005
"Fragrant & lovely, very pure raspberry note."
Rated 9.3
Domaine Jean-Louis Chave Hermitage Syrah
"From magnum. Kept changing every time I went back to it. Spectacular wine."
Rated 9.6
Mas Gabinele Faugères Syrah Blend 2010
"Very impressive for a basic Faugères. Garrigue, ripe raspberry, supple tannins."
Rated 9.0
Carlisle Vineyard Zinfandel 2013
"Impressive old vine Zin. Lots of spice, powerful but not out of balance. Too young! - would love to keep for several years."
Rated 9.2
Vincent Girardin Les Narvaux Meursault Chardonnay 2005
"Spot-on Mersault, and better than I expected it to be. Ideal time to drink this wine."
Rated 9.2