Wine writing is in the midst of a revolution and if you don't think the wine on the shelves is affected by who writes about the subject, we have two words for you: Robert Parker. For a long time, wine writing was mostly the province of white men, many of whom we admire, like Hugh Johnson and Michael Broadbent. But the world has changed and so have the voices in the wine world.
If you follow wine today, especially on social media, and your feed isn't bursting with new voices, you need to refresh your feeds. People from all backgrounds, of all kinds, from everywhere, now are writing about wine from different perspectives. It's a very exciting time.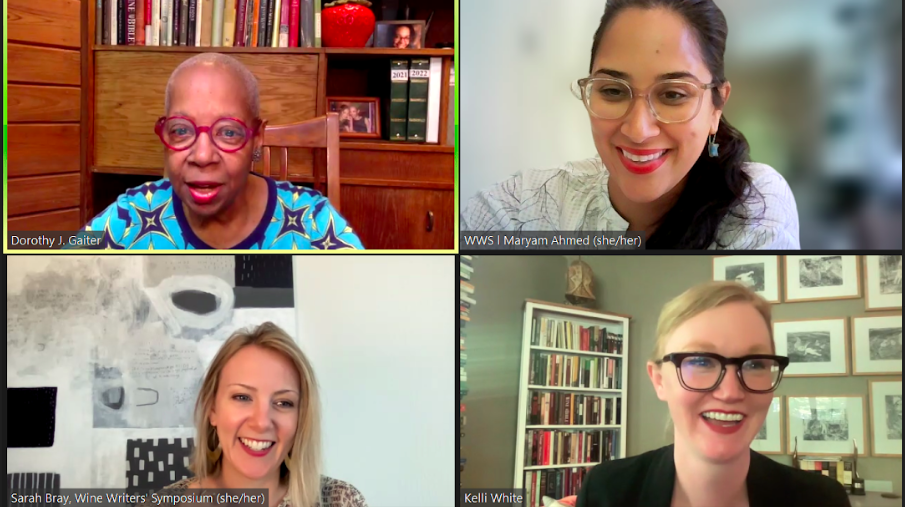 For almost 20 years, the premier gathering of wine writers has been the Wine Writers' Symposium in Napa Valley, founded by Meadowood Napa Valley and Napa Valley Vintners. We were keynote speakers in 2019 and Dottie joined the advisory board this year.
Before COVID and the Napa fires and a gap year in 2020, WWS, formerly known as the Symposium for Professional Wine Writers, was an in-person event. But last year and this year, it has been virtual. The three-day session was just held, with 253 registrants from around the world and a stunning list of speakers, from Ruth Reichl to MJ Towler. We also spoke this year.
Even if you're not a wine geek or a wine writer, we wish you could have been there because so much of the discussion and advice was more about life than wine. Here are some of our takeaways and our favorite quotes:
--Take risks!
Ruth Reichl, food writer, eater, cook: "The things that are the most worth doing are the things that frighten you the most."
Madeline Puckette, creator, Wine Folly: "My two business partners, one was a friend who became CEO of another company and he left and the other was my husband. Turns out – I love my husband, he's an amazing dude – but he's not that fun to work for. So we kind of went our separate ways. He said this is really your project, you should take it over. I spent the next couple of years trying to figure out how to be my own boss, which was the hardest thing I've ever done in my life."
--Wine writing should be about more than wine.
Talia Baiocchi, Editor-in-Chief, PUNCH: "We're always looking for the writer who's going to ask the bigger question. Why does it matter?"
...