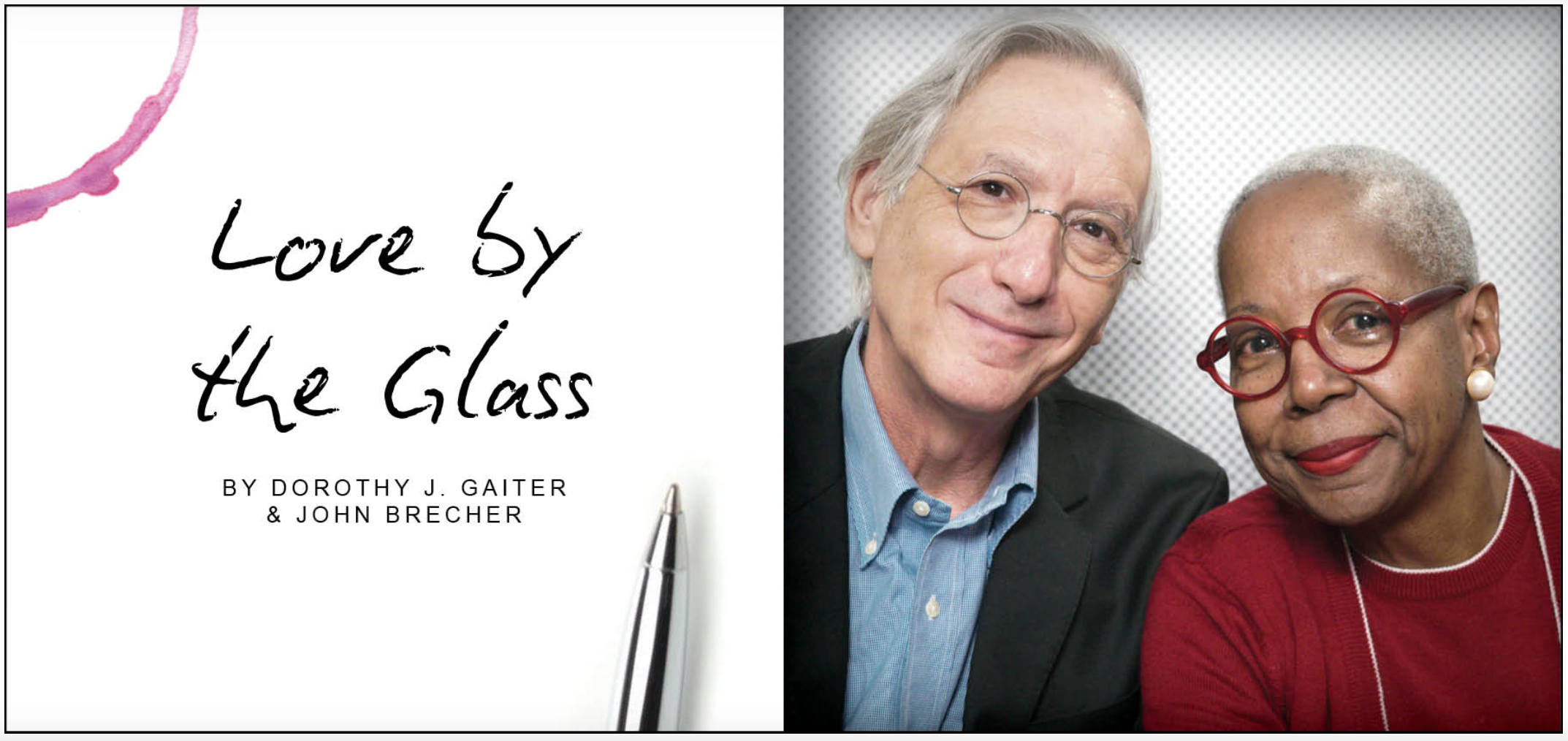 Wine writing is in the midst of a revolution and if you don't think the wine on the shelves is affected by who writes about the subject, we have two words for you: Robert Parker. For a long time, wine writing was mostly the province of white men, many of whom we admire, like Hugh Johnson and Michael Broadbent. But the world has changed and so have the voices in the wine world.
If you follow wine today, especially on social media, and your feed isn't bursting with new voices, you need to refresh your feeds. People from all backgrounds, of all kinds, from everywhere, now are writing about wine from different perspectives. It's a very exciting time.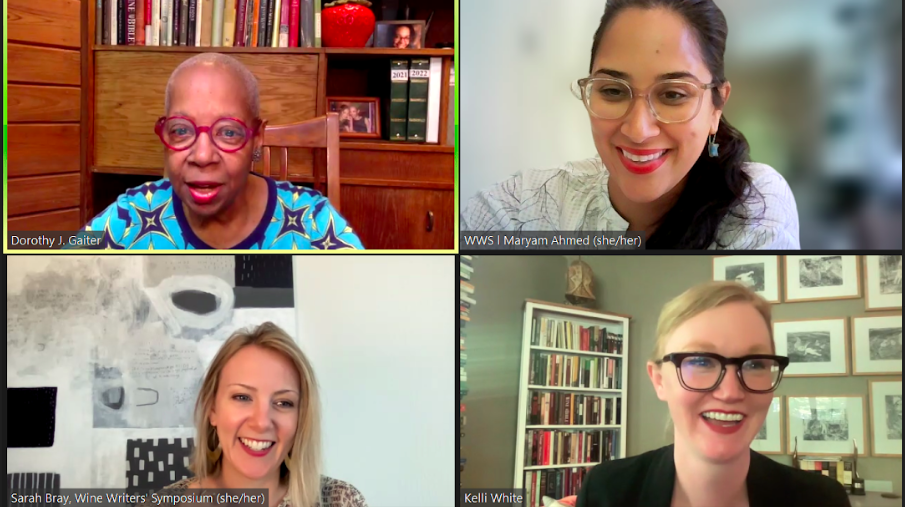 For almost 20 years, the premier gathering of wine writers has been the Wine Writers' Symposium in Napa Valley, founded by Meadowood Napa Valley and Napa Valley Vintners. We were keynote speakers in 2019 and Dottie joined the advisory board this year.
Before COVID and the Napa fires and a gap year in 2020, WWS, formerly known as the Symposium for Professional Wine Writers, was an in-person event. But last year and this year, it has been virtual. The three-day session was just held, with 253 registrants from around the world and a stunning list of speakers, from Ruth Reichl to MJ Towler. We also spoke this year.
Even if you're not a wine geek or a wine writer, we wish you could have been there because so much of the discussion and advice was more about life than wine. Here are some of our takeaways and our favorite quotes:
--Take risks!
Ruth Reichl, food writer, eater, cook: "The things that are the most worth doing are the things that frighten you the most."
Madeline Puckette, creator, Wine Folly: "My two business partners, one was a friend who became CEO of another company and he left and the other was my husband. Turns out – I love my husband, he's an amazing dude – but he's not that fun to work for. So we kind of went our separate ways. He said this is really your project, you should take it over. I spent the next couple of years trying to figure out how to be my own boss, which was the hardest thing I've ever done in my life."
--Wine writing should be about more than wine.
Talia Baiocchi, Editor-in-Chief, PUNCH: "We're always looking for the writer who's going to ask the bigger question. Why does it matter?"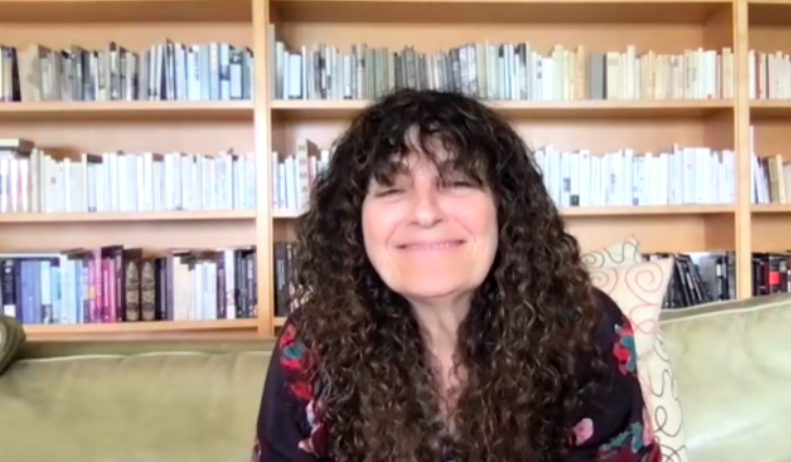 --And yet too much wine is insular.
Ruth Reichl: "You need to find better ways to connect with readers. I don't think that this is a time for people to be really technical because more and more people are interested in wine, interested in drinking and they want to read something that they can understand, and I think that's still a problem. I think so many younger wine writers are trying to show how much they know and you don't need to show off to your audience -- you just need to connect with your audience."
(Photo: Ruth Reichl)
Kelli A. White, Director of Education, The Wine Center at Meadowood Estate: "The world of wine is really vast. The world of wine that sommeliers care about is this much [almost closed fingers] and the world of wine that writers care about is maybe that much [slightly more opened fingers] – for most of the wine writing that I consume, anyway. And yet there are oceans of wine that normal people are drinking every day. You have to open yourself up to what actual people are actually drinking and it's such a gulf between what humanity is consuming for wine and what is being reported on or featured in fine dining. It comes back to what is wine writing. What is the job? Do you want to be a wine writer because you just kind of wistfully talk about the things that you are interested in? Or are you actually reporting on things that matter to people other than just your peer group?"
Wine is a good thing that we need to share – but be honest about.
MJ Towler, Host, Executive Producer & Creator, The Black Wine Guy Experience Podcast: "Wine is this beautiful beverage that's perfect for stimulating conversation. I've never seen a fight break out at a wine tasting."
James Sligh, sommelier and wine educator: "There are so many people who feel like wine doesn't belong to them. You can see the entire world through a glass of wine."
Esther Mobley, Senior Wine Critic, San Francisco Chronicle: "Sometimes the best way to serve a community that you happen to love is to hold it to account and look at it with a critical lens and not just write fawning puff pieces over it. We're not making up problems. There are issues, there are changes happening, and if we don't cover them honestly our readers will stop taking us seriously and they'll stop taking Napa seriously, they'll stop taking Bordeaux seriously because they're not getting real information that feels like it's the product of true journalism. Then what happens to these regions? Will we stop caring about them?"
And there are more people of all kinds in positions of authority who are making a difference.
Angela McCrae, Executive Director, Association of African American Vintners: "If you have [diverse] decision-makers in the room, everything will trickle down from there."
Lee Oglesby, Senior Editor, Flatiron Books: "I am personally very invested in publishing books by Black authors who feel like they might not have had a place in the industry, who feel that they might have been overlooked, and if I can give them that experience of reaching people with a message that is really important to them, that's what I'm looking for."
Jacy Topps, Print Assistant Editor, Wine Enthusiast: "Just because you're not certified in wine or you don't have all the background, you can still tell stories through wine and that speaks to consumers and that brings a different demographic. That's what I want to bring life to…Creating inclusion is going to help the industry long-term."
It's hard to make a living writing about wine, but some people have figured it out.
Anthony Giglio, Wine Director, American Express Centurion Global Lounge Network. Since 2020, he says he has hosted 420 virtual tastings for thousands of "happy drinkers" in nine countries. "I remember in the '90s when we [freelancers] used to be paid $2.50 a word at the base. It's been a rough road these last three decades for wine writers trying to figure out how to make money when today we're offered $1 a word. I ask those editors offering that what was your rent in 1996 because we were getting $2.50 back then…
"Writing led to speaking. I'm a kid from a blue-collar family in New Jersey. I keep that plain voice and throw humor in there and it has given me an audience that's uniquely mine. Wine is so incredibly intimidating. I make people laugh first and then they learn a ton while laughing all the way."
Should writers write for free?
Jonathan Cristaldi, wine writer: "There are instances when you can accept an opportunity to do something for free or low pay but you have to be selective. Is it a one-time opportunity to get your name out there in a bigger way than if you had pitched and pitched and weren't getting through the door? Is it an opportunity to improve your skills? Something you've never done before? It may be a timing issue. As you move along in your career, you kind of learn your worth and it's your responsibility to communicate that worth."
But it has become an ethical minefield out there. Freelancers aren't sure where the boundaries are.
Robert S. Boynton, Director, Literary Reportage Program at NYU's Arthur L. Carter Journalism Institute: "All the interesting questions are gray. My rule of thumb is don't do anything that if the reader found out about it he or she would feel fooled. That transparency and disclosure are things that will get you forgiven for most things. The thing that readers don't like and don't deserve is to be fooled and that is not an ethical principle but it is something that I think is a universalizable principle that I think all good writing would do well to play by."
Many writers struggle with writing about the science of wine.
Jamie Goode, Wine Columnist, The Sunday Express; Founder, WineAnorak: "Your job as a writer when you are dealing with technical people isn't just to interview people and take quotes and then put those quotes in your article. Your job is to synthesize and assign confidence. I'm not going to give equal weight to things that don't have equal credibility….My job is really synthesizing all of the aspects of science, bringing them together, distilling them … making it accessible while not dumbing down the message, keeping the essence of the science."
Brenna Quigley, geologist; Host, Roadside Terroir Podcast: "What we do in the podcast all of the time is how far can we take the science and the technical bit and then pull it back really quick into something that's really tangible and really accessible."
There is a great deal of data out there about wine, but too many wine writers don't use it or use it badly.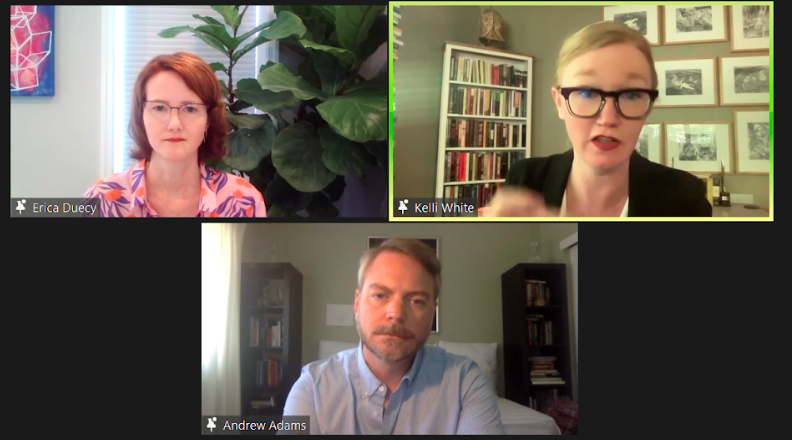 Erica Duecy, Chief Content Officer, Pix: "I think a lot of reporters, including me, come to journalism not because they love math…so there's kind of fear of numbers that a lot of people have, but it's actually fairly easy to learn the basic skills that you'll need….to up your game in the data space…
"[And then discussing whether data is objective:] This is why it's so sticky to report about wine's or alcohol's impact on health because there is so much data out there but it all is conflicting and one of the key reasons for it all being conflicting is that it's sponsored by very biased and agenda-driven, different organizations. The burden is on the reporter to get a sense for how reliable this data might be...It speaks to the larger issue of no data is perfect or sacrosanct. You use all of these things as pieces to pull into a greater story that you need to also vet out through a variety of ways."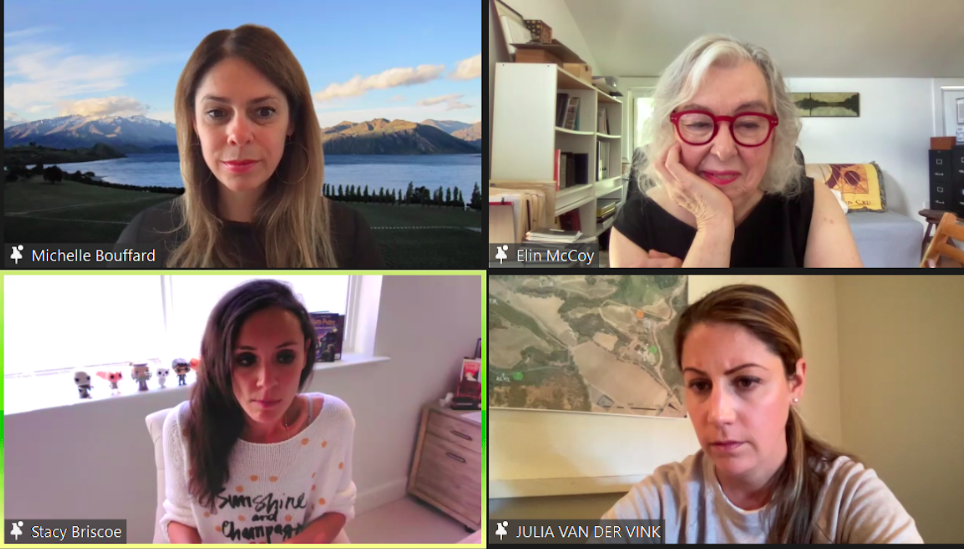 When you're reporting, always listen and always overreport.
Elaine Chukan Brown, Executive Editor US, JancisRobinson.com: "Make sure you know more than you actually have to communicate."
Elin McCoy, Wine & Spirits Writer, Bloomberg News: "The main thing I've learned not to do is not to be afraid of silence. Not to be afraid of not talking too much, of not filling that silence with chatter. I've learned – listen, listen, listen, listen. And the way I learned this was listening to my own interviews. Early on I would play them back and I'd think, oh my God, that is terrible, look at how often I interrupted that person just as they were about to say something. Or I was trying to show off my wine expertise. I've learned the hard way to be quiet and if you just listen, people will tell you what you want to know."
And never forget that wine, from the vineyard to your mouth, is a human endeavor.
Julia van der Vink, Vineyard Manager, Harlan Estate, asked in a session on interviewing how much she works with technology in the vineyard, concerning the effects of water.
"It gives me a chance to air my grievances about the false promises of technology, which I love to do. When I got to Harlan seven years ago, we were trying everything…And we worked with technology for a long time and I started to feel like we were worshiping false idols. Ultimately, people are really good at interpreting water stress. We've now eliminated every single technology we had several years ago and what we do is basically we've replaced it with people. We have vinemasters who have three acres apiece and they walk every single row. I feel like a lot of these technologies are crutches for folks who sit in an office and write work orders on 200 acres.
"My feeling is where we want to go is we believe that great wine, for us, is going to come from this culture of connectivity and intimacy and we have people and people are still the best multivariable analysis processors that exist."
Dorothy J. Gaiter and John Brecher conceived and wrote The Wall Street Journal's wine column, "Tastings," from 1998 to 2010. Dorothy and John have been tasting and studying wine since 1973. In 2020, the University of California at Davis added their papers to the Warren Winiarski Wine Writers Collection in its library, which also includes the work of Hugh Johnson and Jancis Robinson. Dottie has had a distinguished career in journalism as a reporter, editor, columnist and editorial writer at The Miami Herald, The New York Times, and at The Journal. John was Page One Editor of The Journal, City Editor of The Miami Herald and a senior editor at Bloomberg News. They are well-known from their books and many television appearances, especially on Martha Stewart's show, and as the creators of the annual, international "Open That Bottle Night" celebration of wine and friendship. The first bottle they shared was André Cold Duck. They have two daughters.
Banner by Piers Parlett