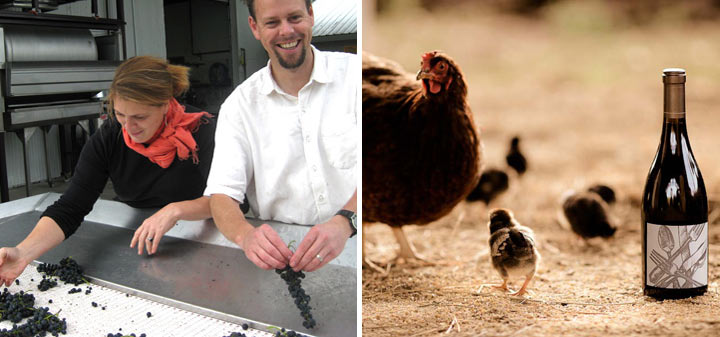 You may be familiar with "terroir," the notion that we can taste the whole vineyard in a single sip of wine. But some wines are so engaging and dynamic that we get a sense, somehow, of the hard work and good will of the people who made them.
Take Brian Marcy, for example. He's the soft-spoken type; you'd never guess that he once made wine for headliner California labels such as Turley, Marcassin and Neyers. But Marcy yearned to work in a cool-climate growing region. And his wife, Clare Carver, longed to run her own farm according to the ecologically restorative rotational grazing system practiced by Joel Salatin in Michael Pollan's book The Omnivore's Dilemma.
So the couple moved north to Oregon in 2006, purchasing a small farm, which they named Big Table Farm, in a remote corner of the Willamette Valley's Yamhill-Carlton appellation and embracing a quest to live off the land.
Today, they raise heirloom chickens, pigs, goats and cattle, feeding their animals off their own land and selling the meat CSA-style. They smoke bacon and ham, and cure prosciutto and guanciale. The couple also cans tomatoes, apples and pears, dries beans and stores root vegetables. Carver plows behind a team of Haflinger horses and harvests honey from four hives of bees. And they host meals out in the pasture, at the eponymous long table, serving the food they've cultivated.
As if this idyllic farmstead weren't enough, there are still Marcy's thoughtfully made wines to consider. Hewing to the integrity of the grapes, Marcy's stripped-down winemaking style belies his posh California background. He emphasizes whole clusters rather than destemmed fruit, for spicy aromatics, structure and nuance. He allows fermentation to happen naturally and spontaneously, uses the bare minimum of sulfur, and doesn't filter—not even the whites.
Until they can afford to plant vines of their own (they're building a winery right now), the couple leases and farms Wirtz Vineyard, a 42-year-old own-rooted property, and works with Oregon's oldest certified-organic vines at Cattrall Brothers Vineyard, among others. Below are a few of my Big Table Farm favorites; each is a personal handshake from Brian and Clare.