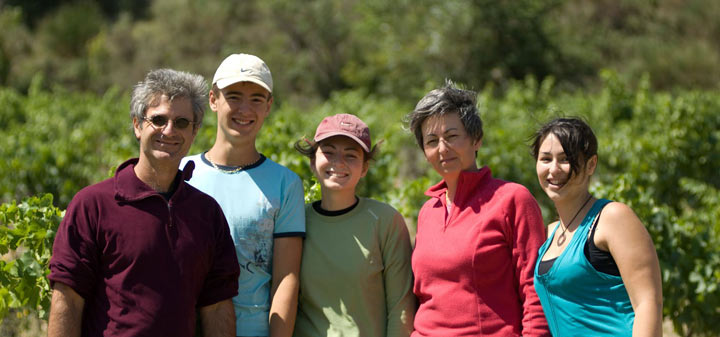 One day in the early 1990s Eric Saurel told his wife Christine to get both the laundry and the kids inside because he was about to spray chemicals on the family's 60 hectare vineyard. When Christine asked Eric if he had told the neighbors to do the same as well, Eric admitted he hadn't. The realization sparked the couple's decision to convert their vineyard, Domaine Montirius in the southern Rhône region of Gigondas, to organic and then Biodynamic methods.
Without chemicals to protect his grapes from bugs and disease, Eric had to get creative. The answer, unsurprisingly, came from nature herself: stinging nettles.
"When you touch a stinging nettle, it stings you, which stimulates you, like a wake-up call," explains Eric. "Nettle has the same stimulating effect on vines, helping vines become naturally more resistant to diseases like mildew, a fungus which affects grape quality."
Eric makes a tea by soaking the nettles in cold water which is brought slowly to the boil. "It takes around 20 minutes," he says. "We throw the stinging nettle leaves out the moment the water boils." He then sprays the elixir on his plants.
Stinging nettle has become a popular preventative among organic and Biodynamic wine-growers.
Saurel's red Gigondas and Vacqueyras wines, made from Syrah, Grenache and Mourvedre grapes, exhibit generously soft black fruit flavors with balanced fleshy textures. They show best if the wine is served a room temperature rather than cooler cellar temperatures.
Michel Chapoutier is another Biodynamic Rhône valley wine grower who relies heavily on stinging nettle and other plant teas. Chapoutier has the world's biggest portfolio of organic and Biodynamic vineyards, with over twenty wine estates dotted all over France's Rhône, Provence and Roussillon regions. He also has projects outside of France too, notably in Portugal and Australia.
Chapoutier says "wild plant teas are a low-tech but highly effective way of making vines more naturally resistant to common pests and diseases." Chapoutier's consistent success as a wine salseman is based on styling most of his red wines for everyday drinkability rather than blasting them with masses of oak. His Crozes-Hermitage Rouge (100 percent Syrah) is a good example of his style.
Marine Roussel's Biodynamic Domaine du Joncier comprises 30 hectares of vines in Lirac. This is one of the hottest parts of the southern Rhône. The summer heat is relentless, even without the large pudding stones in the vineyard, which soak up the heat of the sun during the day, and release it at night. "It's almost as if the vines never get a break from the heat," says Marine. To fortify the vines from the stresses of the sun, she turns to—what else?—stinging nettle, for the same reason that we humans have been eating nettle soup since the Stone Age. The plant is rich in iron.
"Just as humans need iron for their blood," says Marine, "vines need iron for their blood, meaning their sap. Nettle tea prevents vines getting too stressed in the heat. Stressed vines produce wines high in alcohol and short on flavor."
Domaine du Joncier's Grenache-dominated red Lirac wines have a lacy quality about them, with balanced savory black olive flavors mixed with sweeter black cherries.
Behind many a glass of great wine, it turns out, there's a little cup of tea.
Monty Waldin was the first wine writer to specialize in green issues. He has written numerous books and his work has been published in such publications as London's Daily Mail, Decanter and Harper's Wine & Spirits Trade Review, among others.