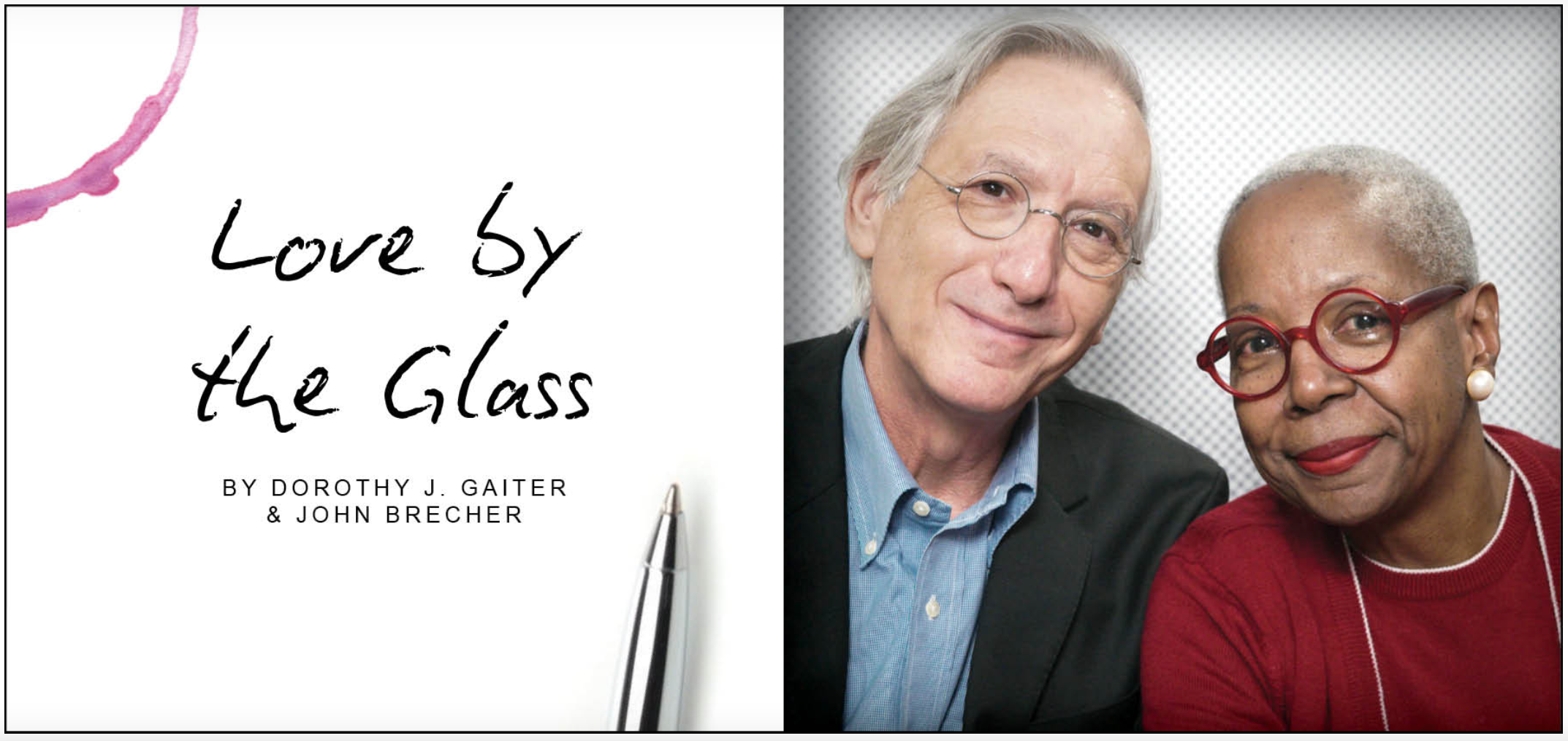 A basic-level tasting at Napa wineries averages $81 per person, according the annual direct-to-consumer report from Silicon Valley Bank. In Paso Robles, Jason Haas of well-regarded Tablas Creek Vineyard says the average is much less and he wrote an excellent post about the issue.
Tasting-room fees – sometimes high, sometimes complex, often controversial -- might convince you to stay away from winery tasting rooms altogether. Don't. But it is time to starting shopping for tasting rooms just the way you shop for anything of value. What size fits you? What accessories do you want? To help us explain, come with us to the North Fork of Long Island.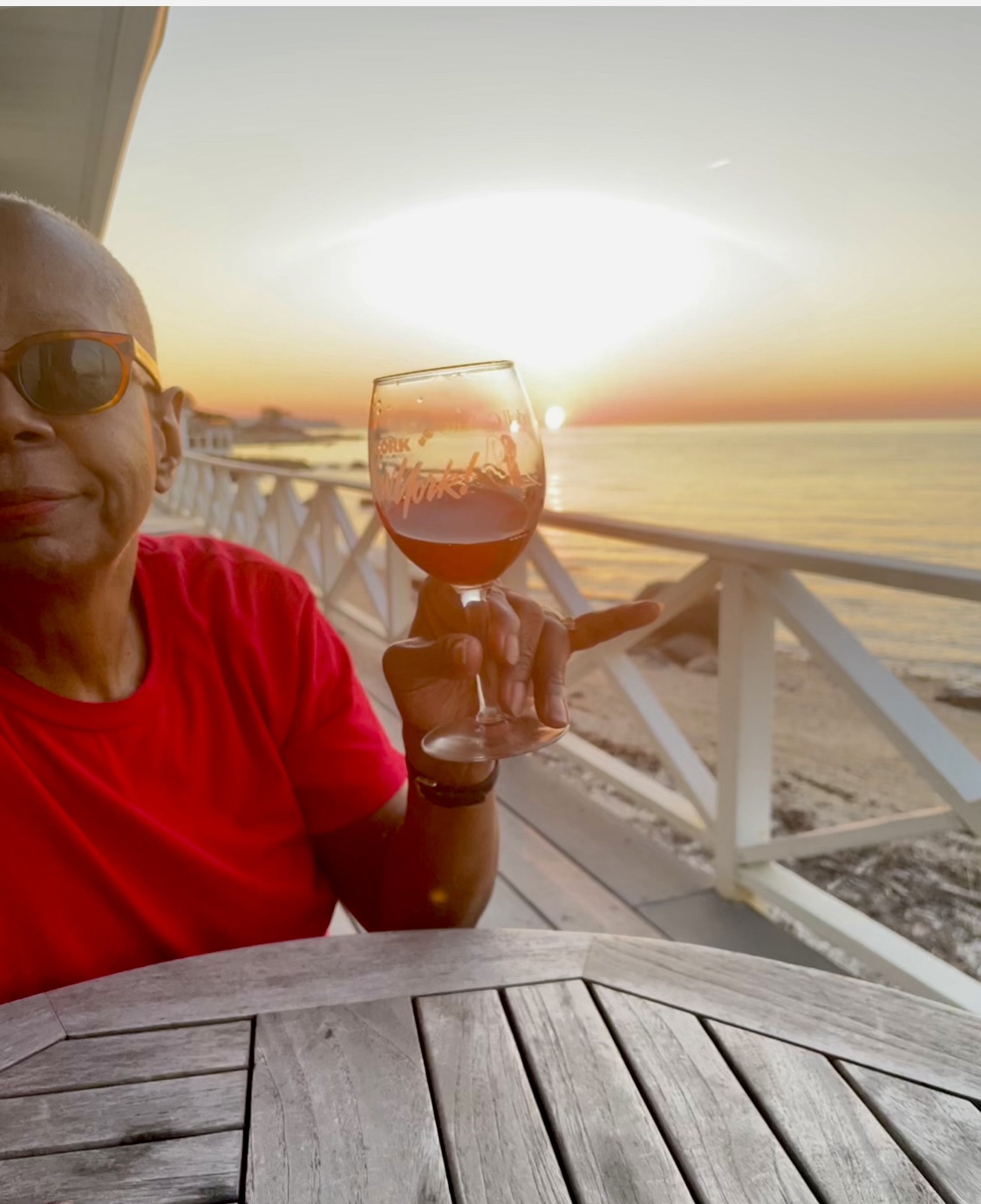 Wine regions tend to be beautiful by definition, not just because they have acres of picturesque vines but also because they are planted on hills, on mountains, in valleys and sometimes near water so they can take advantage of climate and soil influences. We first visited the North Fork of Long Island in the early 1980s, before we had kids, and we continued to visit after we had kids because they also fell in love with the region. Wineries for us, a beach and horseback riding lessons for the kids, seafood and fresh produce for everybody – what's not to like?
(Sunset over Long Island Sound)
Back then, the region was truly new. The first vineyard, Hargrave, was established in Cutchogue in 1973, the year we met. (It's now Borghese.) We just celebrated our 50th anniversary and so did the region. We began making it a yearly summer stop long before we began writing about wine. We even took the girls' pet hamster with us and hid him in the closet (no pets allowed!).
Those were still the days of the pioneers. We visited many wineries that have since been sold and met so many charming owners and winemakers. Charles and Ursula Massoud at Paumanok Vineyards in Aquebogue welcomed us so warmly we felt like family and, indeed, we became friends as their winery and family grew (their son Kareem is now winemaker of the 40-year-old winery, which won the two most prestigious honors in the 2023 New York Wine Classic, being named Winery of the Year and taking the Governor's Cup for its 2019 Late Harvest Sauvignon Blanc). We always enjoyed visiting Pugliese Vineyards in Cutchogue, where Pat Pugliese was behind the bar, hand-painting bottles, and our girls watched ducks in the pond.
There are now 57 wine producers on Long Island, according to the official Long Island Wine Country, and the North Fork has its own distinct American Viticultural Area. But we had not visited in more than a decade. Why? No good reason. While we pounce on its wines when we see them on wine lists or in stores, life just kind of got in the way of us visiting. We decided that, this year, we would finally return, during or close to harvest.
It's a funny and wonderful thing about wine regions: Wineries come and go, vineyards are planted and replanted, tragedies like fires happen and climate change alters so much, but the fundamental beauty of a place survives. When we stand in any vineyard in Napa Valley, for instance, and look around us, we could be 24 years old again, visiting for the first time.
To us, the North Fork was like an old friend we hadn't seen in a long time, someone who looks vaguely familiar at first and then we realize that the glint in the eyes is exactly the same. So much was clearly different – the amount of obvious wealth was more pronounced, for example, and the people we saw were much more diverse than we remember (not behind the counters of wineries, but we were only there for a short time).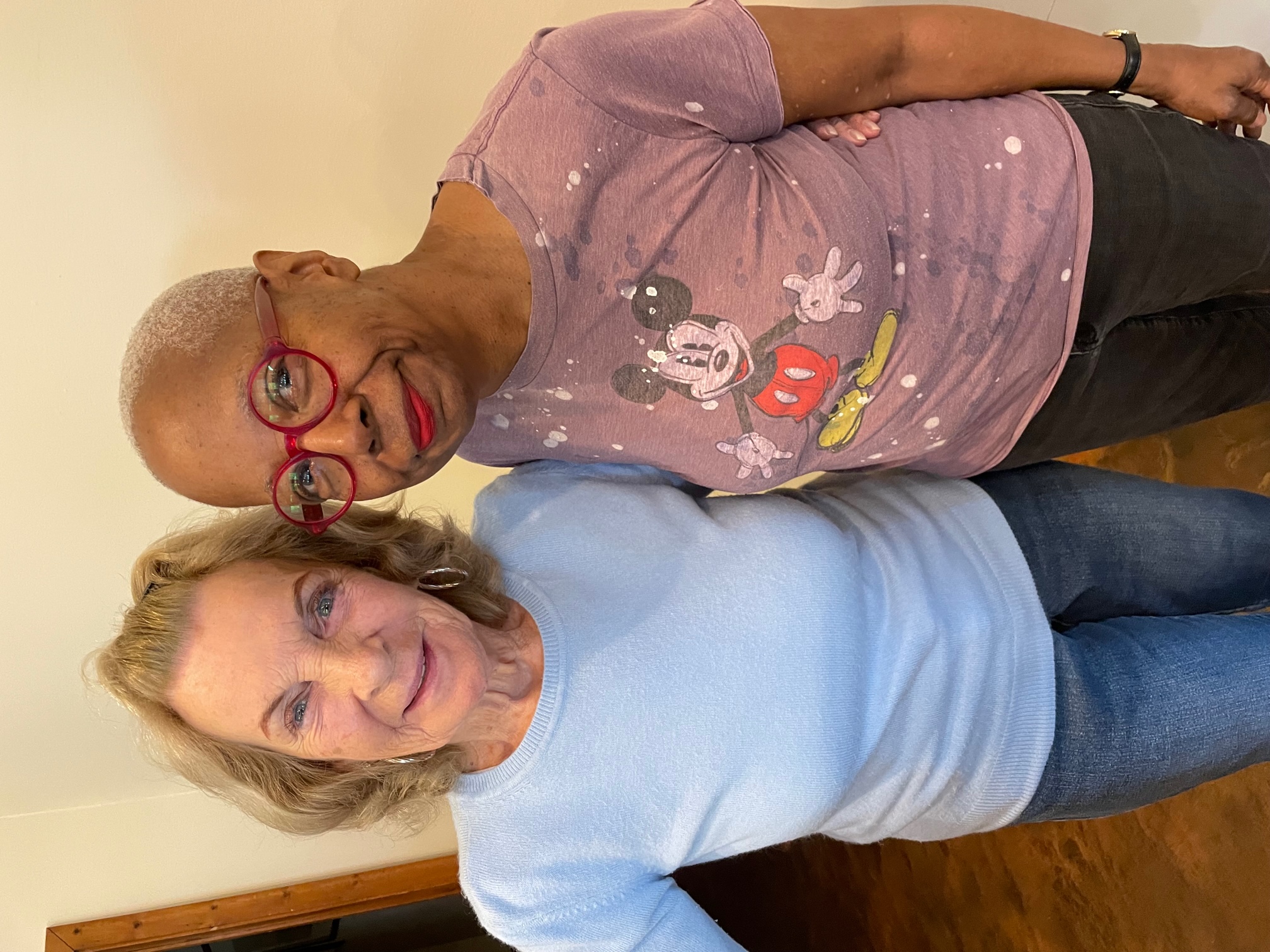 We dropped in on the Massouds, of course, and they were as passionate and charming as ever and more relaxed now that their three sons have taken on most of the work of running the place. (We've always recommended Paumanok as the No. 1 must-visit on the North Fork.) And when we went to Pugliese, who was behind the counter after all these years but Pat Pugliese herself.
(Dottie with Pat Pugliese)
Wine tourism is huge. When we visited Texas on a press trip last year, the organizers said we needed to be there Monday to Thursday because we could never get close to the bar on weekends – and we were there on official business! One of our sisters-in-law just drove from North Carolina to Indianapolis and said there were wineries everywhere along the route, especially in Ohio, and every winery was packed. Many of the wineries we saw said "no splitting parties" and we asked what that meant. It turns out that wineries are so busy with visitors that many limit groups to six and some people try to get around that by showing up separately or making two separate reservations. Yikes! And some don't allow buses and limos.
If you are not visiting wineries, you are definitely out of it. But whether you are in Long Island or Sonoma or the Traverse City area of Michigan, you need to think about what you want to get from the experience.
In our case, we do not much like crowds or a party atmosphere at a winery, so we avoid weekends. Tasting rooms are so lovely and relaxing on weekdays, when you can actually have a conversation with the person pouring the wines.
We rarely make appointments. We enjoy driving around wine regions and enjoying the sights. For tasting rooms, we look for a place that appears inviting and not crowded. For example, on our North Fork trip, we passed one winery that was hosting a Western-themed wedding event (we could tell, even from the road, from the cowboy hats on the men and white cowboy boots on the women). We knew that would not be a good idea. But we did stop at a winery called One Woman, which was tiny and personal and had really good wines.
One of those wines was Grüner Veltliner, the grape most closely associated with Austria. And that's an important point: Any time you go into a winery and it has something unusual, there's a good chance the owner or winemaker has a special passion for that wine, which makes it a good bet. (The most widely planted varieties on Long Island are Merlot, Chardonnay and Cabernet Franc, according to the New York Wine & Grape Foundation, though, as far as we can tell, no one keeps good, up-to-date statistics about acreage.)
At another winery, Lieb Cellars, we bought – even without tasting – a red made from Teroldego and Lagrein, grapes we associate with Northern Italy. We had it back at home and it was excellent, with great fruit and verve and just the right amount of body that paired well with Dottie's herbed chicken scallopini.
OK, but let's say we've seen a winery that looks promising. Considering today's tasting room fees, what next? Here's what we discovered during our last couple of trips to Napa and Oregon: It's critical to stop the car and look up the winery online. More and more wineries these days don't offer tastings – they offer "experiences," some with house chefs and such. That's great, but the prices are high and they take a long time. Don't walk in if you don't know for sure. (We found tasting room fees to be quite opaque for some wineries in the North Fork and they should think about that.)
And that brings us back to the "average" price for a tasting. The question is: What are you looking for? Some wineries, even in Napa, still just pour a few tastes of wine and charge a reasonable fee. Others charge a fortune and advise you that this is an experience that will take at least 90 minutes. We prefer the first model, but we can understand deciding to spend a day doing the second. After all, it's a lot of time with wine directly from the cellar, dishes created there to complement the wine, a marvelous setting and, we'd hope, an expert serving you. That's not for us, but we understand that it is a good choice for many people.
Which do you want? It is a little like buying anything these days, from a sandwich to a car. Do you want cheese on that? Do you want the floor mats? You can make those decisions, but they are better made before you walk into the tasting room so you know it's a place where you have options. And, often, you do.
Not only that, but we have found – and we found again on this visit – that if we wander into a tasting room on a slow weekday, share a flight and express interest in the wines and then buy a bottle, the person behind the bar won't charge us for the tasting.
So don't let the stories about "average" prices or "some wineries" scare you. Wineries, and wine regions, are special places. Just go on a weekday. Try new things. Enjoy yourself.
Oh, and one last thing: It has now become a cliché – we wrote it ourselves many years ago: Wines will never taste as good at home as they did at the winery. That is generally true, but not always. We tasted a Lenz Pinot Gris at the winery that we thought was good, but when we had it at home, it showed layers of complexity that astounded us. On our trip to the North Fork, John had a fish called fluke at an adorable waterside place called Billy's By the Bay and he wished he had that wine with that meal.
And guess what? The Pugliese sparkler was even better than we remembered. We even compared it favorably to a good Champagne, with great fruit, depth and minerals. It's $31 – and seeing Pat Pugliese again was priceless.
Dorothy J. Gaiter and John Brecher conceived and wrote The Wall Street Journal's wine column, "Tastings," from 1998 to 2010. Dorothy and John have been tasting and studying wine since 1973. In 2020, the University of California at Davis added their papers to the Warren Winiarski Wine Writers Collection in its library, which also includes the work of Hugh Johnson and Jancis Robinson. Dottie has had a distinguished career in journalism as a reporter, editor, columnist and editorial writer at The Miami Herald, The New York Times, and at The Journal. John was Page One Editor of The Journal, City Editor of The Miami Herald and a senior editor at Bloomberg News. They are well-known from their books and many television appearances, especially on Martha Stewart's show, and as the creators of the annual, international "Open That Bottle Night" celebration of wine and friendship. The first bottle they shared was André Cold Duck. They have two daughters.
Banner by Piers Parlett