Kutjevo, a charming town nestled in Slavonia in the heart of Croatia, is a hidden gem in the country's burgeoning wine scene. While often overshadowed by better-known wine regions like Istria and Dalmatia, Slavonia has a rich winemaking tradition that dates back centuries, making it a must-visit destination for wine enthusiasts and travelers seeking an authentic, off-the-beaten-path experience.
The history of winemaking in Kutjevo, Slovenia dates back to the 13th century when Cistercian monks established the Kutjevo monastery and planted the first vineyards. Over the centuries, the winemaking tradition was carefully nurtured, and today, the Sontacchi winery stands as a testament to this rich history.
Slavonia's vineyards are home to a wide variety of grape types, both indigenous and international. The region is renowned for its production of Graševina, a white grape variety that thrives in the continental climate. This grape produces crisp and refreshing white wines with a unique character. In addition to Graševina, Kutjevo also grows Chardonnay, Sauvignon Blanc, and Rhine Riesling. For red wine enthusiasts, the region offers Frankovka (Blaufränkisch) and Zweigelt, among others.
The Sontacchi winery in Kutjevo combines modern winemaking techniques with respect for tradition, resulting in wines that are a true reflection of the region's heritage. Grape Collective talks to winemaker Krunoslav Sontacchi about the terroir, grapes and tradition in Slavonia, Croatia.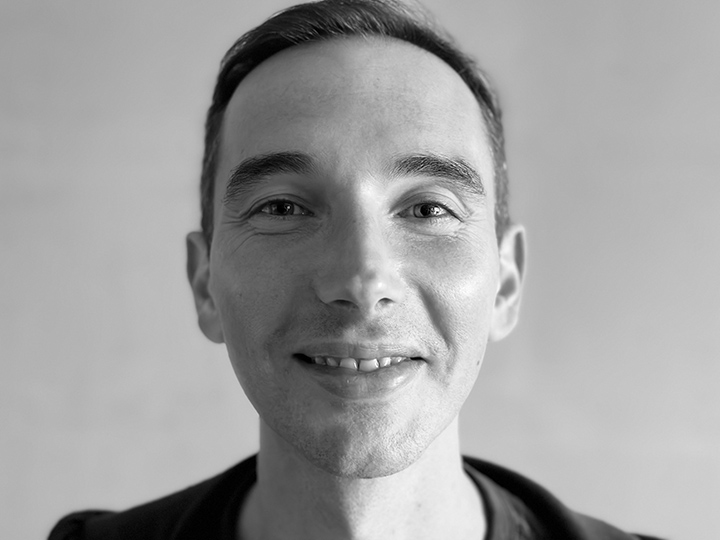 Christopher Barnes: Talk about the Sontacchi family and its history.
Krunoslav Sontacchi: Our family tradition dates back to the end of the 19th century when Leonardo Sontacchi came from northern Italy, the Trentino-Alto Adige region. He came to this part of Slavonia with his family and his son Tomaso started to work at the estate of Zdenko Turković.
Zdenko Turković in Kutjevo was a visionary. At that time in winemaking and viticulture, his estate was the biggest in the eastern part of Europe. His son Anton was also a winemaker and he was producing wine as a bulk wine for Zagreb restaurants.
And then his son, our grandfather, was continuing wine production, and he was first in the family who put the wine into bottles. So I also learned from him and my father. And now, my brother and I are the fifth generation of winemakers in our family.
Tell us about how the family continued to make wine through the communist era.
During that era my grandfather Miroslav was the winemaker and as I remember, he told me at that time it was important to have quantity over quality. So all the grape producers, the wine producers in the vineyards, were making a lot of grapes from the vineyards, around five to seven kilos per plant.
If we are talking about today's production it is really too high. At that time it was important just to produce more, and it was at the peak of this agricultural revolution which was started in the 1970s, by putting artificial manure and pesticides and herbicides in wide use.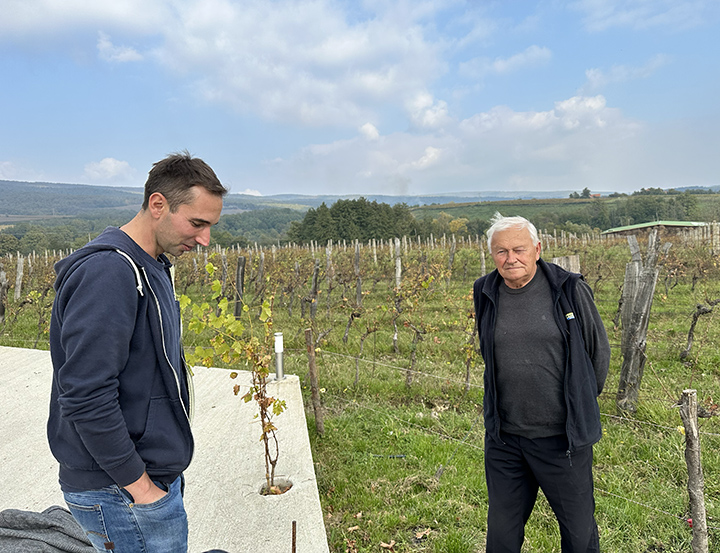 Talk a little bit about the war and how it affected people.
The war in Croatia was here in Slavonia. We were affected not face to face here in the Kutjevo region, but we could sense the fear here and people managed to produce grapes and wines continuously. It is important because here in Slavonia we always had some political issues during the centuries but wine was always made, so we didn't stop making wine. The tradition started in the 13th century, and it is still going on almost 800 years later.
(Krunoslav Sontacchi with fellow Slavonian winemaker Ivan Enjingi)
Let's talk about Graševina and maybe just mention what percentage of the total wine production it accounts for in Croatia.
Graševina is the most widely planted variety, not just here in Slavonia, but in the whole of Croatia, making up about 25% of the grapes grown. Here in Kutjevo, Graševina is produced in about 60% of all vineyards. So with Graševina we found the authentic variety of the Kutjevo wine region because it has a perfect balance and we call it the queen of our vineyards.
Graševina has an extreme possibility to make all types of wine. So here in Kutjevo we produce sparkling wines to ice harvest. Most Graševina is produced in a fresh style, still white, but it can also be macerated and late-harvested. So it has a really good balance all over.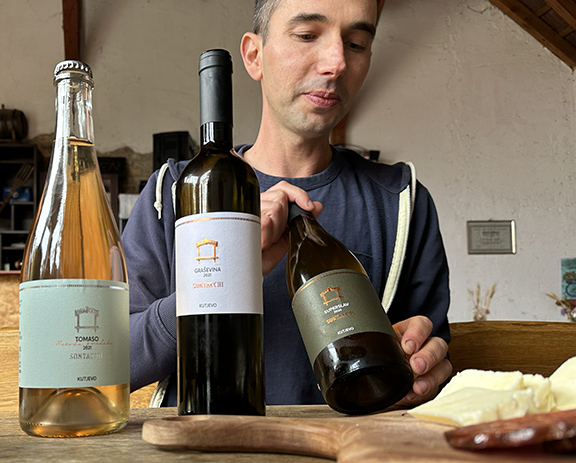 Talk about your philosophy of viticulture and winemaking.
So, here my brother and I started to do our vineyards organically and in the vineyards we use only organic products, but also we take care of our biodiversity by tilling less, green harvesting, green maneuvering and smart mulching, of course, together with small yields.
And, and talk a little bit about the terroir in Slavonia.
In Slavonia we have two regions. It's the Slavonia part and the Danube part. In both regions, the Graševina is dominant. Of course, here in Kutjevo we have this big influence of the mountain chain of Papuk and Krndija which are some of the oldest mountains in Croatia. They are volcanic in origin and the soil is loam mixed with clay and silt and some gravel. It is good for keeping enough water in the soil, but also excessive water can be drained away from that type of soil. So it's very good for winegrowing.
And would you call it a continental climate?
Yes. Here in our vineyards when we have a typical continental climate we grow typical varieties, among them Graševina, and we have also very early on introduced a lot of red varieties of French origin. So our wine region is very good for making Pinot Noir and Cabernet Sauvignon and Cabernet Franc and so on, But we also have Zweigelt which is very good and Blaufrankisch which is fantastic.