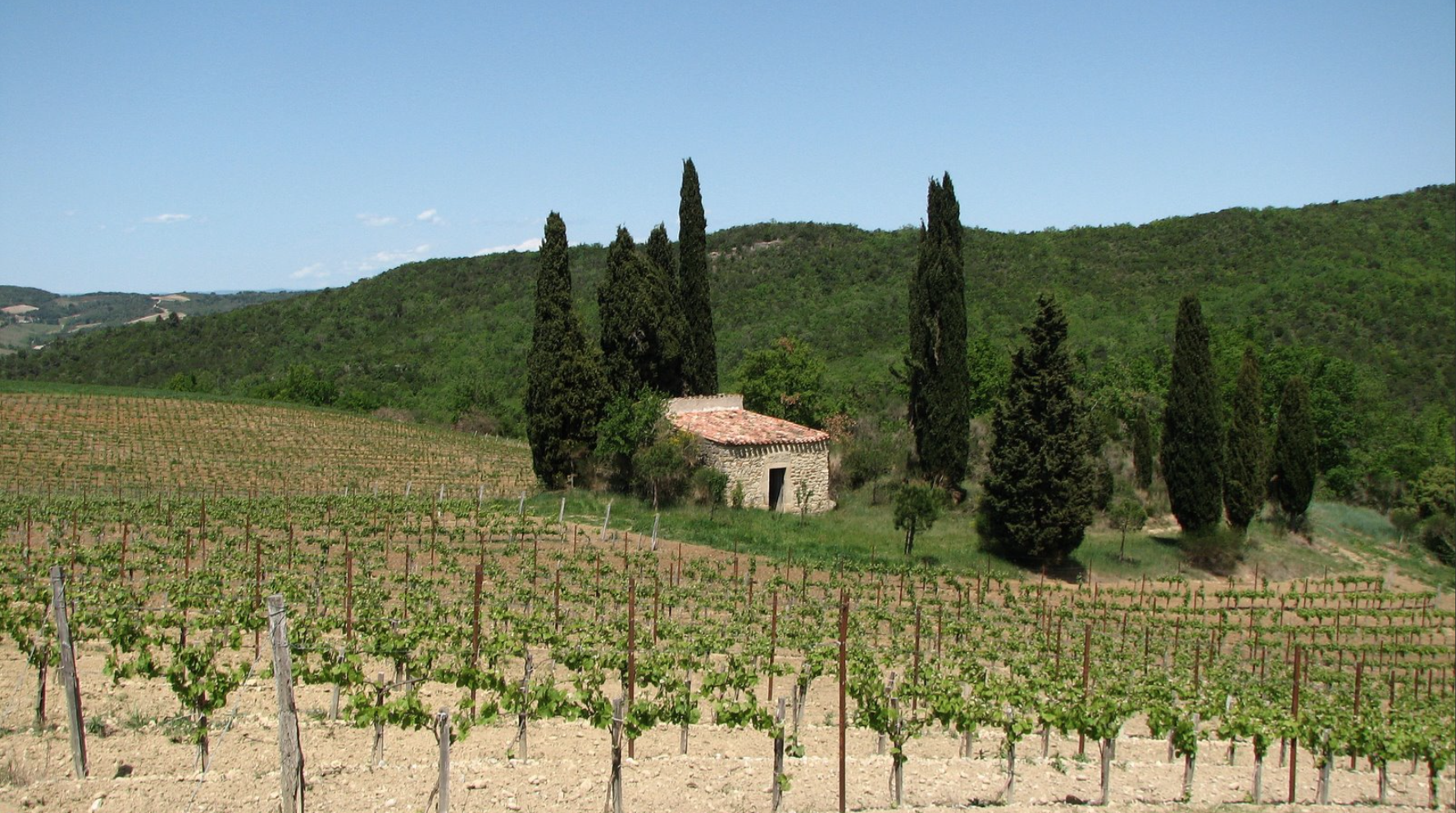 Now that summer is here, three passions come to mind: wine, travel and golf. Golf, you say? Why, yes. And when it comes to combining these three passions -and for fear of handicapping, not necessarily at the same time - well, the best place on Earth just might be the Languedoc region in the South of France.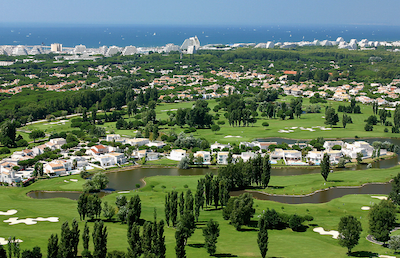 Boasting nearly three hundred days of sunshine a year, oenophiles with a penchant for playing golf, who are also looking for some sunshine, Mediterranean scenery and friendly, welcoming courses, will be delighted with the Languedoc. With a huge variety of top-quality courses to suit players at all levels, year-round sunshine, and a 12-month golfing season, the Languedoc is fast becoming one of the most popular golfing destinations in Europe.
And then there is the main attraction, which, of course, is wine. In the Languedoc you will find hearty reds oozing with black fruit that make for the perfect way to wind down a session on the links. Or, if after playing 18 holes a crisp white is more your thing, take haven in tippling a glass of medium-bodied Chardonnay certain to brighten your tastebuds. With waves of dry, citrusy floral notes, it will easily make you forget about that slice into the rough you had earlier.
About
Located in the central part of southern France, the province of Languedoc covers an area of approximately 16,490 square miles, roughly the region between the Rhône River and the Garonne River, and extends northwards to the Cévennes, and the Massif Central.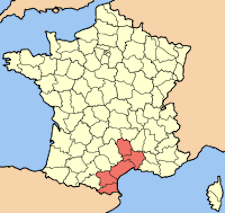 A land where traditions are part of everyday life, aside from all things viniculture, golf isn't the only game in town either, as there are plenty of other things to do in the Languedoc while you taste all the fantastic varietals. In Camargue, ancient crafts still thrive. In Sète and Palavas you can watch teams of fishermen jousting with each other from their boats in water tournaments. In the ancient fishing ports, from Grau-du-Roi to the Côte Vermeille, the pace of life has barely changed for centuries. Regattas, cruises, fishing contests, and windsurfing events draw the crowds to lively modern resorts such as Port-Camargue, Europe's premier sailing resort. And if looking at beautiful architecture is more your thing, make sure to plan out a visit to La Grande-Motte.
But wine will also be the main attraction in the Languedoc, and in order to produce wines of a high caliber, we know that temperature and climate play a key role.
Climate
The climate in the Languedoc is typically Mediterranean with mild winters, consistently dry summers, and moderate springs and autumns. The Languedoc is the sunniest area in France, with 300 days of the aforementioned sunshine each year. The average annual temperature is 57 °F (14 °C).
The peak growing season, between May and August, is very dry and the majority of annual rainfall occurs during the winter. In the Languedoc, the plains area is the most arid and hottest region of France. The region's Mediterranean climate is very conducive to growing large amounts of a wide variety of grapes, with vintners in the area excelling in mass production.
Wines
Vineyards in the Languedoc are generally planted along the coastal plains of the Mediterranean. With a focus on blends in the region, vineyards are often called "patchwork" because so many different grape varieties grow together. Most producers make blends instead of single varietal wines because of the prevalence of so many complimentary grapes. Red blends from the Languedoc tend to be more full-bodied and fruit-driven featuring Syrah, Grenache, Carignan, and Mourvèdre as major components, while unoaked zestiness is a predominant characteristic of the whites made mostly with Picpoul and Grenache Blanc.
Wines from the Languedoc can carry an enormous number of names, ranging from broad regional designations like Vin de Pays d'Oc to very specific geographical classifications with restrictions on grape variety, like Corbières and Minervois. Since the 1990s, the INAO has been creating smaller AOC classifications, which take into account all the intricate micro and soil variations in the Languedoc. Younger appellations like the Cabardes and subregions like Minervois la Livinière, Corbières-Boutenac and St-Chinian-Berlou are much smaller in scope. While these new appellations have been praised for consistently improving their product, others have criticized the additions for further complicating an already esoteric system of classification.
The majority of wine produced in the Languedoc are labeled Vin Ordinaire. There is also sizable production of Vins Doux Naturels.
But with all, the star of the show is our sweet and juicy friend, the grape.
Grapes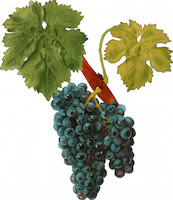 Red grapes include Carignan (pictured at left), one of the most widely planted grape varieties in the Languedoc region. Wines made with this varietal are usually high in alcohol, deeply colored, and full-bodied with lots of tannins. When blended it gives the wine structure and body.
Another widely planted varietal, Cinsault is used for its fruit and finesse, and is frequently combined with Carignan and Grenache Noir.
Grenache Noir is often combined with Cabernet and Cinsault to give alcohol fatness and generosity. Grenache produces strong wines with deep color and plenty of fruity raspberry and black currant flavors. This wine is low in tannins making it an excellent choice for blending with more tannic varieties.
Also popular in the Languedoc, Syrah produces a wine with an intense smell of violets, spices, green pepper and tar. It resists oxidation and ages well but needs several years to develop. Syrah brings aroma and finesse to the blend.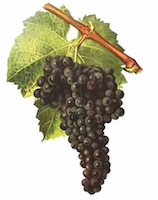 Known for producing a spicy, slightly gamey wine with a lovely deep opaque color when still young, Mourvèdre (pictured at right) is another variety that thrives in the region. Full-bodied and high in tannins, it performs very well when blended with Grenache.
Cabernet Franc is sometimes considered a poor relation of Cabernet Sauvignon, and wines made with Cabernet Franc are a bit lighter and more delicate in style. Cabernet Franc is usually blended with Cabernet Sauvignon.
Typically grown in the cooler parts of the Languedoc, Merlot contributes good color and suppleness, as well as adding some additional softness to a blend.
As for the white grapes, Chardonnay is one of the most famous wine varieties and is used to produce Champagne, Chablis, and of course, Limoux. It produces a wine high in alcohol with plenty of citrus notes. Chardonnay is increasingly vinified in oak in the Languedoc.
Grenache Blanc is mainly grown in the southern portion of the region. It produces wines lower in alcohol and with fewer flavors, and is mainly used for Vins Doux Naturelles.
Picpoul Blanc is used in the production of Picpoul de Pinet, which makes for a lovely dry, clean, and perhaps slightly neutral wine.
Arriving in the Languedoc by way of the Rhône Valley, Marsanne (pictured at left) is typically used in blends for adding weight to the body and perfume to the bouquet. It produces richly flavored, aromatic wines with wonderful aging potential.
Also hailing from the Rhône Valley, Roussanne is widely planted and used for blends. It is a late-ripening varietal known for giving a wine some finesse and bouquet.
Viognier has become increasingly popular in the Languedoc. It has a unique perfume and flavor, and is usually sold solely on its own without being part of a blend.
Mauzac is the grape variety used exclusively for the production of Blanquette de Limoux. These wines mature rapidly, have a fine bouquet with a slight apple flavor, as well as a pleasant hint of bitterness and good acidity.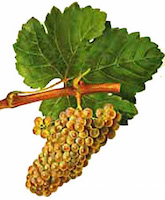 Coming to the Languedoc via the Loire Valley, Chenin Blanc (pictured at right) is useful in adding freshness and acidity to white wine blends. It can produce a crisp wine with good acidity, and for this reason, it is part of the blend in Blanquette de Limoux. Listel also uses Chenin Blanc in the Coteaux de Languedoc area.
Finally, Clairette Blanche is likely the oldest white wine varietal of the Languedoc. It is used for Clairette du Languedoc and Clairette de Bellegarde, as well as in Vin Doux Naturelles and Vermouth. This wine is high in alcohol and tends to oxidize rapidly.