Wine and cinema have gone together since the beginning of, well, ever since there was such a thing called movies. Whether you're sharing a glass with your special someone while the two of you lounge on the couch watching the latest blockbuster in your Netflix queue, or you and a buddy are rehashing your favorite scenes over a bottle post end-credits of the goofy arthouse flick you both just saw, or maybe you're like me, and you simply sip discreetly from a secret bottle that you've stashed beneath the seat of the darkened theatre while you get lost in the silvery action that's emblazoned up on the big screen. In whichever case, grape and celluloid have always gone hand-in-hand. Or eye to mouth. Or something like that anyway. And by the same token, wine as depicted in these movies themselves has also had a lengthy tradition. And no, I don't just mean Sideways. In fact, there are a ton of movies where wine is featured in a pivotal scene, or scenes, or even is present in the movie so much, it almost becomes a character in and of itself. On that note, I thought it might be fun to take a look at some of the movies where wine is a major, and sometimes, a minor or bit part player, but nevertheless, a juicy player just the same.
In no particular order...
Casablanca. This all out classic film from 1942, directed by Michael Curtis (written by several screenwriters), and of course, starring, among many others, Humphrey Bogart and Ingrid Bergman, might best be remembered for all the shots of the aforementioned star-crossed lovers who tragically cannot be together. But what about all the scenes of everyone drinking Champagne?! Yes, Rick's, the cafe Bogie owns/runs must have had multiple refrigerators filled with Veuve. I actually tried to count how many scenes where all that bubbly good stuff is being poured, but quickly gave up...(and then went to pop open a bottle myself to nip at while viewing).
Recommended Wine To Pair:
1979 Veuve Clicquot Ponsardin La Grande Dame
Fandango. This underrated gem, written and directed by Kevin Reynolds, hit the multiplexes in 1985. Lost in the hype of all the John Hughes fanfare, since megahit Breakfast Club was also released that same year, this is a personal favorite of mine that starred a then unknown Kevin Costner, as well as B-Club star Judd Nelson, about five college buddies that have just graduated from the University of Texas circa 1971 and face the crossroads called life. Of course, it wouldn't be a proper coming-of-age flick unless there was a road trip mixed in there somewhere. But the surprise is who they are in search of. Hint: A fellow by the name of Dom. And thus, the Champagne motif continues.
Recommended Wine To Pair:
Dom Perignon 1959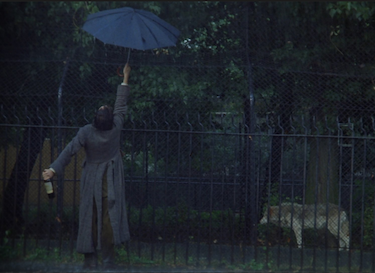 Withnail & I. Another personal fave. This one is about two down-on-their-luck British actors. This movie, written and directed by Bruce Robinson, came out in 1987 and has Richard E. Grant and Paul McGann in the leading roles. Basically, the whole movie centers around the self-medicating (and destructive) consumption of alcohol, whether it be wine, spirits, or ether. The final beyond heartbreaking scene where Withnail (Grant) recites Shakespeare to some wild dogs while he slurps a glass of Bordeaux (or Claret as the Brits like to call it) in the rain is worth the price of admission alone. And will have you asking for a bottle of the same at your local shop in no time.
Recommended Wine To Pair:
Chateau Margaux 1986
Valley Girl. The Casablanca of the '80s? The one that launched the career of Nicholas Cage, this movie cornered the market on not only Southern California Valley-speak culture, which was hitting its peak right about 1983 when it first hit the theaters, but also on the tried and true boy meets girl/boy loses girl/boy tries to get girl back story arc. Taking teenage puppy love to the nth degree. With a killer soundtrack filled with the best new wave tunes of the day (think Men at Work, The Psychedelic Furs, The Plimsouls, etc, etc), it also scores pretty high on the dialogue that's fun to quote scale, thanks to the killer script written by Andrew Lane and Wane Crawford (the film was directed by Martha Coolidge). For example, how about when Fred (played by Cameron Dye) tries to break the ice with Suzi (played by Michelle Meyrink) by tossing out this gem of an intro: "Hi, I'm Fred. I like tacos and '71 Cabernet. My favorite color is magenta." I was never the same after that, as the only wine I would ever drink was '71 Cabernet.
Recommended Wine To Pair:
Beaulieu Bv Georges de Latour Private Reserve 1971
The Silence Of The Lambs. This 1991 Jonathan Demme helmed creeper starring Anthony Hopkins and Jodie Foster earned accolades all around, but what I really want to know is just how it did for Chianti sales!
Recommended Wine To Pair:
What else, but Chianti (to go with some fava beans)...in this case, we recommend Castello di Monsanto Chianti Classico Il Poggio 2006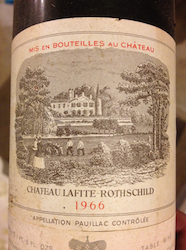 Eating Raoul. This 1982 dark and oftentimes absurdly hilarious comedy has the two leads played by Paul Bartel (who also directed, and co-wrote the script along with Richard Blackburn) and Mary Woronov as a married couple, who go on a crime spree after Paul loses his job at, you guessed it, a wine shop. You might want to avoid frying pans, but you'll definitely want to be sipping something such as...
Recommended Wine To Pair:
Chateau Lafite Rothschild 1966
Casino Royale. While James Bond is pretty synonymous for ordering up a martini shaken not stirred, how about he (played by Daniel Craig in the 2006 version, and not the 1967 version, where he is played by Peter Sellars) and the beautiful Vesper (played by Eva Green) sharing a bottle of Chateau Angelus while they are on the train to Montenegro.
Recommended Wine To Pair:
Château Angélus, Premier Grand Cru Classé Saint-Émilion 1982
Monty Python's The Meaning Of Life. This comedy classic from 1983, from directors Terry Jones and Terry Gilliam, and co-written by them both, as well as other Python fixtures, John Cleese, Eric Idle, Michael Palin, and Graham Chapman, has the gluttonous Mr. Creosote (also played by Terry Jones) ordering up, among other things, six bottles of Chateau Latour '45. What happens next, well. Grab the spit bucket. And then some.
Recommended Wine To Pair:
Chateau Latour '45
Bottle Shock. Based on the real life 1976 wine competition termed "Judgement of Paris," whereby a Californian wine defeated a French one in a blind taste test, this 2008 film, Directed by Randall Miller (written by Miller, Jody Savin, and Ross Schwartz), and starring Alan Rickman, as Steven Spurrier, the man who championed the contest, is a must-see for anyone that finds themselves in the great NAPA/French debate.
Recommended Wine To Pair:
Chateau Montelena Chardonnay 2012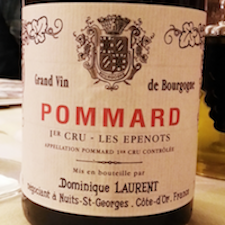 Sideways. Of course, I had to include this 2004 film, which to many, is the end all be all of any movie in which wine is depicted. Directed by Alexander Payne and written by the same, as well as Rex Rickett, this is the flick that put actors Paul Giamatti and Thomas Haden Church on the map. At its heart, it is a buddy story and rooter of the underdog. It also is the film that single-handedly gave Merlot a bad name.
Recommended Wine(s) To Pair:
Kistler Chardonnay 1997
Dominique Laurent Pommard 1994