I expected when meeting Alexandra Marnier Lapostolle of the renown Chilean winery Lapostolle, as well as part of the Marnier family of Grand Marnier fame, we'd chat plenty about wine, but was surprised to the extent we discussed biodynamics. At a dinner arranged by the importer, at which I was an invited guest, we not only tasted wines but discussed, well, dirt.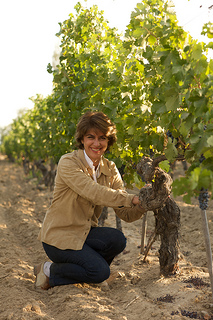 All of Lapostolle's estate vineyards are certified organic and biodynamic. And it's no small undertaking. To farm in this manner, even on the tiniest of plots, involves a significant amount of work. But on the 6th largest biodynamic farm in the world, it can be quite the ordeal of organization and execution. As Lapostolle explained, "When you have 300 hectares, the logistics are totally different." (She also made sure to mention, regarding biodynamics, the consulting assistance of Benziger Family Winery's Alan York, who passed away earlier this month. Read a tribute in Wine Spectator.)
Of course we did not dwell solely on the logistics of biodynamics, but rather got more philosophical. Though a system of agriculture that reaches from sky to deep in the ground, I latched onto something Lapostolle said about how everything works as a system, with biodynamics as kind of the ultimate host who gets everybody to the dinner table in an amicable and collaborative manner. When explaining what's happening underground, Lapostolle called biodynamics "the link between the root and the rock." Elaborating: it "helps to enhance the personality of the terroir." Again, like a great host bringing out the best in everybody.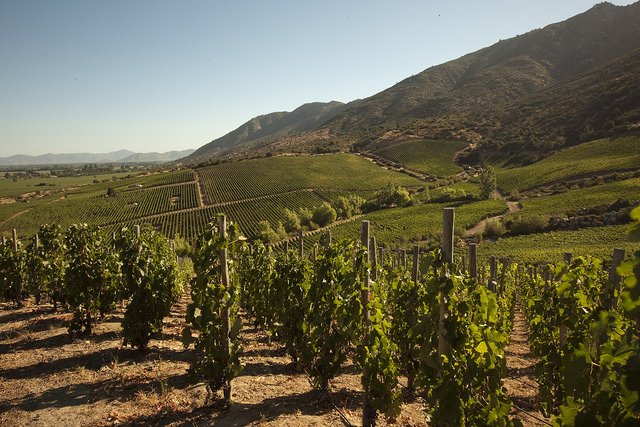 Turning to the wines I was keen to talk about the 2012 Cuvee Alexandre Cabernet Sauvignon. I thought it was interesting that it was dry farmed. How is that possible? As Alexandra explained, the vineyard was planted in 1920 so currently the water table is not far from the deep roots. The vineyards are also situated in a north-south manner (which is unusual in Chile) and surrounded by hills that spare the vines from the sun during the early and later parts of the day.

Moving on from Cabernet, no conversation about wine in Chile is complete without talking about Carmenere. It was a grape problematic back in Bordeaux, as it ripened late and had to be harvested after Cabernet Sauvignon. And usually by this time in Bordeaux it would be raining. The problem in Chile is not rain, but rather cold. It gets so chilly later in the season that the grapes will just hang without ever ripening, no matter how long you leave them on the vine.

Other vineyard practices contribute to under-ripe Carmenere: planting in rich soils and cropping at high yields. This is how the grape can give you vegetal, unpleasantly green flavors. Conversely, if you plant Carmenere in poor soils with good drainage, holding it to low yields, you get, as Alexandra describes, "dark chocolate and spiciness" in the glass.

I must mention the lovely photographs in this post that I had zero to do with. They are the work of Matt Wilson. The astonishing photograph below shows a hawk that Matt captured (on film). Not only is it a fantastic photo, but also the inspiration for the label on the Canto de Apalta (The "Song of Apalta") wine. It's a sub-$25 blend to enjoy while your Clos Apalta, Lapostolle's top wine, is asleep in your cellar.

And while the wines in the cellar may be in slumber, there is always something going on at Lapostolle. After spending time with Alexandra Mariner Lapostolle, I understand that this restlessness is fueled by a constant desire to improve and innovate.