Sure the front label of a wine gets all the glory, but how often do you spin that bottle around to see what's on the back? I find the back label useful with imported wines. If it's a winery that I'm unfamiliar with, I look for the name of an importer who I trust with my palate and my wallet. But there is a lot of other information that can be included (or excluded). Do you, for example, want to see:
tasting notes?

food parings?

technical data?

a crossword puzzle, jumble, or sudoku?
Fred Swan, writing in NorCal Wine, singles out Pinot Noir producers Calera as an example of what he wants to find on a back label. Their single-vineyard bottlings have a slew of technical information, from vineyard elevation to the rootstock of the vines. Regarding all this detail (and those two pieces are just the tip of the iceberg) Swan does concede, "Casual sippers may not care at all. But," he continues, "then they are unlikely to be buying a Calera vineyard-designate anyway." Here's a photo of the label: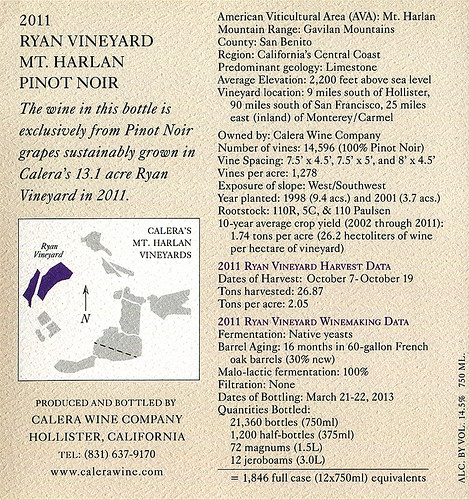 So are you curious about the minutiae of the where, how, and when of your wine? Would you even miss a back label if it was gone?