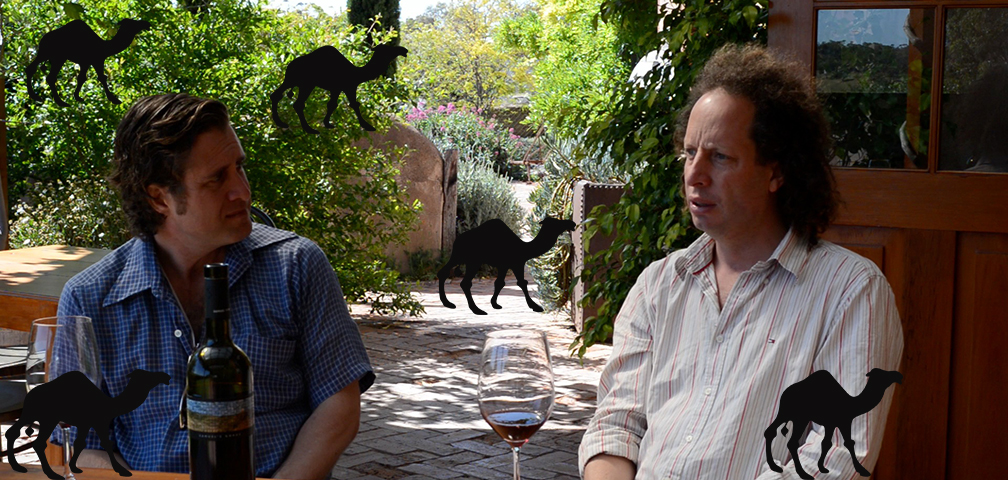 It was a Thursday around 5:15 p.m. when Stephen Pannell, a winemaker in Australia's McLaren Vale, suggested we go to the Salopian Inn. Pannell had warned us that they had one the most impressive collections of gin anywhere. The evening started with a tasting of gins from all over the world, with flavors that ranged from Mango/ Coconut to lemongrass.
We had been in the McLaren Vale interviewing winemakers including Sarah Marquis of Mollydooker, Joch Bosworth of Battle of Bosworth wine, Chester Osborn of D'Arenburg, Stephen Pannell, Paul Smith of Wirra Wirra and Mike Brown of Gemtree. We finished each session with one question: Is there a winemaker you would recommend we see before heading back to the US? The answer we heard the most was: Justin McNamee, the owner and winemaker at Samuel's Gorge. We reached out to our PR contact who reached out to the importer, who reached out to McNamee. No response. We called a friend of a friend who lived locally and knew McNamee. "It shouldn't be a problem, he told us. "I'll make a couple of calls." The next day he got back to me. "Can't get a hold of him, but I can set you up with someone else." It seemed odd – we were, after all, only looking to give him publicity. Yet the mysterious McNamee remained absent from the itinerary.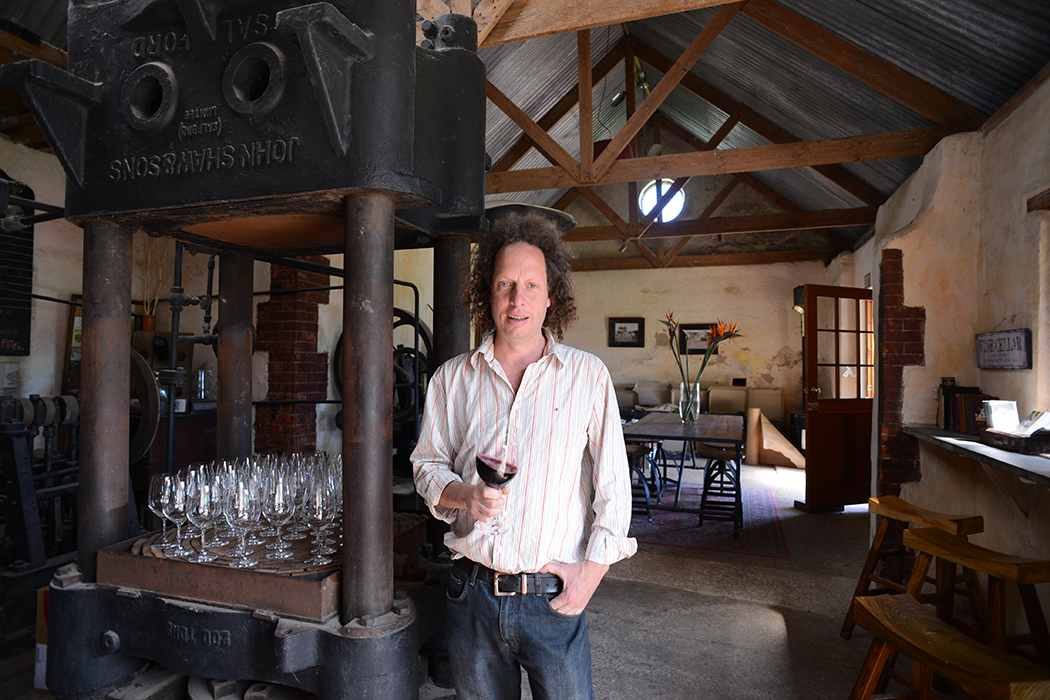 At the other end of the bar sat a couple of McLaren Vale winemakers. They had been at the restaurant for four or five hours conducting a tasting, and, by the looks of it, had not made much use of the spittoon. The next few hours gave us an greater insight into the local winemaking culture than any scheduled interview ever could.
The winemakers invited us over to their table to taste their wines. These were guys who had limited production who were doing it out of love. They were eclectic wines: one was a Cabernet with 40 percent Petit Verdot (a blending grape that is generally incorporated in much smaller quantities); another was 100 percent Mouvedre (also mostly used as a blending grape). The winemakers had the enthusiasm of a group who had toiled over something and were celebrating its success.
When our glasses had been filled and emptied a few times, I asked the winemakers if they knew McNamee. They smiled. Incredibly, who had been there and left just before we arrived: McNamee. "He's home passed out, mate," exclaimed one. "Good wine though," nodding to a case of Samuel's Gorge on the table. As we drank and talked, stories about the valley and its elusive McNamee began to unfold.
The lubricated conversation darted from winemaking tales, to rumors of winemakers with cocaine problems, and of course, to the camel. What we heard was the story of a daring heist and a camel currently kept in hiding. It was as if Ocean's 11 had transported to the McLaren Vale but instead of robbing a Vegas Casino – it was a camel. The details were a little fuzzy, someone had a camel. They had stolen the camel. Why there was a camel in the McLaren Vale, why it was taken and where they held it hostage where logical questions that but for the gin and the wine we could probably answer. It turns out it was not a real camel that was stolen – a little research in the local paper revealed it was a 200kg, life sized replica camel that was taken on August 3, 2013 (lucky as keeping a real camel alive could be a tricky prospect - did you know a camel can drink 120 liters of water in 10 minutes?).
The story of the heist was followed but the explanation of a plan to reintroduce the camel to the community in a spectacular manner – to which we were invited to attend (though unfortunately had to decline due to having to return home).
Not all of the stories were so light-hearted. The winemakers shared with us a distressing state of the union for many of the smaller winemakers in the area. The custom crush that handled most of the winemakers their size hadn't received any payments during the month of October. They themselves had considerable debt hanging over them and 120 days late in paying bills. Some of them had some success in the past exporting to the US, and one even garnered a 95-point Advocate score, but the appreciation of the Aussie dollar against the US made it uneconomical to export at a reasonable price. Despite the problems there was an Aussie 'good on ya' joyousness about the group – and a pride and celebration of the wines that they worked so hard to produce.
At the end of our evening, one of our new winemaker friends, after much effort, was able to get a hold of The Boss (McNamee's wife we presume) and organize a visit to Samuel's Gorge the following day.
We showed up at 9:30 am the next morning and understood immediately why everyone suggested we meet McNamee. Exuding infectious enthusiasm, Justin McNamee is about 5'9, with a wiry build and a big head of curly, slightly receding hair. He comes across like a better-looking Malcolm Gladwell. You could tell he was practiced at it--meeting and greeting in the tasting room, but it wasn't fake. Within five minutes we felt like we had a new friend. We mentioned how everyone suggested we meet him (without going into how hard it was to pin him down) and he smiled broadly, expressing satisfaction in a modest "oh shucks" way – and continued to spin story after story.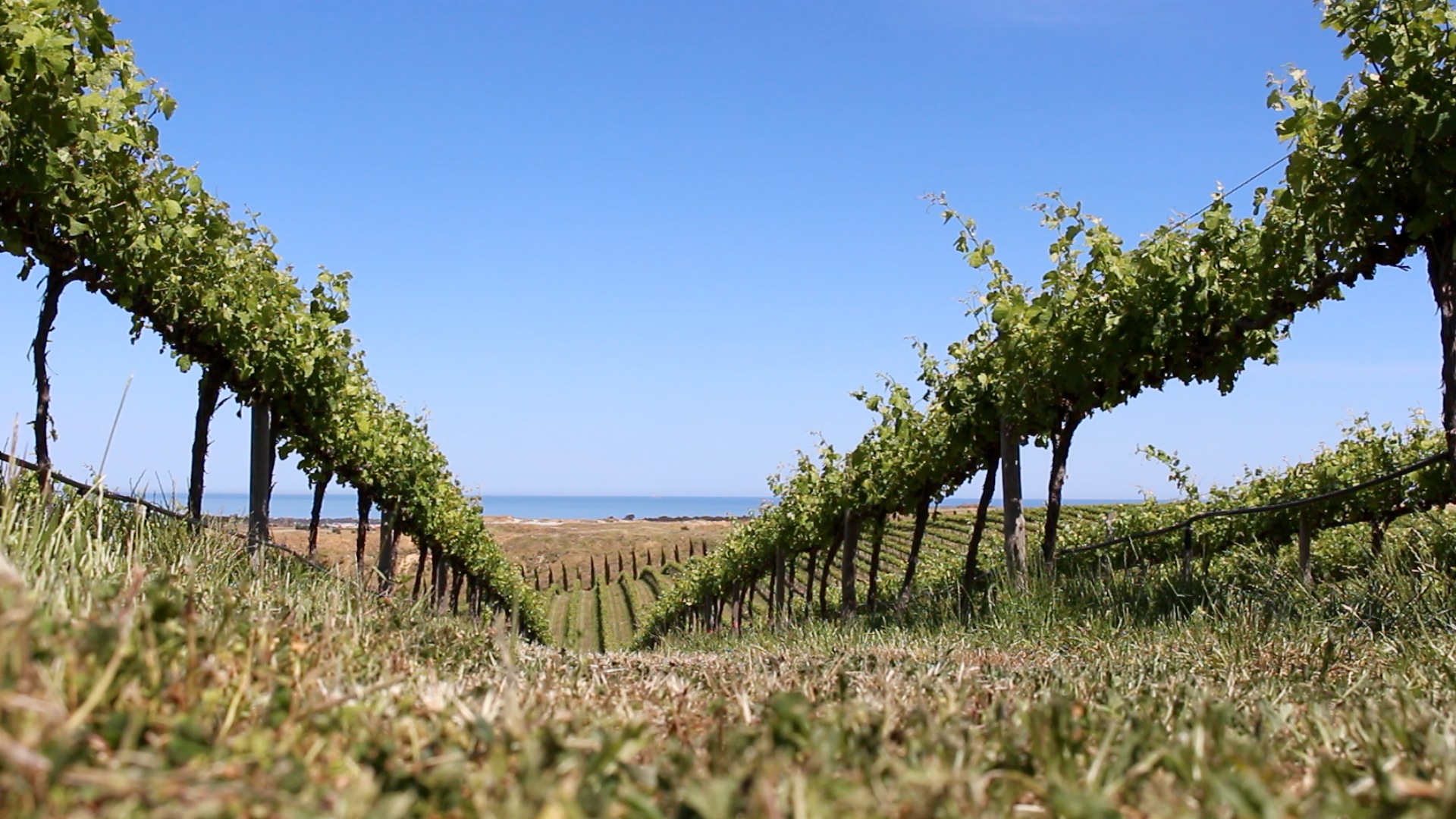 The barn where the winery sits was built in 1853 and is positioned on a ridge top that runs east/west on the southern lip of the Onkaparinga River National Park. It is a dramatic, rugged Australian landscape. The Vale has been a winemaking center for over a hundred years and there are still vines that date back from those early days. Yet only in the last couple of decades has the region started to make a name for itself internationally as a center of quality wines. McNamee's winery used to be a home for a prominent statesman (the Samuel in Samuel's Gorge). McNamee makes Shiraz but he gets most excited when talking about Grenache and Tempranillo. McLaren Vale has some of the oldest Grenache vines in the world. He is of the opinion that the Australians (and Americans) have been strait jacketed by blindly copying European practices. Though generally full of jokes, he gets quite serious when talking about his approach to making wine. He places strong focus on practices that make wine unique to the place, and though he has a deep understanding of European winemaking practices, he has made significant changes to account for the radically different South Australian climate and soils.
At the end of the interview we asked the question we had been waiting to ask since we arrived. Do you know who took the camel? The camera was rolling, there was a slight look of surprise on his face, a pause, a twinkle in his eye followed by a smile and he replied, "I have no idea who took the camel…..your honor."
Watch a video of McLaren Vale winemaker Joch Bosworth, owner of Battle of Bosworth wines here.
Buy our eBook Conversations with Winemakers: Barossa Valley and the McLaren Vale on Amazon for $5.99.