Things are looking up for Sherry. And now, after being absent from Madrid's famous Puerta del Sol square since 2011, you'll be able to gaze skyward and see a very cool neon sign. This beacon for Tio Pepe Sherry will be relit as of tomorrow. You won't have to look far from its old location to find it either, as the address has just changes from Puerta del Sol number 1 to number 11.

The history of the sign dates back to 1936 when it made its rooftop debut in Puerta del Sol to commemorate González Byass' reaching the century milestone as a company. The bottle of Tio Pepe Sherry (a Gonález Byass product) was added in 1958.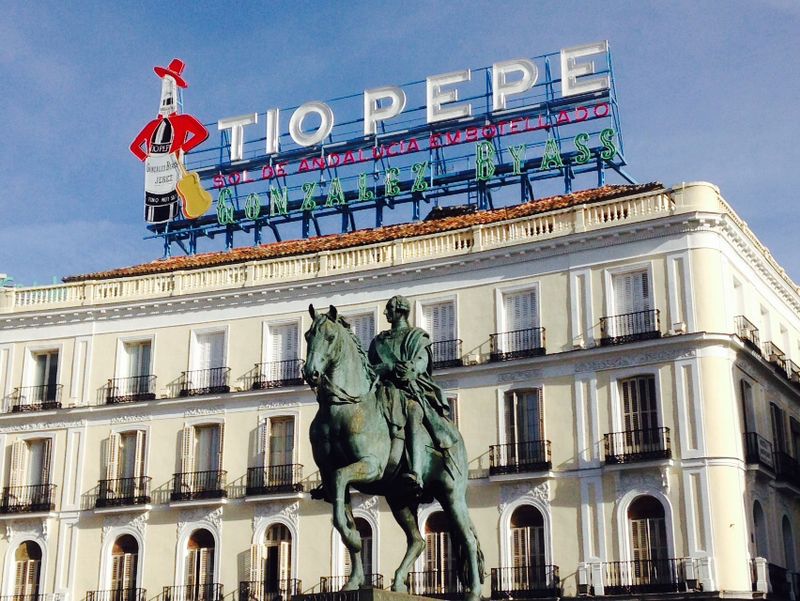 González Byass Chairman Mauricio González Gordon could not contain his enthusiasm, stating, "It is a joy for us to see the Tio Pepe sign back, shining over the Madrid skyline. The amount of affection that has been demonstrated by the residents of Madrid over the past three years has been quite amazing, we did not fully appreciate how much this neon sign meant to people here in Spain and abroad until it was taken down."
Interestingly enough, the new sign is some 40 tons lighter (!) due to a more modern support structure.