If you are a small artisanal winemaker in an emerging wine region how do you get the world to notice your wines? And for the emerging wine region as a whole, how do you promote your artisan winemakers to the rest of the world? The invention of MOVI (Movimiento de Viñateros Independientes - the Movement of Independent Vintners in English) in Chile is a model that answers both of these questions.
MOVI is a group of independent Chilean winemakers who banded together in 2009 to form a purchasing group and marketing organization. There are 24 winemakers who produce between several thousand to 15,000 cases per year. The organization allows small family producers to find a voice and get their wines tasted internationally by critics and importers. The qualifications for membership of MOVI is to be small and quality-oriented, and to make wine on a human scale. The focus of the organization is very much about building community - and each new member invites the other members to their winery.
For wine lovers who want to support small family wineries the challenge is that those businesses often don't have the resources to manage marketing, nor do they have the sales expertise to allow for their wines to be available outside their local market. For a country like Chile which is known internationally for budget wines, MOVI is a breath of fresh air - an artisanal movement that people can get excited about.
MOVI was created from a practical standpoint to help small winemakers create a buying group to purchase bottles, corks, labels and other winemaking equipment in a country which is dominated by three massive winemaking entities such as Concho Y Toro (which according to The Drinks Business is now the largest winery in the world), Santa Rita and VSPT, which together sell four out of five bottles of Chilean wine. Since its inception, marketing has become the key value driver of the organization. Critics such as The Financial Times columnist Jancis Robinson, Alder Yarrow and the Wine Spectator have reviewed the wines of small family producers who on their own would struggle to get even local recognition.
Following MOVI is the growth of Vigno (Vignadores de Carignan) an organization aimed at promoting old vine Carignan. The Vigno criteria is that winemakers must be mostly Carignan based, utilize vines that are at least 30 years of age and dry farm.
There is a sense of fun and adventure about MOVI. The members all originate from different parts of the country with very different backgrounds which include lawyers, doctors, ex-pat miners and an Italian count. But they all seem to enjoy the camaraderie and the connectedness that MOVI brings to them. Jancis Robinson captured this in a recent column. "The MOVI and VIGNO crew are a cheeky lot and have clearly enjoyed cocking a snook at the old guard of Chilean wine, which makes it all the more remarkable that there has been such a rush to copy them from precisely the big companies that they set out to shake."
MOVI is an important addition to the overall Chilean wine industry. There is something very underdog about them in a country where the big dog is very dominant. How can a wine lover not embrace passionate family winemakers making heartfelt artisanal wines from old vines. Now compare the story of the mass produced industrial "value" wines - which is sexier David or Goliath? When we met with Chilean wine pioneer and President of Wines of Chile Aurelio Montes, he was glowing in his praise of MOVI. While they are not fee paying members of Wines of Chile, Montes was keen to point out that they are invited to press events as their story is an important part of the narrative of modern Chilean wine.
Amongst the MOVI members there is a diversity in style and geography from the far South to the Atacama desert in the north. The common link among members is the passion of the people producing the wines and their shared ambition to raise the profile of quality winemaking in Chile. Chile has some wonderful natural assets including some of the worlds oldest ungrafted vines. A country protected by the Andes, Pacific Ocean, Atacama desert and Patagonia, it has never suffered from the vine destroying louse phylloxera. Vines have been discovered that are 300 years old.
The wines are interesting, full of passion and life. We spoke to some of the MOVI members about what it means to be MOVI.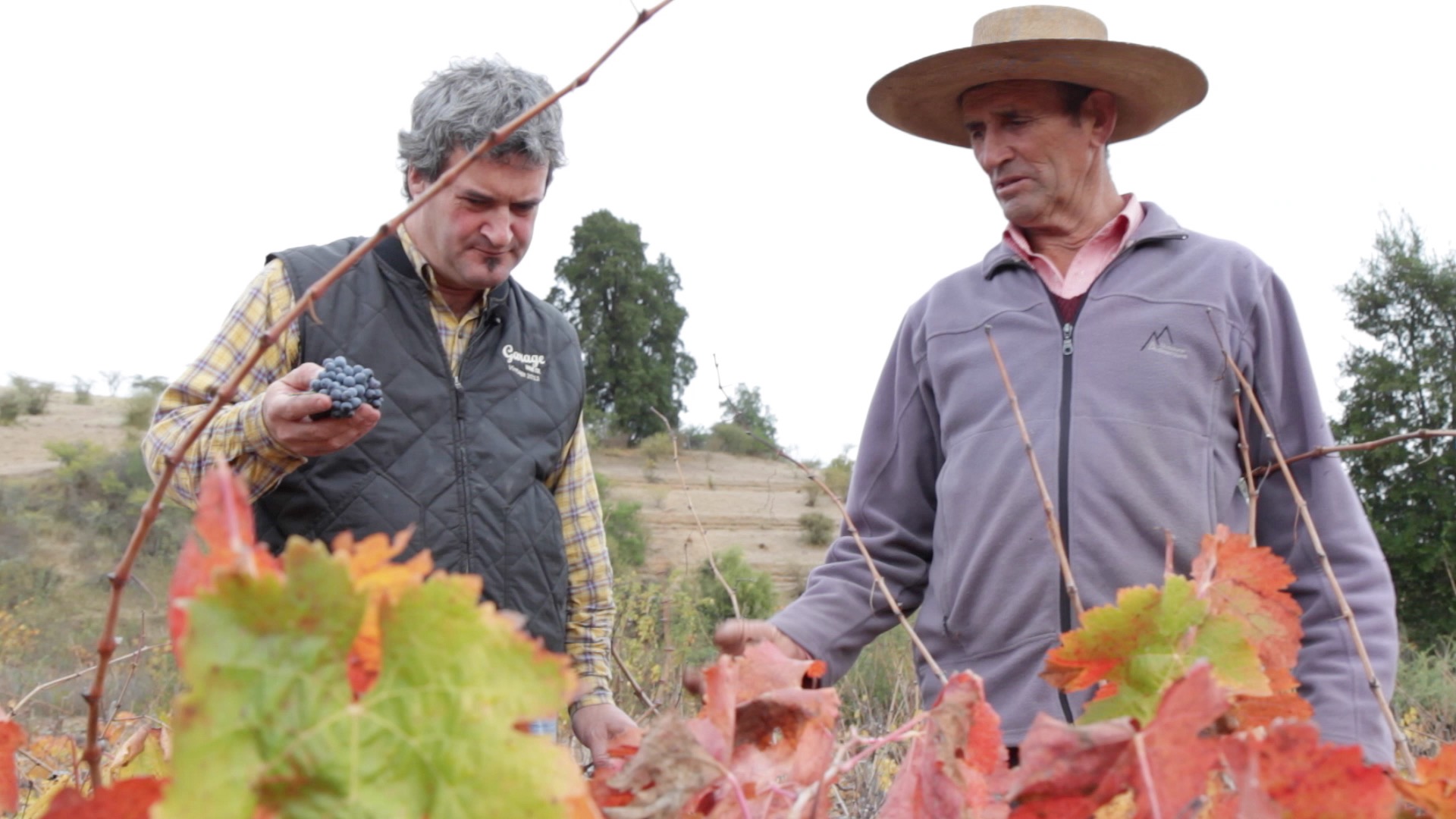 Winemaker Derek Mossman Knapp with grower Nivaldo Morales
Derek Mossman Knapp, Garage Wine Co.
Derek Mossman Knapp is a Canadian who traveled to Chile to ski, he fell in love and never left. He established the Garage Wine Company in a garage with his wife Pilar Miranda, and Dr. Alvaro Peña. They make old vine Carignan from Maule as well as Cabernet Franc and Cabernet Sauvignon. He is one of the founders of MOVI and with his boundless energy and enthusiasm, he is a tremendous advocate for the MOVI project and for promoting the old vines of Chile.
What does the accronym MOVI mean?
MOVI is the Movimiento de Viñateros Independientes which sounds much more Monty Python in Spanish, than it does in English. It's a little tongue in cheek humor with "movement" from Chile's political history and Viñateros would be a landed family who besides the construction holdings obviously also has a vineyard. So it's definitely a take the piss.
Which is sort of funny, because everyone is very small and family oriented.
Absolutely.
What is MOVI?
MOVI initially was like a buying group where if you made five of six thousand bottles of wine the bottle makers didn't know how to deliver it because you didn't have a forklift. The capsule makers didn't know how to do an order for less than fifteen or twenty thousand. The corks are even more complicated. So we came together in hopes they would answer an e-mail, give us a quote, and want to do business with us.
And, when did you start MOVI?
MOVI is, let me think about this, MOVI started six or seven years ago now. Time has flown by. And after we formed and realized there was a real camaraderie and things to be learned from each other, we were invited to take the wines to a London wine fair. And the world liked what we produced.
Tell us a little bit about the types of winemakers of MOVI.
In MOVI there's a wide selection. There's a few outsiders, there's a Canadian, a Swiss lawyer, and Italian count from Tuscany, but mostly they are family projects, kind of very personal projects with a great deal of volition from winemakers who either still work in a big company and have a forward thinking boss, or who definitively left said big company and want to have an entrepreneurial experience on their own.
And what sort of wines are the MOVI winemakers producing?
You could divide MOVI into three parts. You would have the newer things that have been planted in the last fifteen years which is a lot of Syrah, Pinot Noir, Sauvignon Blanc, probably close to the coast whatever valley it's in. We also have the classics but kind of rethought or reloaded which would be Aconcagua, Maipo but now made with a personal twist. And we say in the Maule old is the new new, which would be old vine varieties that probable haven't been appreciated in or associated with Chile in many years, like Carignan, Torontel, and Tempranillo.
Is there a shared philosophy of winemaking behind these winemakers?
I think it would be very hard to typify a MOVI wine. They're very different. I think there is a certain going back to the roots. I would not say it's anti-technological, but it's definitely about getting back to, or moving towards letting the earth expresses itself-- not letting technology get in the way. The work is done in the vineyard and the rest is done by hand.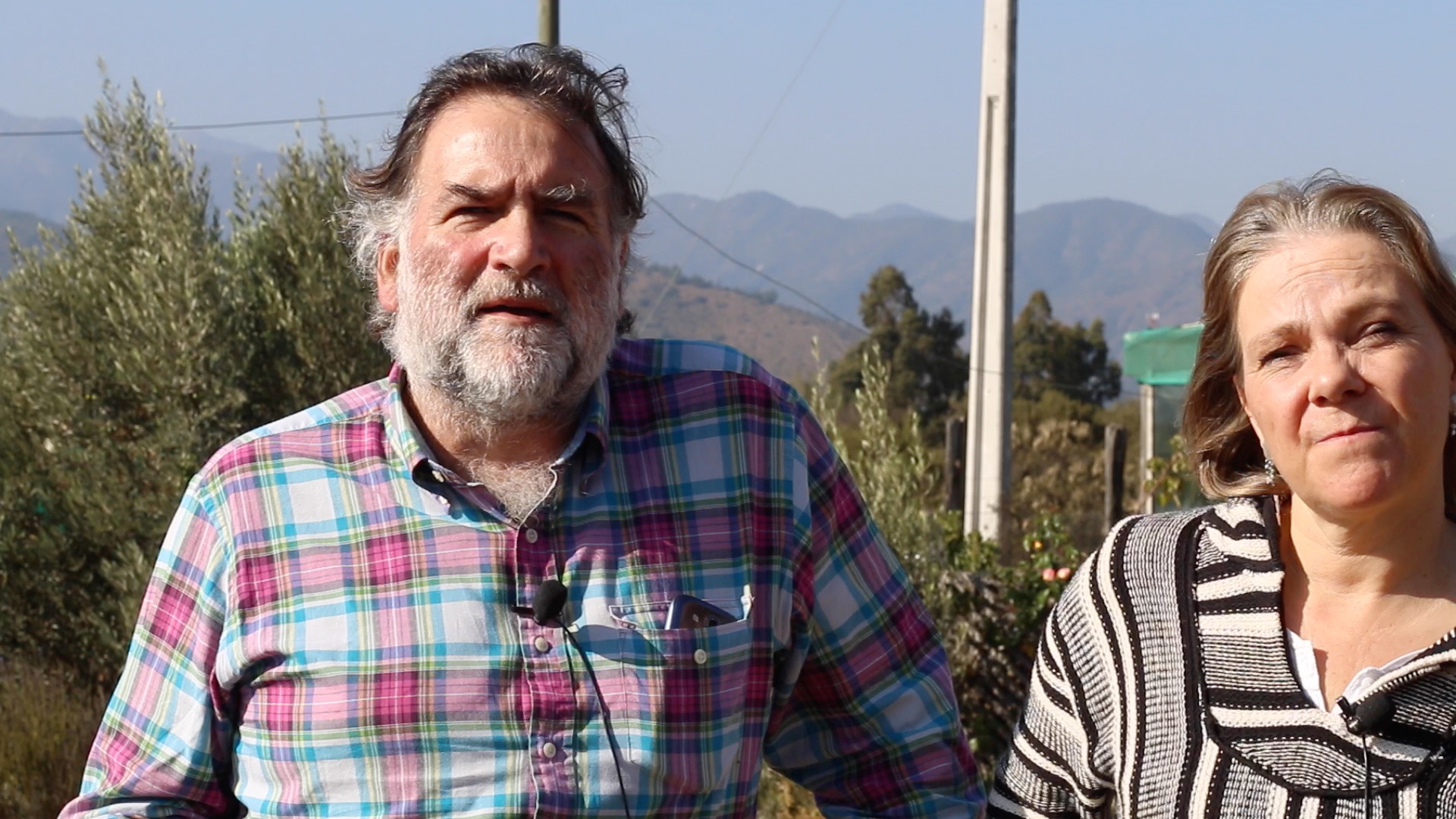 Anglelica Grove and Andrés Costa of Rukumilla Wines
Angelica and Andres started Rukumilla as a small private wine company in 2004. They produce about 2,000 bottles a year organically in Maipo in the southern part of Santiago.
Their main business is selling stainless steel wine tanks in United States, Europe, Australia and New Zealand.
Andrés: MOVI, I think MOVI is an exceptional group. We are the founders of MOVI, this organization was founded in 2006, with 12 members, and now we are 24. I think it is the only way to show others the way we produce wines, because we don't have the resources to create big advertising or big promotional events. The idea is to help all the small vineyards and producers to show our work, our passion, and also to show another face of the Chilean market, not just the big wineries. I'm very proud to be part of MOVI. We think that this kind of association helps a lot in the wine industry to show a different face.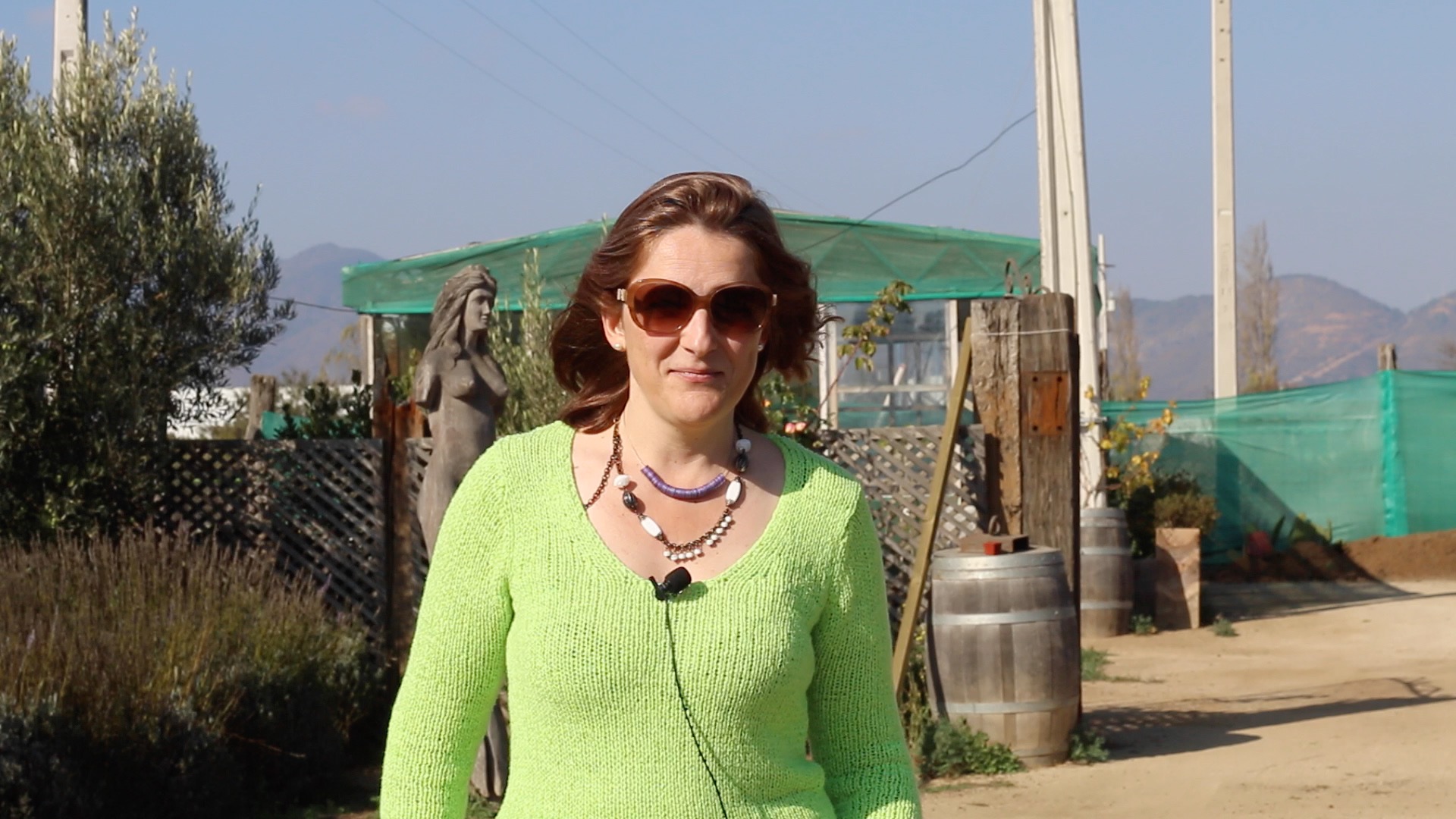 Angela Mochi of Sucre and Tunquen
Angela and her husband Marcos are Brazilians who built a successful wine important company in their native Brazil and then decided to leave it all and go off the grid and move to a coastal area of Chile. Their water comes from a well and is pumped through solar panels using solar energy. They use refurbished shipping containers because they are isolated and don't need to use power from the grid to keep the wines at a perfect temperature. They make two ranges of wines: Sucre wines which are produced using mainly Cabernet and Carmenere, and Tunquen wines which are predominantly Malbec, Cabernet Franc, Syrah, Pinot Noir and Sauvignon Blanc.
Angela, you're one of the directors of MOVI.
MOVI is an organization, today we are 24 producers, but we're growing and we're just small, familiar companies. So people that are fully involved, not just making the wines but commercializing the wine as well. So there are no big corporations in MOVI, we are just small companies making everything. The first time I heard about MOVI, I still lived in Brazil and it made just perfect sense for us to join MOVI because in some way, what we are doing is what the others are doing and so when we join together we are 24, we have much more strength than we have when we are apart. So that is what MOVI does best. We have a voice, through MOVI, a voice that we could never ever have if we were alone by ourselves. MOVI gives us that voice and we can talk to the world through MOVI.
And what does MOVI stand for?
There's one simple, really simple phrase that says that we dare to think small. We're thinking small, we're not thinking big. We are mainly family businesses, so there are people making 200 cases, and there are people making maybe 15,000 cases, but they are all family business, and we're thinking small. This goes against practically everything that you ever heard because people in general, people teach you to think big. No, we are challenging that. We are thinking small, like doing what we can to do the best in our families, all the families in MOVI.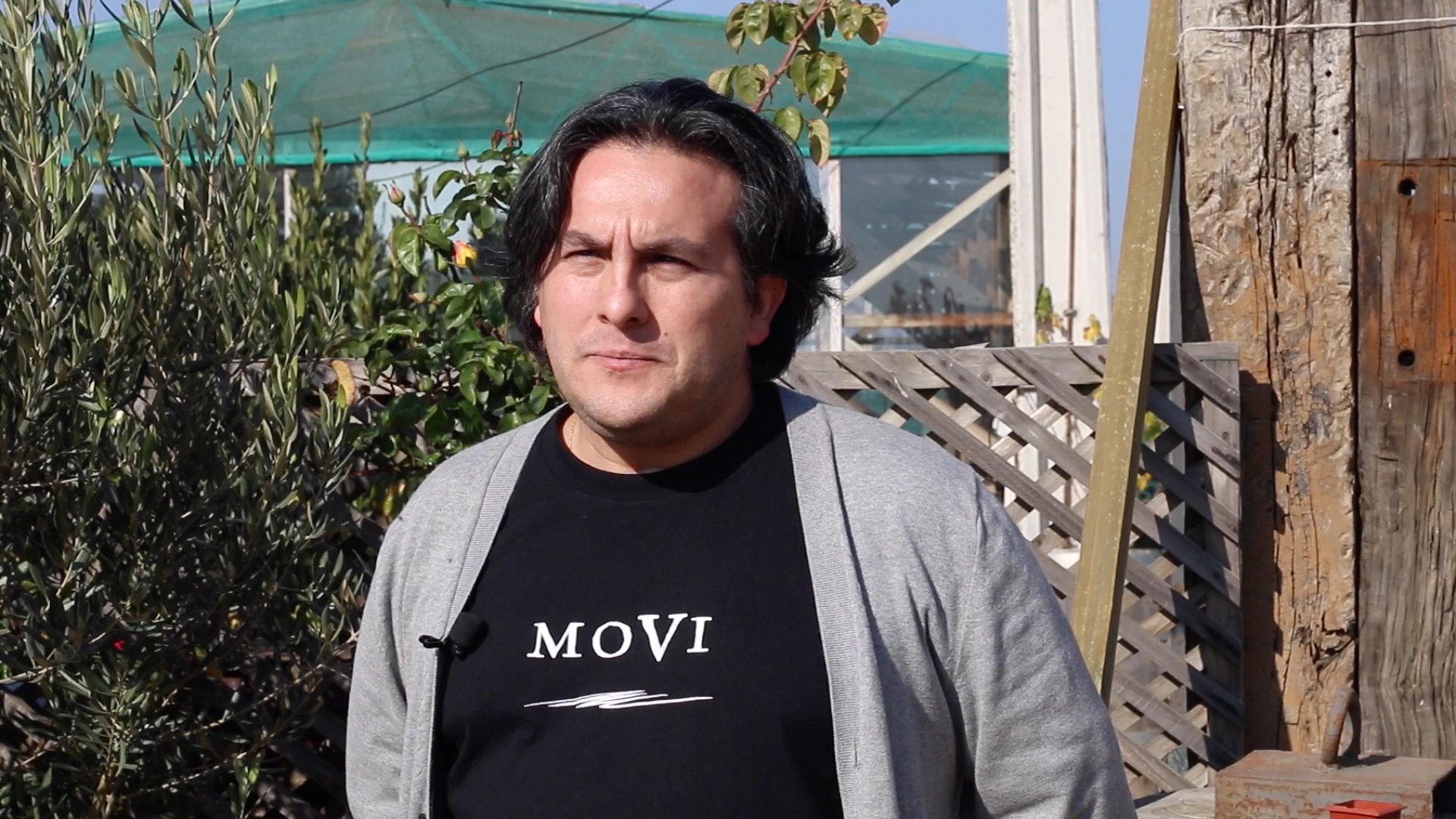 Fernando Atabales of Starry Night Vineyard
Fernando is a medical doctor who bought a house which came with some Syrah and Pinot Noir vines. The property is at the edge of Maipo and the start of the Casablanca Valley. He fell in love with winemaking and makes wines with the help of his extended family. The vineyard is their garden.
How did you get involved with MOVI and what does MOVI mean?
MOVI is an aggrupation, it is a movement of independent vineyards, it's like the Vigneron in France, but little because we are only 22-23 people. Every one of us makes his wines and is involved in all the processes, all the processes of the wine with his family or her family, depends. And normally we make the wines that we want to drink. And we are trying to show the place and the style of wine we want to drink everyday in our house, with our friends. So if people like that, it's better, but normally we are trying to show that, so we have produced a very small amount of wines. We produce about 5000 bottles of Syrah and 3000 bottles of Pinot Noir, and that's all every year. And the other partners are similar, from 1000 cases to I don't know, maybe 5000 cases, the biggest one of us.
Normally all of us are involved in the wines, in the selection of the grapes, in the process of the wine, in the control of fermentation, in the palate of the wine, in deciding what kind of barrel to use or if no barrel should be used, or what kind of process for fermentations, and the bottles and the labels and everything. From the little ones putting labels on bottles to the older ones, the whole family is working harder, I think. But it's a very good lifestyle, I think.
Check out our feature on Louis Antoine Luyt Chilean Pais pioneer.
And Chilean wine pioneer Aurelio Montes.
For more on MOVI watch Rudi Goldman's short documentary.

As of publication the Garage Wine Co. 2012 Carignan is available at Uva Wines in Brooklyn for $34.